E80 Group
E80 Group keeps the world moving
An Italian company maintains deep links in North American markets
E80 Group is a global company, headquartered in Italy, that specializes in automated intralogistics solutions for the manufacturers and distribution centers of consumer goods, supply chain-related matters, and storage.
Also known as E80, its North American HQ is in Chicago, IL. It offers laser-guided vehicles for material handling and automated warehousing, ASRS, automatic palletizers, robotic labeling systems, case picking systems, and wrapping systems. The company caters to food, beverage, tissue, and other such diversified sectors.
We recently spoke with E80 Group Inc. EVP of Sales Andrea Pongolini, and he told us more about this vast organization centered around materials handling functions. Pongolini credits Enrico Grassi with birthing the company in 1980. Grassi is still the major shareholder and the company's president.
"It started as a software company," Pongolini recalls.
"After a few years, Mr. Grassi realized that to provide tangible benefits to our industry, we had to provide both hardware and software. We started to produce and design the innovative hardware needed for our project. Nowadays, E80 is a leading provider of material-handling systems that allow our customers to fully automate the production facility and distribution center."
He adds E80 can control with its proprietary software platform all the logistic business decisions from raw packaging materials to finished goods handling and shipment. To adjust for the North American market, it made some changes, Pongolini notes.
"In 1994," he recalls, "E80 had only 48 employees, but we had the bright idea to open our first branch outside Italy. As Mr. Grassi used to say, 'If we succeed in the U.S., we can succeed anywhere else in the world,' and that was right. Right now, North America is our most important market, with many references that vary from large, international companies to privately held companies."
Indeed, it is. E80 has more than 100 employees in its Chicago office, 40 in Houston, and more than 200 in Monterrey, Mexico. There is a comprehensive support service.
"We have been implementing local service, 24/7 remote support and a key account structure to support our customers in the long-term," says Pongolini.
He adds that what he calls an integrated supply chain approach has been a key factor in the company's success since 2016.
He explains, "we have been partnering with strategic suppliers, which today are part of the E80 Group. Our short supply chain helped us during the pandemic. In fact, we were able to minimize the project delays because most of our system's components are manufactured internally."
One thing the company has seen in recent years is that both its current and potential customers have gained a deeper appreciation for the significance of automation in the support of their business. Many of E80's potential customer clients who hesitated to embrace automation because of an initial capital investment have taken the plunge.
"Presently," says Pongolini, "we have seen a lot of our clients returning to us and expressing interest in automation driven by their newfound understanding of the automation intangible advantages and their ability to demonstrate these advantages."
A must-have
Today, intralogistics automated solutions are seen as a must-have implementation for any business with a chance to grow and keep a leadership position. The trend E80 anticipated is that it always believed end-to-end automation and integration have been the key factors to delivering customers tangible results.
"We also enhanced our software and our hardware to provide more opportunities to our customers. Now E80 is positioned to be a one-stop-shop company, able to provide real turnkey solutions, and we look forward to helping our customers take full advantage of total automation, spanning from raw and packaged materials to the loading of finished goods onto trailers. To sum it up, our overarching vision has always centered on seamless end-to-end integration, and we're now actively working to seize this significant trend."
E80 doesn't look only at one part of automation. The company believes in fully integrated and automated systems, as Pongolini emphasizes.
"Many providers usually don't have the technology to fully automate customers' plants," he reveals, "focusing on a few automation solutions, for instance going from A to B. Instead, E80 partners with the customer. We look at the plant or distribution center in its totality and globality. We do a simulation of the whole plant. We have come up with a solution to automate every single movement within the four walls of that facility, including software integration."
E80 offers comprehensive software solutions that seamlessly handle hardware management and cater to all customer requirements, integrating with existing ERP (Enterprise Resource Planning) and WMS (Warehouse Management System) systems.
"This, from our point of view, is the end to end," says Pongolini. "We have software and hardware solutions that can turn a manual plant or manual distribution center into a fully automated solution."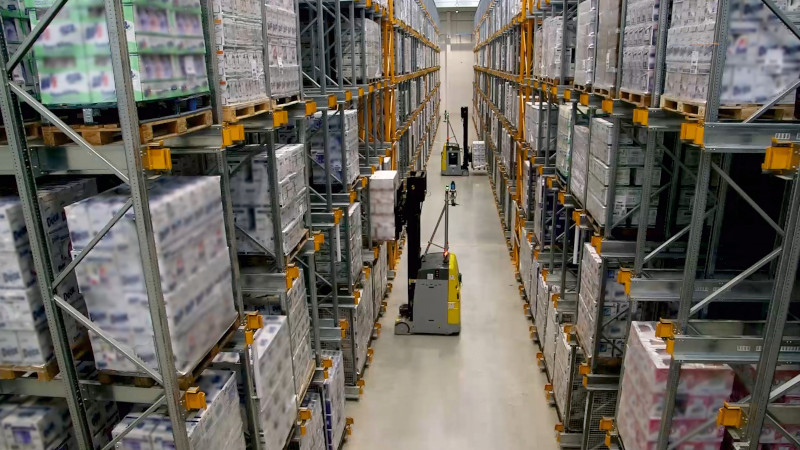 The role of AI
Artificial intelligence (AI) plays a big part, too.
"We already rely on AI to make predictions and decisions about what our systems are doing," says Pongolini. "It is still in its infancy, from our point of view, but we are already experimenting and trying it." It's bringing profitability to E80's table.
"From my point of view," says Pongolini, "we have always provided solutions that give tangible benefits to our customers. In this way, we have built up a long-term partnership and repeat business with them. Our customers know what they need to increase their profitability and they are not shy when it comes to telling us."
"So, we always try to listen to them. Our investment in R&D and new technologies have been guided by our customer's needs. We believe this is the only way to grow and progress, we want to do it along with our customers."
A good customer base
He also described the company's customer base.
"We have been focusing historically always on the CPG (consumer packaged goods) industry," says Pongolini, "so the majority of our references are in the consumer goods companies. We work with all the big ones in North America. These are very recognizable brands. When you go to the supermarket in the main aisles, you will see all of our customers."
Right now, in North America, E80 is implementing 50 large automation systems. Some of them are greenfields, and some of them are at existing facilities that will be completely upgraded from manual to automatic.
"I'm going to give you two examples to show you the type of project we are executing," says Pongolini. "For instance, right now we are implementing a greenfield. It's a bottling plant that will have seven high-speed bottling lines. E80 will supply equipment and software for complete automation, spanning from palletizers at the end of the production lines to trailer loading.
"Also," he adds, "E80 will supply palletizers, stretch wrappers, labelers for end-of-line applications, LGVs for raw and packing material handling, packaging material delivery, finished product pickup, and trailer loading. Additionally, an ASRS system with cranes for storing approximately 60,000 pallet positions and empty pallet inspection systems will be implemented. This comprehensive material handling automation initiative is expected to yield significant cost savings, enhance plant efficiency, improve product quality, and enhance safety."
E80 is currently working on another project that involves enhancing and upgrading an existing one-million-square-foot food industry distribution center, as Pongolini points out.
"We are going to transform it," as he reveals, "from fully manual to completely automated by replacing all existing forklifts with AGVs (automated guided vehicles) and implementing a fully automated layer and case picking system. What makes this project unique is the size."
"We are going to be able to fully automate the case-picking operations. We are also going to use all the existing racks so no modification would be required. We are planning to do this implementation without any disruption to the day-to-day customer activities. That makes it very challenging."
With great support comes great results, says Pongolini.
"Right now," he says, "I would say 80 percent of our business in North America is from repeat business from existing customers. We are very proud of that!"
AT A GLANCE
E80 Group
What: a global company, headquartered in Italy, specializing in automatic intralogistics solutions for manufacturers and distribution centers of consumer goods.
Where: North American headquarters is in Chicago, Ill., and its northern Italian global HQ is in Viano, Reggio nell'Emilia.
Website: www.e80group.com
E80 Group – http://www.e80group.com/
Group offers intralogistics automation systems for CPG factories and distribution centers. Its end-to-end integrated solutions optimize material flow, ensuring cost savings, safety, and performance. From ASRS high-bay warehouses to AGVs/LGVs, and end-of-line robots, E80 integrated technologies enhance operations and efficiency, all managed through E80 proprietary software.