MAAX Spas
the temperature is rising for innovative spa options
Product innovation is top of mind for leading spa and hot tub manufacturer, MAAX Spas as consumer demand comfortably levels
It has been an interesting ride for the pool and spa industry throughout the global pandemic and heading to the end of the first half of 2023. As some sectors slowed down and came to a halt, the spa industry saw demand soar to levels that became difficult to keep up with.
Despite customer demand heating up, the production of new spas and hot tubs came to a temporary slowdown as there was not the manpower, steady supply of parts, or manufacturing capability to match consumer appetite due to labor, material, and supply chain shortages.
Although not a bad 'problem' to have, Steve O'Shea, VP of Sales and Marketing for MAAX Spas is looking forward to the leveling out of the demand that was simply unsustainable during 2020/2021.
O'Shea, as well as the President of MAAX Spas, John Johnson are thankful for the necessary breathing room this year to roll out some of the innovative products that the company was working on during the pandemic, but was unable to showcase while working overtime to try to meet the unprecedented spa and hot tub demand.
MAAX Spas is a leading manufacturer and wholesaler of luxury hot water products, more commonly known as hot tubs and spas. Based in Chandler, AZ, MAAX Spas has earned its spot at the top of the spa industry ladder, known not only for its superior customer service but also for its innovative spa options and specialized knowledge of the market.
Working within their state-of-the-art facilities, MAAX Spas continues to provide the most innovative and cutting-edge spa options available on the market today.
"The entire industry was really kind of pushed beyond our production capacity. But I do believe that once things settle in, once we get back to where the demand/supply curve is a little bit more in balance, we'll be back either at, or slightly ahead of, where we were pre-pandemic."
Swimming through the current economic climate, Johnson points out, is firmly within the company's grasp. Maintaining its top position for over a half-century, it has weathered many economic ups and downs. The company traces its roots back to 1969, with the founding of Modern Fiberglass and Metal, which produced snowmobile shrouds and swimming pools. For the next several decades, the original business grew and expanded both its product line and its geographic footprint under the aegis of several different owners.
Up until 1998, the firm was a subsidiary of the Coleman Company; in the early 2000s, it was sold to a group of equity investors who sold it to another private equity group, Brookfield, in 2008. Brookfield separated the spa division from the bath division and created two separate companies. In 2017, both companies, MAAX Spas, and MAAX Bath, were acquired by the American Bath Group. Today, MAAX Spas employs over 200 people and supplies products to 22 countries around the world, with its main markets in the U.S., Canada, and Europe.
"We have two facilities," Johnson explains. "We have the facility here in Chandler, which is where we focus on our hot tub line. We have two primary brands: American Whirlpool and Vita, which are portable hot tubs. We sell only to Pool & Spa specialty retailers, we do not sell anything directly to the consumer."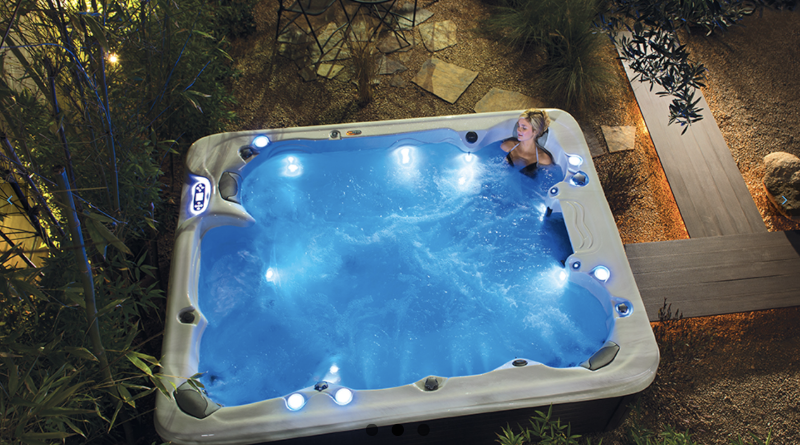 "The second facility is in Ottumwa, Iowa. It's a purpose-built facility for the Swim Spa products, which are the larger vessels. We make a variety of products there, ranging from a 12-foot tub to dedicated swim machines, to a dual-temp model, which has the hot tub at one end and the swim spa at the other end. Swim Spas are sold under the same brand as our hot tubs. We opted to go to a separate facility because trying to integrate Swim Spas and hot tubs in the same facility is inefficient. So, we had an opportunity to do an expansion in 2021, and it was completed in early 2022."
"We see the swim/spa category as one of the best opportunities within our industry over the next few years," adds Steve O'Shea, VP of Sales and Marketing. "Because of the pandemic, in-ground swimming pools and above-ground pools were sold out and there was a long wait for installation, so swim/spas became an increasingly desirable alternative. You have both cool water to swim in, and you also have the ability to exercise. And we're one of the few manufacturers within our industry that not only developed new models of hot tubs and swim spas during the pandemic, but also expanded with our new multi-million-dollar production facility."
During peak consumer demand in 2020/21 O'Shea notes that the company's main focus was on making products and filling backorders as quickly as possible, and even though there were considerable strides in innovation within MAAX Spas, responding to dealer and customer needs temporarily took precedence during this time of marked product innovation.
"MAAX Spas is very proud of the fact that we've had a lot of 'world's firsts' in our product line; innovation has always been in our bloodline, and we're excited to get back into that," he states.
For example, O'Shea reports that while MAAX Spas already make some of the most energy-efficient models in the industry, it will now be looking at new ways for its products to become even "greener," by using the very latest sustainable materials with which to construct some updated designs.
"We have to take a hard look at the way hot tubs have always been made – you can only put so many jets in a hot tub; you can only put so many pumps in a hot tub," Johnson explains.
"Even though we're a leader in sustainability, we can always strive to be better, to build on our success."
In terms of construction techniques, lately, MAAX Spas have been working with AOC, its main resin supplier, in order to test a more eco-friendly product.
"They've been incredibly supportive, as we've started looking into alternative materials and how we can do things a little bit differently," says O'Shea.
He also gives shout-outs to Gecko Alliance and Balboa Water Group, suppliers of electronics, pumps, and control systems, Plaskolite for its acrylics, and Core Covers for spa covers. "They are all the best in the industry," O'Shea maintains. "We value their expertise, seamless business approach, and proven results."
As to the immediate future, both Johnson and O'Shea agree that "The goal is to stay the leader at making hot water products, so we let our vendor experts do what they do. That's why we rely very heavily on our supply base in terms of trying to bring new ideas and styles. A critical part of our R&D efforts is with our suppliers. They're a great group of people to deal with."
Another item on MAAX Spas' post-pandemic agenda is retail growth.
"We're going to focus on dealer acquisition, growing our dealer base, and getting more high-quality products out there that we are so well known for," O'Shea states.
"Just in North America, there are a lot of open markets, and we want our products to be available to more consumers. We want to give every customer an opportunity to see and choose us. It's always been important for us to take care of our dealers and focus on the customer. Ours is a relationship business and that will never change."
Lastly, Johnson claims that a critical objective for MAAX Spas going forward is the quest for stability, now that the pandemic's supply chain, staffing, and transportation issues have largely been resolved. "That's the key for us in 2023," he says. "Let's right-size the inventories, right-size production, and look to the future and continue down the successful path we have carved as industry leaders."
AT A GLANCE
MAAX Spas
What: Leading spa and pool manufacturer known for its innovative product offerings and cutting-edge spa products
Where: Chandler, Arizona
Website: https://www.maaxspas.com/
PLASKOLITE – www.plaskolite.com
Plaskolite is a global leader in manufacturing engineering thermoplastics used in a wide variety of applications, including glazing, hot tubs, lighting, signage, skylights and displays.  Headquartered in Columbus, Ohio, Plaskolite's mission is to produce innovative engineering thermoplastics the right way; through long-lasting customer relationships, hands-on customer service and responsible manufacturing.