The Adhesive and Sealant Council
Securing the future
The Adhesive and Sealant Council (ASC) is a non-profit, national trade organization, based in Alexandria, Virginia that represents the leading adhesive and sealant manufacturers, as well as their suppliers, distributors, and affiliates in North America. Its mission is to deliver career education and workforce development, innovation collaboration, community knowledge sharing, and a unified industry voice in order to accelerate the adoption of adhesives and sealants in various markets and thereby strengthen its members' businesses.
Recently, Business View Magazine interviewed Bill Allmond, President of the ASC, to find out more about the organization and how it benefits the industry and its members. The following is an edited transcript of that conversation:
BVM: Can you talk a little bit about ACS's history?
Allmond: "We were formed in 1958, first as the Rubber & Plastic Adhesive & Sealant Manufacturers Council. We changed our name in 1962 to what we are today, the Adhesive and Sealant Council. Back then, in the late '50s, a group of adhesive and sealant manufacturers got together and recognized that the adhesive industry was still in its infancy in the U.S. But they were also at the threshold of many new developments, and they decided that they really needed a national trade association, where members of the industry could come together and review their common problems, and, thereby, broaden the potential for the industry's growth. They came together and discussed their mutual concerns, mutual problems, and talked about a direction forward to grow the industry."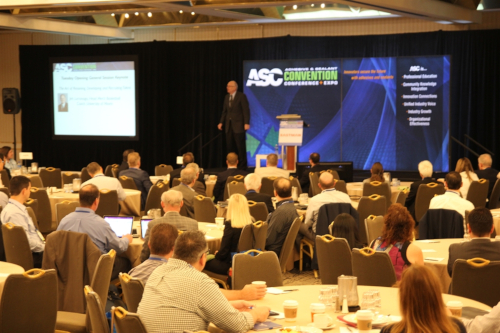 BVM: Has the mission evolved any over the years?
Allmond: "That mission remains mostly true, today – to promote, encourage, and advance the uses of industry products. We've broadened, slightly, beyond that singular focus, but, of course, everything we do is done with the goal of advancing the industry forward. One of the main things that we do, today, to grow the industry is, appropriately named, our Growth Program, where we set aside a portion of our reserves to invest in ways to promote uses and applications of our industry's products in a specific market.
"For example, over the last three years, we've been focused on the automotive market, where we've developed selection guides on how OEMs in the automotive sector can utilize our products in the assembly process, in the paint process, in the trimming process, and various ways along an assembly line in the development of an automobile, as well as opportunities for automotive engineers to utilize adhesives and sealants in that process. We're wrapping up that effort after over a half-million dollars in investment, and next year, we're going to be deciding on what's the next best opportunity among all the markets where adhesives and sealants are being used. Where can we make the biggest impact in terms of that application, that market, but also, for our industry, where is the biggest opportunity to grow our industry and promote our products?
"So, I think our founders would be very pleased that's still a major focus for the organization – identifying where opportunities are to grow the industry. But we've gone beyond just promoting the industry; we offer career education, we bring together innovators, and we dialogue quite a bit with academia to talk about how we can utilize the science community to better develop the products that we sell."
BVM: Who makes up ASC's membership?
Allmond: "We're 110 companies and that is broken up into different tiers. Our biggest focus is on our manufacturers and our formulators. These are companies that manufacture adhesives and sealants for merchant sale in North America, many of whom are the major leaders within our industry. The other big sector of our membership is our raw material suppliers. These are the companies engaged in the sale of raw materials, or packing materials, or dispensing equipment, to manufacturers of adhesives and sealants. They're a major part of our organization.
"And we do have an affiliate category for manufacturers and suppliers outside of the U.S. The benefits are a little bit less for them, because they're not as fully benefitting from the regulatory advocacy that we may be doing, because they're, most likely, complying with laws and regulations outside of North America. But they still see the benefit of participating in meetings and networking opportunities and other types of benefits that we provide."
BVM: What are the benefits of being an ASC member?
Allmond: "The benefits of being a part of the ASC community are many, but I've always believed that members get out of an association what they put into it. Joining an association is the same as any type of investment. There's the initial financial commitment, but it doesn't stop there. There's the management of the investment through active participation in the Council's activities, understanding the trends, and contributing to the future direction in a way that benefits the companies. Our biggest benefit is we connect companies to a world of resources that deliver results – whether it's influencing government regulations, or delivering educational or technical or networking opportunities. Members know that they can rely on the ASC as the one source for all of their needs on an ongoing basis."
BVM: How do you communicate with your members?
Allmond: "We communicate with our membership about our activities, our achievements, our educational opportunities in a variety of ways. Most effectively, of course is directly, when we pull the industry together at conferences and meetings. We communicate how we can work together better when we're face-to-face. Then, there are all the other ways that we communicate: print, email, social media. And of course, we've got a robust committee structure where our members come together multiple times a year. We don't have an industry magazine – not one that we publish. There is an industry magazine, and periodically, we do provide articles or guest editorials."
BVM: How big is the ASC staff and what are their main priorities?
Allmond: "We are a mean and lean staff of seven and our areas of responsibility are aligned with our members' interests – for example: technical services, regulatory affairs, member services, meetings and events. The main objective for every staff member is to continually deliver value to members, every time a member connects with us. That's our primary objective, every day, and we align our resources to where our members tell us. They look to us to deliver value.
"We do make changes when our members' interests or priorities in the ASC shift. Every two to three years, we go through a long-range planning process, where we will survey our membership, and test and validate some assumptions about ASC to make sure they're still the same interests that were in place, previously. And, when necessary, based on that input, we align or, in some cases, realign our investments in human or technological resources to achieve our overall objective. We just went through a long-range planning process, last year, so this year is the first year of a three-year, long-range plan and we did realign some of our objectives and staff to support further what our members told us that they want to see more of, or in some cases, less of. So, we are continually measuring and evaluating what we do and where we have our resources aligned."
BVM: What items are currently on the top of your agenda?
Allmond: "There are so many advancements and technologies and innovations in the markets where our products are used, so at the top of our agenda is ensuring that we are providing the technical service and training that members look to us to provide to stay on top of, or in some cases, stay ahead of, those market advancements. Our industry is looked to as a solutions provider and you need that technical expertise in order to know how you can move your product forward. So, really, the top of our agenda is growing our technical offerings and ensuring that we are utilized, from a membership standpoint, as a solutions provider."
BVM: Any important points that you would want to make sure our readers remember?
Allmond: "Being in business for 60 years, I think I'd like for readers to understand that, like the industry that we represent, the ASC continually innovates. We do that to ensure that we're a reliable solutions provider for companies that believe in a strong future for our industry and believe that we are an essential partner in achieving that vision. We place a premium on remaining highly relevant and an essential part of our members' success."
AT A GLANCE
WHO: The Adhesive and Sealant Council
WHAT: A non-profit, national trade organization
WHERE: Alexandria, Virginia
WEBSITE: www.ascouncil.org