Timberlab
the virtues of wood
Using some of the most beautiful woods available, Timberlab provides beautiful and sustainable design options
Over the last several years, one of the most innovative trends in the construction industry has been the growing use of mass timber as a building material, replacing some of the more traditional structural systems made from concrete and steel. Mass timber is a general term used to describe a number of large, engineered wood products that typically involve the lamination and compression of multiple layers to create solid panels of wood. Mass timber construction uses those panels to frame a building's walls, floors, roofs, columns, and beams.
While mass timber has been utilized in Europe for several decades, the North American market has been somewhat slower to take advantage of its many characteristics and virtues. But that is changing rapidly, and leading the charge in this domestic construction revolution is a small company in Portland, Oregon named Timberlab. Launched on Jan. 1, 2021, Timberlab was created by Swinerton Builders, a 135-year-old construction firm based in San Francisco.
Timberlab's President is Chris Evans, who began researching the mass timber market in 2016, as Director of Swinerton Builders' Mass Timber division. Timberlab was formed in response to the growing need for a separate general contracting company to oversee all procurement, engineering, fabrication, and mass timber installation services.
Today, Timberlab is a full-service, turnkey, subcontractor for mass timber structures. "We do in-house structural engineering, detailing services, fabrication, and installation, mostly on large commercial construction projects," says Evans.
"We focus on mass timber – Glulam and CLT timber in the construction of the buildings that we work on."(Glulam is a type of structurally engineered, mass timber product made up of layers of dimensional lumber bonded together with durable, moisture-resistant, structural adhesives. It's used for columns and beams. CLT stands for Cross Laminated Timber, which is used for floors, walls, and roofs.) "We got our roots from the general contracting side, which means we're builders, and we take into account the whole structure when we fit mass timber into a building."
Erica Spiritos is Timberlab's Vice President and Director of Preconstruction. Preconstruction is an important element in the mass timber construction process, as many of its systems are pre-fabricated by its construction teams at the company's own plant, rather than onsite, as is more typical with concrete and steel. "We're not cutting material onsite," Spirito notes. "We're putting pieces together. And one of the beautiful things about mass timber is that the structures are assembled and installed with a much smaller crew. We rely on a team of six to eight people to build our structures, and we have multiple crews that travel around the country to install our products."
Evans maintains that the pre-fabrication of components involved in mass timber projects, with kits that have pre-cut holes for all mechanical, electrical, and plumbing conduits, has begun to alter the traditional manufacturing processes of Timberlab's construction partners. "What's transformative about mass timber on these large commercial projects is that due to our manufacturing process, you really have to pre-plan the building," he explains.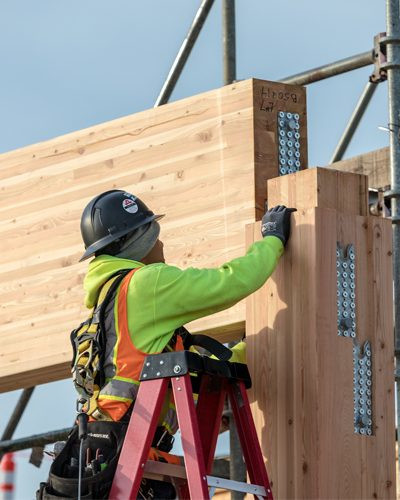 "That has forced the industry, in a good way, to coordinate designs during the design process, not during the construction process. On most construction projects, you wait until the last minute to do everything and the last minute for mass timber just happens to be four or five months earlier in the design process. That led to the use of building information modeling, where you have to coordinate with the mechanical and electrical and plumbing, and fire sprinkler trades. As a result, that coordination provides for the quicker erection of buildings, and fewer questions during construction, and by default, the other trades end up having fewer people on site."
"Now, those other teams can spread their resources out. Fifteen years ago, it was an added cost to do building information modeling on a project and it wasn't seen as saving anybody any time. This is the building system that has brought the modeling to fruition. Now, we start to see where it is saving time and we can build 15-20 percent faster than a conventional approach by having all those trades participating. That's an amazing thing that I appreciate as a builder," he elaborates.
"Swinerton built its first mass timber project in 2017 – the First Tech Credit Union's Oregon Headquarters," Spiritos recounts. "That was the largest installation of CLT in the U.S. at that time. We delivered that project at a cost-savings and schedule-savings compared to the steel building that we were benchmarked against, and validated that mass timber was viable on this scale," Evans adds.
Since then, Timberlab has been racking up projects – some three dozen over the last several years, a few of which are record holders.
"In December 2021, we delivered the timber structure for the tallest hybrid, mass timber structure in the world – the Ascent project in Milwaukee, Wisconsin," Spiritos adds.
Ascent is a 25-story luxury apartment building that contains 273,000 square feet of mass timber. In December 2022, the company topped out the timber structure installation of the first tall timber building permitted in the State of Washington, called the Heartwood.
"It's an exciting project because it's eight stories with 126 units of workforce housing for Seattle, a city that is in great need of housing for middle-income residents who are making 60-100 percent of the median income. That's a pretty monumental project for the industry."
The Heartwood is also one of the first mass timber projects built under Washington State's recently adopted Type IV-C building code which requires a two-hour fire-resistance rating for a building's components. Fire resistance is yet another virtue of mass timber, even though it seems counter-intuitive to accept the fact that large wooden structures could be equal to, or sometimes even surpass, the fire resistance of concrete or steel. But the fact is that many historic buildings, the large fabric mills, for example, that proliferated throughout the northeastern U.S. in the mid-to-late 19th century, were built with heavy timber construction – floors and beams that were four inches or thicker.
"During fires, these components tended to have just localized damage and not a full loss of the structure," Evans relates. "People logically think that wood burns; but large timbers char. Bigger timbers have a smaller surface area and larger volume ratio, so it takes longer to ignite and ends up tending to char. These heavy timber buildings are naturally resistant to fire and perform really well if designed the right way."
Timberlab markets its services to three main types of clients: private developers looking at either residential or office development; build-to-suit corporate clients building out facilities they intend to occupy, themselves; and public works projects, i.e. municipalities, community centers, universities, etc. That being said, Timberlab's portfolio continues to shift, depending on ever-changing building codes, growing acceptance of mass timber as a viable construction option, and unforeseen events, such as the COVID-19 pandemic.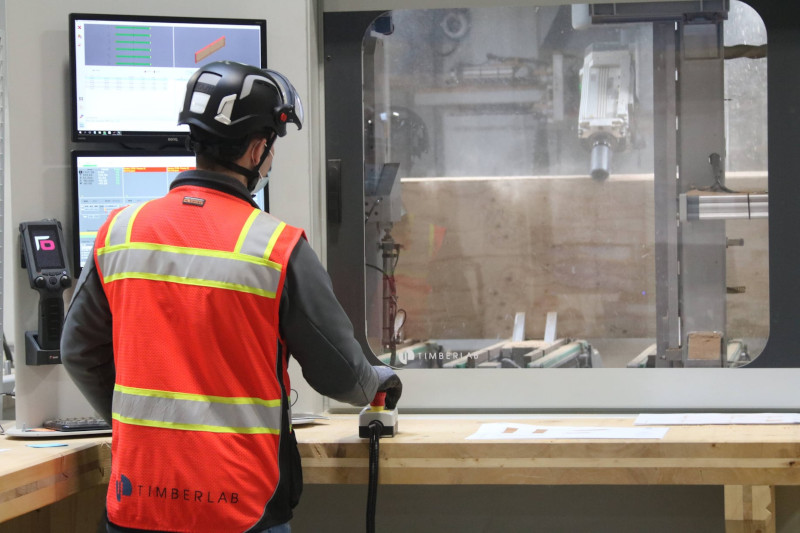 "Five years ago, a lot of the building product that was being built with mass timber was offices – build-to-suit or spec," Evans says. "Since then, we've had COVID, which put a hold on office buildings. We thought, in 2020 and 2021, what's going to happen to the mass timber industry in 2022 and 2023 if the office sector has slowed down? Will this market continue to grow? What's happened — the silver lining of the pandemic — has been a heightened sense of awareness of the fragility of the earth and more and more people coming to design their buildings in a more sustainable and responsible way."
Even though the office sector has slowed down, the increase in momentum in putting mass timber in buildings has dramatically increased. The trend for the next two, three, and five years will be multi-family, multi-level housing that once would have been concrete and now will be timber. The office will come back, but that's the trend that we see coming down the pike," Evan continues.
Spiritos extrapolates on mass timber's environmental virtues: "The opportunity that mass timber presents is to build with renewable, sustainable materials and offset some of the significant carbon emissions associated with the production of concrete and steel. The construction industry is responsible for 40 percent of global greenhouse gas emissions and of that total, about 11 percent comes from the manufacturing of concrete and steel. Wood is also a carbon-based material, so we're giving the tree a 'second life' in the building after it's cut down, storing all the carbon that's stored in the tree, in that structure for as long as that building stands. And timber is a rapidly renewing resource; in the U.S., we harvest less than what grows annually here."
Timberlab's next new showcase is going to be the centerpiece of Portland International Airport's terminal redevelopment project, "We're building a nine-acre roof – 400,000 square feet, with 80-foot-long Glulam arches supplied by Zip-O Laminators," says Spiritos. "The whole roof structure is this undulating, geometric shape, and it's going to be really amazing and a stunning display of locally-sourced mass timber."
The new roof, comprising 3.3 million board feet of Douglas Fir, is being built about a half-mile away from the site, where it will be disassembled into smaller modules and then reassembled above the terminal's existing roof in segments over a one-year period.
"We've also been pleased to work with a group called Sustainable Northwest that has helped us connect with the regional forest community and timberland owners so that we can transparently, and in a targeted way, procure wood for our projects,"
Spiritos continues. "So, for the airport, in particular, we were able to identify landowners that we wanted to work with and then source material from their lands, track it through to the mill, then to our fabrication facility, then to the site. And we're going to be able to tell stories about where the wood came from on plaques at the airport, which is really special because you don't normally get that kind of information in construction. And I think one of the really beautiful things about timber is that, because people care so much about trees and forests, they want to understand where the wood comes from. So there is this increasing demand about 'intentional sourcing' and they want to celebrate that source."
According to Evans, Timberland's long-term objective is to continue the company's leadership role in the mass timber industry, advocate for mass timber's many virtues, and thereby accelerate the mainstream adoption of mass timber construction.
"To do that, we have to be innovative," he states. "We have to find solutions that cut down on labor costs, manufacturing costs, and supply costs, so we can get to that point in all markets, it's a cost-competitive structural system that any building owner should consider. That's our goal. Everything that we're doing is to support, promote, and grow mass timber in commercial construction."
AT A GLANCE
Timberlab
What: full-service, turnkey subcontractor for mass timber structures providing in-house structural engineering, detailing services, fabrication, and installation
Where: Portland, Oregon
Website: https://timberlab.com/
Zip-O-Laminators – www.zipolaminators.com
Custom Glulams – The Relationship Business
Zip-O-Laminators started in 2016 as the newest division of Zip-O-Log Mills, which was founded by the Hallstrom family in 1944 near Coburg, Oregon. The culture of Zip-O has remained consistent for over 75 years: to produce high quality products with exceptional service.  Whether it is for a custom timber frame home or a custom golf course club house, every project is unique and we will take care of you!
In the world of construction, delays are costly. The entire operation at Zip-O-Laminators is committed to deliver your beams on time. We own and operate our own kilns so we can control the quality and moisture content of our stock. We strive for on-time, accurate deliveries by rail or truck. From administration to sales to production to shipment, our goal is to provide premium service at every level.  Zip-O-Lam can also produce their own lamstock by working with Zip-O-Log Mills, unlike other manufacturers.
Zip-O-Laminators is geared towards producing only the highest quality laminated beams in exceptional sizes. Zip-O-Lam can produce beams up to 115 feet long, 28 inches wide and 111 inches deep. We also make custom curves – slight to tight radius beams.
Think it can't be done? Ask us!
Certified through the A.P.A – The Engineered Wood Association, we currently produce beams out of Douglas fir and Alaskan Yellow Cedar.
We are certified with the FSC® (Forest Stewardship Council®) and can provide glulams for your next FSC® (FSC® C157387) job.
At Zip-O-Laminators, we have the capacity to produce, fabricate and finish your custom beams.
Types of Fabrication and Finishes:
Kerfs and Notches
Holes, Daps and Slots
Bevel and Taper Cuts
14" & 16" Single Face Boards
Premium Finish
Resawn Finish
Sanded Finish
Our ambition is to have your experience with us a breeze and to make your dream a reality. Give us the opportunity to prove it to you.