Nordic Structures
Quebec's mass timber specialists
Business View Magazine interviews Jean-Marc Dubois, Director of Business Development at Nordic Structures, as part of our focus on the mass timber industry.
Surrounded by pristine boreal forests in Northern Quebec, Canada, Nordic Structures, a family-owned and operated mass timber company, is quietly pioneering the return of mass timber to large scale construction. With roots extending back to 1961, Nordic, a division of Les Chantiers de Chibougamau, started with five employees and a portable sawmill. Now comprising over 1000 employees, the lumber and engineered wood company also specializes in delivering sustainable mass timber structures across North America.
Operating from its manufacturing center in Chibougamau, where short growing seasons and harsh climatic conditions result in small trees with dense fiber that is ideal for engineered wood products, Nordic Structures has evolved from sawing lumber to manufacturing and optimizing engineered wood and mass timber products, including I-joists, glulam beams and columns, and cross-laminated timber (CLT).
As a leading provider of sustainable wood products, Nordic Structures offers bespoke mass timber solutions for large-scale construction projects. Nordic has delivered numerous iconic structures in Quebec and across Canada, covering a wide variety of industries and sectors, including academic, industrial, institutional, commercial, infrastructure, recreational, multi-residential, and civil works. Since its emergence as a turnkey structures provider, Nordic Structures built the first mass timber university building in the U.S. at UMass Amherst, and the first mass timber office buildings in Denver, New York City, San Francisco, and more recently, the first in New Hampshire.
Nordic Structures pioneered a unique glulam production process which exploits wood typically considered too small for utilization. Nordic Structures achieves this through innovative small-block production methodologies, leading to higher yields per tree – a strong indication of its commitment to the sustainable production of mass timber products.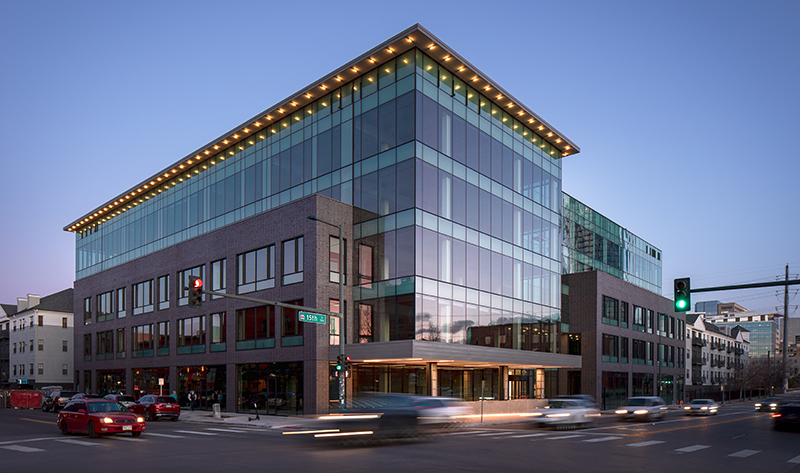 From its initial foray into the engineered wood sector providing I-joists for residential construction, Nordic Structures transitioned to larger glulam structures like hockey arenas and soccer stadiums at the outset of the 21st Century. In 2010, the company built the first North American cross-laminated timber plant. "At the time," notes Jean-Marc Dubois, Director of Business Development at Nordic Structures, "the North American market was not ready for mass timber structures, and production volumes were disappointing. In response, Nordic Structures decided to become its own development company, constructing a 24-unit condominium building in Chibougamau, a project that redefined our focus to become both a product and project management company serving clients across North America."
Nordic Structures operates primarily from two centers – the motherhouse in Chibougamau, where the company has its primary manufacturing plant, and its Montreal headquarters. A staff of over sixty project managers, designers, and engineers handle project-based work from the Montreal office. The company also operates a sawmill in Landrienne and has recently retooled a shuttered pulp mill in Lebel-sur-Quévillon. Dubois explains, "With these facilities, Nordic Structures has closed the loop in its production cycle, effectively creating an internal circular economy that enhances our overall capacity to handle complex projects."
Trees are harvested in the boreal forests of northern Quebec, consisting mainly of black spruce, jack pine, and balsam fir. Nordic Structures' forestry operations are certified by the Forest Stewardship Council (FSC). Internationally recognized for its robust social and natural resource sustainability standards, this certification ensures Nordic Structures approaches its forest lands with a high level of sensitivity and responsibility, while ensuring benefits for the surrounding communities.
"We focus on smaller caliper trees, which requires a dedication of technological resources and imagination to transform into mass timber products," says Dubois. "However, our manufacturing process is optimized to take advantage of these smaller caliper trees, and we have achieved this through our unique Enviro Lam process, developed by Nordic's technical and production staff and approved by APA, the certifying agency for engineered wood products."
The Enviro Lam process uses sizes as small as 25 x 50 mm (1 x 2 in.), making it possible to enhance fiber recovery from the whole tree, including side-cuts and the crown. The result is an increase in yield of between 18 and 20 percent compared to other sawmills' processes. "The Enviro Lam process came not only because of the dedication of resources," says Dubois, "but also a visionary approach to building a highly efficient and sustainable business."
Nordic Structures serves clients across the entire range of mass timber services depending on each client's project scope and scale. Dubois emphasizes, "We don't do a lot of cookie-cutter type projects, so there's not a lot of replication. For some projects, especially the smaller ones, we supply materials like glulam beams, I-joists, and CLT. For larger projects, we make sure that we guarantee the quality of the installed structure by providing turnkey structural solutions for mass timber projects."
While Nordic Structures does not provide a fully finished, ready-to-move-in package, the company does offer structural core and shell solutions that give the client or a general contractor all they need to deliver this complete package. The company's support services that help clients achieve this outcome include code compliance and design coordination with the architect and engineer of record, design development, process and logistics streamlining, and budget management. In this sense, Nordic Structures stands out from other timber companies in providing a unique and visionary solution that delivers the complete installed package at the end of a project.
The Saint-Michel Environmental Complex Soccer Stadium in Montreal, Quebec is a fine example of a technically challenging turnkey project Nordic Structures delivers. The only one of its kind in the world, Architect Magazine notes that "the highlight of the project is the laminated wood structure supporting the roof." Dubois admits that the wood roof has, to this day, not been replicated anywhere else in the world, and has been the focus of a number of engineering conferences worldwide. Further afield, Nordic Structures has just wrapped up erection of the very first mass timber commercial office building in San Francisco, a significant feat considering the project is across the continent. Dubois acknowledges that such projects are possible due to the strong logistics network Nordic Structures maintains, including developing railcar loading parameters for CLT panels vetted by the American Association of Railways.
Nordic Structures is optimistic about the construction industry's movement towards sustainable building using mass timber. "The size and scale of the projects that we see just continue to expand," says Dubois, "proving that mass timber is becoming more mainstream." To hasten this transition, Nordic Structures has, for the past ten years, engaged with engineering and architectural associations to promote mass timber design, playing a pivotal role in the emergence of schools that are bringing it back into their curriculum.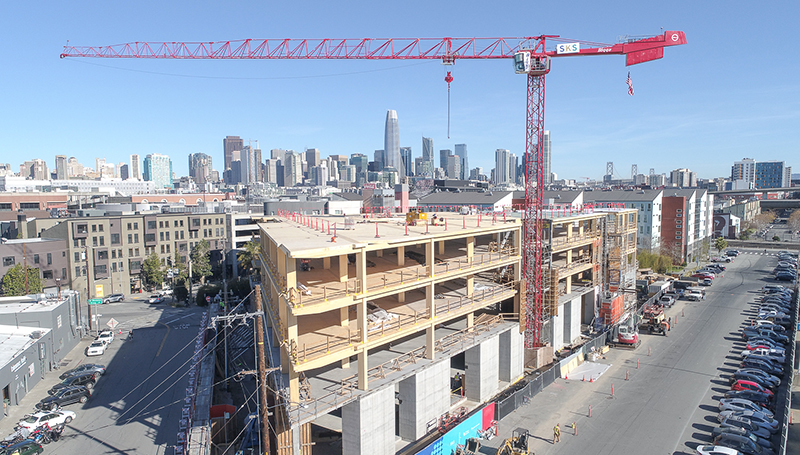 "Our mantra for the past ten years has been to promote sustainable building solutions through mass timber," states Dubois. "As part of the company's ongoing dialog with industry players, we continue to have discussions with clients, architects and engineers on the role mass timber can play in promoting sustainability. We believe that, ultimately, what goes into a structure has the most impact on the environment and that with proper application and detailing, it is possible to have tremendously long-lived wood structures."
Nordic Structures believes that the quality and affordability of projects they achieve with mass timber is helping people see that it is not necessarily more expensive than concrete or steel; that builders do not have to compromise strength for aesthetics because, pound for pound, wood has the same compressive strength as concrete and the same, or better, tensile value than steel. Dubois agrees that while you cannot always design with the same cross-section as steel or concrete, taking into consideration timber's characteristics can help you design to its strengths. "This is the main reason we're seeing people coming back and building their fourth and fifth and sixth projects with mass timber," he says, "because they did their homework, and they know mass timber is the best way to build sustainably."
On the aesthetics front, Dubois gushes about the benefits of wood. "It's amazing, and it makes a strong statement design-wise. When you go into a wooden building, in addition to the natural human biophilic response, which has a calming effect, the indoor environment is more comfortable than a steel or concrete building." He shares an example to illustrate the point; "When you're in a concrete building in the wintertime and put your hand in front of a concrete wall, you can feel the concrete drawing away your body heat, which is a sign of energy flow from hot to cold, or entropy. When it comes to wood, which has higher insulation values, heat loss is not as prevalent because wood creates a thermal flywheel effect as it heats up and cools down much more slowly than steel or concrete."
Looking beyond the five-year horizon, Nordic Structures is focused on organic growth. As a family-run business, the company has a lot of stability and predictability in terms of the decision-making process, allowing it to gradually build out its growth strategies over the long term. In addition to the commercial structures that are increasing in popularity, part of Nordic's strategy is to respond to the need for affordable workforce housing, especially in metropolitan areas like Boston, New York, and across California. Dubois predicts that the future of sustainable construction is in efficient, high-quality, multi-family residences, and Nordic Structures is prepared to support this emerging trend. The company is ready to provide quality workforce housing for first responders, teachers, and other middle-income workers, ensuring they get the caliber of residence they deserve in which to live and raise their families.
AT A GLANCE
Nordic Structures
WHAT: A family-owned mass timber company
WHERE: Montreal, Quebec
WEBSITE: www.nordic.ca

MTC Solutions – https://mtcsolutions.com | info@mtcsolutions.com
MTC Solutions (formerly MyTiCon) was founded in 2011, bringing self-tapping structural wood screws to the
emerging North American Mass Timber movement. Today, MTC Solutions is North America's leading supplier of
tested and proven connection solutions for modern mass timber applications in commercial, industrial, and residential
projects. Our range of products includes:
ICC-approved structural self-tapping screws
ICC-approved stainless steel self-tapping screws
Tested and proven beam hanger systems
Tested and proven rigging equipment
Timber-concrete composite systems
As an industry expert, we provide the expertise necessary to design cost-efficient connection solutions with
our team of in-house design experts. We provide the right design tools and guides for code-compliant connections
and deliver solutions where and when you need them, with a logistics chain stretching from Alaska to Florida.
We have supplied hardware to thousands of Mass Timber and Heavy Timber projects in North America over
the past decade. Solutions that scale from log homes to multi-story residential and commercial construction,
including prominent projects such as Carbon 12, First Tech Credit Union, and most recently 1 De Haro in San Francisco.
Henkel – www.henkel-adhesives.com
Henkel is your global manufacturer and supplier of one component moisture-curing liquid polyurethane adhesive systems for engineered wood. Under the brand LOCTITE PURBOND we provide high-quality adhesive systems, competent advice from industry specialists, and dependable technology support for your needs. We are leading with high-impact solutions, created with consumers in mind.