Coastline Construction
Providing the best 'coverage'
Experts in both roof coverage and facilitating insurance coverage, Coastline Construction doesn't just 'claim' to do it all, they cover your roof and peace of mind
There may be many roofing companies on the market claiming to be the best in the industry, however, there are very few that offer to cover your roof expertly and help to direct you in the often daunting insurance process after the worst has happened. When damage has occurred after a catastrophic weather event the thought of having to navigate the intricacies of the insurance end may be too much for some to contemplate.
Living with the reality that a roof may be damaged in extreme weather resonates with Florida homeowners. Having just journeyed through two major hurricanes, the aftermath has left many with damages that could be potentially very costly and time-consuming to try to 'cover' on their own.
For leading roofing experts, Coastline Construction, the roofing process is viewed as a holistic one; how to cover the roofing damage right through to how to help the client through the often arduous insurance or legal channels when claiming damage compensation.
Based in Fort Myers, Florida, Coastline Construction has been seamlessly putting roofs on homes, often high-end, for years and this experience has cemented its top position in the Florida roofing and construction market.
The company has gone one step beyond its local competition and offers specialized direction to help distressed homeowners walk through the task of making claims for roofing damage.
'Covering' after the damage is done
"Our specialty is helping folks out after there is a disaster such as hurricane Irma," Christopher Polino, Sales Manager with Coastline Construction begins.
"A lot of times people, when they start their insurance claim process, do not know which way to go. We have public adjusters that we can get them in touch with and we have all of our attorneys that we have a good relationship with to get them retained to make sure that customers are getting properly taken care of through their insurance companies."
Facilitating the entire roofing process doesn't end there.
"Once all the customers' claims settle out, we can come in and we can do the roof for the insurance proceeds. And as always, the homeowner is just paying the cost of their deductible and we put in a brand new beautiful roof on their home," Polino adds.
Polina is quick to point out that it is this end-to-end coverage for Coastline Construction clients that sets their services apart.
"You know any roofing company could put a roof on, we are not building rockets or conducting brain surgery. The point we want to drive home is that we have your back as the homeowner or the business owner and whatever resource we have to give you, or whatever direction we can point you to get properly covered by your insurance company we will be there for you."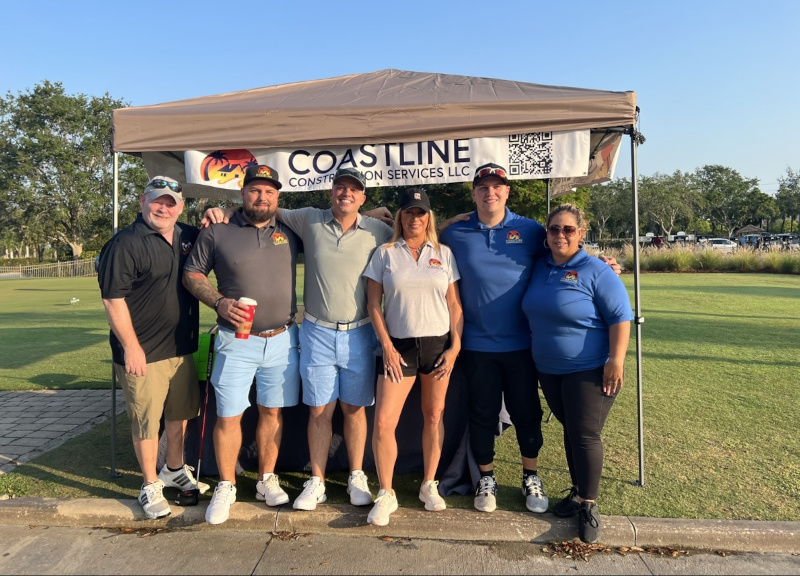 'Covering' all the necessary steps
When asked about how Coastal Construction goes about providing a full coverage service, Polino is quick to break down the company's key steps.
"First we diagnose the damage [after the latest hurricane] when compared to hurricane Irma back in 2017, we have seen much more water damage."
"We have had to go in to help out with this damage and determine whether the damage was contained to the exterior, so we look at the gutters or roofing soffits or anything about the exterior of the property." Polino outlines.
"We then diagnose the problem so we can get them in the right direction."
Polino was amazed at the veracity of the last hurricane to whip through Florida and has determined, based on the properties that they have evaluated, that the damage caused more catastrophic damage than anything he has seen since residing in the region.
Of course, stepping back, before diagnoses on a given property can be accurately made, the referral process begins.
"We receive a phone call or get a referral and being the experts on how storms damage roofs, whether they are a flat roof, concrete, slate, or shingle we can then go to the ground, walk around the property, and start to build a case."
Part of the diagnostic process directly relates to the very pressing concern of just how much a customer's insurance provider will cover. To lay claim to monetary compensation, Polino explains that there should be clear signs or evidence that " the damage on the roof was not pre-existing and it was created during a weather event."
The next step, Polino outlines is ensuring the legal protections are in place and that customers have legal channels they can pursue if they are encountering barriers through their insurance providers.
"Once we have identified the damages are [weather inflicted] we can now have a conversion about legalities."
He is quick to add that the state of Florida is sometimes like "walking a legal tightrope".
"There are certain things that we can do and there are certain things that we are not able to do," he relays.
"We cannot advise anybody to put in an insurance claim in the state of Florida, but if the folks start asking questions about the insurance process we have the answers for them and we help guide them in the right direction- we just try to be the angel on their shoulder through the whole process."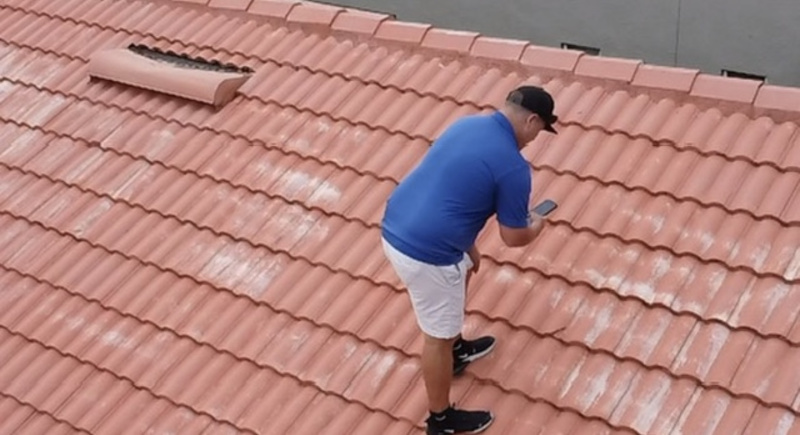 'Covering' trends and technology
Like all the construction trades trends play out and technology continues to make inroads. To stay competitive, Polino insists that being on top of both is paramount.
"The roofing industry is an ever-changing industry."
"One trend that we are utilizing what is called an ice and water shield in Florida to give the homeowners the peace of mind that their roof, even if the shingles are ripped off, is going to be watertight- they are not going to get those leaks inside," Polino insists.
"We have also pivoted to the use of Peel Stick which is a much quicker installation and it is much safer for our guys when working on the roof."
Other advances have been made in the roofing industry that Polino drew attention to.
"It amazes me the way technology has changed."
"For our bigger projects, let's say three stories or higher, there are some great things that we use like dumpsters that get elevated off the first story or the second story so we're right at the roofline and you just throw the material off to make sure things are safe and we have a system that is called a catch-all system."
He further illustrates a system that Coastline Construction utilizes which "is like a mesh netting that we surround our properties with to make sure that shrubs and bushes and AC units, garage doors and other everything is protected on the properties.
Polino points out that none of these developments were available several years ago.
More sophisticated, software-based technology is also progressing in the construction trades, Polino notes.
"Drone footage is huge for us especially if we don't feel safe going up on a roof."
"We can get a licensed drone pilot out there to draw on the property and access to see what we are working with and it is great for when we are producing jobs because we can use drone footage to create a great video of our guys working that showcases everything we do," Polino adds.
The company's CRM and office software technology is also a lifesaver, according to Polino.
"Our CRM is state-of-the-art."
"I can give a roof quote to somebody in less than 60 seconds by just basically sitting at my computer desk, just through the use of satellites. I can get the measurement of a home in a couple clicks of a button and a full estimate to someone in less than a minute."
'Covering' the next few years
Looking ahead, Polino is geared up for a productive end to the fourth quarter of 2023 and a prosperous 2024 that lies ahead.
"We have partnered with a solar company and we are now able to offer a full solar service for our clients. There is no better time to install a solar system than when the roof is being ripped off."
"This is currently being offered to our customers as an upgrade."
Top of the mind for Polino continues to be the quality of service that Coastline Construction can provide for its valued client base.
"Every time that we walk in a room, we want to be professional. We want people to feel these guys know what they are talking about because in most cases we could be in a marriage with these folks for as long as 18 months depending on how long it takes for their insurance claims to settle out."
"From day one we want these folks to feel comfortable."
As for future directions for the company Polino summarizes it best.
"We are taking big steps into commercial flat roofs. Our business was a big residential business when Hurricane Irma hit back in 2017. Now we are looking forward to taking the next big steps toward one day becoming a full-time commercial roofer where we are just taking on those big projects," he concludes.
Based on the success earned by the company to date, this step can easily be achieved for a company that puts comfort and peace of mind first when 'covering' its customer base.
AT A GLANCE
Coastline Construction
What: Primarily residential roofing contractor that 'ensures' its customers are pointed in the right direction for their roofing and insurance claims
Where: Fort Myers, Florida