Northern Composites
A composite picture of a leading company
Northern Composites; armed with the technical expertise and developing the products that the market demands
It takes many intangibles to climb to the top of the manufacturing sector. For one company, Northern Composites, the route has been a seamless one. A leading supplier and manufacturer of structural materials, adhesives, tooling, and consumable products, Northern Composites provides what the industry demands.
With locations in Hampton, N.H., and Greensboro, N.C., the company has grown a lot since it started in 1965. It has done so by anticipating pertinent market trends, delivering high-quality materials on time, providing unsurpassed technical expertise, and developing a variety of proprietary products to meet the changing needs of its customers. About three-quarters of Northern's business these days is tied to the aerospace industry.
We recently spoke with Northern Composites' General Manger Richard Hewett. He told us more about what Northern has been up to since we first featured the company in the pages of Business View in 2019. Hewett notes that for the past 58 years, Northern has been a manufacturer's rep and a distributor of products.
"Then in 2016," he notes, "we broke away from one of our anchor suppliers and partners: a company called Richmond Aircraft Products. They had gone through multiple acquisitions, and it didn't work for us anymore. We launched our brand in 2016, and that was a pretty dramatic change of position for us. All of a sudden, we were a manufacturer, and we weren't contractually tied to a territory as we had been for the last 50 years, and so off we went, wondering what was going to be next."
What came next was measurable growth.
"It became pretty apparent," says Hewett of the period of 2019-20, "we needed some help to promote our products in other parts of the country. We had historically been an eastern United States company, and now we were free to sell wherever we wanted to."
A more organic growth, putting warehouses in other places, might well have been feasible. Yet Northern Composite's leadership wanted to move more quickly than that, as Hewett notes. Thus the company started looking for people who might be interested in selling its products. After many conversations with a lot of different people, it was evident that there were people who were interested but who were, in fact, much more interested in owning Northern rather than simply selling its brand. Northern Composites is a valuable brand indeed, and these other people wanted a piece of that pie, Hewett reveals.
Northern Composites leadership determined that selling was the route to take. They approached Generational Equity, which specializes in promoting and selling companies of Northern Composites' size (< $150M). Northern was finally able to do a deal with Krayden in January of 2021 which enabled the company to operate more or less autonomously.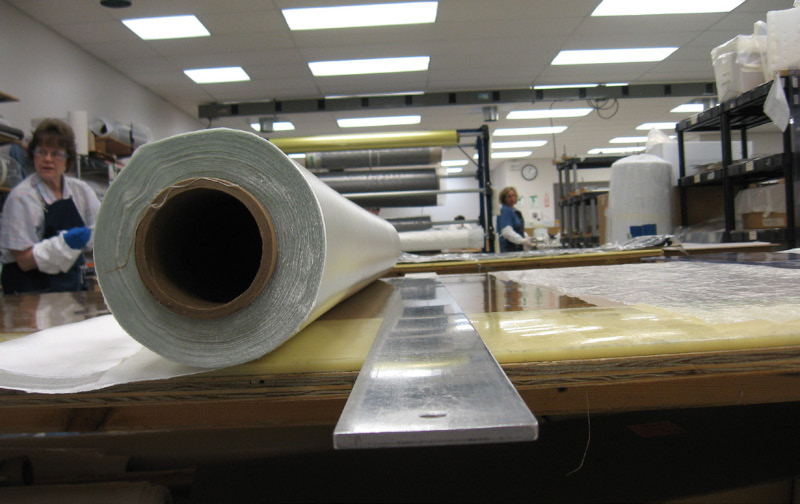 A productive partnership
It is a prosperous partnership, as Hewett observes, with Northern Composite able to take advantage of Krayden's infrastructural strength, including 55 sales staffers throughout North America, multiple locations in the States, Canada, and Mexico, and warehousing space closer to customers. It's a nice distribution network Northern can tap into.
"That was the intention all along, and it's working out well," says Hewett, whilst at the same time acknowledging a few bumps in the road that aren't anything truly significant to worry about and are only normal, after all.
Such is the nature of any merger, he adds, with two company cultures coming together.
In addition to the aeronautics industry, Northern Composite also conducts a significant amount of business with Japanese chemical giant Mitsubishi, a sister company of the probably more famous automotive manufacturer of the same name (the former known for carbon fiber and composites); Henkel Aerospace, a German-based company with locations worldwide (aerospace paste and film adhesives, Frekote® mold release and Alodine® Turco® surface treatments, and quite recently, Oxeco, Ltd., a surface treatment company.
"We're always looking to add to our product line," he observes, extolling the aforementioned companies.
BFG Industries is the companies oldest line, known for specializing in fiberglass, aramid, carbon fiber, and hybrid reinforcements. A logical business extension given that back in the 1960's, Northern Composite itself started as a fiberglass company.
Another partner for Northern Composite is Holcim, known for specializing in sealants and Tacky Tape®.
Complementing the list is American Fiber and Finishing which specializes in wiping cloths, tack cloths, and other such related items.
Another positive outcome of the merger, he notes, has been that the Krayden business has taken over a lot of Northern Composites' business services. This includes accounting, IT matters, HR duties, and more.
The flavor of Northern Composite's operations has changed a bit in recent years, as Hewett notes. Utilizing Krayden's sales force enables Northern Composites' staffers to concentrate more on business development and tech support. It also facilitates more cross-pollinating efficiency.
"I think over the years to come, you'll see that is what Northern Composite will metamorphose into," he says, "a brand of composite materials, as opposed to a distributor. The distribution part of it will be Krayden, the much larger distributor, so the name on the door may change at some point. Our facility in Greensboro is largely unchanged. That's where we do our conversion. We've added personnel down there, as well, as we've taken on more manufacturing and converting in-house."
Northern Composite several years ago opened its second warehouse there as the location for a new stocking and service facility. This was done to better serve the company's customers in the Southeast and the Midwest. Northern Composite also became a Hysol Aerospace adhesives distributor for Henkel Aerospace.
The future landscape
Hewett predicts that his industry will continue to evolve.
"The use of composites is expanding all the time," he says. "New products are coming out. It's finding its way into new applications all the time."
In recent years, businesses have discovered the importance of going green. Recycling blades from old windmills is one such example, as Hewett notes.
"There's a lot of new technologies coming out, new products," he says. "For us, the important thing is to stay relevant and to keep up with that. It's quite a job."
Hewett himself enjoys investigating new products. If there's a potential use within a Northern Composite product paradigm, and it's something the company's customers might find appealing, then they'll pursue it further.
Just recently the company commissioned a new "hot-knife" slitter in Greensboro. This will be used to slit PFG peel plies for our customers and perhaps for PFG as well. This is an important part of our continuing investment to increase our in-house capabilities
"The industry in general, I think, is definitely on an upswing," he says. "There's no real question about that. Aerospace is bouncing back. COVID knocked everyone for six. It was a pretty good downturn, and we're still feeling the effects of that as people use up inventory that accumulated as we came out of COVID. They were buying like crazy because they didn't know what was going on. Now they find themselves with too much inventory. I think that will eventually wash out in 2024, and we'll start to get into some solid growth."
At the end of the day, says Hewett, Northern Composite is firmly focused on service.
"I think one of the things we've always prided ourselves on is service," he says.
"We're a very customer-oriented company. It's important to us. We try to instill that in all our employees. If you're not in sales, at Northern Composite, then you're supporting sales. That's all we do, so everybody's in sales. We pride ourselves on the tech support we give. We understand the products we sell. We're very careful about making recommendations, and we're very proud of the fact that we turn things around very, very quickly. If somebody orders a product before one o'clock, it'll ship the same day. That could be a tube of adhesive, or it could be two pallets of material going to Boeing. It doesn't matter."
He emphasizes that customers form Northern Composites' lifeblood. The company's customer service team has recently expanded from three to five staffers.
"I put them up against anybody," he declares. "They do a great job, and we communicate well. Sometimes it's not good news, but you've got to share the news, whether it's good or bad."
"I think a lot of our competitors sometimes are reluctant to do that, and they tend to leave customers in the dark. That's never been our way. You have to communicate. I think our customer service and industry knowledge stand us in good stead."