Gilbert + Burke Associates Ltd.
Celebrating 20 years of excellence
Business View Magazine interviews Randy and Cathy Burke, co-owners of Gilbert + Burk Associates Ltd, for our focus on the Ontario Homebuilding Industry.
Ah, the joys of Ontario cottage country. Imagine your dream home or your seasonal getaway perched amid the rocky landscape and abundant trees, with a sparkling blue water view to make you swoon. The exceptional team at Gilbert + Burke spends their days making that wish a reality. Gilbert + Burke Associates Ltd. is an industry leader known for bespoke design, custom home and cottage construction, and extensive remodels in the Muskoka, Kawartha, Simcoe, Parry Sound, and Southern Georgian Bay areas.
The firm's commitment to quality knows no bounds in its creation of environmentally responsible, healthy, and energy-smart homes and cottages. There are no shortcuts. When it comes to designing and building exceptional lifestyle spaces, Gilbert + Burke always deliver. The company was founded in 2000 by spouses Randy and Cathy Burke and, after a few years of successful expansion, award-winning project manager Brian Gilbert joined the ownership team.
Then, in 2015, Gilbert + Burke acquired one of the biggest names in upscale cottage country design: Evergreen Homes and renowned Muskoka designer Peter Groza. This exclusive partnership cements a shared vision for environmentally-conscious, well-crafted custom home design-builds, with an emphasis on client communication. Gilbert + Burke is registered with Tarion (new home warranty protection) with certification in Energy Star home building, and is a member of the Canadian Home Building Association, Renomark, Canadian Federation of Independent Business, and the Kawartha Lakes and Orillia Chambers of Commerce.
Co-owner and President Randy Burke recounts, "We started the company in 2000 and the beginnings were fairly humble. It was a sole proprietorship, with the proprietor (me) doing most of the construction work and Cathy was working elsewhere but looking after the financial end of things, i.e. keeping the company books. And a year, two, three went by and a funny thing happened – when you show up when you're supposed to and do what you say you're going to do, people respect that and like it. So, we were able to source some good people to join us and it grew quickly from there. We had the good fortune of putting a team of excellent people together that enabled us to grow, and improve, and expand our services."
Today, that team consists of 15 full-time employees, including designers, architectural technologists, estimators, interior designers, as well as many subcontractors. Together, they help steer a complete homebuilding package from design through to completion. Even though the Gilbert + Burke head office is in Lindsay where the business started, in today's virtual world that just means it's where the computers are. The company has crews working out of several other areas in cottage country. Depending on the year, the firm averages 60 percent newbuilds vs 40 percent renovations.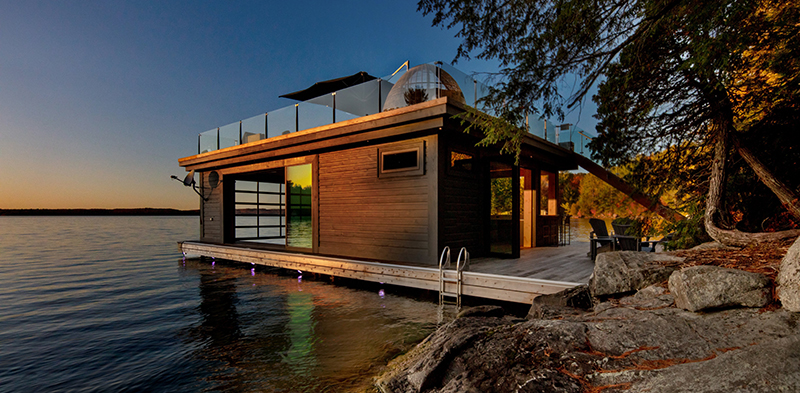 According to co-owner Cathy Burke, "As far as the project process, typically, a person will contact us about an idea they have and they need to know what's available to them, and a ballpark budget of what they might be looking at. Perhaps they already have a property – maybe it's heritage, maybe they just bought it – or maybe they don't even have a property yet. So, our sales staff talks to them, and often goes to the property, after which we discuss a plan and a quote depending on their choices and finishes. If it fits what they had in mind, we enter into a project development plan with them, and then we take it from the idea stage through to the ready-to-build stage. And then we build it."
Working in cottage country, the rocky terrain and water access can pose difficulties. Gilbert + Burke has done many island projects that necessitate use of the company barge and extra, unforeseen labor. Cathy notes, "You have to get the material to a dock and load it onto the barge. On one particular project on Lake Muskoka, we had to offload it from the barge, load it onto a 4×4 ATV with a trailer, and then haul it up a steep rock hill to the building site. And then offload it again. So that was a challenge. Another project involved a client who had bought an existing cottage on a very steep, 45-degree incline that was also boat access. They wanted to add a lower level under the existing level and, of course, we ran into rock. So then, we had to blast the rock underneath the existing cottage. There are a lot of safe techniques to accomplish that but it's still a challenge."
When COVID-19 first came on the scene in March, the Burkes saw a sudden downturn in leads and interest. Jobs that were just about to start were delayed by the clients and there was a dramatic impact on the company, as far as revenue was concerned, for a number of months. But by May, people were looking at their lives differently. Those with resources started making plans to improve their living spaces – whether it be their home or their cottage – to enable them to feel more comfortable spending more time there. Currently, the amount of leads and interest has taken a very strong jump. Randy estimates 50 percent more than last year at this time, but that still has to translate into actual work and revenue.
In the initial stages of the pandemic, the company had to set staff up to work from home, which also meant learning a new skill set. "Fortunately, we focus mostly on portable devices and we have a central server," says Cathy. "Then, because construction was considered an essential industry, we had to make sure all our teams in the field and our subtrades were safe, as well as our clients. We paid close attention to public health directions and the Province of Ontario legislation about what was required on every site. We had to make sure our site supervisors and subtrades were aware of the new reality and how to do it. And getting supplies (masks, hand sanitizer, etc.) was a challenge in the beginning, along with handling the internal office work at several different locations and communicating with people."
There was also a shortage of building materials. The company now finds itself sourcing materials from a wider range of lumberyards and suppliers, simply because some locations have certain materials and others are sold out. In addition, project schedules have slowed down because of limitations on the number of people allowed on one site. Although clients, for the most part, have been very understanding.
Gilbert + Burke is a champion of environmental responsibility. As Randy explains, "Both Cathy and I are 'friends of the land.' We love the outdoors. In fact, right now, we're building our own new home in the middle of the woods by a waterfall. It's a statement of what we really appreciate, so doing anything that would harm the environment overtly would not be in keeping with our own personal mantra. Our interest in growing our business sprang from that – and we see an opportunity, but also a sensitivity, to the environment and the natural world.
This past year, they had clients who were very concerned about the trees that would have to be taken down on their property for the build. Cathy admits, "We understand the value of the tree and its sentimental value – but even though we'd worked with the client to lose the fewest number possible, we ended up having to take out more to do the build than was preferable. So, this month, Randy bought ten new trees – five white spruce and five white pine – for them to replant wherever that want, now that the build is finished."
When it comes to sight lines, the Gilbert + Burke designers locate a house to have the maximum views and the minimum disruption to the site. "If you can sculpt it around a rock, it's much better and more cost effective than blasting the rock," says Cathy. "That's what differentiates us. We offer the whole package. If you want a super-environmentally efficient, or even a passive house, we know how to do that. Although not everybody wants to pay the premium for that."
Speaking to the best attributes of Gilbert + Burke, Randy shares, "Our agenda is nothing other than delivering what clients ask for, with integrity, and while doing so, making a living. If you ask for high end, that's what you pay for. If you ask for middle of the road, or have more moderate expectations, then the price will reflect that. So, I'd like to be able to overcome that notion that Gilbert + Burke is 'expensive' as some perceive. We're not expensive, we're competitive in the space we operate in and we give people exactly the beautiful results that they ask for. It's all about perception." And award-winning results!
AT A GLANCE
Gilbert + Burke Associates Ltd
WHAT: Award-winning residential design-build firm
WHERE: Head office in Lindsay, Ontario
WEBSITE: www.gilbertburke.ca
Gilbert + Burke Wins Builder of the Year Awards!
Announced in early October, Gilbert + Burke swept the Peterborough & Kawarthas Home Builders Association 2019 Housing Design Awards' most prestigious categories, winning:
Builder of the Year, Custom (Co-Winner)
Best Custom Home under 2,500 Square Feet – Natural on Peninsula Lake
Best Custom Home 2,500 – 4,000 Square Feet – Moon River View Cottage
Best Custom Home over 4,000 Square Feet – Lake Simcoe Retreat
Best Reno over 200K (Co-Winner) – South Georgian Bay Beauty
Best Outbuilding – Contemporary Boathouse
Best Any Room – Lake Simcoe Retreat & Master Suite Oasis
Best Website – gilbertburke.ca