Timberlab Inc.
Taking mass timber to new heights
Business View interviews representatives of Timberlab Inc. for our focus on the Mass Timber Construction Industry
Though they've been operating in the mass timber sector for a few years now, Timberlab Inc. felt there was more that could be done for the industry to reach full potential. Originally started as Swinerton Mass Timber in 2016, the company set out to offer the most cost and time-effective way to design, procure, and deliver mass timber for construction by offering turnkey mass timber structures to general contractors across the United States.
But now, they're ready to take that one step further.
This year the company launched Timberlab Inc., an affiliate of Swinerton, and an evolution of Swinerton Mass Timber. The new company is at the forefront of the mass timber industry, ready to meet its growing needs. Timberlab not only offers more services, including licensed timber engineering, they are also working hard to develop and test new mass timber products.
"We are the same people and, with the exception of the name, we operate quite similarly to how we did when we were under that Swinerton Mass Timber name, but we do now offer an expanded scope of services," says Timberlab's Preconstruction Manager Erica Spiritos. "We do in-house engineering now,  we have licensed structural engineers that do design for timber structures, and then also fabrication of glulam beams in our fabrication facility, which we call 'The Lab' in Portland."
Timberlab also works with a number of laminators and glulam (glue-laminated timber) manufacturers in the Pacific Northwest who make high-quality glulam products, but who don't have the 3D modeling capabilities or CNC machines that Timberlab utilizes. Spiritos notes, "They can't turn their product into a custom building component, which is needed for a mass timber building, so we work with companies like Calvert Glulam out of Vancouver, Washington, and Zip-O-Laminators out of Eugene, Oregon. It's been really great."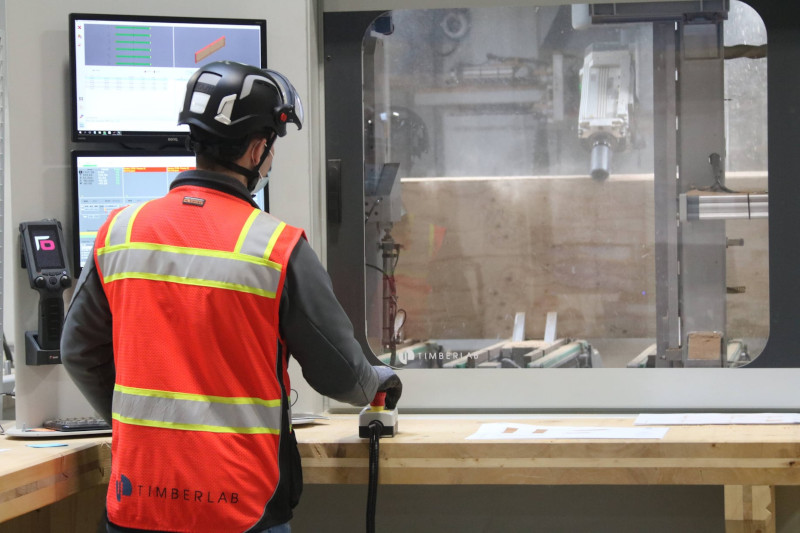 The company's mission is a bold and noble one: To accelerate the mainstream adoption of mass timber in the U.S. commercial construction market for the benefit of the planet and its people. "I think we've been heading in this direction since the beginning," Spiritos says. "It's always been our intention to accelerate the adoption of mass timber through taking parts of the supply chain where we perceived there to be pinch points or low availability of goods or services. So It's been a pretty natural progression.
We recognized that there was a lack of timber engineers in the nation and a lack of fabrication capacity in the region and the Pacific Northwest, so Timberlab was really trying to fill that gap."
The company hopes that by filling that perceived gap, they can help make timber a more competitive option to more traditional construction materials like steel or concrete. "We want the supply chain to be robust enough to make project owners feel comfortable utilizing a mass timber structure on their project," Spiritos adds.
Timberlab is headquartered in Portland, Oregon with structural engineers in Greenville, South Carolina and Seattle, Washington. They also have team members in Spokane, Washington and Los Angeles, California. "We are mostly located in the Pacific Northwest, but I'm hoping to check off those four corners of the United States," says Samuel Dicke, Timberlab's Business Development representative.
The company, which has about 40 people on staff, is 100 percent employee owned. According to Spiritos, "That's been a really huge part of our culture. What it means is that we're all committed to the other person's success. We all rise and fall together. And as every employee is a part owner and shareholder, we get to experience success collectively, so we are motivated in pretty major ways."
Launching a new business during a pandemic may have seemed like a risky endeavor, but it's one that has paid big dividends for the company. Despite supply chain issues that have disrupted almost every industry across the globe, Timberlab managed to embark on two of its biggest projects over the past year. These projects include the Portland International Airport and the Ascent project in Milwaukee, WI. Once Ascent is finished, it will be the tallest mass timber building in all of North America. Ascent comes in at 19 storeys tall, sitting atop a six-storey concrete podium.
"We've definitely been challenged with the supply chain in the last couple of years," says Spiritos. "There were container shortages and the lumber price escalation to record levels in 2020, and that threw everyone for a loop on reliability and cost certainty. But we are still seeing a huge interest in mass timber and, actually, in the past few months we've been overwhelmed with interest in mass timber from all across the country. Not even just big cities, but small cities, too. So it doesn't seem that anyone has been deterred."
In fact, Dicke says the pandemic had the opposite effect – rather than being deterred, people were inspired to build, and to do so in a way that is environmentally sustainable. While many office projects were put on hold, the company saw an uptick in multi-family residential projects. He explains, "The pandemic caused everyone to sit back and reflect a little bit more on the built environment in their lives. I think we saw an incredible increase in interest in mass timber as folks began to think a little bit more in different ways about how our world works."
The pandemic also offered a bit of peace and quiet to help ensure Timberlab could establish its new business and services in the best way possible. Spiritos admits, "It was nice to have a bit of quieter time to focus on really making sure that the facility was running optimally and smoothly and I think if we had been overwhelmed by construction, we would have had less resources to put into making sure that the start-up process went as we hoped it would. So in some ways, it was a silver lining for us."
One of the major advantages to choosing mass timber for construction is the environmental benefits. Trees are both a sustainable and renewable resource, and the wood products are carbon neutral. As Spiritos attests, "I think mass timber is really exciting because it's helping us ask questions about where materials come from. We're having these conversations in the mass timber industry about where our products are coming from, how they are manufactured, and what the impact is on our ecosystem and on communities. We need to be building projects with lower and lower embodied carbon and a lighter footprint on the planet. I think owners and developers and architects are all kind of coming to the same conclusion."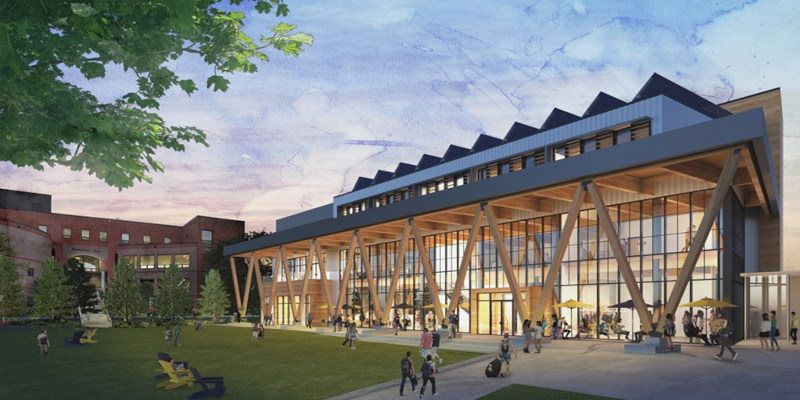 Timberlab's facility is certified under the Program for Endorsement of Forest Certification's Sustainable Forestry Initiative and Forest Sustainability Certification, which promotes sustainable forest management. They are also certified through the Forest Stewardship Council. The firm also ensures it sources its materials as locally as possible, which is why they chose to locate their facility in the Pacific Northwest, within about a five-mile region from the majority of the North American manufacturers.
Any waste that is left from mass timber processing is dealt with in an environmentally thoughtful way, as well. Most of the company's wood cut-offs are sent to the Rebuilding Center of Portland and sawdust is given to local farmers to use as mulch.
As they look to the future, both Dicke and Spiritos see mass timber continuing to grow as an industry. They cite the Marshall Effect, a prediction from the U.S. Forest Service Department, which anticipates that new mass timber buildings will double every two years in the United States.
"We are outpacing that trend," says Dicke. "I think in the next three to five years, we'll start to see mass timber as more of a regularly used product in traditional and maybe even office and residential projects and we'll start to see it branch out into industrial projects. I believe Timberlab has a significant role to play in that process."
AT A GLANCE
Timberlab Inc.
What: A Swinerton Company with a focus on mass timber construction
Where: Headquartered in Portland, Oregon
Website: www.timberlab.com
Zip-O-Laminators, LLC – www.zipolaminators.com
Custom Glulams – The Relationship Business
Zip-O-Laminators started in 2016 as the newest division of Zip-O-Log Mills, which was founded by the Hallstrom family in 1944 near Coburg, Oregon. The culture of Zip-O has remained consistent for over 75 years: to produce high quality products with exceptional service.  Whether it is for a custom timber frame home or a custom golf course club house, every project is unique and we will take care of you!
In the world of construction, delays are costly. The entire operation at Zip-O-Laminators is committed to deliver your beams on time. We own and operate our own kilns so we can control the quality and moisture content of our stock. We strive for on-time, accurate deliveries by rail or truck. From administration to sales to production to shipment, our goal is to provide premium service at every level.  Zip-O-Lam can also produce their own lamstock by working with Zip-O-Log Mills, unlike other manufacturers.
Zip-O-Laminators is geared towards producing only the highest quality laminated beams in exceptional sizes. Zip-O-Lam can produce beams up to 115 feet long, 28 inches wide and 111 inches deep. We also make custom curves – slight to tight radius beams.
Think it can't be done? Ask us!
Certified through the A.P.A – The Engineered Wood Association, we currently produce beams out of Douglas fir and Alaskan Yellow Cedar.
We are certified with the FSC® (Forest Stewardship Council®) and can provide glulams for your next FSC® (FSC® C157387) job.
At Zip-O-Laminators, we have the capacity to produce, fabricate and finish your custom beams.
Types of Fabrication and Finishes:
Kerfs and Notches
Holes, Daps and Slots
Bevel and Taper Cuts
14" & 16" Single Face Boards
Premium Finish
Resawn Finish
Sanded Finish
Our ambition is to have your experience with us a breeze and to make your dream a reality. Give us the opportunity to prove it to you.
Calvert Company – calvertglulam.com
Calvert Company is one of the oldest continuous glulam manufactures in North America, founded in 1947 and brings more than 65 years of experience producing high quality glued laminated beams. Calvert operates two manufacturing plants in the Pacific Northwest and produces glulams for both commercial and residential projects around the world.