Conklin Company
staying on top year after year
Long-established and highly respected, Conklin remains an industry leader with proven innovation
It all started in 1969 in the garage of Harry Conklin, when he and his two sons began manufacturing and selling innovative vehicle lubricants. Fast forward to today, the Conklin Company still has a successful lubricant division, along with five other product divisions, and thousands of independent distributors throughout the United States.
From the beginning, Conklin Company has been committed to the manufacturing and distribution of top-quality goods, and that is one thing that has not changed. With more than 130 products, the company's product divisions encompass the areas of Agronomics, Animal Microbials, Health and Home, Roofing Systems, and Vehicle Products.
Charles W. Herbster, a fifth-generation farmer and rancher from southeast Nebraska is the current Owner, President, and Chief Executive Officer of Conklin Company. He shares, "My wife, Judy, and I purchased the company in 1992 from the Conklin family. We are a direct sales company with a nationwide network of about 11,000 independent distributors across the United States. We are blessed to have a lot of young people in our company, which I would say is one of the number one driving forces for our recent growth. In the last four years, we've grown sales from $75 million to $154 million, and I remind people in that four-year period, three of those years were during the worst pandemic that we've had in this country since my grandmother lived through the Spanish flu. So, to have that kind of recent growth is pretty amazing."
American-made and American-owned is another source of pride for Herbster. Conklin Company manufactures 82% of the products that it distributes, and that enables the company to stay true to its commitment to quality. Mr. Herbster notes that there are very few products they are unable to make in their own facility. One example is Conklin's health care line, which requires an FDA approved facility. Another example is the company's single ply roofing system. "It's still our research, it's our formulations, and they are all manufactured in America," he maintains. "We only create and manufacture the best of the best," Herbster asserts. "I always tell people, if you want the best end result of a product, that means you have to search the world to find the best raw materials."
Conklin Company has not been exempted from the supply chain challenges over the last three years, but strong vendor relationships have worked to the company's advantage. "We have a tremendous relationship with all of the vendors that we do business with," Herbster asserts.
"Our relationships are so solid because we understand what our vendors are going through, and we try to treat them with the utmost respect." Citing the example of Conklin's goal to process invoice payments from their vendors within 15 days of receipt, he adds, "That does mean a great deal, particularly over the last few years when a lot of companies have struggled. So, our vendors have really gone to bat for Conklin in helping us get raw materials." Of course, there have still been shortages, and substantial price increases, but Conklin distributors have remained patient through it all.
As for how he approaches the situation, Herbster discloses, "Here's what I believe, and here's what I have taught to my distributor base and in all the businesses that I own: as long as you have and keep producing a top-quality product, people will wait. They will be patient. Although we have seen supply of raw materials recently free up, prices have not followed as quickly. It has always been our policy to pass on not only increases, but also savings to our distributors."
Producing a top-quality product is the focus of all of the businesses he owns. In addition to Conklin Company, Inc., Mr. Herbster also owns: Agri-Solutions, Inc. in Red Oak, IA; Carico Farms, Inc. and Herbster Angus Farms, Inc. in Falls City, NE; Judy's Dream, Inc. in Omaha, NE; and North American Breeders, Inc. in Berryville, VA.
On the subject of technology, Herbster says his personal leadership style is more face-to-face or by telephone where people can hear his tone and enthusiasm. He relays, "In our type of business, where you are dealing with farmers who spend several million dollars a year to put a crop in, and people who have millions of dollars in buildings and real estate property, I find that most people still want to be able to talk face-to-face. They want to be able to look you in the eye, to determine if you are someone they can trust to do business with."
Amanda A. Raithel, Charles W. Herbster's Marketing Director acknowledges that the company does use digital and print media to get information out, as well as providing marketing materials for distributors. "Conklin is a face-to-face business," she maintains. "I think that's one of the things Charles has taught us over the years, if you really want to do business with someone, make the effort to sit across the table from them. Social Media is great, and it plays a lot of roles in all of Charles' companies, but it's still those personal relationships that really get things done."
With the recent growth Conklin has experienced, a second manufacturing building is in the plans. This new facility will be located in Kansas City, and roofing operations, which currently happen in the Minneapolis manufacturing plant, will be moved to the new location. Herbster explains the reasoning behind this change, saying, "Moving the manufacturing of our roofing products to Kansas City will take our largest division and separate it out to allow the other divisions to grow in the Minneapolis plant. It will also allow us to manufacture here in the Midwest, where we're more centrally located."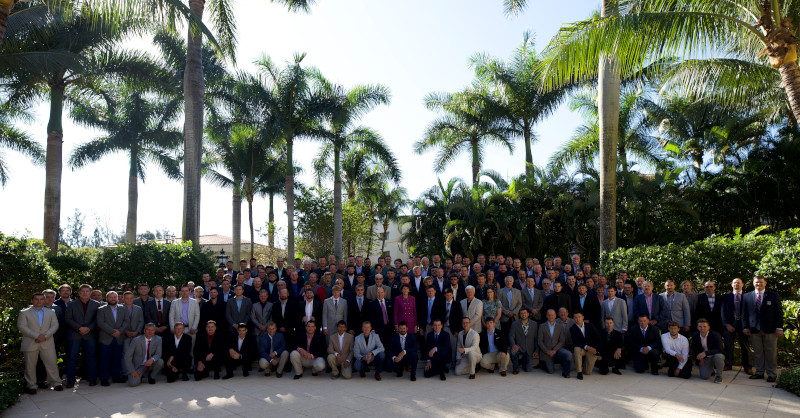 Describing the challenges of shipping during the cold months in Minneapolis he says, "When it is freezing, we can't ship any of our acrylic coatings unless we ship in temperature-controlled trucks. So, we're going to move that to Kansas City, that will be a real positive. Plus, it doesn't put everything under one roof, should something happen in some way with a fire, or a tornado, or whatever else arises. It's just smart when you get to our size to divide up those locations, and not have everything in one place."
Since the Conklin Company unveiled its acrylic latex roof coating in 1977, the roofing division has taken off. Although the invention was an accident at the time, the result has brought continued success for the company. Evolving from an attempt to develop a durable red barn paint for farming communities, Rapid Roof, the first elastomeric acrylic roofing product in the world, was born.
"If you have a metal roof that leaks, you really only have two choices. It's either using the Conklin system over the metal, which will stretch 300% and make the roof look new, or you take all the metal off and put on a new metal roof. Putting on a new roof is going to be at least two times the cost of using the Conklin system over the existing metal, and in five to seven years you're back to square one because due to expansion and contraction, that new metal roof is going to leak," Herbster relates.
"Last year, we sold over $100 million just in that one division. So, our roofing division is the leader today in Conklin, and we see that division doubling in three to five years."
Herbster wants it to be known that while the high-quality products are essential, the most important and valuable assets to the company are Conklin's dedicated employees in Minneapolis and Kansas City, and the nationwide network of independent distributors. For example, Herbster shared that Conklin has 22 individuals who have been active independent distributors with the company for over 50 years.
Referencing corporate employees with Conklin, Herbster shared that a number of employees have worked with the company for decades. He highlights Vern Pickus, who has worked exclusively for the Conklin Company for over 52 years. "Vern's still an employee today, and he works every single day. Vern's plan, dream, and goal are that he'll work at Conklin for 60 years. So that's the journey and the track he's on. So, he's what I call a hero. He's a champion! There are very few people in the United States of America that have worked for one company for 52 years!" Herbster exclaimed.
Looking to the future, Herbster says one of the top priorities for Conklin will be to continue striving to be on the leading edge of resins and raw materials innovations that will keep Conklin products at the forefront. In addition to that, the company is putting an effort towards providing opportunities for individuals all across America who have been misplaced due to the pandemic and other reasons. "We want to offer people an avenue to make an incredible life at an incredible business. Our company mission statement says we have a goal to 'build a company committed to growth, and helping people see who they are and the difference they can make.' We continue to do an extraordinary job helping people achieve their American dream," Herbster concludes.
AT A GLANCE
Conklin Company
What: A direct sales company with six divisions, providing American-made products.
Where: Kansas City, Missouri
Website: www.conklin.com