Best Choice Roofing
A People-first business
Business View Magazine interviews, Wayne Holloway, Owner/Founder of Best Choice Roofing, for our focus on the U.S. Construction Industry
In 2009, working with a single insight into the roofing industry, Wayne Holloway, realized there was a niche in the marketplace that needed to be filled. Holloway recognized that clients need roofing experts on their side who understand exactly what reroofing requirements are needed.  Clients also longed for  assistance with their insurers to "see eye-to-eye," so he established Best Choice Roofing in a 900 square foot condominium in Hendersonville, Tennessee.
The core of the Best Choice Roofing model is client education of work requirements and roof replacements. BCR is successful because their consultants make it easy to understand what's needed when going over damages. They also assist clients in deciding whether to repair or replace a damaged surface. They were one of the first businesses to implement this business strategy.
BCR took advantage of our unique market position and provided customers with quality service and product material. In turn, this allowed for rapid expansion of the organization – thanks to a lot of hard work and a highly motivated staff.
Scouting top talent for Best Choice Roofing was one of Holloway's main priorities. He emphasizes, "From the get-go, we focused on finding and retaining the best talent. We have always believed in giving people the opportunity to grow, financially as well as professionally." Currently, the administrative staff for the Best Choice Roofing brand houses approximately 150 to 175 employees, while the sales team is made up of 400 to 450 members in the field.
BCR also employs the best of the best subcontractors. These subcontractors must go through a rigid vetting process, which includes checking credentials, licensing, as well as insuring. The Best Choice Roofing brand has expanded to 42 locations around the U.S., with the headquarters still based in Hendersonville, Tennessee. New locations are consistently popping up. With the company spread between different locations, the clients' needs change drastically – whether it's in the extreme baking heat of Las Vegas to the humid tropics of Southern Florida. That includes damage from a variety of storms.
Best Choice Roofing's business model requires a brick-and-mortar shop. This step ensures permanence in the community rather than becoming a storm-chasing company, where organizations follow storms and quote for business. Being locally based means the subcontractors know how to complete the work, compared to those who just show up in trucks and trailers. Currently, the company focuses on repairs and residential reroofing. While they are willing to build from scratch, the opportunity has not presented itself. But between reroofing and restoration work, the Best Choice Roofing teams are always busy.
When it comes to sourcing roofing products and suppliers, the company has established long-standing relationships across the country. These relationships ensure the company can offer exclusive warranties on materials and labor. Best Choice Roofing is proud to be an Owens Corning Roofing Platinum Preferred Contractor, among its many valuable suppliers. The roofing material requirements vary with the changing climate in certain areas, but the most common shingle is still asphalt.
With a company expanding as fast as Best Choice Roofing, corporate culture is important. "Our employees are genuinely excited, as they work for a company where they know their worth. Work hard and you'll be able to lift yourself out of poverty," says Lisa Holt, Brand Manager at Best Choice Roofing.
Holt has heard firsthand stories of people who started the job at the company living in a car or not able to pay medical bills, and in a short time being able address these issues. She notes, "From my perspective, it's fulfilling to see these changes and it helps with morale around the office."
The company might have started as a roofing organization, but it has transformed into a people-first company. Through a tremendous amount of time and energy, Best Choice Roofing transforms its employees' lives professionally, as well as personally. "We train people to get the job completed professionally, which means educating them on how to interact with the general public, how to stay motivated, and more," says Holloway.
Commission-based compensation requires high-level energy from employees and leaders who set the standard for development and promotions. At Best Choice Roofing, sales personnel can work their way to an ownership level. This upward moving career path really differentiates Best Choice Roofing from its competitors. Sales personnel can work their way to a management role and take part ownership in the branch. The results affirm a motivated workforce who stay with the company for years.
Best Choice Roofing is currently developing a franchising model, making it one of the few roofing organizations to engage with this offering. Officially launching in 2023, the company hopes to expand its reach across the United States. By offering individuals an opportunity to get into the roofing sector, Best Choice Roofing ensure that its experience and branding will allow more individuals to seize the opportunity. According to Holloway, "It has taken four years to get to this point in our franchising journey. We are offering a brand that promises excellence, honesty, as well as an ethical business offering. We've been tracking our successes to achieving this goal, like playing a game of chess, with slow calculated moves."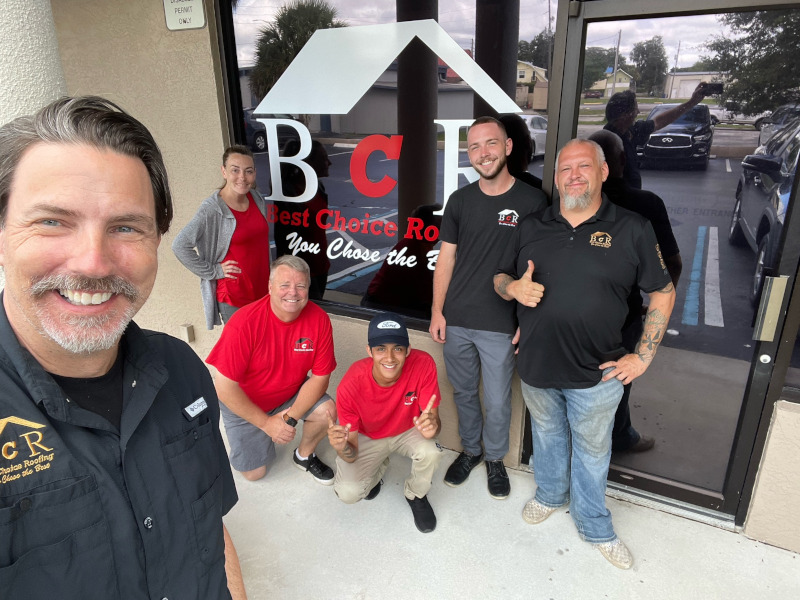 Holloway's biggest motivation behind franchising BCR is the belief that in order to grow a brand faster, you need to involve more people. It may seem like the ideal franchisee candidate should already be a business owner, but Holloway knows that anyone with the right mindset and motivation can be a great business owner. He reports, "We've been able to upskill individuals from a sales position to branch owner 10 times already, within our own company, and we're keen to keep our track record going."
The company is looking for individuals who are financially stable, honest, ethical, trustworthy, and motivated. It is also important for candidates to fit into the culture and "deliver high energy with full throttle." At the end of the day, Best Choice Roofing wants to "empower nobody to become somebody." This term was coined by Holloway from first-hand experiences.
One of BCR's partners, who emigrated from Turkey, is a good example of what the company stands for. He joined Best Choice Roofing after having a success business selling meat from the back of his truck. After joining the company, he worked his way to a management role, which attracted Holloway's attention… Holloway then offered him an ownership opportunity. Now this individual employs nearly a hundred people. The literal American dream.
With supply chain issues plaguing every industry, the roofing industry was not immune. While some areas presented real issues, the company relied heavily on communication. Managing clients' expectations meant communicating as accurately and timely as possible. During COVID, Best Choice Roofing was deemed an essential service and many home owners were reluctant to have in-home inspections. So the BCR sales personnel on the ground were able to utilize technology to complete their inspections.
Technology has developed incredibly fast in the home improvement sector. Newer shingles have been developed to handle more extreme weather conditions compared to products used just five years ago. But then again, depending on the events and market, the extent of the work can vary widely. Some work only requires the replacement of the shingles, while other projects will need to replace the bare decking as it cannot accept new nails.
Best Choice Roofing offers free evaluations, with video and picture evidence. These evaluations are presented to the client and can be taken to the insurance company to motivate their claims. Best Choice Roofing is a people-first company, and its goal is to help individuals. In the case of its clients, the goal is to provide a good roof over their heads. According to Holloway, "This can be a real tug of war between insurers and roofers when it comes to providing clients with new roofs."
Moving into the future, it's hard to gauge higher levels of success, but after only 13 years in the business, and 42 locations across the U.S., the next three to five years are bound to be exciting. Also, with the new franchising opportunities, Best Choice Roofing is on track to pop up in many more states and enrich the lives of many more homeowners – delivering on their promise to being a people-first company for employees, partners, and clients.
AT A GLANCE
Best Choice Roofing
What: A fast growing, national roofing company
Where: Based in Hendersonville, Tennessee
Website: www.bestchoiceroofing.com
Hover – www.hover.to
HOVER is developing an accurate and usable data set of physical property to deliver a simpler and more transparent home improvement experience. Used by contractors, insurance adjusters and homeowners alike, HOVER drives efficiencies with a mobile app that measures, designs, and estimates costs all in one place. Smartphone photos transform into beautifully rendered, fully-measured 3D models of any home.