N.C. Department of Transportation
a pioneer for innovative mobility
Keeping North Carolina moving, North Carolina Department of Transportation takes the lead
A major change is coming that will impact the future of transportation, requiring state agencies to reassess their approach to innovative mobility.
In North Carolina, the nation's ninth most populated state, transportation officials are working with stakeholders to expand and strengthen the state's multimodal network to meet the evolving needs of the transportation system.
The N.C. Department of Transportation (NCDOT) envisions an equitable transportation system that meets the needs of all users while supporting efforts to reduce the impact of greenhouse gas emissions.
But what exactly does that look like?
Ideally, the future of transportation in North Carolina includes safe, reliable, and efficient multimodal infrastructure and services to ensure people without a vehicle – either by choice or due to their circumstances – can seamlessly access jobs, education, healthcare, and community resources just as those with a vehicle do each day.
"There are more than 1 million people in North Carolina without a reliable source of transportation," said Ryan Brumfield, director of NCDOT's Integrated Mobility Division (IMD).
The population is changing as it grows; people are shifting to urban areas and by 2030, one in five North Carolinians will be at least 65 years old. Also, minorities will account for 63% of the population growth in the next two decades and are more likely to use public transit regularly.
"With the huge changes we're going to see, it is essential that North Carolina be prepared for these existential changes in the transportation sector," Brumfield said.
As the industry begins the exciting journey toward clean infrastructure, state transportation agencies must remain vigilant in their efforts to provide equitable access, ensuring people without a personal vehicle are not left behind.
With the help of IMD, the Department is making steady progress to better prepare for the future.
Devoted to public transit, bicycle, and pedestrian travel, IMD is designed to improve and increase multimodal options in the state's transportation network. Focusing on building "complete streets," or streets that all road users can access seamlessly and safely, IMD has helped spearhead innovative mobility with initiatives that support and encourage cleaner alternatives to single-occupant vehicle transportation.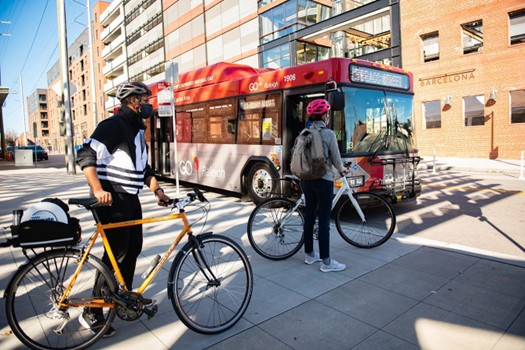 North Carolina has a history of being a pioneer for innovative mobility. In the 1970s, North Carolina was one of the first states to develop a bicycle route system and bicycle planning program. The bicycle and pedestrian network has greatly improved since, with a pipeline of projects released in recent years. IMD periodically competes for funding opportunities and has been awarded nine federal discretionary grants in the past three years for bicycle, pedestrian, and public transportation projects.
Last year was significant for transformative mobility opportunities in North Carolina, with nearly $25 million awarded in Rebuilding America's Infrastructure with Sustainability and Equity (RAISE) grants.
One of these grants will fund a complete streets project in Rutherford County, transforming a high-traffic corridor with improved mobility for bicyclists, pedestrians, and public transit users. Another gives life to one of the most innovative multimodal initiatives the department has sought yet: the planning and preliminary design for mobility hubs alongside the S-Line rail corridor.
The S-Line is a freight rail corridor that connects Richmond to Tampa.
In partnership with the Southeast Corridor Commission, NCDOT is restoring a strategic portion of the corridor that is currently not in service to provide high-performance passenger rail service and freight service from Raleigh to Richmond. The new route will better link the two states' rail systems with a high-capacity, high-frequency corridor, giving travelers better options for mobility and productivity.
NCDOT's Rail Division previously secured two grants worth nearly $107 million for the acquisition and preliminary engineering for the S-Line and is preparing for the construction of the line through Federal Railroad Administration grant programs provided under the Bipartisan Infrastructure Law.
The corridor is the missing link needed to connect rural and urban communities from Virginia through the Triangle of North Carolina. This expansion will place North Carolina communities along the S-Line with a higher speed connection and reduced travel times to destinations within the Triangle, the state, and along the east coast.
The Mobility Hub Plan is a multi-dimensional approach and will be a key contributor to enhancing mobility options, promoting social equity, and increasing network resiliency, environmental awareness, and economic prosperity.
Mobility hubs are places of connectivity where different travel options (e.g., intercity trains, commuter rail service, pedestrian, bicycle, transit/micro-transit, shared mobility) come together and integrate mobility services, amenities, and support technologies.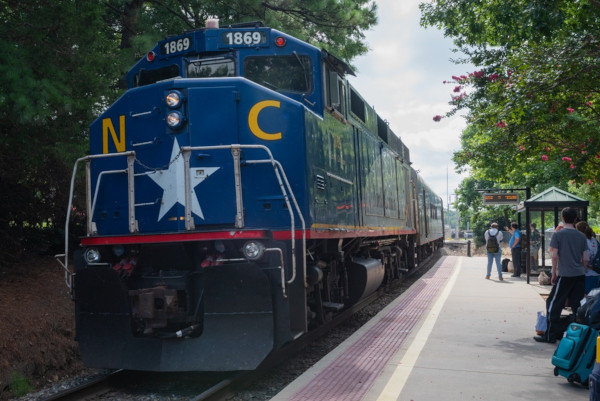 Once the various modes are established and the infrastructure built, multimodal travel will be even smoother with the Mobility-as-a-Service (Maas) platform, allowing passengers to plan, book and purchase travel across modes and communities.
The department has already had substantial success in discovering and implementing innovative mobility solutions that are great examples of what to expect within the hubs.
NCDOT assisted in the development of an on-demand ridesharing service called RIDE in Wilson, a small city 40 miles east of Raleigh. RIDE received national recognition in 2021 with America's Transportation Award for "Best Use of Innovation and Technology" from the Southeastern Association of State Highway and Transportation Officials.
As a micro transit service, RIDE users can schedule trips using a mobile app or the web and the service does not require pre-booking. The RIDE vehicle makes stops as needed, picking up additional passengers going in the same direction and dropping them off at their final destination.
RIDE is a multifaceted service. It improves the reliability of public transportation in Wilson by providing an on-demand alternative to traditional services that require 48-hour advanced booking. RIDE allows people of varying backgrounds with diverse needs to have reliable access to doctor appointments, job and educational opportunities, grocery stores, and other imminent needs.
Despite launching in the midst of the COVID-19 pandemic, RIDE numbers have surpassed the traditional, fixed-route transit system in Wilson which RIDE replaced, illustrating the demand for innovative services to address unmet needs.
Preparing for the future of transportation also means using the most cutting-edge technology on the market. North Carolina is maintaining technical excellence with automated, connected, electric, and shared mobility technologies.
In partnership with the Town of Cary, NCDOT launched another self-driving shuttle this March as part of its Connected Autonomous Shuttle Supporting Innovation (CASSI) program.
The low-speed, autonomous shuttle utilizes a combination of light detection and ranging (LiDAR), cameras, and GPS technology to navigate on a fixed route.
Operating at zero cost to citizens, shared autonomous mobility is helping North Carolina achieve the vision of a transportation system with convenient, reliable, affordable, clean, and safe options that provide equal access to opportunities and services. While self-driven, an attendant is on board at all times as an added safety feature to accompany the 12 mph shuttle.
CASSI evaluates how shared autonomous vehicles can serve riders of diverse environments with equally diverse needs. As a First to Last mile solution, CASSI is another step forward in
NCDOT has been working diligently to achieve such success; the pilot study for CASSI was initially launched in 2020 in partnership with N.C. State University (NCSU).
In 2021, NCDOT achieved another milestone when it partnered with the National Park Service to launch the first autonomous shuttle in a U.S. park. Fittingly, the shuttle launched at the Wright Brothers National Memorial in Kill Devil Hills – the site of the world's first powered flight.
Self-taught engineers and brothers Orville and Wilbur Wright earned the state the title of "First in Flight" at this location, altering the previous vision of mobility indefinitely.
NCDOT is committed to finding innovative solutions to prepare for the future of transportation and developing a robust multimodal transportation network that equally serves all citizens of North Carolina.
AT A GLANCE
North Carolina Department of Transportation
What: The department responsible for overseeing transportation issues to keep North Carolina mobile
Where: Raleigh, North Carolina
Website: https://www.ncdot.gov/