Fort Worth Convention Center & Will Rogers Memorial Center
Modern events with a Texas flair
Business View Magazine interviews representatives of Fort Worth Convention Center & Will Rogers Memorial Center for our focus on Top U.S. Event Venues
When it comes to premier venues for large-scale events, Fort Worth, Texas has it covered. The city owns and operates the Fort Worth Convention Center and the Will Rogers Memorial Center, two state-of-the-art facilities within its central business and cultural districts (FWCC is in the downtown core; WRMC is 3 miles to the west but still close), offering everything anyone could ever want from a Texas soiree.
"Fort Worth delivers the Texas meeting you want with a modern-west flair you won't find in other Texas cities," said Mike Crum, Public Events Director for the City of Fort Worth. Standing the test of time since 1968, the Fort Worth Convention Center has seen it all – from celebrities like Elvis and Cher to K-Pop sensation BTS and even Presidential hopefuls. The 250,000-square-foot exhibit hall was expanded in 2003 and is host to consumer trade shows, sporting events, pharmaceutical launches, and national conventions such as Nation's Best Sports, AeroDef Manufacturing and Anime Frontier.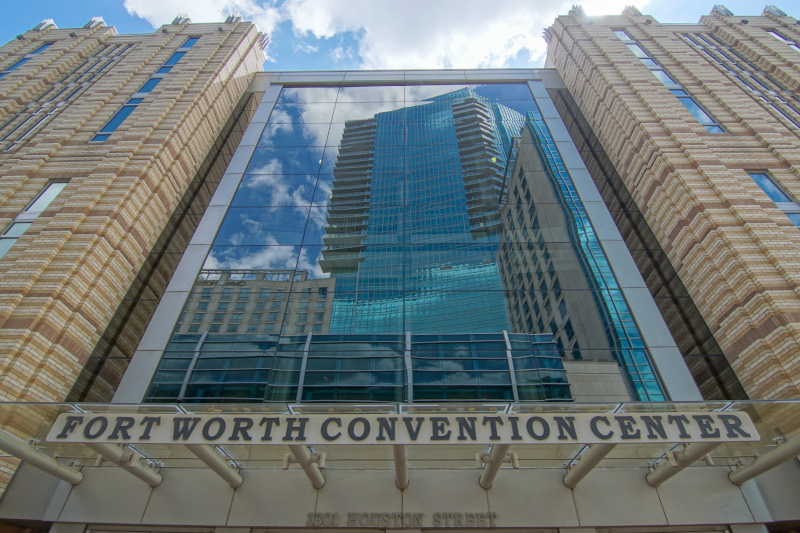 "Fort Worth has its own architectural vibe," explains Crum. "Many of the buildings have retained an Art Deco, Western city quality. The convention center exterior compliments that style, and the interior has Texas stars representing the Lone Star State throughout its design. There's a massive public art piece with 400 cowboy hats in the shape of a star that hangs from the ceiling at one of the entrances. And there's a giant belt buckle made of terrazzo tile on the lobby floor at another entrance. No matter where you are in the building, you're going to know you're in Texas." The facility also features a 28,160 square-foot ballroom, 38 breakout rooms, a 55,000-square-foot outdoor events plaza and an arena capable of hosting more than 13,000.
Nearby at the Will Rogers Memorial Center, located in the heart of the city's cultural  district, you can take in a rodeo, a livestock exhibition, or even the sounds of a symphony orchestra. "You can go to the rodeo and literally walk across the street and see a Michelangelo," says Crum. The Will Rogers campus was first built in 1936 and now covers 120 acres of urban property. The center includes a 100,000 square-foot exhibition hall, banquet and meeting rooms, as well as a 2,856-seat auditorium and a 5,652-seat coliseum. It also houses four small arenas in its equestrian center, as well as livestock barns with capacity for 2,500 horse stalls, 2,200 cattle ties, or 4,000 head of cattle.
"It's a 120-acre complex right in the middle of the cultural district in Fort Worth," says Kevin Kemp, General Manager of the Will Rogers Memorial Center. "In fact, the cultural district grew up around it over the decades. So, right across the street from the cows and horses, we've got world-class art museums, science and history museums, a cowgirl hall of fame… That's very unusual. Most places like this are on the outskirts of town."
As venues that host large-scale events, the COVID-19 pandemic caused a dramatic shift in operations for the two centers. But not being able to host thousands didn't stop them from making use of their space and the extra time to do a bit of good. Within four days of shutting its doors on March 13, 2020, the Fort Worth Convention Center was opening them back up again, but this time to use its square footage as an overflow homeless shelter. The center hosted 26,000 cots over 93 days, with CARES Act funding covering salaries, food, repairs, cleaning and security.
According to Fort Worth Convention Center Interim General Manager Cynthia Serrano, "Between the convention center staff and the Will Rogers staff, we were able to provide custodial services, security, facility management, and oversight for that shelter. And we were able to keep that vulnerable population taken care of, and our Fort Worth community as well. We made sure everyone who needed a place, had one. If you tell someone who doesn't have a home to go and isolate for 14 days, where do they go? So the city opened us up and we were here and worked through that."
When they weren't providing overflow shelter for the homeless, staff at Fort Worth Convention Center used their downtime to make improvements. "Our first event wasn't until July, and then we were quiet again, so we utilized that time, as a department, to get the Global BioRisk Advisory Council STAR accreditation," says Serrano. "So, both centers are GBAC certified, and we trained our staff on so many different types of cleaning products and different ways of doing things."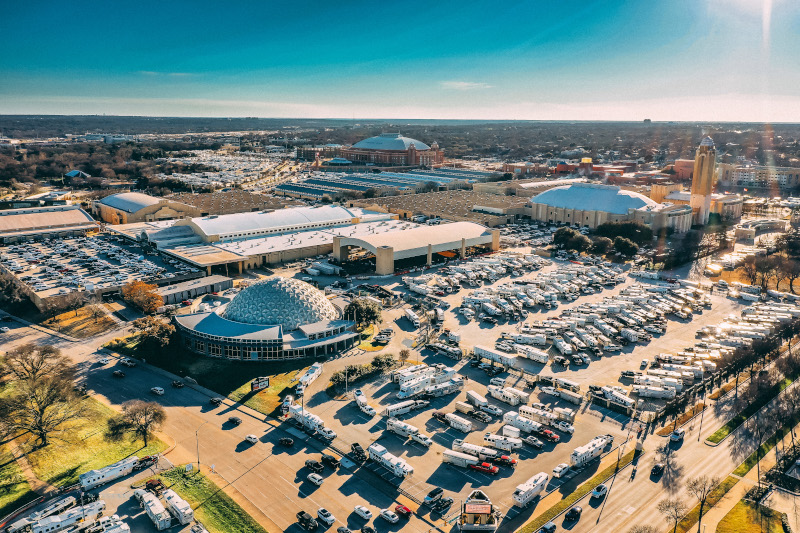 The GBAC STAR certification is the gold standard for sanitizing and disinfecting preparedness in the venue management industry. They went a step further by introducing the PathoSans On-Site Generation System at both facilities to help with sanitization efforts. Kemp admits, "Like everybody else in the world, we were having trouble getting hold of the products that we needed to make our facility safe. We came across this machine where you take water and salt and add a little electricity to it and it makes its own COVID-certified cleaning and sanitizing material."
This allowed the center to eliminate its supply chain issues and make its own sanitizer and cleaner for just five cents per gallon. "We made enough of it that we are giving it to other City departments to sanitize their facilities," Kemp says. "We eliminated about 10 to15 chemicals and now we use one chemical and save a lot of money and waste in the process."
Even after the end of the pandemic, both facilities will continue to take disinfection and sanitizing work seriously. "Our cleaning process is completely different today than it was a year ago," says Kemp. "In the event industry across the country, everyone would clean their facilities for the aesthetics. They wanted to clean so it looks nice. Now, we have to clean for safety. If we don't do a good job with our cleaning, people are going to get sick and potentially end up in the hospital and potentially not go home. So it's an entirely different philosophy because of COVID… how we deal with our facilities."
The challenges the facilities have dealt with over the past year don't stop at COVID-19. During Texas' February 2021 snow storm Uri that left many in the state without power or water, Will Rogers Memorial Center was in the middle of hosting the 12-day National Reined Cow Horse Association's Celebration of Champions. "The day they moved in, it was like 68 degrees," Kemp recalls. "Then a few days later, it's two degrees below zero and we've got on property about 1200 horses, 150 RVs, 300 head of cattle and all the people that come along with that. They were already here, and they couldn't leave due to the streets being covered in snow and ice."
Kemp says his crew anticipated problems and took precautions, but still ended up with water line breaks in about 20 faucets around the facility. Fortunately, the incidents were isolated and they had a plan in place to keep power and water running for both two-legged and four-legged customers for the duration of the storm. He notes, "So they stayed here and the show went on."
And the show will continue to go on in Texas fashion for both the Fort Worth Convention Center and the Will Rogers Memorial Center, no matter what comes their way. A lot of that has to do with their dedicated staff of 137, who always want to ensure guests are experiencing the best of Fort Worth.
"That welcoming, can-do spirit is what sets us apart from our competitors," says Crum. "It's not necessarily something that's in our training, though we do have customer service training and planning, but it's part of a city-wide culture for Fort Worth. People always mention the friendliness and the genuine hospitality when they leave."
Looking to the future, both facilities have big plans to continue to host top-notch events in the city. Improvement plans include a $400-million renovation and expansion of the Fort Worth Convention Center that will include an expanded space with more multifunctionality, as well as a new 1,000-room hotel. For Will Rogers Memorial Center, the plan is to continue to bring its buildings back to their former glory, with renovations to restore historic exteriors, while modernizing and refreshing the interiors. Kemp shares, "Our goal is to bring our original buildings back and revitalize them, so they can shine like they did for us back in the '30s."

The Home Depot ProTM Institutional – homedepotpro.com/institutional
As the wholesale distribution division of The Home Depot®, we're uniquely positioned to help drive your business, with more than 70 years' experience delivering the pro-grade products you want and the innovative business solutions and services you need to manage your business, increase efficiency and improve your bottom line.