BSL Wood Products (Bois BSL Inc.)
Wood Flooring at its best
Business View Magazine interviews Martin Emery, VP of Sales & Marketing, for our focus on the Wood Construction Sector in Canada
A short distance from the banks of the Saint Lawrence River in the province of Quebec is the city of Mont-Joli, home to a long-established wood flooring company reimagining itself as an appealing contemporary brand. BSL Wood Products (Bois BSL Inc.) has been in operation over 25 years and is now focused on shedding its dated brand image, as it swiftly becomes one of the more iconic wood flooring brands in Canada and the United States.
Besides rebranding, the company is infusing a modern way of doing business, including establishing solid partnerships, embracing automation, and investing in cutting-edge products. With this new and fresh energy, BSL hopes to become a household name in its local market while carving out a niche in other markets further afield.
BSL and its brand company, Mitis Wood Floors, manufacture hardwood floors from various locally-sourced wood species, including American Cherry, Red Oak, Maple, Silver Maple, Ash, and Yellow Birch. Further selections include finish, grade, and color, resulting in several thousand unique versions of the base products. While such variety may seem advantageous, giving customers too many options can make it hard for customers to pick.  As Martin Emery, VP Sales & Marketing at BSL, explains, "We have probably five or six thousand SKUs when you take into account all the wood species, grades, widths, colors, and finishes," he says. "So, while in a store we only put 36 samples that do not express the depth of our collection, limiting the options appeals to the customer who can get a feel for exactly what they need and want for their décor."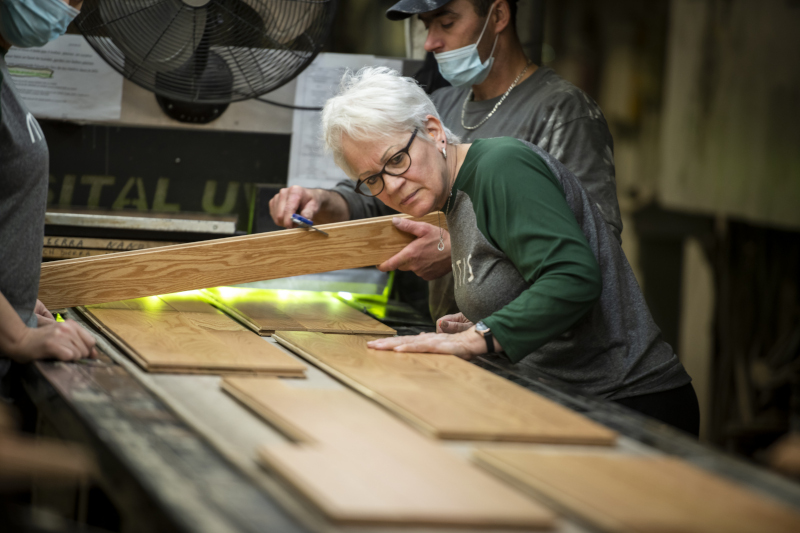 This approach is not merely a coincidence but blends with the BSL's overall strategy to offer sensory-appealing products, rather than an endless menu of options that customers find challenging to navigate. But things have not always been so forward-thinking, and the company has not always manufactured hardwood flooring.
BSL was founded in 1995 by Gino Ouellet. Initially a softwood lumber processing outfit, the company branched into hardwood flooring in 2000. In 2018, private equity firm BDG and Partners Financial Corporation purchased the business, seeing great potential in its products and brand, According to Emery, "BDG specializes in breathing new life into businesses that have potential but need extra cash and human capital investments to get to the next level."
The acquisition has brought substantial change to the company, at a branding level and deeper still at a corporate culture level. Eyeing significant growth over the next decade, BSL is hard at work creating a cohesive and conducive work environment for its employees, a central pillar in its growth strategy. "We are growing fast and currently have around a hundred and forty employees," affirms Emery. "All our workers are hired full time and for the long term."
Exposed to the same labor shortages other companies that rely on tradespeople face, BSL is countering this difficulty by cultivating an environment where workers can comfortably work for multiple years. "As a small but dynamic company, our people enjoy an environment that empowers them to thrive as they meet varied challenges and take on multitasking opportunities," says Emery. "In larger companies, your position is well defined, and you only need to master a few tasks. In our case, employees work in a multitasking environment that keeps their work interesting and helps them learn new skills."
Emery also touts the company's growth as a significant selling point for prospective and current employees, pointing out that it is growing significantly internally and externally while rising in brand recognition and prestige. He notes, "As the brand's prestige grows, we are becoming more appealing as a regional employer. While in the past people thought of us as just a flooring company, today, a stronger brand name is transforming us into more of a designer brand, adding to our overall appeal both to customers and employees."
BSL runs all its operations from its Mont-Joli facility, a five-building complex. Three of the buildings handle hardwood flooring manufacturing, including milling and finishing, while the fourth building is dedicated to turning the factory's waste into useful products. A fifth building is under construction and will handle a new line of upcoming engineered products. "As part of our zero-waste commitment, we use the fourth building to convert dust and chips (milling byproducts) into fire logs and creosote sweeping logs," says Emery. "It's a very successful business, yet it's one that most people underestimate."Although not the company's core product, going green has its commercial benefits. BSL sells its creosote sweeping logs in the United States through a large US partner specializing in this category.
Automation is also a critical component of BSL's operations, with the company investing close to $4 million to upgrade its current facilities. "In this business, automation translates into millions of dollars in investment," says Emery, "so while we're not as automated as our European counterparts, we are making steady progress."
Another area of steady progress for BSL is building a pipeline of resale and distribution partners. Since the company does not sell directly to consumers, it supplies specialized dealers and hardware stores, matching each customer to a product that suits its clientele. The company also works with distributors such as wholesalers and stocking agents that sell on to projects or directly to standard retailer channels.
These partnerships not only serve BSL in Quebec but further afield too. "In Canada, we cover the Atlantic provinces up to Ontario, and in the U.S., we're growing in the northeast down to the mid-Atlantic area besides targeting Midwest states like Ohio and western states like Wisconsin," shares Emery. Covering such a vast market can seem daunting, but BSL has a winning formula. Instead of flooding its target markets with products, it chooses to focus on doing business with a few selected partners in untapped markets. Emery notes, "We are creating a natural market protection by adding key alliances with our partners that protect them by not pitting them against too many competitors."
As the flooring industry moves away from a feature-centric perspective to a more experiential approach, BSL is also adapting its brand and product line to align with this new reality. Customers are shopping for appearance, what they see, so the brand revamp is focused on communicating a sensory experience. Part of offering a more experiential product has BSL gearing to enter the engineered products market, which will help it tap into its core residential markets with a more competitive product while opening commercial opportunities.
However, delivering such innovative products requires strategic partnerships upstream too, and two companies stand out in that regard: Axalta Coating Systems and Mekanika. "Axalta is our finish supplier and provides us a rich palette of colors that also offer exceptional weather protection," says Emery. "Their products have helped us nail down the perfect colors for the different types of wood we work with." He adds, "Mekanika has put together many precise and productive factories before in the wood flooring business and they have a great reputation in the industry. Especially now as we transition our equipment, they are proving to be a highly professional and reliable equipment partner that we can count on."
With the COVID-19 pandemic shaking up the timber industry, BSL has had to adjust its projections to cater for a softer market, mainly as demand migrates to upstream product categories like two-by-fours, which have tripled in price. Emery admits, "Substantial backorders have created pressure on our category of products because, for a sawmill, it becomes more appealing to produce two-by-fours than to produce hardwood products."
A rise in construction timber prices is also putting pressure on residential homeowners, who are having to pay such high costs for roofing that by the time they reach the floor, they have little left to invest in premium flooring products. So BSL is doubling down, expecting demand to contract in the short term, as it seeks to weather the current uncertain times facing not just the timber industry but all industries.
Peering into the future, BSL is banking on engineered products as the centerpiece of its growth plan. "While we have some good years ahead of us with hardwood, we appreciate that engineered products are the future, and we are actively investing in that direction," says Emery. The company hopes to tap into the growing demand for engineered products in high-rise buildings like condominiums.
"The second thing we are focusing on is building a compelling value proposition that positions BSL products in the premium category," he continues. "We expect our new branding direction to place us in a prime position, establishing us as a flagship supplier to our partners. The third area we will continue investing in is automation, maybe eventually artificial intelligence that will take our business to the next level."'
Axalta Coating Systems – Axaltawoodcoatings.com
Axalta Coating Systems is a global leader in supplying coating solutions to the building products, kitchen cabinet, and furniture industries. Our legacy has been built upon field-tested and market-driven products that exceed the demands of an evolving marketplace while minimizing hazards to workers, consumers, and the environment. Axalta's products provide durability and rich color to exterior siding, doors, flooring, kitchen cabinets, tables, office furniture, and countless other products. Our mission is to supply coating solutions that provide excellent value with ease of use and superior performance to our customers.
Axalta and BSL have established a business partnership spanning over a decade of Axalta supplying coatings for their flooring company. We attribute the growth of our longstanding partnership to delivering a product that provides durability, effortless application, excellent adhesion, and color consistency that is achieved with Axalta's coatings. Our current system is capable of creating an internal color studio which produces consistency and offers self-support for color matching any custom color. Axalta also tailors and adapts services based on the needs of BSL, including all training for employees. We are honored to be able to cultivate a valuable affiliation with BSL and look forward to our partnership continuing to flourish in the future.
Mekanika – Mekanika.net
Founded in 1964, Mekanika is a machinery manufacturer mainly in the second transformation of the wood industry. As a FANUC ASI (Authorized System Integrator), robotics is part of most of our current production line design. We are driven by our one and only mission: Develop automation processes and technologies for and together with our customers.