Nevada County Airport
A passion for aviation
Business View Magazine interviews Kevin Edwards, Airport Manager of Nevada County Airport, for our focus on U.S. Regional Airports
Nestled in the foothills of the Sierra Nevada Mountain range, Nevada County Airport offers both residents and guests of Grass Valley, California, intimate access to the world of aviation.
"It's really beautiful," says Airport Manager Kevin Edwards. "A mountain airport with trees and views of the Buttes and coastal range, people come out here not just to watch airplanes land and take off but also because of the scenery. Trees towering to over 100 feet tall just on the other side of the airport property makes for a beautiful back drop when watching or photographing aircraft. A lot of people really love being up here for the scenery."
Every two years the airport plays host to one of Nevada County's largest events: The Grass Valley Air Show and Brewfest. More than 2,500 people come out to see everything from World War II fighters to drone racings competitions. They can ride in a B-25 bomber or take a scenic helicopter ride. "It's such a huge event for everybody in the community," Edwards reports. "I have people calling me up asking when it's going to be and saying, 'please make that happen because it's the best event that goes on in the county.' It's very rewarding and we're doing everything that we can to try and keep it going. We've actually reached out to our Chamber of Commerce to help us put it on because it gets very overwhelming with all the different aspects of the event and the amount of people."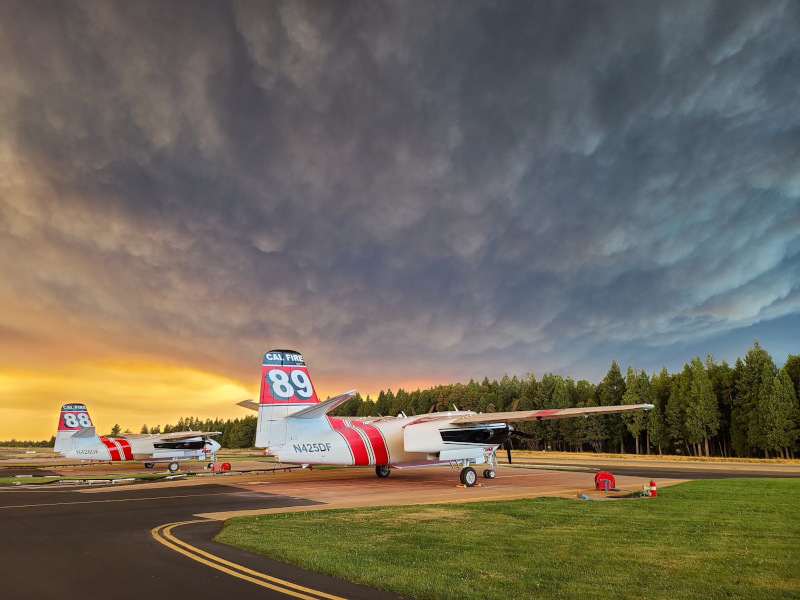 The Golden Empire Flying Association and the local Experimental Aircraft Association #1175 organize and run the event that provides money for scholarships and airport improvements. It's a way for the community to have fun but also support an entity that plays an important role in economic development and safety. The small, general aviation airport is home to the United States Forest Service and California Department of Forestry and Fire Protection Grass Valley Air Attack Base. Nevada County Airport is the permanent location for two Grumman S-2 Air Tankers that drop fire retardant and two air attack aircraft that coordinate the efforts of the tankers and other firefighting assets and personnel.
Those aircraft and crew members were put to the test in August, when the Jones Fire burned more than 700 acres. "It kicked off just north of Nevada City, which is just seven miles from the airport, by a lightning strike overnight, and they were flying on it for two days," Edwards recalls. "They dropped 94,826 gallons of retardant on that fire alone. In just two days, we sold them over 9,200 gallons of jet fuel."
The Grass Valley Air Attack Base services seven counties and has a long history at the Nevada County Airport. Established in 1958, the base was one of the first in the U.S. to begin carrying flame retardant.
"So this airport is really historical in the aspect of public safety," Edwards explains. "It puts a lot of our population at a little bit of an ease, since they know that they're based here. And their response time to a fire is very, very quick. Ninety-eight percent of the time CALFIRE is able to keep the fire contained under 10 acres."
There have been discussions about expanding the airport property to accommodate more firefighting helicopters. The owner of some land along the tree line on the north side of the airport has expressed an openness to selling. If he did, it could add another layer of protection for the city of Grass Valley and the surrounding communities. "Having those helicopters up here at the base would be just incredible," Edwards acknowledges. "But we have to purchase that property first. One of the things we are really trying to do is highlight the importance of public safety and what this airport can do, and potentially getting that piece and expanding the airport for those operations would just be immense."
Keeping wildlife off airport property was the goal of a recent infrastructure project. In 2018, the installation of a fence eight-foot in height around the perimeter of the airport property was completed.
The project was divided into two phases, with California-based Crusader Fence Company handling the first phase. A company out of Idaho did the second phase, which entailed the installation of all the airport's electric hydraulic gates. Edwards, who became the airport manager mid-way through the fence project, plans to work with Crusader going forward for gates maintenance. He notes, "They're fantastic people. Every one of them that I've met has been just amazing to work with."
Other upcoming projects include a taxiway rehabilitation next year. While that's happening, the airport will upgrade its lighting system from incandescent to more energy efficient light-emitting diode bulbs. Ramp rehabilitation will come after that and rehabilitation of Runways 25 & 7 is scheduled for two years from now. The upgrades will help Nevada County Airport remain a vital asset for the community.
In addition to its transportation and fire suppression, the airport plays a role in aviation education. Alpine Aviation Inc., founded in 1990, offers aircraft charter, maintenance, management, and rental, as well as pilot flight training. A flight simulator was recently donated to the airport, providing new pilots with a cost-efficient way to accumulate instrument time.
The Nevada County Airport is also a part of the national air transportation system. Pilots going through flight training at other airports will use the Nevada County Airport for mountain airport training.
Aviation education outreach extends to the students at Lyman Gilmore Middle School. With the school's namesake being an aviation pioneer, it's only fitting that the local airport take a role in introducing students to the industry with flyovers and visits. "We've sponsored field trips up here where we get the local pilots to bring their airplanes out and the talk to the kids about the airplane and how it flies, the different parts and how the parts work, and all that fun stuff," Edwards explains. Young people who are interested in learning to fly can apply for scholarships offered through the Golden Empire Flying Association and the local Experimental Aircraft Association. Money for those scholarships comes, in part, from the bi-annual air festival.
While it will take some time for those potential new pilots to become regular fixtures at the Nevada County Airport, there is already demand for expansion. Both Alpine Aviation and Sierra Mountain Aviation, a full-service maintenance facility, are looking for room to expand. "They're limited on space because of a lack of hangar space and tie down space," Edwards acknowledges. "So they've actually been turning work away because they don't have any place to put the aircraft. So if we were to give them more hangar space, they can bring more airplanes in and they can hire more mechanics and more flight instructors to help them out with being able to move their businesses forward, as well as attract new aviation business and potentially a restaurant."
One option is to repurpose 4 acres of property the county public works department recently vacated. Edwards is working to make that happen because he understands the benefits of a vibrant, growing airport for the surrounding communities. "I took this job because I'm passionate about aviation and knowing what an airport can do for a local community through tourism," Edwards admits. "You get
people from all over flying in here and then they can drive down and visit multiple businesses in both cities just a few miles from here and everybody wins."
AT A GLANCE
Nevada County Airport
What: General aviation airport; home to Grass Valley Air Attack Base
Where: Grass Valley, California
Website: www.mynevadacounty.com/149/Airport