Expo Center of Taylor County
"Home of the West Texas Fair & Rodeo"
Business View Magazine interviews Rochelle Johnson, Executive VP & General Manager of the Expo Center of Taylor County, for our focus on Top Event Venues
Deep in the heart of West Texas is a thriving event center that plays host to more than 250 happenings a year. Events at the popular Expo Center of Taylor County range from festivals, fairs, and concerts to club meetings, seminars, and private events.
"We stay busy!" Executive Vice President and General Manager, Rochelle Johnson, says with a laugh, noting that her staff is made up of 19 people, with just six working in the office. Among the Expo Center's key annual events are the Texas High School Rodeo Finals, Western Heritage Classic, West Texas Fair and Rodeo, and numerous livestock and equine shows. Their facilities and grounds are impressive.
The Expo Center of Taylor County dates back to 1954, when Taylor County residents successfully petitioned the Taylor County Commissioner's Court to acquire land in which to create an exposition facility. They thought it would be good for their community. Their quest was successful and the proposition passed in the election that fall, paving the way for the Agriculture and Livestock Exposition Center to be built. Taylor County purchased the land, the site of an old airport, and got to work developing the 127 acre-site. They built several exhibit buildings, a livestock barn, a show arena with seating for 1,100, a horse barn, and a rodeo arena.
In 1967, another bond passed, earmarking $1.76 million to build a coliseum and make other improvements to the property. Johnson reports, "It was a momentous year for Abilene. Not only did they vote to build the Coliseum, out here on the fairgrounds, but the citizens of Abilene also voted to build a convention center downtown. They had a good vision for the community by building these two big facilities." The Taylor County Coliseum was completed in 1969 and in 1977, the West Texas Fair Association merged with the Taylor County Coliseum Board to create the Taylor County Expo Center Board. They now run the Expo Center and operate under an agreement with Taylor County, where they lease 117 acres, including the fairgrounds and Coliseum for just $1.00 a year. The Expo Center is a 501(c)3 non-profit organization.
"In the early 1980s, the office we're in now and a horse barn were built," Johnson says. "It was decided that equine shows would be a good draw for our community, and we just evolved from that. The horse barn was the kickoff, I believe, of drawing a lot of equine events to Abilene. The first big event we had was the Texas State 4-H Horse Show, along with some cutting horse shows and quarter horse shows."
Bonds continued to pass in Taylor County to provide much needed updates to the Expo Center. In 1996, a new outdoor covered arena, along with a new outdoor entertainment pavilion were built. According to Johnson, "They knocked down the big country hall and rebuilt it. Half of that building houses the Texas A & M AgriLife Extension Service. The entertainment pavilion is actually a big stage that is 40 feet wide by about 40 feet deep.
For 20 years, it has served us well, having that covered pavilion and the horse barn. And then we would put dirt in the Coliseum to accommodate larger shows."
That method landed them the Texas High School Rodeo Finals in 1990 – an event they've hosted ever since. Johnson adds, "We would be hauling dirt in and out of the Coliseum. We're a nonprofit organization and not funded by the county,  the city, or by anybody. But the county was gracious enough to move that dirt back and forth for us on a regular basis,  a process which is time consuming, costly, and causes damage to the facility."
Johnson has worked at the Expo Center since 1984, taking over as General Manager in 2009. Over the years, she was privy to a lot of blue sky discussions. She admits, "We spent some time thinking about what we wanted to do long-term with the facility. One of the things I heard most was that our horse stalls were spread out all over the facility. This made things difficult for horse events during inclement weather, particularly during the inevitable ice that comes each winter. It was just too cold and dangerous for the horses." So, the planning began for a new horse barn. It took a while to get the designs and people in place to make it happen, but eventually, their vision took shape: a complex that could accommodate livestock and horses, along with another facility, like their Coliseum, with a dirt floor to alleviate the dirt transfer in and out of the Coliseum.
Taylor County was once again asked to vote on a bond to fund this expansion in 2016, and the citizens passed a $55 million dollar bond renovation by a whopping 72%. That speaks to the importance of the Expo Center both to the people and the economy of Abilene. Johnson recalls, "In 2017, they started the livestock barn, which is called The First Financial Pavilion that is two football fields in size and was completed in 2018. Then they started the Taylor Telecom Arena, the new facility for dirt events." The Taylor Telecom Arena is a 330' x 460' facility with a 140' x 350' competition arena and 5,603 seats, completed in April of 2020. At which time, like everyone else in the spring of 2020, the Expo Center team had to pivot.
The first event they had scheduled for their new building, which is also one of their huge fundraisers each year, was the Western Heritage Classic. "It's a very prestigious event with ten historic ranches competing in ranch events," Johnson explains. "And we had to cancel it. We were very disappointed at not being able to open up our brand new, pretty building."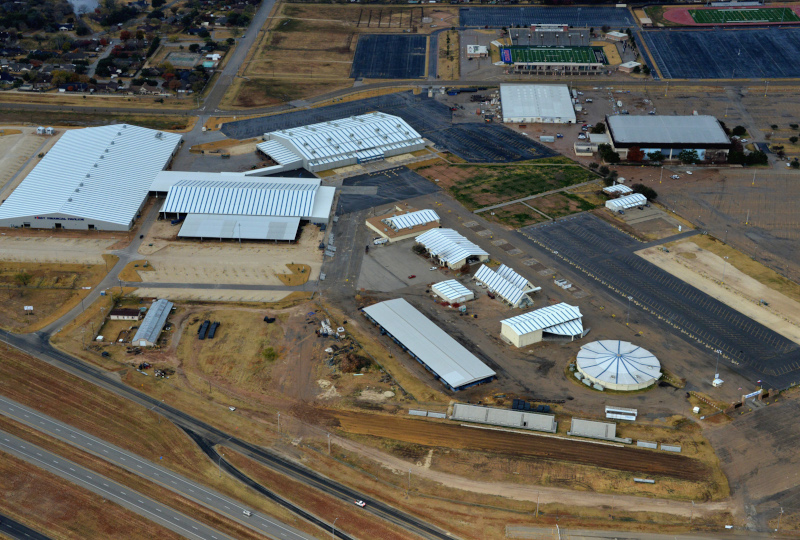 But the Expo Center was fortunate in that they didn't have to shut down completely. The local judge allowed the City of Abilene to declare a state of emergency because of COVID, so the Center fell under the city's guidance. The Mayor and City Manager of Abilene let them continue with certain events, as long as they worked within the guidelines of the state of Texas. And so they proceeded, with caution. They hosted the Texas High School Rodeo Finals in June of 2020. Instead of the typical ten regions gathering to compete, they spread it out, bringing in only two regions at a time. Johnson notes, "It was a real abbreviated event but we were happy to be able to have the doors open and have those kids try to be normal and compete in something they had worked hard for all year long."
The Expo Center played host to events that were canceled in other parts of Texas, too. In July of 2020, they welcomed 1500 head of steers as a result of the cancellation of the Houston Livestock Show & Rodeo in 2020. They also hosted another large steer show in February 2021 as a result of the cancellation of the Ft. Worth Stock and Rodeo Show, among others. "We've been really fortunate that we were able to continue to have horse shows, livestock shows, and rodeos," Johnson says. "We did hold our West Texas Fair and Rodeo in 2020, and we lost money that year at the fair due to fewer people. But we had so many parents sticking their heads in our office doors, thanking us for allowing their children to be normal. So, even though we took a pretty good loss, we know we did the right thing for our community."  The fair in 2021 exceeded all records.
Things are getting back to normal now and the Expo Center's calendar is full – with rodeos, dog shows, local graduations, and fairs. They are a full-service venue site, too, and can accommodate just about any special function in their versatile, and numerous, facilities. Visitors can also stay on the grounds at the Expo Center. The bond allowed for renovations to create 500 RV spaces. Johnson acknowledges, "We actually had that many before, but now we have them in very well defined and beautiful spaces."
Johnson's ideas continue to churn. She hopes to use the Coliseum (now dirt free) to grow their concert business. That building was updated, too, as part of the recent renovations. She shares, "I'd like to bring back concerts and provide entertainment for our community. The Coliseum was really built for concerts and you'll hear people that have lived here all their lives talk about the heyday of concerts in the '70s and '80s. We got away from it because we put dirt in there."
The folks in Taylor County were right all along. The Expo Center has been good for the community. Really good, in fact. The property is a hub of activity, bringing in over 350,000 visitors each year. The economic impact has been tremendous. Before the recent additions, an economic impact study indicated that the Expo Center drove $20 million dollars into the Abilene area on a yearly basis. Johnson believes that now, with all of the new buildings and renovations,  it's more like $30 million dollars. She adds, "We feel very fortunate that we have a community that understands the value of the Expo Center."
AT A GLANCE
Expo Center of Taylor County
What: A non-profit organization hosting over 250 events per year
Where: Abilene, Texas
Website: www.taylorcountyexpocenter.com
Guitar Outdoors – guitarranches.com
guitaroutdoors@guitarranches.com
The Guitar Ranches legacy dates all the way back to the early 1900's. Today, it is owned and operated by Phil and Jane Guitar. Based in Abilene, TX, the family-run operation raises Black and Red Angus cows in the verified natural beef program on ranches across seven counties throughout West Texas. They also specialize in hunting, lodging, performance horses, and land, oil and gas development.
Not only are Phil and Jane hands-on with their ranch operations, but they are also very active in their local community. Phil was one of the founding members of the Western Heritage Classic held at the Taylor County Expo Center in Abilene, TX each spring, and he still remains on the board. They are proud supporters of the Western Heritage where their ranches have competed in the WHC Ranch Rodeo since 1985. They also consign horses to the annual horse sale.
Guitar Ranches was founded on the tradition of ranching and cherishes the opportunity to share that tradition with others. From raising cattle to hosting corporate events, they have a place for everyone. Guitar Ranches prides themselves on being good stewards of their land and animals through successful conservation practices and maintaining high ethical standards.