Savannah Convention Center
Getting ahead of the boom
Business View Magazine interviews Sherrie Spinks, General Manager of the Savannah Convention Center, for our series on Best Practices in Facilities Management
March 2020 marked the onset of a period that enforced a bizarre kind of communal isolation – a phenomenon that typically played itself out in the business world by way of the virtual meeting.
But for the convention tourism/live events industry, the COVID-19 pandemic proved to be a particularly disruptive force. How could a sector completely reliant on the scheme of a shared physical space be expected to find a suitable alternative to carry out its purpose?
For Georgia's popular Savannah Convention Center (SCC), plans have been underway for years to expand the facility to meet enormous demand in an enormously popular city. So, while the rest of the industry hunkered down, the Savannah Convention Center buoyed by support from the State of Georgia moved ahead with plans to double the current 100,000-square-foot exhibit hall space, add a 40,000-square-foot ballroom, and build a 900-space parking garage structure to accommodate the influx of visitors expected for 2023 when convention tourism races back. "It will put 600 construction people back to work immediately," asserts Sherrie Spinks, General Manager of the SCC, about the proposed expansion project. "With the economy struggling, it's a great time to ramp up the project, especially since we will stay open throughout construction."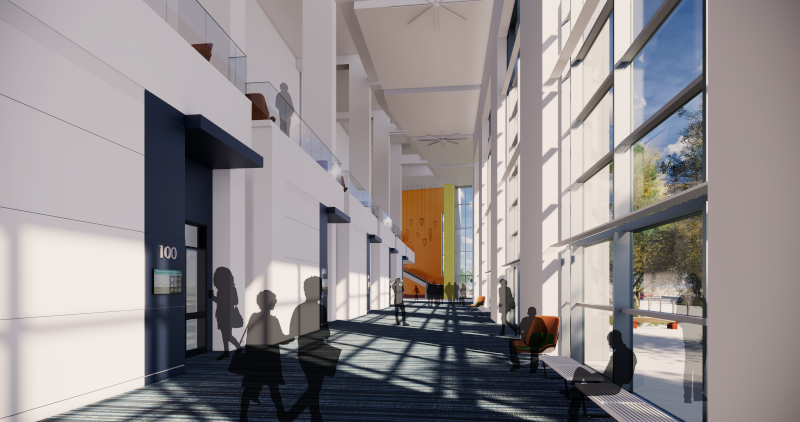 Since June, the SCC has hosted over 30 events with some of them including as many as 500 guests. "They range from dance competitions to graduations to rotary club events," says Spinks. "The Georgia Association of Chiefs of Police hosted their annual conference here, primarily because the chiefs need their training. We were able to move their general session into the exhibit hall and keep everybody six feet apart."
With larger events being viewed as high-risk breeding grounds for coronavirus spread, the SCC pivoted early on during the pandemic, becoming expert at implementing prevention measures and even modifying its menu offerings to reduce overall person-to-person contact. "We've done pre-set meals, where the food is set at the table ahead of time," Spinks explains. "We've also done modified buffets where we put up plexiglass and staff serves while wearing gloves and masks. We've been very careful and disciplined." For the Rotary Club of Savannah Luncheon, guests at the SCC were seated sparingly, only two per table, honoring the guidelines established by the Governor's Office and the Centers for Disease Control and Prevention. The Center earned a Global Biorisk Advisory Council (GBAC) STAR™ accreditation, designed to help facilities establish a comprehensive system of cleaning, disinfection, and infectious disease prevention for their staff and their building.
"Everybody's involved," says Spinks. "Unfortunately seventy percent of our staff has been furloughed, so there are only 15 of us here, getting chairs and tables set up, emptying the trash and doing whatever else needs to be done as a team. We disinfect every room after every session with this new equipment that looks like Ghostbuster machines. We use medical-grade disinfectant on everything in the room and run some through our air handlers at night, to sanitize everything in the building. We haven't had any issues. In fact, everyone has been extremely complimentary of the facility."
Spinks adds, "We even had a Trump rally where the attendees were passing out masks to anyone who didn't have one. The Chief of Police actually took everyone's temperature. We hosted a bodybuilding competition where – I'll tell you – the largest thing they were wearing was their mask. That was an interesting group, and a first-time group for us. They were canceled out of California and ended up coming to Georgia. After that, we hosted a Strongman/Strongwoman competition. It's a little different than the bodybuilding one. This is where they use their muscles to pull trucks, lift large amounts of weight and perform other amazing feats. I was working the concession stand, so I had a great view of what was happening. Watching these ladies and gentlemen pulling trucks and lifting 400-pound bags of sand, all while social distancing, was truly amazing."
As an added precaution, the Center has developed a comprehensive plan featuring enhanced safety measures and operational changes designed to meet the health and safety challenges presented by the pandemic. Along with their GBAC STAR accreditation, the SCC offers touchless payment options, follows crowd density protocols, and enforces physical distancing and hygiene guidelines in the form of signage in high-traffic common areas. All SCC team members are subject to a daily health screening, including temperature checks and, where practical, seating capacities and room sets have been modified to allow for limited touch and proper physical distancing behaviors.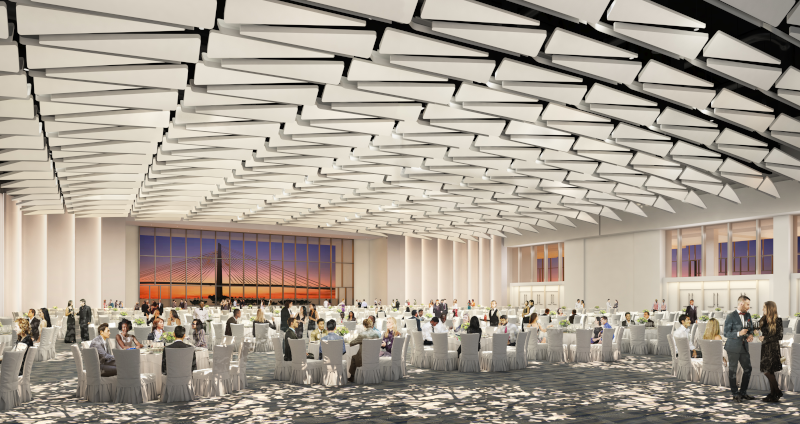 Spinks admits, "The groups we are hosting are smaller. We're still seeing several of the larger groups cancel. With our fiscal year ending on June 30th, the SCC was on pace in 2020 to have our best year in history. Of course, we did not. It's still looking really rough. But, in the meantime, other than hosting events, we're focusing on plans for the expansion. The expansion design is completed and it includes add-ons such as a 57-foot-wide hangar door, additional customizable break-out rooms, additional outdoor space, and a new facility entrance with an all-glass façade. Since the expansion will be where our surface parking lot is today, we included a 900-space parking garage in the plans."
The Center's existing 25,000-square-foot ballroom looks out onto both the Savannah River and the downtown historic district. With the addition of the new ballroom facing the back river, marshes, and the Westin Savannah Harbor Golf Resort, the SCC will feature sweeping 360-degree views of its gorgeous surroundings. So far, the State of Georgia has funded $93 million for the project. "We're ready to go," promises Spinks. "Clark Construction Company, out of Washington, DC, has now submitted their GMP, and the ground breaking will be scheduled early in 2021."
Despite all the construction work ahead to effectively match the existing size of the Center, Spinks believes it's very likely that the SCC will outgrow the new building sooner rather than later. She notes, "I have a list of around 115 customers who want the expansion. People want to come to Savannah – we're a destination city. I see businesses booming more and more. We've had four or five restaurants open up during COVID-19, and Tybee Island, just outside Savannah, is also thriving. Hotelier Richard Kessler just opened the new JW Marriott Savannah Plant Riverside District on the west end of River Street, and that's a fabulous facility. Things are going well in Savannah. People love it here. Once they visit, they realize what a gem this place is." Also, Tybee Island, often referred to as Savannah's beach, is enjoying a surge in popularity. According to Spinks, "They've posted record occupancy levels. We're not talking about over last year. We're talking about since they've been recording hotel occupancies."
Spinks emphasizes that the SCC's ties to the GWCCA remain strong. She shares, "Our relationship with Atlanta is still the same. They actually went through the GBAC STAR certification first, and then they helped us through the accreditation process, which was invaluable." The GWCAA was one of the first convention centers in the nation to receive that certification, in June 2020. The SCC earned theirs the following month. "We're operating safely and it's pretty exciting," says Spinks. "We want to welcome everybody to be our guest here in Savannah, at the convention center. We're here to be good hosts and to meet our customers' needs in some fun ways."
AT A GLANCE
Savannah Convention Center
What: A renowned convention, meetings, and special events venue
Where: Hutchinson Island along the Savannah River in Georgia
Website: www.savconventioncenter.com