Allianz Field
For the fans
Business View Magazine interviews Justin Borrell, General Manager of Allianz Field as part of our focus on best practices of American event venues.
Allianz Field is a soccer-specific stadium in Saint Paul, Minnesota, home to Minnesota United FC of Major League Soccer (MLS). The stadium opened on April 13, 2019, during the club's third MLS season, at a total cost of $250 million.
Allianz Field is a ring-shaped stadium, with seating for approximately 19,600 in the first phase and the potential for 24,474 in a future expansion that would fill the four corners. It has a safe-standing terrace for 2,920 supporters, named the "Wonderwall" after the club's unofficial victory anthem, located behind the south-end goal. The single-tier Wonderwall terrace was designed with a 34.9 percent incline and has no seats. The north end has a brewpub, named Brew Hall, and a manual scoreboard and ninety-minute clock that were designed to resemble fixtures at the team's former home, the National Sports Center in Blaine, Minnesota, the state's largest soccer facility.
The stadium was designed by Populous with deliberate sightlines and an "intimate atmosphere" in mind. The pitch sits 16 inches above the first row of seats and is composed of 97,000 square feet of Kentucky bluegrass that was grown in Colorado before being installed in late 2018. A glass-like, polymer mesh oval exterior provides the stadium with a sleek facade. It is clad in polytetrafluoroethylene, which covers the steel structure that holds the roof in place. Color-changing LEDs light the exterior mesh in the same manner as Allianz Arena in Munich, Germany and MetLife Stadium in East Rutherford, New Jersey.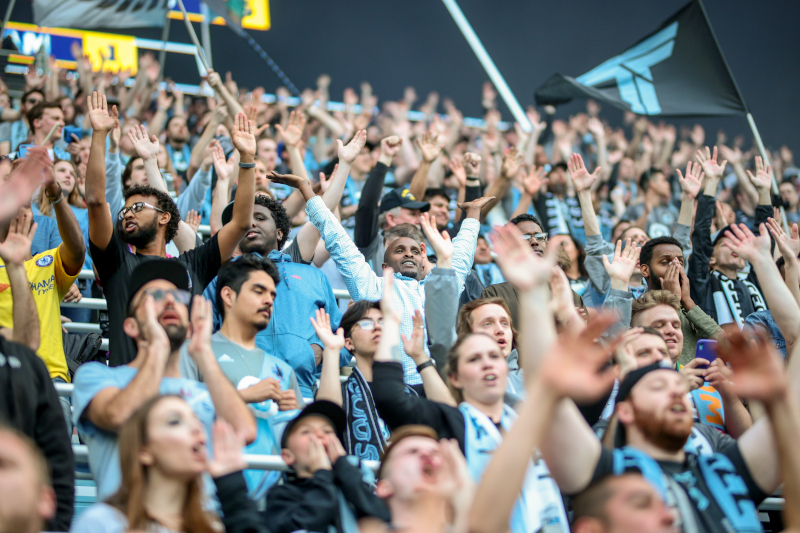 On July 25, 2017, Allianz Life was announced as the sponsor for the stadium. Allianz Life, a subsidiary of the German company Allianz, is headquartered in nearby Golden Valley, MN. It is one of eight sports facilities around the world that is sponsored by Allianz or its subsidiaries. The naming rights agreement with Allianz runs until the end of 2028.
Recently, Business View Magazine spoke to Allianz Field General Manager, Justin Borrell, to find out about the facility's inaugural season. The following is an edited transcript of that conversation.
BVM: How did the stadium get built and paid for?
Borrell: "Allianz Field is the accumulation of a lot of work done on different fronts. Back in 2013, our majority owner, Dr. Bill McGuire, purchased the team from the North American Soccer League, which is a Division II-style league, with the goal of bringing this team to Major League Soccer, and, ultimately, giving them a home for that purpose. That ownership group, which manifested into what it is today, took time to work with the architect, Populous, as well as our general contractor, Mortensen Construction, to privately finance the entire facility. So, the entire building is financed by our ownership group, as opposed to any public funding or benefits of that sort.
"Our neighbor down the street, here, U.S. Bank Stadium, had a significant public funding aspect that we just don't have here at Allianz Field. That speaks to the incentive and the drive of our majority owner, Dr. Bill McGuire, as well as our fan base. St. Paul jumped all over the opportunity and we worked with them on the location we ultimately ended on, to bring a soccer-specific stadium to the community. It was the drive to bring soccer back to Minnesota."
BVM: Bring back? What is soccer's history in the area?
Borrell: "Back in the 1970s, the Minnesota Kicks played at the old Metropolitan Stadium, where the Vikings used to play and now, where the Mall of America stands. Back then, they would draw 30 or 40 thousand. That was through the North American Soccer League, which was the premier league in the U.S. That franchise was dismantled along the way, and soccer remained in various shapes and forms; there was an indoor league for a couple of years; the Minnesota Thunder came back in the North American Soccer League in the early 2000s, and then they changed team names for the better part of the decade until Minnesota United was formed in 2013, when Dr. Bill McGuire bought the team. I think people were waiting for it to get back to the level it was in the 1980s when the Kicks were around."
BVM: What events have you hosted in the first few months you've been open?
Borrell: "Minnesota United has played eight games, thus far, at Allianz Field, and we've also played host to an International 'Friendly' with Hertha Berlin out of Germany, as well as the international tournament, the Gold Cup; they played their first stage round here with the U.S. Men's National Team, in June. The U.S. Men's National Team played Guyana, and Trinidad and Tobago played Panama."
BVM: How have ticket sales been?
Borrell: "We sold out of season's tickets a year in advance of our opening, so in April 2018, we were completely sold out of season's tickets and then we sold out of single game tickets very quickly, thereafter. We've had sellout crowds for all of our season's games, and we actually had the quickest sellout in Gold Cup history, I believe."
BVM: How many employees are there?
Borrell: "30 full-time staff between the building operations folks, our food and beverage team, our security team, and our housekeeping team. The Minnesota United front office has an additional 70 or 80 employees between the sponsorship team, the sales team, the marketing team, and so on."
BVM: Is the field being used by any other organizations?
Borrell: "We're working through some of that program for the long term. This year, we've been a little bit protective of the field, just to make sure. We planted it in October, last year, which, if you know anything about Minnesota, is not an ideal growing time of year. So, we really wanted to see how it came back, this spring. Early on, since we had some young grass, we had some patches that needed to be addressed, and we wanted to make sure we got the field right and got soccer right before we explored too far outside that parameter. Looking ahead, we're trying to be thoughtful in our integration around potential high school or other community opportunities. This October, we will play host to two Division III college football teams – St. Thomas and St. John's – and host their rivalry match."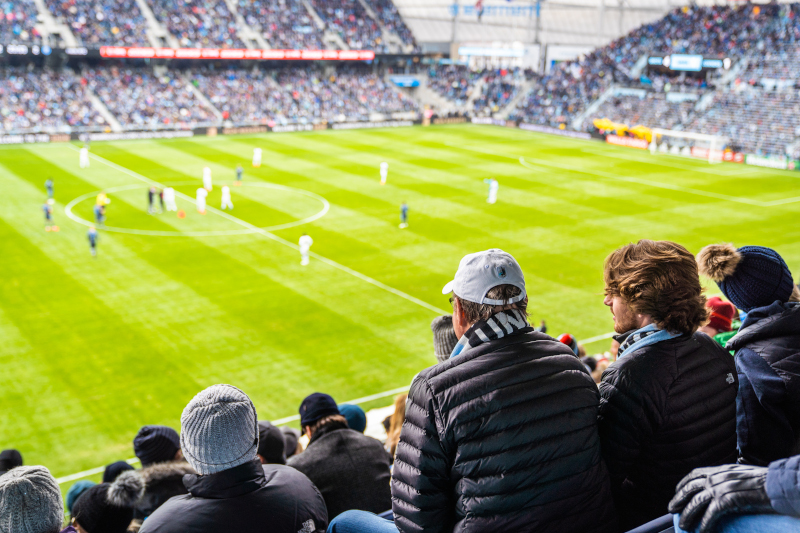 BVM: Can you talk a little about how you manage to keep the grass in good shape in your, admittedly, less than advantageous climate?
Borrell: "We have a glycol heating system with 27 miles worth of tubing under the field; we can control the temperature of the soil; we have a sub-air system which aids in the drying out and the efficiency of the field from a moisture standpoint. And then we have grass that was grown in Colorado on plastic, trying to avoid any danger of cutting the root when harvested. When grown on plastic, the roots grow out instead of down and adhere quicker when transplanted. On top of that, we have grow lights, which basically is manufactured sunlight, in areas that require more light. With the canopy that we have, there's significant shade that's projected onto the field. So, ensuring that the field gets a healthy dose of sunlight, we made a capital investment in grow lights."
BVM: Does the stadium have any green or sustainable practices or programs?
Borrell: "First and foremost, we kicked off our 2019 season with a three-bag system, including compost, recycling, and trash, to make sure we're doing our part from a waste perspective. We've had about 48 percent diversion as of last month, which is a really good number for a brand new facility; typically, new facilities struggle to get somewhere around 30 percent. In addition to that, we have a rainwater re-use system that the city of St. Paul worked with us on. All the rain that's collected by both the building and the surrounding area is collected in these tanks which can hold up to 700,000 gallons of water that gets re-used for some of our exterior irrigation systems, as opposed to drawing from city water resources. There are a couple of other amenities – 95 to 99 percent of our lights are LED, including our field lights to mitigate that impact on energy use, as well."
BVM: Who's your biggest local competitor?
Borrell: "From a sports standpoint, we're still trying to figure out what our greatest competitor is in the market. We, obviously, coincide with Target Field and the Twins' schedule, but we don't typically see a huge drop in attendance when there's a Twins game going on. Our biggest competitor, right now, has been the weather – trying to make sure that we have good weather on game days. But we have no control over that."
BVM: What else would you like our readers to know about Allianz Field?
Borrell: "The biggest takeaway and one of the things that I've been most proud of in being part of this project is the fact that the entire building was done with the utmost thoughtfulness toward the fans. We don't have a front office located here; we don't have a lot of back-of-house space and that's been done purposely. We wanted to make sure that most of this building was catering to the fan experience. Whether you're a premium ticket holder member, whether you sit in the lower bowl, or upper deck, or just come to visit our Brew Hall, the building was built for fans. And I think if you ask a lot of our fans, they'd completely agree that we hit it out of the park. It's an experience that's second to none across the league. We have teams coming to every game and trying to figure out how we did this. How did we end up with a facility with that amount of success? We tell them it's a simple equation: Who did we plan for and what could we provide for them to make the experience unique for them?"
AT A GLANCE
WHO: Allianz Field
WHAT: A soccer-specific stadium
WHERE: Saint Paul, Minnesota
WEBSITE: www.mnufc.com/stadium