New Orleans Ernest N. Morial Convention Center
Repositioned for the future
Business View Magazine interviews Michael Sawaya, Convention Center President of the Ernest N. Morial Convention Center, for our focus on U.S. Events Venues
There are lots of "big" things about New Orleans, Louisiana that are hard to ignore, from the outrageous Mardi Gras celebrations to the eye-catching ironwork on the elegant buildings flanking Jackson Square. But looming large at 3 million square feet and filling nearly 11 city blocks, the New Orleans Ernest N. Morial Convention Center is literally one of the biggest of all the big things in the Big Easy.
In late 2019, the Ernest N. Morial New Orleans Exhibition Hall Authority (Authority) reported a recently adopted $557 million Capital Improvement Plan. The five-year project included major renovations to the 35-year-old, state-owned facility, the addition of a 7.5-acre pedestrian park, and the development of a Center-connected headquarter hotel. But with the impacts of the COVID-19 pandemic on the local and national economies felt in 2020, the possibility of moving on a project of that complexity very quickly became unrealistic. "Unfortunately, we aren't currently in negotiations with the hotel developer on that particular project," says Michael J. Sawaya, Convention Center President. "A new headquarter hotel attached to our facility is still in our vision for the future, but it isn't the highest  priority right now. If you'd have told me a year ago that we'd be doing what we're doing, working in a building with no events, I just wouldn't have believed it. That we'd shut things down the way we have… it's just incredible."
With Hurricane Zeta, a Category 2 storm, becoming the fifth named storm to make landfall in Louisiana last October, the residents of New Orleans certainly weren't spared from disaster-related anxiety in 2020. "It was an unusual year back-to-back," Sawaya says. "You know, we're fortunate. I've never seen winds that strong my entire life – 110 mph winds. It really was something to watch." Although the Center did sustain some damage, Sawaya confirms there were no major incidents to report. "Just things like you'd expect," he says. "Some pieces of the roof, some of the canopy out front. The trees really took a beating around town."
Back in August, the Center served as an aid distribution center for hundreds of Hurricane Laura evacuees, doling out clothing, baby supplies, and health services to those in need. At the same time, acting as a medical monitoring station for patients recovering from COVID-19. On the pandemic front, the Center has been lucky in that it hasn't been forced to furlough any of its 400 full-time and part-time employees. "We're just spending our reserve account now to plan for the future and get the building in shape for when we're ready to host again," Sawaya shares. "Being able to keep everybody employed, you can imagine how loyal they are to us as an enterprise. We brought the staff back into the building only when it was safe to do so. We were one of the first facilities to get the GBAC STAR™ accreditation. And once they got there, we found things that needed to be done – essential work, not to keep them busy but to bring the team back together during a difficult time."
As for the building itself, Authority's investment will help bring the Center up to modern standards where technology and sustainability are concerned. Enhancements to the facility will include $175 million in renovations to all 140 meeting rooms and pre-function areas using a contemporary design commensurate with some of the newer facilities breaking ground across the country. As well as a $40.3 million roof replacement, $11 million in restroom renovations, $10 million in technology upgrades, and $8 million in retrofit of all exhibit hall lighting.
"We've got a plan to reposition the building for the future," Sawaya says. "A year ago, we were kind of in the middle of those projects, but they've now become our number one priority." One of the projects Sawaya is most proud of is the recently completed pedestrian pathway that spans the entire length of the facility. "We've completely redesigned and reconfigured the front of the Center," he says. "We've redone the street – it's now a 7.5-acre linear park – so it's a much safer, much warmer and inviting introduction to the building. Having greenery at your doorstep really is a much better aesthetic for welcoming guests."
The park includes three new outdoor venues perfectly adapted for live entertainment and socially distanced events. "These are places where bands can play and performances can happen – all of that's included," he says. "We believe that in the future, outdoor events are going to be much more popular due to some of the concerns about being more closely confined at indoor meetings." In the interest of building awareness of the facility's new assets and keeping their messaging "fresh," the Center has reached out to the Erhardt Group, a local public relations and marketing firm, to assist with the strategy and execution of those efforts. "We thought this was an opportunity to bring on the Erhardt Group, who have a great reputation and a great history of doing tremendous work in New Orleans," he says. "We've got a new Board chairman, Jerry Reyes, our priorities are shifting a bit, and we believe that being in control of the message that we put out into the community, and nationally, is critical at this time. We're excited to have them on board."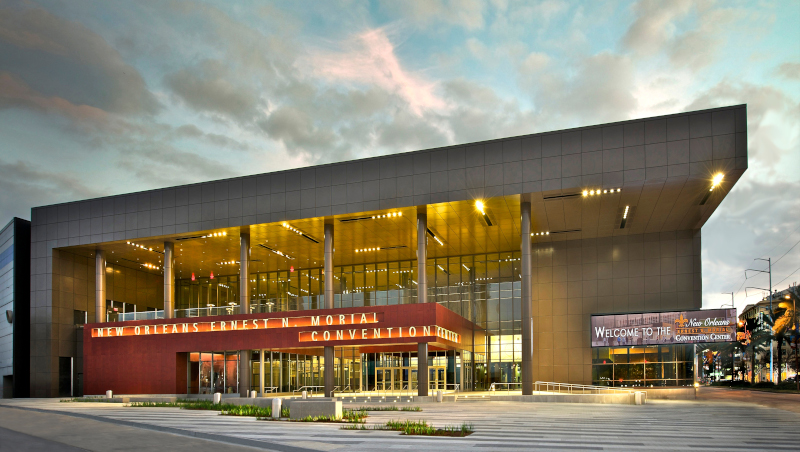 Toward the end of 2019, the Center was unfortunately the target of a cyber-attack. On a more positive note, that attack set into motion a series of operational and infrastructural shifts that the Center is now proud to be announcing. "We were severely affected by that incident and were just recovering from it when this whole pandemic hit," Sawaya shares. "Suffice it to say, we're redoing all of the IT infrastructure throughout the building. We're putting in all new digital signage, including a new outdoor marquee. We're also doing things out in the park, where we have connectivity as well." The IT master plan is its own standalone priority and, once completed, the Center will be outfitted with the latest and greatest technology in the country.
In terms of environmental initiatives, the Center has hired a Sustainability Director and established a department dedicated to green projects like LEED certification in the Silver category for the entire campus. Sawaya admits, "Bouncing back from Hurricane Katrina was challenging, especially with regards to recycling. Our options were really limited as to what was available in the marketplace. Since then, we've come together in a big way. We're monitoring a lot of things. We're changing out all of the lighting in the exhibit hall. Because of the pandemic, our venue spaces are basically empty, so we're able to get in and change out all the fixtures simultaneously. You're talking about over a million square feet of exhibition space. That will have a significant impact on our energy consumption."
The Center is seizing upon the unexpected halt in activity to install what they're calling I-Coves throughout the building's public areas; stations where individuals can hold small, one-on-one gatherings. They're also creating a drop-off area in front of the Great Hall for in-town events, and looking at solar opportunities, as well. In addition, all the electrical boxes are being upgraded to a new standard of safety. Sawaya acknowledges, "When the exhibition hall does get back online, I dare say those boxes are going to be in the best shape they've been since we've been open."
Although the New Orleans Ernest N. Morial Convention Center was slated to undergo a massive transformation in anticipation of the 2025 Super Bowl, the various crises that unfolded in New Orleans throughout 2020 stalled some of the Center's decisions and impacted many of its operational changes. But despite the year's challenges and setbacks, Sawaya insists that the Authority's Capital Improvement Plan is in full swing. He explains, "We're looking at things differently than we had before. Going back into our history, we've always sold that bigger is better. Well, now we believe that better is better. Moving forward, we're going to be focusing on creating new experiences for clients. Things they've never really encountered before in our Center. Once they get into the building, they're going to know they're in New Orleans, LA. Not so much in an overall, flashy way, but in a way that very much expresses our culture and conveys what makes New Orleans special."
AT A GLANCE
Ernest N. Morial Convention Center
WHAT: The sixth largest convention facility in America
WHERE: New Orleans, Louisiana
WEBSITE: www.mccno.com