Dieppe, New Brunswick
Questions for Julie Albert – Communications and Public Relations Officer, City of Dieppe
BVM: Can you tell us about your city?
Albert: "A modern city located in southeast New Brunswick, Dieppe enjoys an enviable reputation, as shown by its strong growth over the last few decades. In less than 30 years, the City of Dieppe's population has more than quadrupled. Today, we enjoy a reputation that is the envy of many. Based on the 2016 census, its population now stands at 25,384, an increase of 8.9% from 2011.
Downtown Dieppe is also in full expansion and has become a destination where many businesses and shops are choosing to do business. In the coming years, it will become the municipality's economic hub as it continues its development in accordance with our Downtown Dieppe Master Plan and Downtown Development Guide.
Dieppe not only has a developed urban side, but also has a cachet with its several parks and green spaces and more than 55 kilometers of trails and bicycle paths. A stable, safe and dynamic environment and a community spirit that appeals to those who live here make Dieppe so unique.
Here you will find modern recreational facilities, festivals and events for the entire family, as well as a dynamic business community and an economy founded on respect for the environment."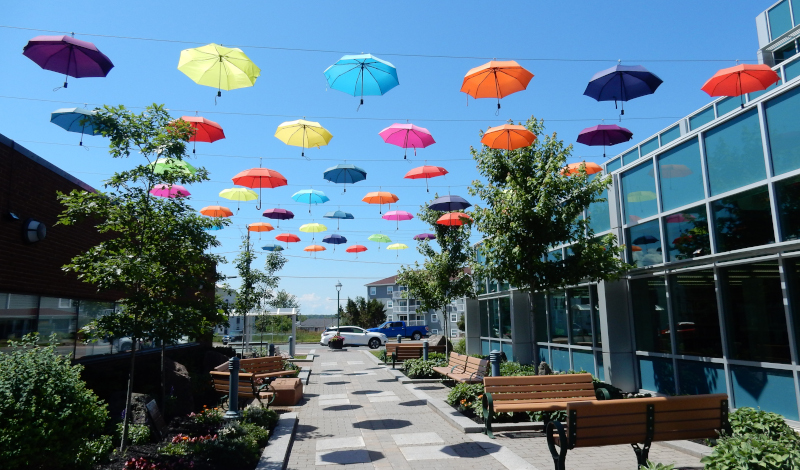 BVM: How do you Market yourself? Do you have any Public or Private Partnerships?
Albert: "The vision of the Dieppe 2019-2023 Tourism Strategy is that Dieppe would be recognized as a flagship destination for contemporary Acadia as well as a lively, festive city with an active food scene. Many festivals and events are offered year-round and a number of municipal facilities and attractions are available for the entire family. Many events are also organized by external organizations throughout the year, in partnership with the municipality.
The City of Dieppe has accredited nearly 70 organizations that offer a number of services and events to residents. As Dieppe continues to grow, many projects are taking shape such as the Doiron Heritage House set to open to the public later this year. The ConneXion Zone, launched last summer, was also a huge success and will have an even more impressive second edition.
The ConneXion Zone, a tactical urbanism concept, consisted of a pedestrian-only area where residents and visitors can spend some time playing with giant games such as chess, battleship, bocce, and so much more. They can also relax and enjoy an afternoon outside thanks to the many lounge spaces. Various vendors and community activities are also present. Carried out in July and August of last year, ConneXion Zone was really a gathering place stimulating exchanges between community members and across generations. Like many large cities implementing similar urban planning projects, Dieppe wished to revitalize its downtown area and give this space back to the community."
BVM: What is the project of most note in town and how will serve to enhance the community?
Albert: "The UNIplex, currently under construction in downtown Dieppe, will have a variety of functions meant to serve the entire community and users of all ages. Set to become a hub for active living, wellness, business and cultural events in our region, activities in the UNIplex are scheduled to take place 12 months a year and projected to attract over 290,000 visitors annually; providing over $24 million in economic spin-offs for our community each year.
The complex will feature an indoor walking track, a community kitchen, an intergenerational greenhouse, community rooms which can accommodate up to 150 people for various events or activities, and two ice surfaces. These components will provide a variety of activities for all age groups, as well as fulfilling several objectives contained in the City of Dieppe and the Province of New Brunswick's Wellness Strategy.
The community complex will also become a great place for hosting fairs, cultural and commercial activities. It will be an opportunity to generate significant economic benefits for several businesses. The vision is for it to be an attraction piece for the development of our downtown core and an asset for the development of sports and event tourism. There is even more potential for economic development around the site, and discussions are already under way with possible investors."
BVM: What is Dieppe doing to attract New Business, or expand its economy?
Albert: "The City of Dieppe is the fourth largest city in New Brunswick and the largest predominantly French-speaking city east of Quebec. Between 2001 and 2016, its population grew by 70%, and its favorable geographical location gives access to more than 1.4 million consumers within a two-and-a-half-hour drive. With a dynamic business community and an economy founded on respect for the environment, Dieppe is a great place in which to do business, raise a family or spend your vacation."
Dieppe's enviable geographic location and the presence of the Greater Moncton Roméo LeBlanc International Airport within the city limits give residents and visitors access to the entire world. It is an important distribution hub for goods and services for the Atlantic region and the Northeastern United States.
Dieppe benefits from the presence of a highly qualified and bilingual workforce. More than three quarters of residents speak both official languages—French and English. Dieppe residents are young, dynamic, and skilled. In 2017, the median age of the population was 37.5 years, compared to 43.7 years for the province of New Brunswick, as a whole.
Both residential and commercial construction continues to grow rapidly: the City of Dieppe issued a total of 563 building permits in 2019 valued at a total of $96.9 million, surpassing the former record of just over $90 million set in 2016. During the past year, the municipality approved 117 permits for commercial, industrial and institutional projects valued at a total of approximately $75.5 million, plus an additional 446 permits for residential projects representing a total value of $21.4 million.
Dieppe also adopted its 2020-2024 Immigration Strategy based on the priorities of City Council, the Dieppe Expansion Board of Directors and the Local Immigration Partnership. As detailed in the municipality's Strategic Plan, one of Dieppe's strategic objectives is to become a destination of choice for Francophone immigration in Atlantic Canada.
More specifically, the Dieppe 2020-2024 Immigration Strategy aims to:
Help fill labour or skill shortages in local businesses;
Ensure the stability of companies in certain vulnerable sectors;
Ensure linguistic balance in the region;
Adapt municipal services to cultural diversity;
Enhance cultural diversity;
Promote and support community intercultural dialogue;
Implement policies or strategies for the management of cultural diversity;
Adopt measures to prevent racism and discrimination.
With a dynamic business community and an economy founded on respect for the environment, Dieppe is a great place in which to do business, raise a family or spend your vacation.