Clean Juice
It's more than just juice
Business View Magazine interviews representatives from Clean Juice, as part of our focus on best practices of American franchise companies.
Clean Juice, the fresh organic juice and smoothie franchise company, started in 2014 as the brainchild of Kat and Landon Eckles. After spending years traveling internationally, Landon was ready for a career change and more time at home with his growing family. Kat had spent the better part of a decade making smoothies and juices at home and had the idea of opening a juice bar in the Charlotte area. The first Clean Juice location opened in June 2015 in Birkdale Village, North Carolina.
Two more corporate stores opened in the first year, and the franchising platform was launched in the summer of 2016; the first Clean Juice franchise opened in March, 2017, and since then interest has soared in states across the country. Today, there are 101 locations open, including 13 corporately-owned stores, with another 50 franchise units currently in development.
Recently, Business View Magazine spoke with Dave Cuff, Vice President of Development, and Staci McDonnell, Vice President of Franchise Development to learn more about this successful franchise operation that offers USDA-certified organic on-the-go food and beverages. The following is an edited transcript of that conversation.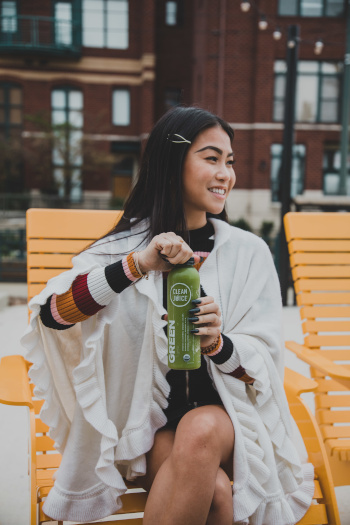 BVM: Can you talk about what has transpired since Clean Juice opened four years ago?
Cuff: "A lot has changed – our systems and processes have really grown over the past four years. We started with a team of six or seven people at our 2,500-sq.-ft. office; we're now in a 12,000-sq.ft. office with about 30 home office employees and we're growing despite one of the worst pandemics we've ever seen. Currently, we're in 23 states; by the end of the year, we'll probably be in 25 or 26 states. We started in Charlotte, North Carolina, so the southeast is the main area where our locations are. But we have quite a few locations in Texas; we're also in Michigan, Pennsylvania, Ohio, Oklahoma, Arizona, California, Idaho, Nebraska; so, we're coast-to-coast.
"There have also been changes to our organic product line. When we started, we were just juice and smoothies and acai bowls. It's not just juice anymore – it is a healthy one-stop shop for everyone. Once a year, we go through a menu re-engineering. Over the past couple of seasons, our 'bites' menu has expanded; we have a robust toast line, now. We also rolled out what we call Greenoa Bowls, which is our version of a salad – it's a mix of greens and grain. Just recently, we launched toasted wraps, a heartier organic option, system-wide, and it's had immediate success.  So, we've really expanded our offerings from just juice and smoothies into more of a center-of-plate type option.
"We also rolled out a program that we call our Buy & Blend program, which came out of COVID-19.  This is a program we put together in less than 36 hours.  We realized that people were staying home. So, we put together this program that's an opportunity for guests to come in and buy five smoothies that are not blended. They buy the frozen ingredients; they get some almond milk; they can take it home and blend it. So, we're really ahead of the curve in what our guests are looking for. I think our Buy & Blend program and rolling out our toasts and wraps have been two big homeruns in the last couple of months.
"Another thing that has really changed over the last couple of years is our relationships with our vendors. When you first start franchising, you're really trying to figure out what works, what doesn't, who's a good partner, who's not. I have approved and required vendors. One of the required vendors I have is a group called GPN Architects based out of Greenville, South Carolina. They do a phenomenal job for us. Once we get in the operations side of things, we partner with Sysco. They're our main distributor. We have some regional, fresh produce suppliers that we use, as well, depending on where we are in the country. So, there are definitely some partners that we rely upon heavily. Over the last four years, we've taken some punches on the chin from those we learned not to work with. It's all part of growing a business."
BVM: What differentiates Clean Juice from the competition?
Cuff: "Ultimately, the biggest thing that sets us apart is the fact that we are USDA-certified organic. That goes way back when Kat and Landon founded this concept; that was the one thing that was a deal-breaker for them. They looked at other concepts and nothing was truly healthy. Yes, there are a lot of smoothie and juice type bars out there, but if you're not eating and drinking organic, you're taking away the whole reason why you're eating healthy. You've heard of the 'dirty dozen' – the top fruits and veggies that are loaded with pesticides? That's the majority of conventional produce. We don't do that; we serve the best, healthiest, freshest, organic products possible.
"Second, we're completely transparent in how we make our products. A lot of time you go into a juice or smoothie place, they'll take your order and when they turn their back to you, they're pumping syrup, or they're making a product behind a wall. You don't necessarily know exactly what's going into it. When you walk into a Clean Juice, everything is organic and made right in front of you. You know exactly what's going into every bottle, every cup, and every smoothie. So you know, with full confidence, that you truly are getting the best product available."
BVM: How does Clean Juice go about vetting potential new franchisees?
McDonnell: "We're very selective in who we award franchises to. Most important, above all, what we look for is: Are you passionate about what we do? Are you passionate about what it means to live a healthy lifestyle? Is being organic important to you, personally? In addition would be: Do you align well with our culture? Above everything, we are a people-first business and we want to make sure that no matter how many locations we have across the country that we maintain who we are. That's only going to happen if we bring on the right people.
"So, the first line of contact is an introduction call where we connect to see if they'd be a good fit for Clean Juice. We don't require prior experience related to quick-serve or restaurant ownership because we believe that if we bring on the right people that are passionate about Clean Juice, we can train them how to make smoothies and juices and run their business."
Cuff: "The financial end of it has to make sense; franchisees have to have the capital required to build out a Clean Juice. What they don't have to have is years of business experience. The overwhelming majority of our franchisees have never owned a quick-serve restaurant; they've never owned a business or a franchise before. So, this really is their first go-around in being a business owner. And that's what our team is here to do, which is really support them."
BVM: Suppose I'm a new franchisee. How do you support me and my business?
Mc Donnell: "There's a tremendous amount of support from our home office team. It's a true partnership. There's someone in place to help every step of the way, from developing your store, to long after you open. For instance, we have someone on our real estate team that helps you through the entire process – to choose the right location, to get an LOI (Letter of Intent) in place, to get a lease executed, to negotiate the terms of all those agreements. Someone on our team is going to help you through every phase of construction and development.
"As far as training goes, we have Clean Juice University prior to opening. You go through in-depth training in every area of running your business. Prior to opening, we have a trainer that comes out for ten days to help you launch your store. Once you're open, you have a Field Business Consultant that's assigned to you. That's your go-to person; that person is going to do an audit once a quarter at your store; they're also, once a quarter, going to connect with you on a consulting basis to look at ways to help you increase sales and grow your business – what's working, what's not working. So, you have a tremendous amount of support and ongoing training for as long as you're a part of Clean Juice."
BVM: Are there any multiple Clean Juice franchise owners?
Cuff: "Right now, about 30 percent of our current system is multi-unit owners. Our largest multi-unit operator owns six stores; the majority of them own two or three. We call it 'building your empire.' I have weekly calls with multiple franchisees who are ready to develop more stores."
BVM: Are franchisees required to purchase supplies and materials through the corporate office?
McDonnell: "We do require all of our owners to get all their materials from approved vendors. One: we're 100-percent, USDA-certified organic, so we want to always maintain that certification. Two: the beauty of being part of a franchise is that we have everything figured out and in place. We have a Director of Supply Chain that oversees that whole area and connects with all of our owners on sourcing all of their material. We also manage the relationships and the pricing with all these vendors to make sure that all of our owners can always source all of their materials at all times."
BVM: How was Clean Juice affected by the coronavirus pandemic?
Cuff: "During the height of the pandemic – the end of March, the beginning of April – we had 13 stores that temporarily closed. All but one have reopened. By yesterday, our system-wide sales were back to where we were previous to COVID-19. We did a lot to get through. Our entire home office team wore multiple hats, whether it was working in home stores here, or moving produce from one store to another. Our home office team all took significant pay cuts and the thought was if we all suffer a little bit together, no one has to suffer a lot individually. Fortunately, we didn't have to furlough or lay anyone off during the pandemic. In fact, we've already started hiring more people on our team.
"To get through the pandemic, we hosted bi-weekly conference calls with our system, to be able to help them make it through: How do you get rent deferral, or rent abatement from your landlord? What are the right conversations to have to be able to hold onto some of your cash? What is the PPP (Payroll Protection Program) and how does it work? It's challenging when the banks and the government don't really even know what it is. Working through that, step by step with our entire system, was how we were able to get all the stores reopened. It was a process, but our entire executive team here was focused on making sure that we were truly available for everyone in our system to make sure that they had the most up-to-date information."
BVM: What if the pandemic continues?
Cuff: "Like everyone, we're taken additional precautions, and gone through the process of being extra cautious from a safety and cleanliness standpoint: extra cleaning, wearing face shields or face masks, installing Plexiglas in front of the POS machine, marking off the floors, etc. Each state is a little bit different and we've worked through that on an individual basis with each franchise partner depending on the state that they're in. We saw that in the northeast, they had some of the harder restrictions, but we also launched our 100th store in New Jersey, in the middle of the pandemic and we had record-breaking, grand-opening sales. So, the overall business model really makes sense in this environment. Will there come a day when we'll have to revert to closing down more stores? I think that's to be determined and we'll take it one day and one state at a time."
BVM: What are your plans for the future?
Cuff: "If you asked me this question a couple of years ago, my answer would have been to have 500 stores in five years. What I can say now, is that the overall number isn't important. It's great for making headlines and PR. What I'm truly focused on is growing with the right people in the right markets. Our growth has come from the level of involvement that we give to our franchisees during development and then after; being able to help them navigate business ownership – how we help them increase guest count, lower costs, lower labor, and drive profitability. That's all part of what our ops team does on a daily basis. I want to make sure that we have profitable franchise partners who want to continue to expand their Clean Juice business. If they do that, we're going to be just fine."
BVM: Anything else you want our readers to know about Clean Juice?
McDonnell: "We are a special opportunity for people. There's no other similar concept. We're a lifestyle brand serving truly healthy food. For most people, outside of their home, it's almost impossible to find truly healthy food options on the go. We have a really special business opportunity, for sure."
AT A GLANCE
WHO: Clean Juice
WHAT: USDA-Certified Organic Juice franchise brand
WHERE: Headquarters in Concord, North Carolina; franchises throughout the U.S.
WEBSITE: www.cleanjuicebar.com