Cape Coral, Florida
a paradise to live in and a must-visit destination
Boasting unparalleled beauty, the City of Cape Coral Florida is blessed with enviable water access and lush green spaces to enjoy
There are many destinations to explore while visiting the tourist-driven state of Florida, and the bustling and beautiful city of Cape Coral is one of the most dynamic and engaging cities to mark on the travel calendar.
Cape Coral has enviable water access and sunny green spaces for visitors and residents to enjoy. Boasting jaw-dropping views, friendly residents, and a city administration dedicated to providing an unparalleled style of living, Cape Coral is a city not to be missed.
You don't have to remind city officials of the attributes that the city possesses. They are more than aware of Cape Coral's advantages and are working hard to promote this little gem as they continue to cater to their valued residents.
"Cape Coral is the largest incorporated city between Tampa and Miami," Wyatt Daltry, Planning Coordinator for the city, begins. "At over 200,000 people, we are reaching 50% of our build-out population, so although we are large, we have a ways to go to meet the final population metrics."
"We are viewed as a bit of a bedroom community, but we are much more than that, and our thriving commercial sector is catching up quickly to the amount of residential activity we have here."
Daltry highlights that in an area that is over 120 square miles in scope, there is abundant economic potential to bring sought-after retail and commercial additions to the already vibrant cityscape.
"Cape Coral has an award-winning Parks and Recreation department," he adds. "We are such an attractive city, and we are growing very quickly, especially over the last two to three years," he adds.
"We are a destination area because of our location and the proximity we have to surrounding beaches," Sharon Woodberry, Economic and Business Development Officer for the city, expands. "Our central location really provides a lot of opportunities for us."
Cape Coral has a lot to boast about. One thing that makes Cape Coral stand out from other communities is that we can lay claim to 400 miles of canals.
"We actually have more canals than Venice, Italy, and it has certainly provided the city with tens of thousands of waterfront properties that are not just on the river but are situated by our canal system as well," Daltry describes.
Although the city is actively working towards providing even greater access to its enviable waterways, other items are also firmly on the top of its ambitious master plan.
Cape Coral's lovely park and recreational green spaces dotted throughout the dynamic city core are one of those primary focuses. The city is clearly 'going green' both in terms of increasing these lush outdoor amenities for residents and visitors to enjoy and keeping a firm eye on its environmental footprint.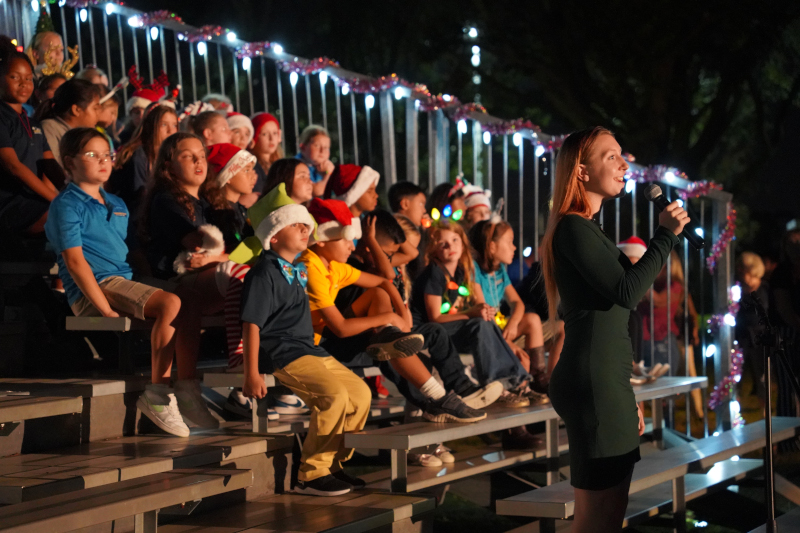 Green spaces to be enjoyed by all
One advantage of having abundant green spaces is the endless opportunity to host special events for residents and those stopping in to check out the city scene.
"Events are a big draw for our city both from a tourism perspective as well as providing residents with fun activities so they don't have to go elsewhere," Joe Petrella, Parks and Recreation Director, says.
"One of the big events is our Red, White, and Boom Fourth of July celebration- it's a big draw- and it takes place right at the base of the Cape Coral Bridge, he describes. "It is a very popular event that we take pride in."
The city has only hit the tip of the iceberg when it comes to taking advantage of its outdoor potential. Cape Coral also hosts an annual bike ride through the city that routinely draws hundreds of riders from the US and worldwide.
The city is friendly to bicyclists and motorcyclists alike. The city of Cape Coral puts on three Bike Nights each year, which are free and feature motorcycles, vendors, food trucks, and live entertainment.
"The Bike Nights are really huge for us, and we host three of them that really focus on our downtown core and commercial and retail district," Petrella enthuses. "It draws in thousands of people each night who get to see local bands play, and it brings business to our local businesses in the downtown area."
Following its 2030 Cape Compass Strategic Plan, a top priority for the city is to expand on its already impressive list of events by adding new holiday events. "We really pride ourselves on providing quality, top-of-the-line, local, regional, and national entertainers to be part of our events," Petrella points out.
Paving the 'growth path' with infrastructure upgrades
"For the past ten years, we have had a very robust paving program," Persides Zambrano, Interim Public Works Director, answers when asked about the pressing topic of current and planned infrastructure initiatives that are in the works for the city.
"Every year, the Council allocates enough funding so we can keep up with the maintenance of our roadway system," she adds.
The city is also prioritizing aesthetics when it comes to its many roadways weaving through the city.
"We are adding professional landscaping as well as medians for our road networks, and when it comes to addressing safety, we are allocating funding to provide sidewalks, made possible through our very strong program that receives state and federal grants."
The city is also undertaking its first multimodal transportation master plan, emphasizing bicycle-pedestrian safety and exploring other micro-mobility options such as electric bikes and scooters.
"We want to energize the way we move in the city," Zambrano explains.
The city is also working on different parking solutions and is knee-deep in carrying out a parking study propelled mostly by the city's knowledge that substantial growth is on the sun-drenched horizon for this expanding region.
Yearsley points us toward another key infrastructure initiative that is both timely and essential, given the recent hurricane that led to major damage throughout parts of Florida.
"The city has really carried out a very significant review of all our public facilities, and we're talking not only our buildings but also our potable water system," she comments.
"We have developed a number of projects that we think are going to be potentially funded by federal infrastructure investment that we see coming our way," Yearsley adds.
From lessons learned by natural disasters to providing vital services to its valued residents, Zambrano summarizes it best.
"We are ensuring that we will have a path on how to achieve the infrastructure needed in anticipation of higher densities coming to the area," Zambrano summarizes.
Focusing on green spaces for future 'growth'
It is not only the blue of the canal that may catch your eye, but it is also the green of the many lush outdoor spaces dotted throughout Cape Coral that will leave a lasting impression, and it is Omar Leon's job as the City Arborist to ensure that green remains the primary color associated with this thriving city.
"I am looking at the city's tree canopy as a vital component of the city's green infrastructure," Leon states. "We are looking at expanding tree canopy coverage city-wide, and by doing so, we are creating resilient, sustainable urban forests for future generations to enjoy."
By focusing on increasing tree canopy within the vital downtown core, the city is not only improving the environmental benefit of the tree canopy city-wide, but also, in the process, newly planted trees are  creating walkable communities and livable spaces that residents and visitors can enjoy.
"We continue citywide reforestation efforts, and we are going to continue to move forward with the goal of establishing the city's first Urban Forestry Master Plan to guide us in the sustainable management of our natural resources.
From green initiatives to commercial initiatives
Residential growth has been on Cape Coral's radar for a number of years now with no signs of slowing down anytime soon; however, the city is adamant that the commercial and retail growth must play catch up in order to be in sync with the city's future anticipated growth.
"Right now, we see the commercial growth opportunities mainly in the northern part of Cape Coral," Woodberry states. "The city owns over 300 acres in the northwest that we are looking to develop and create a job center there."
"On the northeast side, we have an additional 180 acres, known as Academic Village, where we are engaging with a developer to develop  a business park along with workforce housing.   We see both of those areas as primary opportunities  to bring in larger companies and create jobs for our residents ," Woodberry predicts.
Woodberry highlights that the primary sectors of focus for Cape Coral have been, up until now, construction, healthcare, and retail; however, the city is looking to diversify.
"The city has been very aggressive and putting together incentive programs to look at some areas that we believe will be high growth areas like technology, professional services, and manufacturing."
Woodberry notes that increasing the amount of usable space for manufacturing companies to locate remains a top focus, as well as a push towards additional mixed-use construction through structured city programs.
To serve the area's exploding population, the area's primary health care system, Lee Health, is expanding its footprint within Bimini Square, a $100 million mixed-use development in the heart of the City's Downtown, South Cape.  In addition, a number of developers are making a significant investment in creating warehouse and flex space to meet demand. Companies that have decided to call Cape Coral home and are in the process of expanding their operations include ABC Supply and Roofing,Nor-Tech Hi Performance Boats, Ecological Labs, and Insite Managed Solutions..
To promote this commercial push, the city has turned to valuable partners ranging from the Horizon Foundation to the Small Business Development Center and the local Chamber of Commerce.
"These are all great partners, and we work well together," Woodberry points out.
The move forward
Cape Coral is clearly a city on the move forward. Whether it is a bike event, a boat ride down the canal, or a brisk walk in the parks throughout the city, there is no disputing that dynamic growth is propelling this city forward, aided by the city's direct efforts to steer growth toward its desired direction.
So what does the future hold? Woodberry is quick to answer enthusiastically,
"We are looking to partner with our businesses and encourage growth, and we are on a mission to support businesses with their expansion needs," she states.
"We know that there will be many years of growth happening here and are really focused on becoming business-friendly."
AT A GLANCE
Cape Coral, Florida
What: A dynamic city with residential and commercial growth on the sun-drenched horizon
Where: Situated mid-way between Miami and Tampa, Florida
Website: https://www.capecoral.gov/
Lee County Electric Cooperative – www.lcec.net
LCEC has served Cape Coral's energy needs since 1957 when a handshake symbolized a promise to return investment in the system once 24 homes were built. As a not-for-profit cooperative, LCEC now serves more than 112,000 Cape Coral customers and remains focused on providing reliable, cost-effective power and quality service.