Cannalean LLC
The beverage lover's choice
Business View Magazine interviews Chris Johnson & Kenny Cottrell of Cannalean LLC for our focus on Innovation in the Cannabis Beverage Sector
When you want to satisfy your thirst and your cannabis appetite too, Cannalean is the name to remember. A totally unique, minority-owned Nevada start-up, Cannalean creates specialized THC and CBD infused beverages for the growing cannabis drink market. All Cannalean's award-winning syrup products are sugar-free, gluten-free, vegan, organic and incredibly tasty!
Business View spoke with Cannalean CEO & Founder Chris Johnson and General Manager Kenny Cottrell about their entrepreneurial spirit and how this innovative company is about to make its mark on the cannabis beverage scene. Check out the scientist and the business guru, as they tell it like it is…
BVM: What inspired you to start the Cannalean biz?
Johnson: "I'm the creator of the product. I have a background in organic chemistry – a degree from Cal State Fullerton and then I took an internship at a pharmaceutical company where one of the first things they taught me was how to make herbal-based cough syrups. I used that knowledge to see if I could do it with cannabis, which I did in 2013. A year later, I launched the product. At the time, it was the only cannabis-infused syrup on the market. So I had to bring the product to Nevada, just because the licensing was easier out here when I launched in 2019. Currently, we're in 30 dispensaries out of the 80 that are here. And we do online sales."
Cottrell: "I was a fan of Cannalean before I met Chris. The first time I tried it was after getting a wisdom tooth removed and I needed something strong for the pain. My background is completely different from Chris. I went to Morehouse College and currently getting my Master's in Urban Leadership/ Public Policy at UNLV. I have a background in real estate development, mobile app development, and finance. I met Chris at a Chamber of Cannabis event in 2021. We became friends instantly because we were one of the few African American males that attended the Chamber of Cannabis meetings. He explained how he was an organic chemist and all the various cannabis products that he created. He told me about his problems with website development, accounting, and operations. I told him about my experience working with two start-ups in Atlanta and that I could add value to Cannalean. Once Chris explained that Cannalean is a vegan, sugar-free, keto friendly and organic syrup, I knew that this product was a game changer. I believe that people would prefer to drink cannabis, rather than smoking it because of the smell and the health benefits."
BVM: Tell us about your product and the franchise opportunities.
Johnson: "It's a sugar-free, vegan, plant-based syrup that allows you to infuse any beverage you want to. My thought being that if you had to smoke alcohol, you probably wouldn't consume it as much. The process of smoking something and having the scent in the air is not the most socially acceptable way to consume a product. So being able to put it in a beverage is great. I'm a heavy cannabis user but I also want to be socially acceptable, I have a degree and a business and I don't want to be looked at as though I'm just smoking weed all the time. So when I drink it, that thought process from people isn't there. It's such a different respect that you get from drinking cannabis rather than smoking it. Hence the process of where we're going now.
"The product is totally able to be franchised, we have SOPs written, and we want to work with people in every state to launch our Cannalean beverage products. I believe that is the future of cannabis, consuming it in a beverage rather than smoking it. Since I create everything in my product, I don't have to deal with a lot of different state regulations because I can just franchise the SOPs and the actual intellectual part of the product. Most cannabis companies have to get a license in every state, I can work with people who do have a license – use 200 sq. ft of their facility, that's all they need to start producing about 100,000 bottles a month."
BVM: How will you encourage investors?
Cottrell: "We're the only product sold at the Nuwu Vegas Tasting Room, which is the in the only active consumption lounge in Nevada. Since Cannalean has a track record of being used in consumption lounges in Nevada, we are hopeful that other cannabis companies like Planet 13, Jardin, and other potential consumption lounge owners would want to carry our product. We are the only cannabis beverage company in the state of Nevada that has experience being served in consumption lounge. Unlike our rivals, we can take you to a consumption lounge and you can have a craft cannabis cocktail. Being able to show potential investors our product is a flex we can do that a lot of other companies can't replicate.
"We are very active in the community. We have sponsored events with Chamber of Cannabis, organized a community service paint project for homeless veterans, and volunteered at leadership events with the 100 Black Men of Las Vegas. https://www.digitaljournal.com/pr/memorial-day-community-service-project-at-the-hebron-garden-apartments-for-homeless-veterans-announced-for-may-30-2022
We are also going to exhibit at cannabis trade shows in the summer and fall of 2022 and we are positioning Cannalean to expand into California, Illinois, Michigan, and Florida."
BVM: What inspires the flavors?
Johnson: "That's the fun part. I make all of them myself. I work with farmers in California and I steam-distill all of my fruit, so the sugar is too heavy to float upwards. That means all my syrups are sugar-free but you get the actual natural flavoring from the fruit. I grew up in Vegas and the fruit is not great up here in the middle of the desert. In California, you can walk around and pick your own fruit… So when I went to Cal State, I literally ate so much fresh fruit it was ridiculous. For the flavors, I just play around with all the fruits I like to eat.
"I have a very unique flavor palette – my mom is German and Mexican and my dad is Black, so growing up we had every type of food you could think of in the house. I use my actually study of chemistry to create flavors and make sure they're the right tartness and sweetness, and the right PH level – there's a lot of science involved but, once you get it correct, the syrup flavors are quite amazing. There is no food coloring, everything is natural ingredients."
BVM: Who makes a good candidate for a franchisee?
Johnson: "Anybody who either already has an operating cannabis company, or wants to launch one and sell cannabis but doesn't have a product that they know how to create. Especially when it comes to a cannabis beverage item. So I have a product you can create. When it comes to syrup production, they wouldn't even see weed combustible flower, it would just be concentrates that they would turn into a beverage. So anyone who really wants to get into the cannabis market and can get a license in their state is a great candidate for a Cannalean franchise."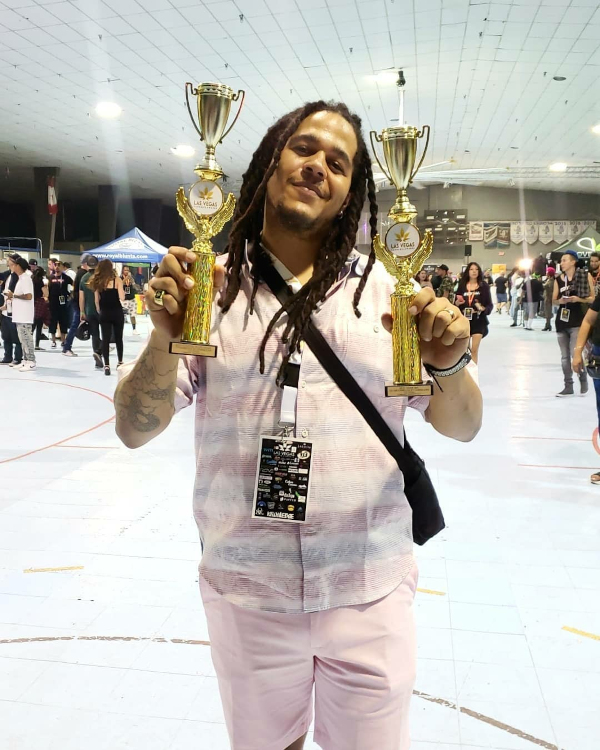 BVM: What else would you like people to know about Cannalean?
Johnson: "The blackberry sangria is a specific flavor that's meant for wine. I fact, a winery would be great for Cannalean products because you can bottle this or you can serve it as is. So for any wine company that wants to stand out and be different, it is totally unique.
"As you can tell, this is everything to me. I started this company from nothing and put my life into it and I care about it that much. So I truly get excited talking about the possibilities!"
Cottrell: "I am very proud that Cannalean is an African-American owned cannabis company. We are one of three African-American owned cannabis brands currently being sold in Nevada. As African-American business owners in cannabis, we had issues of getting our products in certain dispensaries due to negative perceived biases. Nevertheless, that did not deter us. We are giving hope to future cannabis African-American entrepreneurs hope that they can get their product into dispensaries. I believe that if we cannot get our product into the dispensaries as African-Americans, what hope does the next generation have to get their product on the shelf?"
AT A GLANCE
Cannalean LLC
What: Creator of specialty THC and CBD infused beverages for the cannabis drink market
Where: Based in Las Vegas, Nevada
Website: https://cannaleansyrup.com/