The Canandaigua Airport
For travelers and community alike
Business View Magazine interviews Bob Mincer, Airport Manager of the Canandaigua Airport, as part of our series on regional American airports.
The Canandaigua Airport is a public use airport in Ontario County, New York, owned by the Ontario County Industrial Development Agency (IDA), and located three miles northwest of the central business district of the City of Canandaigua. In this scenic location, surrounded by picturesque hills and the tranquil waters of the Finger Lakes, private planes and business jets fly in and out carrying all kinds of travelers–corporate executives and professionals, politicians, performers, tourists, student pilots, as well as people who fly planes simply for the love of it.
According to Airport Manager, Bob Mincer, Canandaigua Airport's history goes back to the 1940s when a local couple, Wally and Betty McAnn, carved a 1,600-ft. grass strip out 50 acres of land. "Wally was an aircraft mechanic who repaired and restored aircraft in an old Quonset hut hangar on their property," Mincer recounts. "I knew them as I was growing up. My father started taking flying lessons at the McAnn's airport when I was nine years old. I would come out with him to hang out or bum airplane rides while my dad was flying." For more than three decades, the McAnns provided flight lessons, rented aircraft, and hosted a flying club at their airport.
"In 1980 Wally and Betty retired," Mincer continues, "selling the airport to Paul and Susie Yarnall." The Yarnall's were at the forefront of the ultra-light boom. They used the Airport as home base to design, sell, and fly ultra-light aircraft. Meanwhile, fixed wing aircraft continued to be based at the Airport. One of those planes belonged to the local banker, George Hamlin. Paul and George struck up a friendship, and, together, they crafted a vision to further develop the Airport to better serve the area's economic and aeronautical needs.
"However, acquiring federal and state funding to expand the Airport required a public sponsor," Mincer explains.  "At the time, the county was not interested in developing the Airport. Not willing to give up, Yarnall and Hamlin approached the Industrial Development Agency. The two men were able to convince the IDA how important an improved airport would be to the area's future economic growth. A 3,200-ft. runway was installed in the late 1990s, after the IDA became the sponsor and owner of the Airport. In 2013, a public roadway was bisected to extend the runway to a jet-capable 5,500 feet. Now, a broader spectrum of aircraft can use the airport."
Today, the Canandaigua Airport has much to offer residents, business travelers, and tourists. The Airport is only minutes from the greater Rochester area, home to technology companies in the fields of optics and photonics, as well as a number of private colleges and universities. The Airport is also equidistant to the cities of Syracuse and Buffalo, which are easily accessed via interstate I-90. The nearby city of Canandaigua offers many reasons to visit. Visitors can enjoy watersports in the summer, skiing in the winter, and year-round antiques and art along the city's historic Main Street. The Airport is situated in the heart of Finger Lakes wine country, the largest wine producing region in the state, with over 100 award-winning wineries.
Canandaigua Airport is active 24 hours a day, 7 days a week. It is used for flight training, helicopter utility inspection, balloon launching, gliders, military operations, medical transport, charter flights, recreational flying, and more. Currently, approximately 60 general aviation aircraft are home-based there. Moreover, the Airport serves its primary objective of supporting the local business economy with a steady stream of corporate flights. Onsite businesses include M&S Air Service, Inc., a flying school; Canandaigua Air Center, a full-service maintenance shop that does restorations, painting, and repairs; and Mercy Flight Central Aviation Services, an FBO that provides essential services for aircraft and passengers.
Mincer doesn't see the Canandaigua Airport being in direct competition with other nearby facilities, as each has its own unique position. "I have frequent conversations with surrounding airport managers to discuss trends, issues, and other airport-related matters." he says. "I do not perceive them as rivals. I think we each understand and address our markets and focus on serving a specific customer base. The Canandaigua Airport hopes to be known for quality of services and amenities offered to a gamut of aviators."
To keep pace with progress, Mincer says the Airport is constructing a new equipment building to store and maintain its snow removal and mowing equipment, and is beginning the process of designing a new terminal building, as well as partnering with a local developer to build private jet hangars. Future plans also include an annex to the terminal, a space which could be easily modified to accommodate a restaurant and meeting rooms, available to the public for a variety of events.
"We are encouraging the community to come to the Airport. Our business plan is modeled on a hotel experience rather than a bus station–it's not just a place to travel through, but a destination for travelers and the community alike," Mincer explains. "Moving forward, the Airport is being accepted as a community asset; it is routinely incorporated in regional long-term planning. For example, the town is working on expanding its walking trail system to reach the Airport. Municipal plans complement the Airport's development. We are working together to help grow the Airport's place in the community."
Planning and development is happening all over the region. There are currently two new lakefront hotel and conference centers under construction in Canandaigua. "The Airport is ideally suited to bring travelers to and from these facilities, as well as provide a use point for breakout meetings," says Mincer. "Within the next five years, this Airport will look entirely different; just in time for the 2024 full solar eclipse, when we anticipate an influx of aircraft visiting to witness the event."
It's possible that Mincer's future model for the Canandaigua Airport as a community resource is based on his own experiences before taking on the job of Airport Manager. After working as an inspector and mechanic for Delta Airlines in Georgia, Mincer returned home in 1998 to work as the facilities manager for a nearby manufacturing company. In his spare time, he kept his hand in aviation by inspecting, maintaining, and flying small fixed wing aircraft from a small turf airfield about 15 miles to the south of Canandaigua, owned by his parents. "It's a small grass strip lying at the bottom of Middlesex Valley," Mincer reports. "Mom and Dad are retired now, but they created something special. Every weekend in the summer season, they served breakfast. It would not be uncommon to have 50 or 60 aircraft fly in, creating a unique opportunity for pilots to socialize with residents and vacationers. As manager of the Canandaigua Airport, I see an opportunity to bring this same sense of community engagement to even more people."
Another way in which Mincer hopes to serve the community is by promoting the field of aviation by targeting local youth with various programs and initiatives. "We currently host the Red Jacket High School Flying Club," he notes. "This local school district has the only school-based flying club in New York State. The club's goal is to have student members obtain their private pilot's certificate before graduating high school. Although the club is in its infancy, it seems to have generated enough interest to expand into a more region-wide program. This not only fosters a student's aviation career goals, but addresses the world-wide shortage in aviation careers. It also helps secure our future customer base at the Airport. One thing I came to understand in my previous experience working in municipal planning is that the vibrancy of any place is tied to the presence of young people. I find this also to be the case around airplanes."
While the business model for the Airport evolves, Mincer says he will continue to rely on partnering with private business to maintain Airport operations. Because he is the Airport's only employee, the IDA contracts with several organizations, including McFarland-Johnson, Inc. for airfield engineering and planning services; Mercy Flight Central Aviation Services, the FBO service provider; and Gemcole Company, which conducts inspections and maintenance of all elements of the airfield and service equipment. "And most recently I've begun work with the Williams Malpass agency to help with Airport marketing and communications," he adds. "My role is to work closely with these businesses, and others, to develop an 'airport product,' not only to attract future customers, but to inform and assure current users that Canandaigua has a well-managed, maintained facility for air operations around the clock and around the calendar."
AT A GLANCE
WHO: The Canandaigua Airport
WHAT: A public use, general aviation airport
WHERE: Three miles northwest of the City of Canandaigua in Ontario County, New York
WEBSITE: www.flycanandaigua.com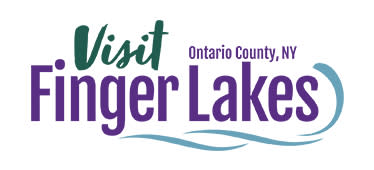 Finger Lakes Visitors Connection – VisitFingerLakes.com
Welcome to Ontario County in the heart of the Finger Lakes region! With rolling hillsides, museums and cultural landmarks, glacier carved lakes, lush farmland, and award-winning wineries and breweries, our area is a wonderful place to visit. Next time you're in town, check out VisitFingerLakes.com and make plans to uncover something local.