The Canadian Nuclear Association
Championing Canada's nuclear energy sector
Business View Magazine interviews John Gorman, President & CEO of the Canadian Nuclear Association, for our focus on Canada's nuclear energy sector
Canada's global leadership in nuclear technologies dates back to the early 1940s, when research into the first heavy water nuclear reactor began in Montreal, Quebec. When completed, that reactor – the National Research Experimental (NRX) reactor – would be the most powerful research reactor in the world. Subsequent research led to the development of the CANDU reactor technology, leading to the construction of 24 commercial CANDU reactors in Ontario, Quebec, and New Brunswick starting in 1961.
Today, the Canadian nuclear power sector supplies 14GW of clean, safe, and responsible energy, accounting for 15 percent of the country's total energy output, while generating $6 billion in annual revenue and sustaining more than 76,000 direct and indirect, well-paying jobs.
At the forefront of championing the importance of nuclear in the race to a net zero Canadian economy by 2050 is the Canadian Nuclear Association (CNA). As a non-profit, it has been the national voice of the Canadian nuclear industry since 1960, working with members and all communities of interest to promote the sector nationally and internationally.
CNA's core mandate is working with governments on policies affecting the sector and increasing awareness and understanding of the value nuclear technology brings to Canada's environment, economy, and the daily lives of Canadian citizens.
"Nuclear is the second lowest cost electricity source next to hydropower," says John Gorman, President, and CEO of the CNA. "The industry is currently undertaking a $26 billion refurbishment exercise that will see many of our nuclear reactors generating power until 2060. This process has created thousands of jobs that will last around 10 years, creating a very healthy expertise and workforce nuclear ecosystem in Canada."
The refurbishment also drives innovation around refreshing the CANDU technology for better efficiency and increased throughput. "The industry is also making significant strides in nuclear medicine," adds Gorman. "We supply medical isotopes like cobalt-60 and others in an industry that supports about 8,500 jobs across Canada. Other nuclear medicine areas include nuclear imaging and radiation therapy, which directly support the medical industry while creating thousands of jobs across the entire value chain."
Nuclear power is part of a broader power and energy generation industry that falls under the purview of federal and provincial governments. As such, it requires support from the federal government on policy and resource levels to continue growing.
Gorman points out that the federal government recently affirmed its support in the 2021-2022 federal budget. "The federal government not only reaffirmed its commitment to funding the new SMR technologies but also has made significant investments in the entire nuclear ecosystem," he says. "In the budget, we saw significant investments in our regulator, the Canadian Nuclear Safety Commission (CNSC), to more efficiently complete review and the licensing of SMR technologies that are coming online before the end of the decade."
Another important highlight from the budget is that the government has opened additional clean energy funds to the nuclear energy sector, signaling a radical policy shift that now recognizes nuclear as part of Canada's suite of clean energy technology sources. Gorman attests that these significant developments signal that the federal government fully supports nuclear as an essential part of a net zero future.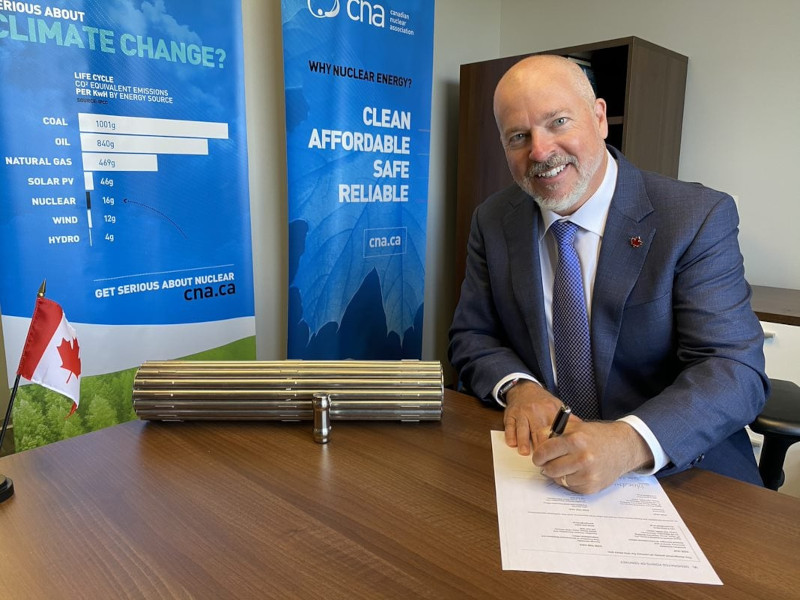 The Canadian Nuclear Association draws close to 100 members from the nuclear industry in Canada. It includes 32 associate members comprising universities, research institutes, and other energy associations. A board of governors oversees the association, comprised of senior executives from some member companies. At a staff level, Gorman leads a team of 20 full-time employees working out of the association's headquarters in Ottawa, Ontario.
According to the CNA, Small Modular Reactors (SMRs), an emerging nuclear reactor technology, is showing promise as a viable path to rapid global decarbonization. The International Atomic Energy Agency defines SMRs as advanced nuclear reactors with a power capacity of up to 300 MW(e) per unit, which is about one-third of the generation capacity of traditional atomic power reactors. It identifies two key components of SMRs that give them a unique advantage over traditional reactors:
Small – physically a fraction of the size of a conventional nuclear power reactor.
Modular – making it possible for systems and components to be factory-assembled and transported as a unit to a location for installation.
"SMRs will play a crucial role in decarbonizing Canada's electricity systems, industrial sectors, and first nations communities," says Gorman. Fostering and fast-tracking this process is an unprecedented collaboration between the federal and select provincial governments on regulatory and industry levels to develop and deploy SMRs rapidly. Gorman recounts, "The journey began in 2018 with the production of the Canada SMR roadmap, resulting from several years of multisectoral consultations with industry, civil society, and first nations communities to look at how we could best develop and deploy SMRs across the country."
The consultations led to the signing of a Memorandum of Understanding by several provincial premiers, all committed to developing and deploying SMRs in their respective jurisdictions to phase out coal and gas-fired electricity generation.
"All stakeholders, including Crown-owned utilities, have committed to implementing a three-stream approach to implementing SMRs," explains Gorman. "Stream one will involve deploying larger SMRs that connect directly to the electricity grid. Stream two will deploy mid-sized SMRs called Gen IV, which operate at extremely high temperatures to offer multiple applications like hydrogen production and high-temperature steam for mining and cement production. Stream three will deploy micro SMRs for smaller industrial applications and to bring clean energy to northern communities, including Indigenous and First Nations communities that currently rely on diesel for power."
Ensuring public participation, awareness, and understanding of the nuclear industry is crucial when it comes to deploying new nuclear technologies – something Gorman admits is essential in ensuring the expansion of the industry. He notes, "Historically, misinformation, stigma, and fear around nuclear have created a complex history and narrative that, until recently, was difficult to counter. However, climate change has brought nuclear back into the conversation as the public and stakeholders worldwide become better attuned to the climate crisis and the need to decarbonize quickly. People are actively looking to understand their options, and that has provided an opportunity for the nuclear industry to engage in the discussion factually and talk about the positive story around nuclear."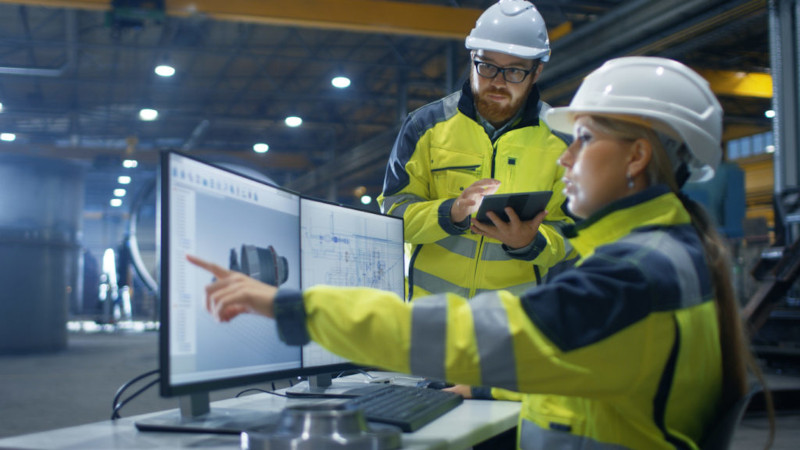 This shift in public perception among Canadians reflects at a national level, with Canada being one of the few developed nations in the world with aggressive decarbonization goals underpinned by radical changes to climate policies like setting ambitious carbon pricing and supporting the countrywide implementation of SMR technologies.
"SMRs, especially, have provided our industry a critical platform to engage and interest the public," says Gorman. "We are telling people, hey, the nuclear industry is innovating and creating next-generation reactors, and this has become a new avenue to rediscover the facts behind nuclear and the main reason behind growing public and stakeholder support for nuclear in Canada."
Despite the fresh impetus SMRs have injected into the nuclear industry in Canada, the industry is facing a bottleneck that could slow it down despite its newfound status as a green energy source. "As a collective electricity and energy industry, we recognize that a talent shortage could hinder our country's potential to transform and transition energy systems," Gorman admits. "We need more young people entering the energy sector if we will succeed in realizing a net zero future."
CNA is addressing this looming challenge through initiatives that popularize electricity and energy jobs to the younger generation. According to Gorman, "Last October, we officially launched Electricity Alliance Canada in cooperation with industry associations for electricity, renewables, waterpower, marine power, plus the Electricity Human Resource Council. This alliance will raise awareness with various stakeholders on the need to electrify our economy and the human resources required to achieve such an ambitious future."
The future of nuclear power in Canada and its role in realizing a net zero future rests in the successful deployment of SMRs in the coming years. "Fortunately," says Gorman, "SMRs are not some distant technology. The technology is off the drawing board and currently before regulators for licensing and approvals. For example, Ontario Power Generation has already selected General Electric Hitachi to deploy and connect the first SMR to the grid by 2028, adding 300Mw to the Ontario grid. Other smaller reactors could also be up and running before then."
As Canada heads towards a Net Zero 2050, the country will need to bring all its resources to bear to deliver this ambitious future. "The challenge ahead of us is enormous," says Gorman. "We will not just need a substantial number of SMRs, but large reactors too. To meet this challenge, we will also need every clean energy technology at our disposal, including wind, water, solar, marine, and other renewables. Over the next few years, the public, stakeholders, civil society, and policymakers will need to come to terms with the fact that we need to build massive clean energy infrastructure quickly and that we must use all technologies at our disposal."
AT A GLANCE
The Canadian Nuclear Association (CNA)
What: Voice of the Canadian nuclear industry since 1960
Where: Based in Ottawa, Ontario
Website: www.cna.ca