Bellingham Region & Whatcom County, Washington
Resiliency in a broader sense
Business View Magazine interviews representatives of Bellingham Region & Whatcom County, Washington for our focus on Economic Development in the U.S.
Just 21 miles south of the U.S.-Canada border, located between two major growth cities (Vancouver, 52 miles to the northwest; Seattle 90 miles to the south), Bellingham is a popular tourist destination with great access to Washington State's lush forests and coastal views. "The common mantra in real estate is that it is always about location, location, location," mentions Don Goldberg, Director of Economic Development at the Port of Bellingham. "It just so happens that our biggest asset is our geography. We are fortunate to be located between the mountains and the water, and between two of the fastest growing metropolitan areas in the U.S. and Canada. Our closeness to the border and our vicinity to these two locations has a tremendous amount to do with our capabilities."
Bellingham is located within Whatcom County, which has many regional benefits and amenities. Whatcom County boasts access to over eight million residents within 100 miles, 4 post-secondary institutions, 90,000 jobs, nearly 6,000 registered business, and 5 land-based ports of entry. The Port of Bellingham, which is a countywide Port district, offers an international airport (Bellingham International Airport (BLI), the Bellingham Shipping Terminal (BST) for cargo handling and distribution, the Bellingham Cruise Terminal (BCT), which is the southern connection to the Alaska Marine Highway System, and two full-service marinas (Squalicum and Blaine Harbor).
The four post-secondary institutions include Bellingham Technical College, Northwest Indian College, Western Washington University and Whatcom Community College. These schools are home to over 30,000 students and provide nationally-ranked degree and certificate programs, including one of the best cyber security programs in the United States.
Of course, being a border county meant that Whatcom was hard-hit when Canada closed the border to non-essential travel during the pandemic. "We've seen that return very quickly since the restrictions have lifted," Goldberg reports. "We also have an airport here in Bellingham, which is owned by the Port of Bellingham, and that airport depended quite a bit on Canadian traffic."
Due to the border proximity, Canadians looking for a cheaper alternative to Vancouver International Airport often use BLI. Three major airlines serve the airport: Southwest, Allegiant, and Alaska. "Between the pandemic and the border closure, business was really hurting," Goldberg continues. "Thankfully, that's all changed dramatically now and our flights are filling up."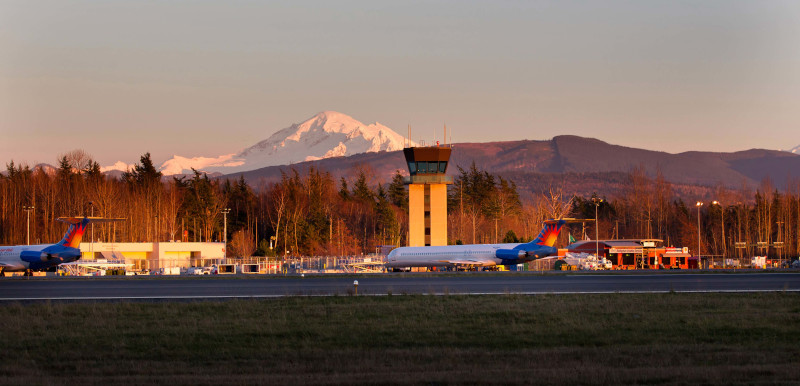 As Whatcom County's Associate Development Organization (ADO), a Washington State Department of Commerce designation, the Port of Bellingham was able to deliver nearly $10M in small business relief grants at the height of the pandemic. "We're happy to say that we were able to save many of our small business through this initiative," shares Port of Bellingham Economic Development Project Manager Gina Stark. "In fact, one of our small businesses was able to expand and purchase a brick-and-mortar footprint. It feels great to work for an agency with such exciting collaboration between our partners—our Small Business Development Centers (SBDC), our Chambers, our Mayors, our County Executives, our Department of Commerce—to keep our economy strong and our small businesses resilient. Those grants were really a great achievement, for our team and our community."
During the initial phases of the pandemic, the Port of Bellingham was an anchor participant in the "Safer. Stronger. Together." campaign, in partnership with the Whatcom County Health Department. Goldberg says that although health and economic departments were often pitted against each other in debates about curbing the spread of the virus, Whatcom County's economic development leadership saw them as symbiotic and part of the same process. "We felt that they fed off of each other – that they were both important," Goldberg affirms. "We worked with the 'Safer. Stronger. Together.' program to better coordinate efforts between stakeholders. We also promoted our businesses through the Think Local First initiative, a commitment to spending money locally to keep our small businesses thriving."
The Port of Bellingham also funded an emergency ferry service from Whatcom County to Point Roberts. Point Roberts, which is on the southern tip of the Tsawwassen peninsula, is a highly unusual geographic feature of Whatcom County known as a pene-exclave: land area of one country that is accessible only by traveling through that of another. Point Roberts can typically be reached from the rest of the county, and vice versa, by boat or via two border crossings and a 23-mile drive through Canada. The ferry allowed residents and other users to travel to the mainland for essential errands while the border was closed to non-essential travel during the pandemic.
Bellingham's manufacturing economy also had to get creative during the pandemic, particularly with ways of revving up local production to support ongoing healthcare needs. "We've got a pretty robust manufacturing sector up here, and they were lightning-quick to rally around and help," offers Port of Bellingham Economic Development Project Manager John Michener. "We have one company that makes canvas. Another one makes aluminum tubing. And we come to find out that Seattle is in dire need of cots for an emergency hospital. We were able to organize those pieces and get these guys to start working together, creating in essence a hyperlocal supply chain to get these products very much needed at the time, all while building lasting relationships going forward."
Goldberg admits that resiliency and pivots are the hot issues right now but insists that Bellingham was ahead of the curve on touting resiliency. Research and Communications Consultant, Jennifer Noveck, echoes the sentiment and notes that resiliency efforts in Whatcom are ongoing. "Whatcom County suffered a flood in November 2021. We worked with our partners, including several members from a work group called 'Team Whatcom', which is a group of economic development service providers including Western Washington University's SBDC, the Bellingham Regional Chamber, Whatcom Community Foundation, and several others, to ensure that businesses affected by the flood were supported locally and to advocate for state-level disaster funds for small business. We previously offered a disaster preparedness class in the fall of 2019, right before the pandemic hit. We will be offering new classes jointly with our local partners, the Federal Emergency Management Agency (FEMA), and Columbia University's National Center for Disaster Preparedness in advance of 2022's flood season."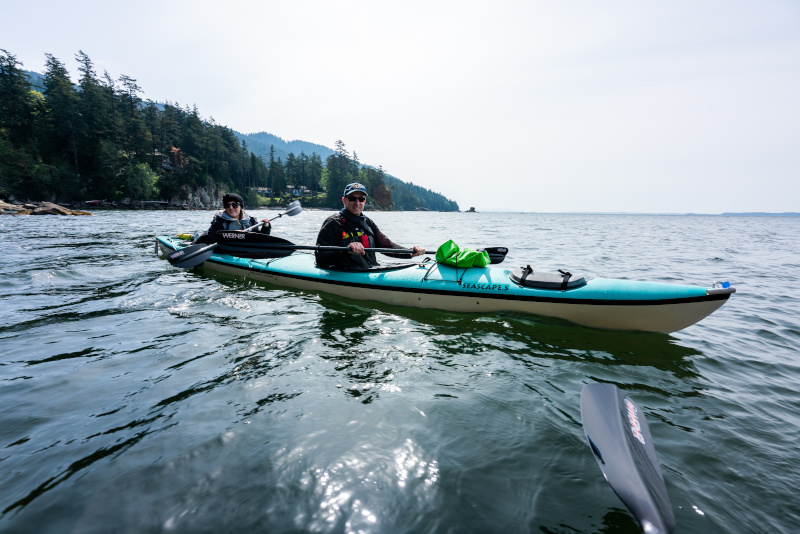 The Port of Bellingham is also working on resiliency in "a broader sense," Noveck says, by supporting innovation across key industries such as manufacturing, maritime, and agriculture. "We have been focusing a lot on green, clean tech companies," Goldberg adds. "Recently, we have had a number of success stories. Again, it comes back to Canada. Gina brought a company down from B.C. called Vicinity Motors. Vicinity is an electric bus manufacturer that is building a new facility here. We also just signed a lease with the largest marine battery technology company in the world, Corvus Energy. Corvus started in the Vancouver area, now they are Norwegian-based, and they are putting their U.S. manufacturing right here, in Bellingham."
The city has also brought in Silfab, the second largest solar manufacturer in North America, and All American Marine, the company that built the first North American hybrid passenger ferry, and the world's first passenger hydrogen vessel. "Many stakeholders are working hard to support innovation in our historical industries, such as marine trades and energy, as well as manufacturing" remarks Goldberg.
Next to manufacturing, one of Whatcom County's biggest up-and-coming industries are its year-round mountain biking possibilities. Ranked among the top 10 places to ride in the nation by Singletracks Magazine, Galbraith Mountain is a first-rate destination within riding distance of downtown Bellingham, with over 65 miles of trails and an elevation gain of 1,785 feet. "Our mountain biking industry hits on two fronts – tourism and manufacturing," Stark explains. "We have people who come from Canada, Seattle, Oregon, just to go to Galbraith Mountain alone. It is an extremely sought out mecca for the sport. We also have some of the best bike manufacturers in the world – Transition, Kona, Trek, and Evil. With such a robust cycling community, it makes perfect sense for these companies to locate here."
In July 2022, Bellingham hosted the inaugural Northwest Tune-Up bike, beer, and music festival, with 24 participating craft breweries and 50-plus brands demoing their mountain, commuter, and e- bikes over a three-day weekend in the Waterfront District. The Northwest Tune-up is part of Bellingham's signature event program, in partnership with the City of Bellingham and Bellingham Whatcom County Tourism. Its aim is to encourage commerce, maximize national and regional exposure, enhance the existing quality of life for residents, and help build a legacy for recreation in Whatcom County.
Ranked by Forbes as one of the best places for small businesses and careers, Whatcom County is an ideal place for businesses to grow and partnerships to flourish all while maintaining a high quality of living and a healthy work-life balance.
AT A GLANCE
Bellingham Region & Whatcom County, Washington
What: A popular coastal city and county
Where: 21 miles south of the U.S./Canada border, between Vancouver, BC and Seattle, WA
Whatcom Transportation Authority – www.ridewta.com
Whatcom Transportation Authority (WTA) provides fixed routes, paratransit, vanpools, and on-demand van service. Located in the northwest corner of Washington State, WTA serves the city of Bellingham, several smaller towns and rural communities in Whatcom County, the Lummi Reservation, and the Nooksack Trust Lands.
EnerSys – www.enersys.com
Tireless problem solvers. Adaptive thinkers.
EnerSys® is a long-game player relentlessly focused on propelling our customers forward through energy storage solutions. Our focus is on the entire power ecosystem—creating systems to reliably support telecom, broadband, industrial, renewable and data center infrastructure. www.enersys.com