Anderson Automotive Group
All in the family
Business View Magazine interviews Michael Anderson, President of the Anderson Automotive Group, as part of our focus on best business practices.
The Anderson Automotive Group is a family-owned and operated group of automobile dealerships in North and South Carolina. "I'm the third generation in our business," says Michael Anderson, the company's current President. "Our start began with my grandfather, W.H. Anderson. He came out of World War II and went to work at a parts counter in a small Chevrolet store. He worked his way up and did well and assumed more and more responsibility with the dealer and over time, they became pretty close. At some point there was a neighboring Chevrolet dealer that went out of business and there was an opportunity for another dealer to move in. So, my grandfather's boss sponsored him and gave him a loan to go into business for himself. He became a Chevrolet dealer in 1955 in a little town called Creedmoor. He continued to do well and ended up getting another Chevrolet store in Weston, North Carolina. That's where we got our start."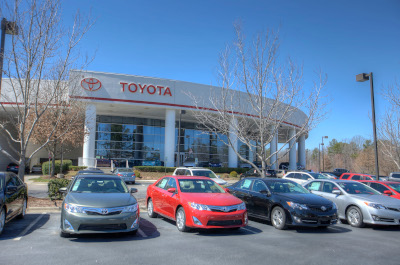 After college, my dad, Fred, went into the car business and he really expanded it and grew it into multiple stores," Anderson continues. "We expanded from just Chevrolet to Jeep, Chrysler, Dodge, and Nissan, which was Datsun, at the time. In 1987, my dad became a Toyota dealer in Raleigh. That was his first Toyota store; his first large store in a metro area and that really catapulted things." Over the years, that Toyota store became the flagship operation of the Anderson Automotive Group, which, today, has become one of the largest dealerships in the Southeastern United States with Toyota, Scion, Nissan, and Kia outlets located in Raleigh, Sanford, Fayetteville, and Asheville in North Carolina, and Columbia and Charleston in South Carolina. "We're in the process of acquiring a ninth store, which will take us close to 1,000 employees and I think we'll probably push about $850 million in revenue, this year," Anderson adds.
Even with its commanding presence, Anderson admits that the automobile business is always competitive. What keeps his company ahead of the curve, he believes, can be attributed to its values and family-oriented service. "It ultimately comes down to our culture and who we are," he explains. "That affects the kind of people we hire and the kind of service we give the customers. The technology and the information that's available and the sensitivity to pricing has changed things a lot, but I do think there's still a good bit of loyalty, and we see that with repeat customers and retention levels. And that's part of why we've been successful – because we've kept that a big part of our business. At some point, we all still sell the same cars and we all still have pretty limited pricing options. So, it still ultimately comes down to the customer service and the interaction and the relationships and the connections that you can make."
Those relationships begin with the Anderson family and extend to its many employees and customers. Indeed, all of its dealerships brand themselves as The Family Store. "It's very much a family business," says Anderson. "I have two sisters who are involved in the business. My dad and I work pretty closely and we're intentional about keeping it a family business. We have regular family meetings and we have a family strategy for running the business. Most family businesses fail, not because of business-related issues, but because of family-related issues and family dynamics. We focus a lot on keeping members of the family educated and involved and managing those relationships so that the family dynamics don't impact the business in a negative way. And we treat our people like we would want any of our family members treated."
Of course, those important relationships also extend to the Group's many important business partners, including Comerica Bank; the JM&A Group, which offers vehicle insurance, car protection plans, and auto finance services; the Moran Group, a Louisiana-based advertising company; and Alan Ram's Proactive Training Solutions, the industry leader in automotive telephone training, dealership management training, automotive Internet sales training, automotive BDC training, and car sales training.
While concentrating on providing friendly, family-oriented service, Anderson says that the company must also continue to make prudent business decisions, as well. "We've continued to invest a lot in our facilities and particularly in the service departments," he asserts. "In all of our locations we struggle – in a good way – with capacity and throughput, trying to capture all the business and provide the same level of service we've always wanted to provide. And with some of the margin pressures on the new car side, it's probably more important than ever. We do have plans to acquire more stores and we also have plans to grow more in the parts and service business, including the body shop business. Overall, it's a strategy to try to be less reliant on new cars, which is the more volatile side of the business. Most of our profits come from parts and services and the used-vehicle business."
The Anderson Automotive Group's goal is to be "the most admired, most competitive, and most profitable dealership in the Southeast, by delivering a friendly, valuable, and transparent product with every customer, every time." After more than 60 years of serving those customers in the Carolinas, it's pretty safe to conclude that this family-owned business has already achieved that very worthy goal.
Check out this handpicked feature on Findlay Automotive Group – Family-Owned Since 1961.
AT A GLANCE
WHO: Anderson Automotive Group
WHAT: A family-owned and operated group of automobile dealerships
WHERE: Raleigh, North Carolina
WEBSITE: Visit Website