Yarmouth, Massachusetts
Yarmouth Unveiled: A Masterclass in Balancing Preservation and Innovation
Reimagining its future with visionary projects and innovative financing while preserving its New England charm.
Yarmouth, Massachusetts is a distinctive blend of vibrant entrepreneurial spirit and peaceful living amidst the diverse landscapes of American quaint towns. Situated on the renowned Cape Cod peninsula, this captivating place merges its rich history with modern vitality, offering a unique setting for both business ventures and recreational activities.
The commercial fabric of Yarmouth is a kaleidoscope of ingenuity and legacy. Here, promising startups find fertile ground to germinate next to long-standing family businesses that have become cornerstones of the community. The town's advantageous geographical locale—strategically positioned near key waterways and major thoroughfares—serves as a linchpin for businesses aspiring to broaden their commercial horizons.
Even so, Yarmouth transcends its role as a mere crucible for commerce. It is a haven where life's finer aspects are appreciated and celebrated. The town is a tableau of recreational diversity, from the cerulean allure of Nantucket Sound to the emerald serenity of its numerous nature reserves. For those with an affinity for the arts and history, Yarmouth offers a rich palette of galleries, theaters, and historical landmarks that contribute to its vibrant cultural fabric.
A Symphony of Community and Commerce
Building on the panoramic overview of Yarmouth, we turn our attention to the voices that shape this vibrant community. Robert Whritenour Jr., the City Administrator, eloquently encapsulates the town's unique positioning.
"Yarmouth is a beautiful historic seafront community located on Cape Cod. We are in the Mid Cape region and also a hub for the lodging facilities on Cape Cod," he states. "Our superior location allows visitors to use Yarmouth as their base of operations when staying out on Cape Cod. We offer close accessibility to both the Outer Cape beaches and the Upper Cape Historic communities. Moreover, we are bounded by oceanfront beaches on both the north and the south, which makes us a particularly attractive location."
Arguably what makes Yarmouth truly exceptional is its commitment to its residents.
Karen Greene, the Community Development Director, emphasizes the importance of this symbiotic relationship. "Our residents are extremely important. We have a substantial year-round population of 24,000 people, which grows 2 to 3 times during the summer," she notes. "It's a balance between addressing the needs of our residents and our visitors, as the latter drives much of the economic engine for the town."
Investing in Community and Commerce
At a time when numerous small towns face economic hurdles and declining community involvement, Yarmouth showcases the results of deliberate planning and investment. One of the key elements of this blueprint is the town's dedication to leveraging its existing assets, such as its robust hotel-motel industry and diverse dining options, to create a vibrant local culture.
Greene discusses Yarmouth's unique approach to community engagement through special events. "We have a substantial hotel-motel industry and many restaurants. Way back in 2006 or 2008, the town established a fund to preserve our tourism industry. Through our Community and Economic Development Committee, we allocate funds for marketing and special events," she explains. Some of the more popular events include a Saint Patrick's Day parade, the Seaside Festival, and even smaller events like a sheep festival at the Taylor Brae Farm.
The town is also progressing significantly in infrastructure development. Greene mentions that the city possesses a site where numerous special events occur, including a former drive-in location. The city leadership is formulating plans for this site to transform into a Riverwalk Park, a boardwalk loop, and an event space. She highlights that it's a project worth 10 to $12 million, which is fully funded, and they are currently in the permitting phase.
Whritenour provides further details about the Riverwalk Park and Event Complex. He says that the public events space is situated on the Route 28 corridor, the main village, and the commercial pathway in the town. This space offers a break from commercial activities and connects them more intimately with the waterfront along the Parkers River. He emphasizes that having such a remarkable event space in one of the town's more urbanized areas significantly fosters community spirit and offers gathering spots for both locals and tourists.
A Future-Focused Infrastructure and Economic Blueprint
Known for its rich history and vibrant community, Yarmouth, Massachusetts is on the cusp of a transformative era. With a keen focus on the future, local authorities are channeling their efforts into revitalizing the town's infrastructure, aiming to bolster economic growth and enhance the quality of life for its residents.
Whritenour explains the town's ambitious infrastructure projects that target economic growth. He mentions that they have undergone comprehensive community visioning in their outreach initiatives. He adds that they are partaking in significant public infrastructure investments, which are intended to strengthen their economic development strategies and lead them into a new era of community organization.
He further notes a $200 million wastewater expansion project in the central corridor area, near the park and the commercial development zone. He emphasizes that this project aims to eliminate barriers for businesses that wish to update, be it restaurants, hotels, or other establishments operating throughout the year.
The town's forward-thinking approach extends to zoning as well. "We've put into place village-oriented mixed-use zoning in that corridor to stimulate architectural improvements and smart growth," Whritenour notes.
"We have the financing in place to start construction in the fall, and we anticipate a lot of planned expansion of businesses and access to goods and services for year-round residents and visitors. The future for Yarmouth is very bright."
Coastal Resilience and Digital Connectivity
The looming threat of climate change and its implications on coastal towns is not taken lightly in Yarmouth. Whritenour speaks to the town's forward-thinking measures in addressing storm readiness and the challenges posed by rising sea levels.
"In any of the coastal areas, dealing with sea-level rise is a constant challenge. We're finalizing our municipal vulnerability plan, identifying the impacts of sea-level rise at various future times—2030, 2050, and even planning out to 2070," he details.
"We're formulating strategies to reinforce some of our facilities in vulnerable areas and relocate others. Our primary objective is to maintain the uninterrupted delivery of all our services as the sea levels continue to rise and the threat of flooding intensifies."
Regarding digital advancements, Yarmouth is progressing in broadening high-speed internet availability. Whritenour mentions that the city has secured a $100,000 grant from the state's community compact program for IT assistance, which links municipal facilities to a broadband network reaching the business sector. He adds that they are collaborating with Open Cape, a federally funded organization, to enhance high-speed internet coverage along the town's primary transportation routes.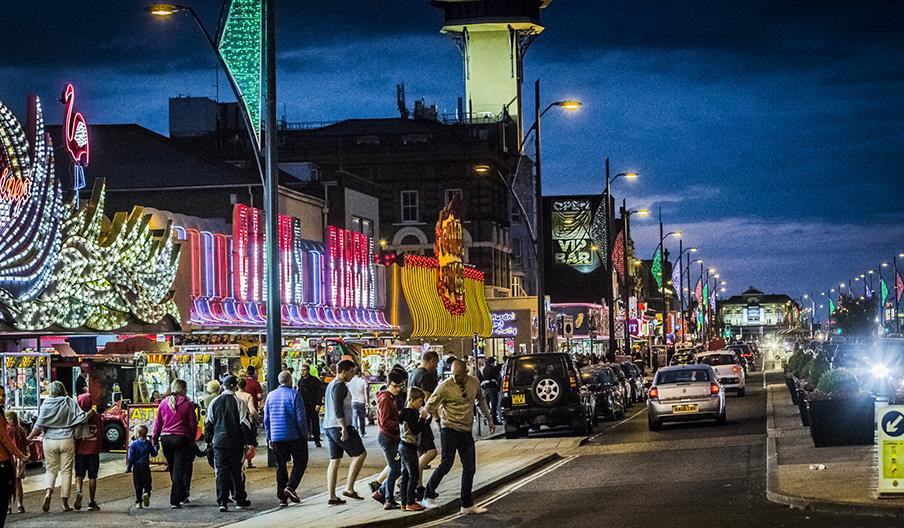 Balancing Affordability and Aesthetics
Like many small towns in the United States, Yarmouth grapples with the challenges of modernization while preserving its inherent small-town charm. To do so, the town's leaders prioritize thoughtful residential development. Whritenour and Greene unpack Yarmouth's approach to this, underscoring the town's dedication to maintaining equilibrium in growth.
"Most of our new residential housing is taking place in redevelopment areas. Our goal is to preserve open spaces and prevent excessive development," Whritenour clarifies.
The town has recently completed several noteworthy housing initiatives. "We just finished Yarmouth Gardens, which has 40 units of affordable housing. Yarmouth Commons at 881 Route 28 added another 60-plus units," Greene notes. "These developments were made possible through creative local zoning, regional regulatory relief, and leveraging Community Preservation Act funds."
Whritenour also mentions that they are collaborating with private developers on multi-purpose ventures. He cites an example of a project on the Route 28 corridor that plans for 23 units, combining both market-rate and affordable housing options. He emphasizes that this initiative is in line with their objective to introduce more residential spaces in commercial zones and simultaneously promote commercial growth.
The Symbiosis of Tourism and Local Business
The city of Yarmouth also recognizes the significant impact of tourism on local economies and strives to achieve a harmonious balance between its captivating natural attractions and thriving commercial endeavors. Whritenour elucidates the town's nuanced approach to tourism, emphasizing the symbiotic relationship between local businesses and the community's natural beauty.
"We are an environmentally-centered community. The protection of open space resources enhances the experience for visitors, making those values paramount in all our community planning," he states.
Whritenour also highlights the unique character of Yarmouth's business landscape, noting, "This is not an area for big box retail or national chains. We have a New England village-oriented development pattern that people appreciate."
The town emphasizes public infrastructure investment to boost local business expansion. Whritenour mentions their proactive strategy to encourage the growth of small businesses. He also expresses gratitude for the presence of the Cape Cod Commission, a regional land use regulatory body, which safeguards the town from larger entities that could potentially dominate their desired development style.
Yarmouth's Next 18 Months and Beyond
In the dynamic landscape of Yarmouth, Massachusetts, town leaders are constantly evaluating and setting strategic priorities to ensure sustainable growth and community well-being. With a blend of historical preservation and modern development, the town's vision is clear.
Greene outlines her top priorities for the next 18 months, emphasizing the Riverwalk Park project, wastewater planning, and housing initiatives. "We're focusing on both the historic district and other areas," she confirms.
Greene also highlights ongoing investments in town-owned properties, such as the rehabilitation of a barn that serves as a significant tourist attraction.
Whritenour describes the next 18 months as a "critical and generational time" for Yarmouth.
"We're embarking on a local comprehensive planning effort that will establish the framework for our planning for the next 30 years," he states. Whritenour also mentions innovative financing strategies, including district increment financing, to support public infrastructure without significantly impacting taxes.
Whritenour signs off with a thought-provoking remark: "No one knows how much work it takes to make a place look like it hasn't changed in 100 years."
This statement embodies the town's commitment to preserving its unique branding, environmental stewardship, and historical nature while stimulating business development and recreational opportunities.
AT A GLANCE
Yarmouth, Massachusetts 
What: A picturesque coastal community balancing modern development, environmental stewardship, and historical preservation.
Where: Cape Cod, Massachusetts
Website: https://www.yarmouth.ma.us/