White Lake Marine
For the joy of boating
Business View Magazine interviews David DeAndrade, General Manager of White Lake Marine, for our focus on the U.S. Retail Boating Industry
Taking in the rays out on a cool blue lake in a tweaked-out ski boat is a natural high. An absolute joy, especially in these trying times. For decades, White Lake Marine have been making that dream a reality for countless boating enthusiasts. Located on beautiful White Lake in Southeastern North Carolina, White Lake Marine is the oldest Correct Craft dealership in the world, selling pleasure boats built by the renowned makers of Nautique since 1955. The DeAndrade family have owned the business since 1985 and have stayed in the same location ever since.
While the physical address hasn't changed, the business landscape around White Lake Marine certainly has, with the industry itself having undergone massive demographic changes. "The ski boat world has always been a higher end market, but in the past 20 years that's accelerated greatly, where the industry is now very much a high-end luxury market," says David DeAndrade, Owner of White Lake Marine.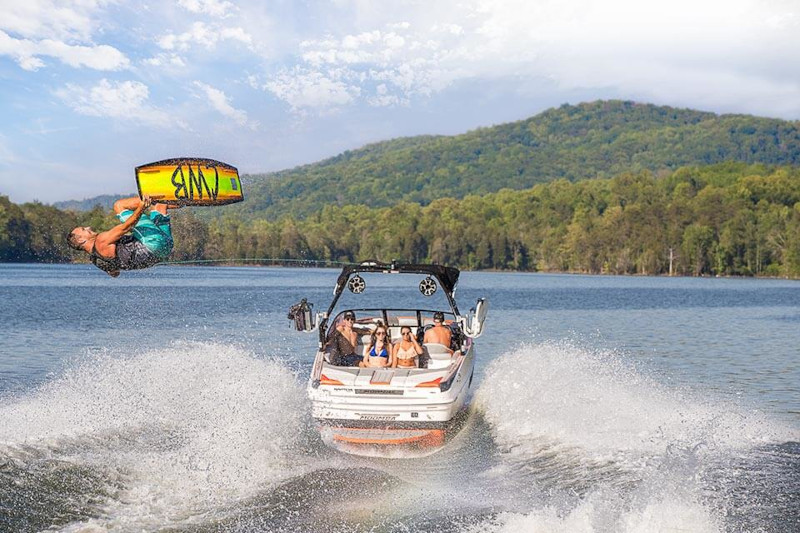 Being in business so long, White Lake Marine are seeing a lot of family from previous clients returning, with new generations wanting to purchase their own legacy. "We frequently have individuals in the store, where I'm selling them a boat and my father sold their parents a boat before," says DeAndrade.
It's these returning legacy clientele that push White Lake Marine to deliver only the best service, and the firm's reputation for building great client relationships continues to attract new customers.
Today, the business operates out of a showroom fronting a highway across the road from the original White Lake Marina. The current marina facility includes a boat ramp, cast dock, and quays. The company used to solely operate from the marina but, in 1988, they moved and expanded. DeAndrade elaborates, "We built a large service center and stored boats for sale across the highway, as there wasn't enough space at the marina. But now we do our sales and services there, as well as having a storage warehouse for all our e-commerce site stock."
White Lake Marine is all about creating a healthy working environment for their staff. Some members are true lifelong employees; the low turnover rate a reflection of the flexibility and trust that management allows them. According to DeAndrade, "The only rule I give my employees is to ensure they take care of the customer. Whether it costs the company time or money, they wouldn't get into trouble… as long as the customer is happy and satisfied, they get our blessing to do so."
In an industry so closely related to innovation, employees and management are provided regular training from the manufacturers. Also, outside bodies like the C12 and the National Marine Retailers Association (NMRA) provide members with information about the latest developments. By taking a variety of courses, they can also become NMRA Certified Marine Dealers. These training programs are necessary to keep up with advancing technology. For example, many boats are now equipped with telematics, or a cellular connection. This allows you to check on your boat by simply accessing an app on your phone from anywhere in the world.
The past year taught many of us that you can work remotely from home. There's no need to come into the office. David's father, Carl DeAndrade, owner of the business with his wife Dianne, discovered this first-hand and is using it for his regular 9-5. David shares, "When COVID-19 hit, my dad started working remotely. Now he can work and then go into the dining room and have breakfast and come back. He has not been in the office since COVID arrived but is still involved in the business."
While new habits were adopted in 2020, new business revelations also exposed themselves. With the pandemic rolling in, most would have assumed that the recreational industry would have seen a downturn, especially at the luxury end of the market. But it was the complete opposite. "We saw at least a 30 percent increase in our boat sales," says DeAndrade. Then again, it is hard to guess if that figure would have been higher, as we literally ran out of products." This trend has continued into 2021, with White Lake Marine only having one boat available for sale at the end of May.
The company's e-commerce site has also seen an increase in sales of upwards of 30 percent. White Lake Marine's site also offers spare parts, as well as service parts. But there's now a shortage due to unparalleled demand. DeAndrade admits, "We're shipping hundreds of packages daily, but we definitely have back orders and a lot of customers are having to wait for suppliers to keep up. Some lead times are now running at 8 to 12 weeks, while some have just flat out said they don't know when they'll be able to meet demand."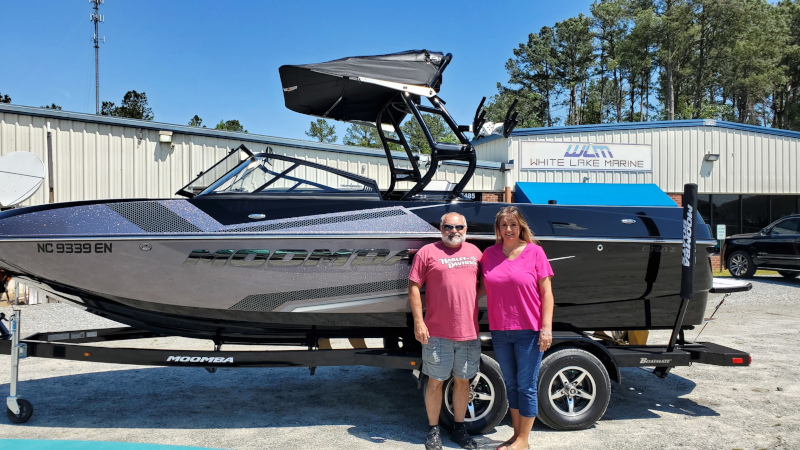 With such high demand, customers are even buying boats sight unseen. The market has completely pivoted to a seller's market, where if there's stock, clients will rush across state lines to buy it. "We had a gentleman from out-of-state, who found us online," says DeAndrade. He drove up, hooked up the boat, and left. Having missed out on four boats in the past two weeks, he didn't want to take the chance on missing out and paid the deposit online."
White Lake Marine prides itself on lifelong business partnerships, such as the one with Nautique Boat Company. Since 1955, White Lake Marine has been a dealer of their boats. Which means many employees from both companies have watched families grow. DeAndrade recounts, "I grew up going to these dealer meetings as a kid, now I'm the owner. I've known some of the factory guys all my life. This creates a unique dynamic, we don't conduct black and white business transactions, it's so much more."
In these unusual times, businesses are continuously having to adapt. Case in point is the shift away from boat shows. In the past, these spectacular events were a huge drawcard. Hundreds of thousands of people would attend the large national boat shows, but in 2020 that was all put on hold. The results were nothing like the White Lake Marine team could have expected, as more and more buyers shifted online. In the past, boat shows were a part of the consumer journey, as people would have done their research online, watched a few videos, and then visited the show to see the boats in person.
But will this stay relevant moving forward in the industry? "I feel like boat shows will probably come back, as it is ingrained in the industry," says DeAndrade. "That's just what we do. But it really makes you pause and think about the changes technology has brought. There's no denying that live events will always bring a certain vibe, but it's just a show nowadays rather than a sales exercise.
The ski boating community has become more of a luxury market and, not surprisingly, the majority of White Lake Marine's boat sales at this level of purchase are custom orders. While there is a massive push towards delivering products that are technologically advanced, customer service is still the company's biggest asset.
Since the start of the pandemic, the crew has been getting less face time with their customers on the showroom floor. Often, clients give White Lake Marine instructions to pick up their boats to be serviced at the marina or stored, and then deliver them back later. This has meant more time on the roads for the drivers. "We've probably driven 100,000 miles in the last year, in just picking up and delivering people's boats," says DeAndrade.
Revolutionizing customer convenience via technology has sparked major growth in all sectors, and boating is no exception. A great example: One day, when questioned by Carl DeAndrade where the usual White Lake Marine driver was, David replied, "He's gone to Georgia to drop off a used boat, and he's doing that because it's a $200,000 sale." The insight that DeAndrade has tapped into is that his target market's time is valuable. Consumers want the White Lake Marine crew to make their life more convenient.
Moving forward, the company would like to follow the tagline of Nautique: "Making Life Better." White Lake Marine wants to keep their same staff, be financially solid, expand their e-commerce offering, and find equilibrium when it comes to their income statement. They also want to expand the reach of the business, to ensure it is depression-proof if local economies collapse. Most importantly, White Lake Marine will continue to deliver outstanding service and help build a better life for their employees.
AT A GLANCE
White Lake Marine
What: Long-time retailer of high-end marine craft
Where: White Lake, North Carolina
Website: www.whitelake.com
Marathon Xpress | Marathon Specialty Finance
www.marathonxpress.com | www.marathonspecialtyfinance.com
Welcome to Marathon Xpress!
Marathon Xpress is an industry leader in the recreational finance sector, facilitating loans for boats and RVs. Founded by Troy Tiedeman and his wife Maureen, the crew's collective decades of experience and high quality service allows Marathon Xpress to build long-term relationships with its vast and varied clients.
Growing up in Minnesota, surrounded by 10,000 lakes, boating runs through Troy's bloodline. Forever young at heart, Troy has more than 22 years of experience in the boat financing space and loves helping families get back to fun out on the water.
Maureen grew up on the lively New Jersey shore, with beaches and marinas only steps away. Maureen's and Troy's passion for the recreational industry is a key reason why they launched Marathon Specialty Finance –  to bring a personal touch with a local spin to the Mid-Atlantic region.
Clients set the pace, and the Marathon Xpress team of dedicated finance professionals will make every buying experience seamless, secure, and reliable. A strong lender network is always ready to offer competitive rates for new and used purchases, as well as refinancing. The company's goal is to lift the barriers surrounding the recreational lending space… making individuals' lifelong dreams come true.