Ventura County Airports (Oxnard & Camarillo)
Twice the possibilities
Business View Magazine interviews Dave Nafie, Acting Director County of Ventura Department of Airports, for our focus on U.S. General Aviation
"Ventura Highway in the sunshine
Where the days are longer
The nights are stronger than moonshine
You're gonna go, I know…"
                                                Ventura Highway, by America
"Ventura County is gorgeous." That is the first thing Dave Nafie, Acting Director of the County of Ventura Airports says when asked to describe the place. It is the southernmost county along the California Central Coast and is also home to two of the California Channel Islands: Anacapa Island, which is the most visited island in Channel Islands National Park, and San Nicolas Island.
Nafie boasts, "It has the perfect climate, and it is affected by the ocean much more than the Los Angeles Basin. When it gets hot there, you can come here and have a nice refreshing breeze and cooler temperatures. Beyond the weather what you see is a valley ringed by mountains and hilly terrain, but largely flat and perfect for growing fruits and vegetables – it is very agricultural. It has all those great urban characteristics but there's also a rural feel to it. It feels authentic to California's roots."
Ventura County owns two airports, the Oxnard Airport and the Camarillo Airport. And although they are only about eight nautical miles away from each other, they are quite different.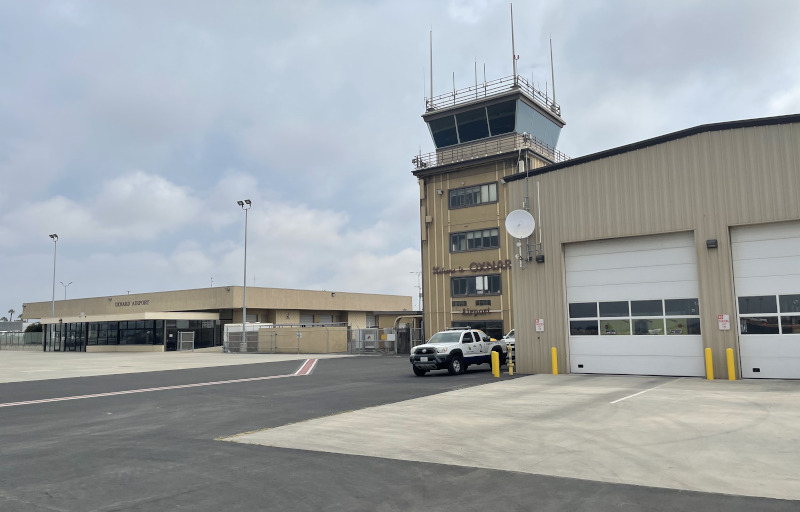 Oxnard was opened in 1934 with a 3,500-foot dirt runway. It had two aircraft and no place to shelter them. Shortly after that, Howard Hughes erected a tent there to shelter his H-1 racer, which he tested from the airport. In 1938 the runway was paved, and a large hangar was constructed, and the airport continued to grow, being taken over by the Army Air Corps during the Second World War. The first scheduled airline flights began in 1946 by Southwest Airlines and later Pacific Airlines, flying Douglas DC-3's and Fokker F-27's respectively. Pacific Airlines was replaced by Airwest Airlines in 1967, which was later purchased by the Hughes Corporation, becoming Hughes Airwest.
The current terminal building opened in 1971 and has been served by commuter airlines such as Cable, Golden West, Wings West, Mesa and other small air carriers. As the years went by, a control tower was constructed, ILS and approach lighting were added, and the runway was lengthened to 5953 feet. These days it sees around 70,000 operations a year and has 128 planes based on the field. As of the publishing date, Oxnard Airport was in the midst of reconstructing the entire runway with a multi-million dollar FAA grant, on time and on budget. This essential project presented a significant interruption to the operations of the fixed wing tenants, but the airport was able to keep the control tower open and allow helicopter operations.
"This is our commercial service airport," says Nafie, "and while we don't have an airline presently, we remain ready to accept airline service. He continues, "We have a terminal building and all of the passenger handling facilities that go with that, including ramp and parking. We maintain our part 139 airport operating certificate and that means that we have a fire station and ARFF (Airport Rescue Firefighting) equipment and trained personnel. There are two FBOs Goldenwest Jet Center and Oxnard Jet Center. Goldenwest is a full service FBO and also co-manages the fuel farm with the airport while Oxnard Jet Center, together with Aspen Helicopters, provides fuel, charters, mapping, and agricultural spraying with both fixed wing aircraft and helicopters. They are great partners. They can also give you a ride out to our beautiful Channel Islands."
Oxnard Airport also features a remote campus for California Aeronautical University. Based in Bakersfield, CalAero offers everything from flight instruction to graduate programs in transportation management.
Camarillo Airport also has a rich history at a large scale. Nafie explains, "Turning to Camarillo, we have double everything that we have at Oxnard but, interestingly, it generates five times the economic benefits even though the raw operations and number of airplanes is only twice that of Oxnard."
In 1942 the California State Highway Department constructed an auxiliary landing field with a 5,000-foot runway. Then in 1951 as a response to the emerging Cold War, it became the Oxnard Air Force Base, and the runway was lengthened to 8,000 to accommodate the Northrop F-89 "Scorpion" aircraft that were part of the Los Angeles area Air Defense Command. By 1958 the new Air Force base boasted four alert hangars, concrete ramps, and a 9,000-foot runway. In 1960, the supersonic McDonnell Douglas F-101B "Voodoo" interceptor aircraft, equipped with "Genie" tactical nuclear missiles, arrived.
It was only 18 years later that the base was deactivated, and the land declared surplus. That is when the County of Ventura stepped in and from that day to this Camarillo Airport has progressed from a sleepy, towerless facility to a bustling reliever airport, with an FAA air traffic control tower and annual operations numbering nearly 190,000. It also boasts a diverse collection of over 560 production, home-built, and WWII aircraft with active chapters of the Experimental Aircraft Association and the Commemorative Air Force.
Currently, Camarillo Airport features a control tower, four full service FBOs – Air 7, Channel Islands Aviation, Sun Air Jets, and Avex Aviation – as well as offering flight instruction, helicopter charters, aircraft maintenance, skydiving, and ultralights. Camarillo Airport is also home to larger corporate flight departments, in addition to some high-net-worth individuals who have their aircraft professionally managed by FBOs. Nafie adds, "I would be remiss not to mention the Waypoint Café, our world-renowned onsite restaurant. It offers a top-quality menu with great milkshakes – you can spot celebrities there quite often."
The County of Ventura Department of Airports also looks to the future for initiatives in sustainability and research. Sun Air Jets has partnered with a benefactor to provide sustainable aviation fuel (SAF) at the same cost as regular jet fuel, and that reduces emissions by 28 percent. CloudNine, currently under construction, will offer luxury hangar rentals and full service for their clients are planning on converting to solar. A company called Ampaire began development and testing of a hybrid electric aircraft right here at Camarillo Airport. These examples, along with plans to pursue emerging markets for all-electric aircraft in Advanced Air Mobility, demonstrate that the future will look and sound quite different, especially to those who live around the two airports.
"What we are trying to do is create thriving airports with smaller footprints," Nafie explains. "We want to be good neighbors and make sure everyone has a voice, and we want to provide the best services possible. We are clearly a large economic driver for the area, not only in terms of creating jobs but in the economic output, which is $180 million a year for both airports combined. We are proud of what we do, and we support every initiative we can. For example, the Camarillo Wings Association just finished up a successful air show, the 40th annual Wings Over Camarillo Airshow." Over 20,000 people visited the airfield over two days.
Nafie adds, "One of the key things we do at the show is to have a STEM pavilion that offers kids the opportunities to get hands-on with aeronautics. They can fly drones, fly simulators, and they can have access to cockpits and interact with pilots. We do encourage getting that spark of passion moving and just seeing where it will lead."
Looking forward to the next few years, Nafie has a wish list that includes addressing aging infrastructure that needs to be replaced at both airports, inviting the development of new facilities with board rooms and public meeting spaces, new restaurant opportunities, and perhaps even a museum. Indeed, the future is filled with possibilities.
AT A GLANCE
Ventura County Airports
What: A pair of valuable regional airports – Oxnard Airport & Camarillo Airports
Where: Southernmost county on the Central California coast
Website: www.ventura.org/airports/