Simplimatic Automation
The goal is simple – happy customers
Business View Magazine interviews Tom DiNardo, CEO of Simplimatic Automation, as part of our focus on best practices of the packaging and assembly sector.
Simplimatic Automation provides conveyor systems, robotics, and custom factory automation to a variety of manufacturing, assembly, and packaging operations worldwide. Simplimatic Automation has been a trusted name in material handling systems since 1965, beginning as a company with a concentration on conveyors for the beverage industry, and subsequently expanding to include other areas of packaging and assembly. Simplimatic is a recognized leader in material handling systems and automation for the semiconductor, electronics, packaging, assembly, pharmaceutical, medical device, optical, automotive, and many other industries.
Simplimatic manufactures tabletop conveyor, mat top conveyor, edge belt conveyor, beverage conveyor, twin-strand conveyor, and integrates a variety of other conveyor types dependent on customer need or preference. The company is also an award-winning robotic integrator and actively integrates multi-axis, collaborative, gantry-mounted, and mobile robots (or AGV'S) from Fanuc, and many other robotic manufacturers, into a variety of factory environments.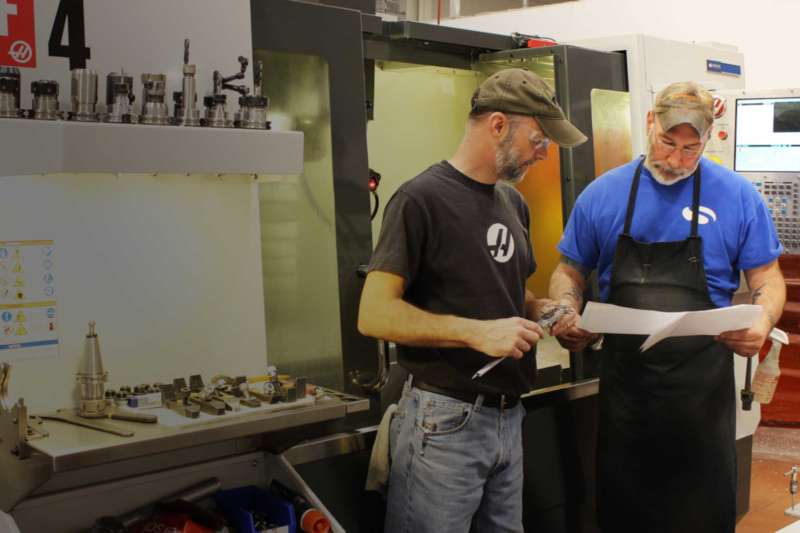 Now owned by Simplimatic Engineering Holdings, LLC, a business development and private equity firm, Simplimatic Automation is a privately held company with worldwide capabilities stemming from a 60,000-square-foot manufacturing headquarters built in 2015, its 50th anniversary, in Forest, Virginia.
As brand recognition and product awareness continued to grow for Simplimatic, so did sales of personal computers throughout the mid-to-late 1980's. Under new ownership, Simplimatic launched its first line of SMT conveyor and board handling equipment to accommodate for the huge growth in the new printed circuit board and semiconductor manufacturing markets.
Like many other businesses in the late 80's and 90's, the Simplimatic brand was highly-regarded and a prime target for acquisition.  Originally purchased by Carnaud Metal Box in the early 90's, Simplimatic was subsequently purchased by Crown Cork & Seal during their acquisition of CMB in 1995. This deal led to tremendous brand growth as Simplimatic was now part of the largest packaging company in the world.
As Simplimatic's Cimtrak line of edge-belt material handling products continued to grow through the mid-to-late-90's, it became apparent that the electronics conveying unit no longer fit with the core business offerings of Crown Cork & Seal. The electronics business unit was separated from the parent company and sold in 1997.
Simplimatic Automation was formed in 2000 to acquire one of the operating divisions of its parent company, Crown Simplimatic. Since then, Simplimatic has also acquired Indiana-based Advantage Puck Technologies and Florida-based MultiFlex Systems, which was relocated from Sarasota to the new Forest site. Advantage Puck Technologies was sold in the beginning of 2018. More recently, Simplimatic acquired robotics integrator, Dramco Machine Technologies (DMT). According to Simplimatic Automation CEO Tom DiNardo, "Dramco's extensive robotics integration capability significantly expands Simplimatic's existing robotics program, and the addition will benefit the customers of both companies, greatly."
Dramco Machine Technologies manufactures a variety of automation and assembly systems for production manufacturing. DMT is most notably known for the design and integration of complex robotic solutions for the medical, automotive, pharmaceutical, and electronics industries. With decades of conveying, custom automation, and integration experience, Simplimatic was able to grow exponentially through acquisition and R&D to meet the needs of a diversified customer base.
Business View Magazine recently spoke with Director of Mechanical Engineering Eddie Craig, VP of Engineering Stan Earley, and Marketing Manager Lee Crawford about Simplimatic's growth and values.
Eddie Craig came on board when Simplimatic acquired Dramco Incorporated. "Dramco did custom machine design and integration with a focus on robotic assembly," he recounts. "Our specialty was taking robots and making them part of a larger system. We would do traditional palletizer-type applications; applying a robot on the end of a conveyor to pick up various components, but our bread-and-butter was to incorporate robots into a larger system. Simplimatic acquired us because they wanted to get further into robotics. Since then, Simplimatic has done that, and has continued supplying Dramco customers, and has started building robotics systems for a wide variety of other industries: packaging, more pharmaceutical equipment, electronic fabricators, and assemblers."
Stan Earley adds, "Our current breadth of market coverage ranges from automotive electronics supply through automated pharmaceuticals delivery and bottle filling. The focus of expansion for our company is more bimodal in that we want to grow the electronic conveyor business, but the standard or traditional conveyer Eddie was referencing can be considered more of a flexible chain or a belt conveyor style to move heavier objects, like boxes or bottle handling. But to add value for our customers, we are trying to bring more robotic handling into the picture for various processes. For example, we handle products for assembly that will bring electronic circuit cards into a housing, or will provide mechanisms around testing the product, and trying to be a full-service provider of automation in automated assembly systems. We have a broad customer base ranging from bearing manufacturing through custom automotive systems."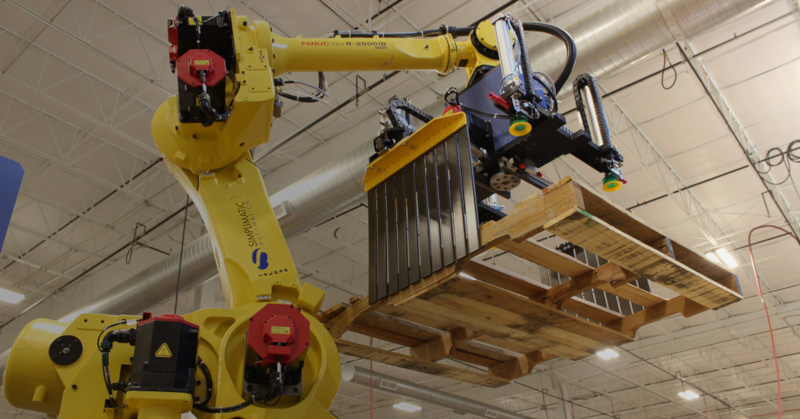 Lee Crawford notes, "A lot of companies in our space may stick to just one vertical like pharmaceuticals, but we are actually in multiple markets as previously mentioned. There's not much that we won't take on unless it's raw foods or something in that space. Any other part of the automation process – we are well versed in."
Craig adds, "Our two biggest customers are pharmaceutical customers that put drugs in containers and fabrication of medical devices. The other substantial customer base are customers that make components with circuit boards in them. Basically, all the way from the companies that actually take the chips and put them on the boards, to companies that take boards and put them in housings to make products."
"If you bracketed by end-user, electronics is probably the biggest single segment of our business, I would say seconded by medical assembly devices; third would be Pharma," summarizes Earley.
Simplimatic manufacturers 100 percent of their products in Virginia, in two facilities: one in Forest, Virginia, very close to Lynchburg, the other in a smaller town called Rustburg, south of Lynchburg. Robotics and custom automation is in the Forest facility, and the standard products are in the Rustburg facility. Total employee headcount right now is around 120.
Craig notes, "We are hiring younger and younger employees, and we want to keep them. We're investing in them and we really want those employees to be here in 5, 10, 15, 20-plus years."
Regarding Simplimatic's competitive edge, Craig suggests, "We have a broad knowledge base that spans basic mechanical engineering through high-level programming. We can do extensive mechanical design and then we can spec out and design controls to make the mechanical equipment do what it's intended to do, including robot programming which is arduous in and of itself." Crawford regards custom automation as something they like to do.
Earley adds, "Why do customers come back to us? We have such a breadth of knowledge across our engineering group and sales team that we're working more at a problem-solving level before we try to sell automation. We have a lot of customers that come to us to help solve a very specific challenge. We understand what it takes to weld two pieces of material together, and we can help a customer with material selection to get that done more efficiently.
Earley continues, "We've invested tens of thousands of dollars in training and updates to our systems and our knowledge base in just the last quarter. My intention is to grow the organization in such a way that we become more of a strategic partner to our customers than we are today. We want to stay in a lot of markets to insulate us from a severe shift in any one market space, but want to be experts in a few. Packaging, palletizing, and material handling are all markets we want to grow our footprint in. We are really trying to expand our knowledge base to get into more assembly as well. Our corporate roadmap focuses on growth in the assembly market space and increasing our market share in palletizing and material handling."
Simplimatic works with domestic customers as well as international customers not based in the U.S., but also has international customers that are subsidiaries of U.S.-based companies. Most electronic assembly is not done in the U.S., and pharmaceuticals are made all over the world. According to Earley, probably about 10 percent of the company's business is in Europe, with electronics materials in Vietnam, Southeast Asia, and China. In essence, it's 60 percent domestic customers and 40 percent rest-of-world customers.
Crawford notes, "I've only been here for a short time, but I am amazed at how we will go above and beyond for our clients. If there is a new issue on a project or if there is something that needs to be done that was not in the plans, we will take care of it. Normally, there would be a time delay with those instances but, I have not witnessed that here. We do what's best for our clients, which makes us a true partner, not just a vendor or integrator. "
Earley concludes, "What I want our customers to see whenever they walk in the door is a lot of happy smiling faces, and being supportive in the way we do business with them. We do that through technology support. We try to be flexible in the way we interact with clients on projects. We are operating in a very open environment here. We report the bad as well as the good attributes. We really try to involve our customers from the point of first introduction, all the way through shipping the machine and then, installation and life cycle support. We're here to walk hand-in-hand with our customers and to be very supportive of them. I don't know how to put that more eloquently other than to say that our goal is happy customers and to become a true partner."
AT A GLANCE
WHO: Simplimatic Automation
WHAT: A provider of conveyor systems, robotics, and custom factory automation
WHERE: Forest, Virginia
WEBSITE: www.simplimatic.com