Bluewing Midstream LLC
In the lead
Business View Magazine interviews Danny Malone, VP at Bluewing Midstream LLC, as part of our focus on best business practices in the oil and gas sector.
Headquartered in Houston, Texas, Bluewing Midstream LLC was formed in July 2015 to acquire, develop, and operate bulk liquids terminals along the U.S. Gulf Coast. With terminal assets currently located in Brownsville, Texas, Bluewing provides terminaling services including bulk storage, blending, heating, and transloading bulk liquid commodities, such as diesel, gasoline, base oil, wax, jet fuel, LPGs, and ethanol headed for customers in South Texas, Mexico, and other international markets. Bluewing is backed by Energy Spectrum Capital, a well-established, private equity firm located in Dallas, Texas, focused on partnering with premier management teams that are pursuing compelling opportunities in the midstream sector of the North American oil and gas industry.
Bluewing began its operations with the purchase of seven storage tanks from a Brownsville operation that was going out of business. "There were about 50,000 barrels of storage there, which is very minimum," says Danny Malone, Vice President of Engineering, Construction, and Operations. "Right now, under our umbrella, we've got 57 working tanks and that starts from the original seven that we purchased. We've got about 1.0 million barrels of storage, 300K under construction (8 tanks) with about another 1.6 million barrels under development. We can turn about 300 trucks a day, which is huge, and we have the capacity to do about 50 rail cars a day. So, we've grown really, really fast, trying to keep up with the demand for storage in South Texas."
With only 15 employees, Malone says that Bluewing typically caters to a wide variety of customers across the globe. "We're a little bit different," he explains. "Most of our customers are big trading outfits. A lot of the end users, like the big gas stations and airports, can't buy fuel straight from the refinery, so they buy it from a trader. The traders are purchasing the diesel and the gasoline and the jet fuel and once they buy it, they need a place to store it. So, they lease storage with us. It is then barged, shipped, trucked, or railed to us. Typically, they've already made the sale once it's got there, because a lot of their clients are repeat customers and so they keep a stockpile with us in the individual tanks that they've leased. Once they sell it – most of it goes into Mexico – those companies come and pick it up either by rail or truck, which are typically the two modes that go outbound."
According to Malone, Bluewing has several competitive advantages over its competitors, not the least of which is its proximity to the Mexican border. "At the time that we purchased the facility, gasoline and fuels were not deregulated in Mexico; everybody bought everything from Pemex (the Mexican state-owned petroleum company). Since then, it has become deregulated, so they're now able to buy from the U.S. and, given that we're a couple of miles from the border, it makes for a very seamless supply chain, going back and forth." Malone admits that while "some of it had to do with luck," it was also part of Energy Spectrum Capital's initial $100 million investment strategy in the new company. "It was being in the right place at the right time," he adds.
Another thing that sets Bluewing apart, according to Malone, is that the company is "probably the most technologically advanced terminal. The majority of terminal space is fully automated," he states. "That means that the customer, at any given time, can log into a terminal automation system and see on a screen exactly where their product is, what's been moved, what truck is loaded, and where it's at in the loading process. All of that works seamlessly. Customers are able to see where their product is from start to finish and they really like that."
"Let's say Customer A is going to be picking up a hundred trucks of premium gasoline, today," he continues. "The customer schedules those loads online in our system; the system, then, puts together a code for that truck driver which is his 'passport' for everything. Once he gets to the gate, he puts in that code, he gets to the loading rack, he puts in that code, the truck's hooked up, the load starts and then automatically stops when the quantity that's been scheduled is loaded, a bill of lading is automatically generated and printed out, and then he exits the facility. So, everything is automated from the time he comes in to the time he leaves."
In addition, Malone says that all of the company's "movements" are done via pipeline. "Most of our stuff is interconnected," he notes. "It's all done with automated valves. When those truck drivers go up to the load station and put in their code, all that's programmed into the PLC – Programable Logic Controller. All the valves start turning in the facility and it really doesn't matter which tank they're loading from and which product – everything works automatically."
Another advantage comes from the fact that Bluewing's management team all come from different industries, and are armed with their own past contacts, which they utilize to grow their new company. "For example," says Malone, "I come from an engineering, construction, and operations background, so all of the contractors that I work with are those I've worked with for ten years. It allows us a competitive advantage because we're able to design and construct these terminals at a very low cost. That comes from the fact that we're our own general contractor. I don't go to one of the big major EPCs (Engineering, Procurement & Construction) firms and say, 'Hey, build me this.'
"By using those relationships from the past – for example, engineering firms – I typically lean on one that helps me out – Aura Engineering. I've worked with them for ten years; they know what I need and what I don't need, and so we're able to knock off a lot of fluff that firms would typically charge for when you're building a project from the ground up. They're great partners of ours – really quick, really efficient. So, we're able to hit the ground running, pretty quick, with construction.
"I start at the ground level; we do the dirt work; we do the piling; we sub out the tank construction, the civil construction, the electrical and instrumentation construction; and we do all the procurement ourselves. So by acting as the GC, we're saving 15-20 percent markup off of each item, which allows us to be the low-cost provider, because we're able to develop and construct these terminals at a lower cost than most everybody."
Bluewing is also focused on being as environmentally-friendly as possible. "The environmental aspects of terminal loading are, essentially, vapors," he explains. "So, all of the combustion equipment we use to burn the vapors to make sure they don't go into the atmosphere, are next generation, advanced systems – the best of the best. Zeeco, the manufacturer that we work with in designing our vapor combustors, has got the largest product research and test facility on earth. They're super-clean and super-efficient and they allow us to not add any more pollutants to the air."
Going forward, Malone says that Bluewing is endeavoring to be the safest, lowest-cost, most automated terminal in the world. "I think we're better, faster, and more economical than any of our competitors and we're here for the long run," he states. "We're here to grow and, at the end of the day, our plan is to lead the development efforts internationally for transporting fuels."
AT A GLANCE
WHO: Bluewing Midstream LLC
WHAT: An operator of bulk liquids terminals along the U.S. Gulf Coast
WHERE: Headquarters in Houston, Texas
WEBSITE: www.bluewingmidstream.com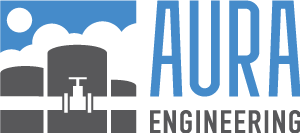 Aura Engineering – aura-engineering.com
We offer custom engineering and design services tailored to the midstream, petrochemical, chemical, and storage terminal industries. If you are moving or storing liquids or controlling vapors for permit requirements, rely on us to provide a turnkey solution customized to the unique needs of your facility. 

Celerity Engineering – celerityeng.com
Celerity Engineering provides innovative solutions to complex issues unique to the petrochemical and marine terminal environment. Our client-oriented engineering expertise includes pipe support systems, foundations, docks, berthing and mooring systems, gangways, marine bulkheads and breakwater structures. Visit us at celerityeng.com. 
Dearman Systems, Inc. – www.dearmansystems.com
Dearman Systems, Inc. is a software development company focusing on the terminal automation, enterprise management, and regulatory compliance system needs of the bulk petroleum, renewable fuels, and chemical distribution industries. With more than three decades of experience, we provide superior technical solutions that enhance operational efficiencies and facilitate effective enterprise management. 
RM Walsdorf, Inc. – www.rmwalsdorf.com
RM Walsdorf, Inc. is a diversified service and construction company that provides industrial and commercial services to municipalities and businesses in the South Texas area. A woman-owned, small business company, which was founded in 1984 and incorporated in 1993, providing services in the areas of tank work, site work, excavations, underground utilities, road work, paving, concrete work, welding, piping, petroleum storage tank maintenance including repairs, cleaning, and painting and environmental clean-up.  RM Walsdorf, Inc. is Texas HUB-certified and registered in the U.S. System for Award Management. 
Sky Eye Measurement – www.skyeye.ca
Sky Eye Measurement is a hydrocarbon measurement solutions company based in Alberta, Canada, serving clients all across North America. We provide fully customizable solutions to our clients. If you meter or pump it, we'll design, build and service it.