The Savannah Convention Center
Change is the game
Business View Magazine interviews representatives from the Savannah Convention Center, as part of our series on best business practices of American venues.
The Savannah Convention Center (SCC), formerly the Savannah International Trade & Convention Center (SITCC) is a 330,000-sq.-ft. complex, located on Hutchinson Island, across the Savannah River from the city's world-renowned historic district. It is a state-owned building on state-owned property, built by Chatham County, and operated under the auspices of the Georgia World Congress Center Authority (GWCCA), which also manages the Georgia World Congress Center, and the Centennial Olympic Park in Atlanta. The mission of the Convention Center is to attract and produce events that generate economic impact for Savannah, Chatham County, and the State of Georgia. The building has been operating for over 19 years and has continued to build a foundation of business including trade shows, conventions, meetings, and special events.
The SCC includes: 100,000 square feet of exhibit hall space, a 25,000-sq.-ft. ballroom, a 367-seat auditorium, 13 meeting rooms, and four board rooms. It employs 50 full-time, and 50 regular part-time staff, plus hundreds of temporary employees, as needed, who hosted a record-number 170 events this past year. One of SCC's advantages in the competitive world of convention centers is its location – Savannah is one of the top visitor locations in the world and consistently lands in Condé Nast's Travel and Leisure rankings of Top Ten Cities to Visit in North America. "Our popularity as a destination has increased," says SCC's Board Chairman, Mark Smith. "There are so many more conventions desiring to come to Savannah."
Smith adds that within Savannah, itself, SCC's location offers another "strategic" advantage. "The Center is right across the river from the city's main historic district – the largest historic district in the United States at 2.5 square miles – and River Street is the main attraction of Savannah," he explains. "It would be comparable to Bourbon Street in New Orleans, or the Riverwalk in San Antonio, or Broadway in Nashville. And it is easily accessible by a quick free water ferry ride." In addition, right next door to the Center, on the 2,000-acre Hutchinson Island, is the Westin Savannah Harbor Resort. "It's not just a hotel," says Smith, "it's an urban resort. It comes with a signature, 18-hole golf course, a spa, and an automobile race track. Another unique feature is that Savannah is the third busiest container port in the country. These huge container ships pass by the facility on a regular basis during one's visit to the Center."
Another advantage that SCC has is its relationship with its sister organization, the Georgia World Congress Center in Atlanta. "We capitalize on their many resources including systems, benefits, legal, security, and experience in facility management," notes General Manager, Sherrie Spinks. "As a small facility, we have increased capabilities in these areas. For example, our bandwidth is much larger than most convention centers our size." The Center utilizes cutting-edge IP Cameras with high-end, analytic capability. With over 140 feeds, the security department is able to have a clear picture of the environment inside and outside of the facility. To keep up with the demand for high speed internet, the Center more than doubled the bandwidth of its circuit. So, visitors to the facility have access to that high speed internet via a world-class wireless network capable of handling such high densities. "And we're adding charging stations for customers to charge their phones and laptops," says Spinks.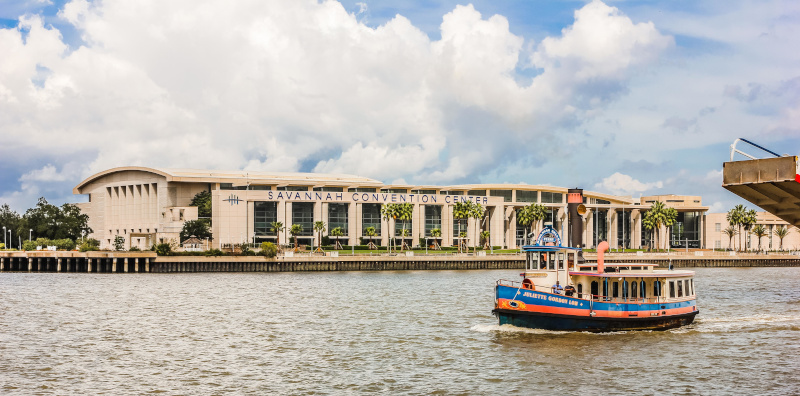 For some time, the Center has wanted to expand its footprint, and this past year, according to Smith, it received an appropriation of $13.7 million from the Georgia General Assembly, substantially increasing the $9.3 million it already received in two previous allocations from the state. "We now have a total of $23 million for planning and design purposes, which is indicative of the support that the governor has expressed," he states. "So, the state is 100 percent behind our expansion plans." "Obviously, $23 million is not enough for us to start construction, so we will submit to the governor's office our total budget," says Spinks.
"We selected Clark Construction Company out of Washington, DC as the contractor, and we're working through the planning and construction budgeting process," Smith adds. "We'll have our best estimates prepared for the General Assembly next session, starting in January 2020. We are hopeful they will approve construction dollars for our project in the 2020 legislative session. That will enable us to secure final pricing and break ground as early as July, 2020."
The big game changer came during the 2019 legislature session when the general assembly and governor approved new legislation creating the Savannah Georgia Convention Center Authority – a new State Authority to oversee the construction and operations of the building. This new structure provides the governor six appointments (a majority) to the board. If the state is going to take the lead on this high profile project, the Governor and state officials wanted input. The new legislation also provided the new Authority with the ability to issue bonds. Once completed, the new SCC will have 200,000 square feet; a second ballroom, which at 40,000 square feet will be almost double the size of its current one at 25,000 square feet; an additional 24,000 square feet of breakout meeting space, and a 900-space parking garage. The Center will then move from being the 157th largest convention center in the country to somewhere near 75th in size.
"It put us in a different realm as far as being able to attract larger meetings and groups," says Smith. "It will also give us the ability to support the increased room counts that we have achieved in Chatham County. We have over a thousand new rooms that have opened in downtown Savannah in the last 18 months, or that will open very soon. We have another 1,000 rooms on the drawing board, so we'll be able to support the room block that we have. We're now pushing 18,000 rooms."
Spinks agrees that the expansion will not only satisfy the Center's traditional clients, but will also allow it to better compete with the large regional centers in other destination cities, such as Nashville, San Antonio, New Orleans, Orlando, and Ft. Lauderdale. "We know of more than 50 customers that need more space, so, first, we'll secure our long-term customers," she says, "and then, we'll certainly go after the other customers that want to come to our facility, but due to space limitations have not been able to make Savannah home for their event."
While the SCC's new expansion will undoubtedly usher in some welcome changes, Smith asserts that some things will remain the same. The new Authority will still contract with the Georgia World Congress Center for the management of the facility, and senior staff will stay put. What also won't change is the Savannah Convention Center's long standing ability to host world-class events, in a world-class facility, in a world-class city – Savannah, Georgia.
AT A GLANCE
WHO: The Savannah Convention Center
WHAT: a 330,000-sq.-ft. convention, meetings, and special events venue
WHERE: Hutchinson Island along the Savannah River
WEBSITE: www.savtcc.com