Renasant Convention Center
Memphis' cultural, education, and event hub
With its finger on the pulse of the city, Renasant Convention Center offers visitors an upgraded and unparalleled conference experience
It's a new day for downtown Memphis' Renasant Convention Center. That's what happens after a $230 million investment for modernization and renovation takes center stage.
Built In the 1970s, Renasant has long been the central hub of the city's business and cultural event environment. Yet after more than 40 years of servicing the city, it was clear by 2019 that improvements were needed. Those improvements included features emphasizing technology, touchless capabilities, a new look, and more efficient use of space.
Work began on the facility shortly before the COVID pandemic turned many things upside down in the business world. Yet Renasant was able to move through its renovation process, reopening in late 2021 to fanfare and high demand.
Today, Renasant resembles the type of meeting and event facility that such a vibrant city like Memphis demands. Memphis serves as the legendary home of blues, soul, and rock 'n' roll on the Mississippi River. The now 300k-square-foot facility offers plenty of scenic river views and natural light without the need for columns. It includes flexible space with loading docks on three decks, a ballroom of roughly 28,000 square feet, and nearly 50 meeting rooms.
"It has been transformed into a truly great meeting facility for any type of need," says Renasant Senior Vice President and General Manager Dean Dennis. "It was designed with all the modern comforts and needs in mind."
That included countless carpeted rooms, brand-new HVAC systems, and efficient LED lighting that is sensor controlled. There are other "green" features such as touchless washrooms and doors as well, minimizing direct human contact on surfaces. These features were ironically planned before COVID even arrived.
The former mezzanine level was completely rebuilt, with 18-foot-tall ceilings added to provide a sense of space and luxury. Windows are floor to ceiling on two levels, a stark contrast to how the facility looked before its renovation.
"It was still a popular (events center), but it used to look like a prison," says Dennis, who adds, "We did a great job taking advantage of all the (Mississippi) river has to offer. It's amazing how appealing and inviting natural light is to our clients."
Also noteworthy is the attached Cannon Center for the Performing Arts, a nearly 2,100-seat, multi-purpose venue that is home to the Memphis Symphony Orchestra. The Cannon Center hosts numerous other events throughout the year, including ballet, opera, pop, and jazz concerts, touring theatrical productions, children's theater, and general sessions. It can host graduations and other special events and sits adjacent to Renasant.
With all these positive modern features and changes to Renasant, the convention center was certified as a Global Biorisk Advisory Council STAR Facility. This certification is considered the gold standard of a high-performance cleaning and maintenance regimen for institutional and commercial facilities that includes a hygienic indoor environment, a properly disinfected indoor environment, and a staff of professionals trained to uphold the highest standards of cleaning and building maintenance.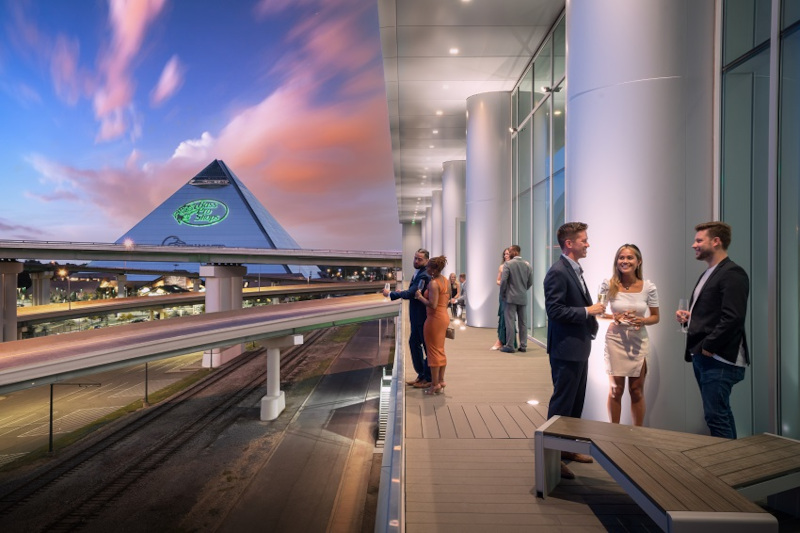 A full schedule of events awaits
Renasant Convention Center works directly with MMG which serves as the city's convention and visitor's bureau in charge of marketing tourism to the region. Since its opening, the convention center has significantly increased its social media imprint and has ramped up sales efforts to combine with the resources offered by the Memphis Travel team.
Given the attractiveness and pull of the renovated facility, it should come as no surprise that its upcoming calendar is quite full of events. According to Dennis, Renasant submitted its largest budget ever for 2024 in anticipation of this high demand, further highlighted by a return to normalcy after three years of the pandemic hurting the hospitality sector.
Business in 2023 is up 80 percent compared to the last year the convention center was open before the modernization began and the center was completely closed. Dennis expects another 50 percent increase in business in 2024.
One of the biggest sectors that Renasant draws is religious gatherings and events, Dennis says. Churches and congregations from all types of religious denominations will travel from around the state of Tennessee and throughout the country to host events in Memphis. One of the largest in the Church of God In Christ, which is headquartered in Memphis and has congregations in more than 60 countries. It brings in more than 10,000 people for its annual event hosted by Renasant.
Renasant's corporate business appeal is extensive as well, with long-time clients including Memphis-based AutoZone and St. Jude Children's Research Hospital and its fundraising and awareness organization ALSAC. Another long-time client is independent hardware distributor Orgill, which claims to be the oldest continuous business in Memphis having been founded in 1847.
Renasant also hosts many concerts, trade shows, and festivals throughout the year, with new businesses coming in since the renovation. The Mid-South Farm and Gin Show is the largest convention in its industry while auto shows, sports competitions ranging from cheer to gymnastics, and even a Michelangelo exhibit are on the docket for 2023. Musical acts and events like the annual Blues Music Awards managed by the Blues Foundation are a given considering the city's musical reputation.
Dennis says that these and other clients are impressed by all the new facility improvements at Renasant, adding that clients from far and near are all welcome.
"Sometimes you can find a large number of your best clients right in your backyard," Dennis says. "That's true here because our (neighbors) are proud of what has been done here and what our convention center has become."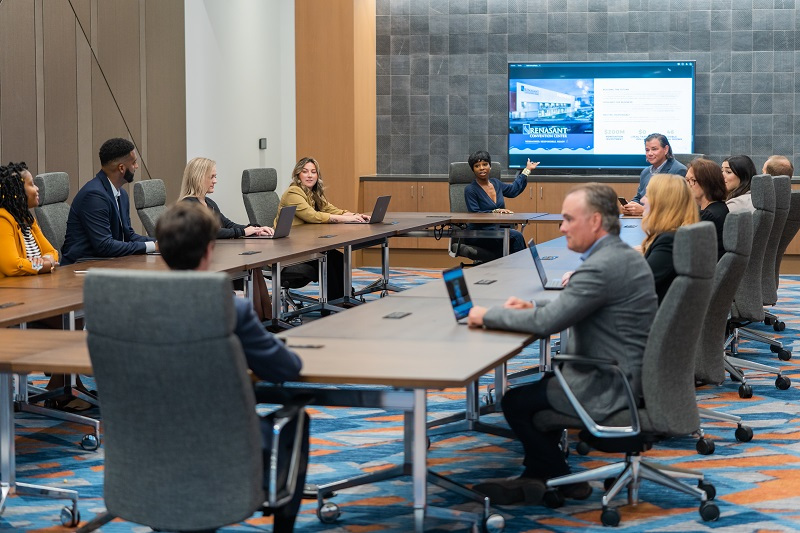 Community and economic impact can't be measured
That reputation within the local community is important to Dennis and his entire team at Renasant. Not only is it a representative community gathering place but it offers a significant economic impact that is felt around the region. It drives tourism dollars to the city, which benefits restaurants, hotels, museums, sporting facilities, and more.
The reputation of Memphis as a destination place helps as well. Memphis Travel works with the State of Tennessee to attract leisure travel; highlighted by the city's many attractions, particularly with food and music. Sun Studio, where Elvis Presley recorded many of his songs, is a top downtown attraction for music lovers. History buffs and proud Americans can tour the National Civil Rights Museum at the Lorraine Motel which explores the history of the Civil Rights Movement and its impact on American culture.
Additionally, there is no shortage of options for food buffs who have countless opportunities to enjoy Memphis' reputation of barbeque and soul food, making the city one of the most highly regarded destinations for "foodies" in the U.S. Yet much of Renasant's business has an even more local feel to it.
Says Dennis, "We want to continue serving as a local gathering place for weddings, graduations, and family celebrations as well." With the center's new layout and many rooms, there's a place for all events.
Short and long-term goals remain
As Renasant's presence expands, one of Dennis' goals is to increase the number of hotel rooms in the immediate vicinity. A 600-room Sheraton Hotel is adjacent to the conference center, but Dennis is working towards attracting another 500-room hotel to support the needs of business and leisure tourists.
Renasant is also updating and improving its valet drop-off process and is working with the Greater Memphis Chamber of Commerce and other strategic partners like event management company LEO Events to set up a wealth of convention services. These include everything from dedicated airport shuttles to securing entertainment options for conference goers after hours.
All these efforts are working, according to Dennis. He strives to have Renasant Convention Center be an industry leader in service, support, and event excellence. And Dennis expects that Renasant will be one part of the Memphis effort to drive commercial and business tourism for decades.
"There's never a dull day in our business," Dennis says. "But that's how we like it. It's why we strive to be the best convention center in the country."
The Withers Collection Museum & Gallery – www.thewitherscollection.com
Dr. Ernest Withers, Sr. (1922-2007), a native Memphian, is an internationally acclaimed photographer recognized for his iconic photographs in Memphis and the broader South during the Civil Rights era. His well-known images of musicians during Memphis' early days of legendary blues, soul, and rock and roll scene; his chronicling of Civil Rights leaders such as Martin Luther King, Jr. and participants in Memphis' 1968 "I AM A MAN" sanitation strike; his preservation of the end of the Negro Leagues comprise an unequaled time capsule of the heartland of Mid-Century America.
Withers' images are in the permanent collection of The Smithsonian and other esteemed institutions. He took pictures of public facilities as they integrated, such as the Cossitt Library of Memphis and Memphis City Zoo. Withers also traveled, capturing Dr. King riding one of the first desegregated Montgomery, Alabama buses at the end of the famed bus boycott. In 1955, he was employed by the Tri-State Defender newspaper in Chicago to cover the trial of Roy Bryant and JW Milam for the lynching of Emmett Till in Mississippi. Here, as in his own community. Withers captured over 1.8 million images of American History. Apart from documenting those fighting for racial justice, Withers also gained acclaim by capturing some of the lighter sides of life by photographing famed Memphians who brought soul, rock n roll, and the blues into the mainstream music scene, such as BB King, Elvis Presley, and Aretha Franklin. As the official photographer for Stax Records, Dr. Withers' images of David Porter, Isaac Hayes, Rufus, and Carla Thomas paint a picture of the heart of the Memphis music scene in the mid-20th century. In addition to the Civil Rights, Music, Sports, and Lifestyle collection, the Withers archive contains an extensive Politics collection that includes presidents from Kennedy to Clinton and many other well-known figures.
Dr. Withers' last working studio on 333 Beale Street building was named in his honor by the City of Memphis in 1995. In February 2011, four years after his death, The Withers Collection Museum and Gallery opened to the public and houses images of Memphis and broader American history through the lens of Dr. Ernest C. Withers, Sr. The Withers Collection's mission focuses on preserving and sharing the works of Dr. Ernest C. Withers, Sr. because, as Dr. Withers stated, " Pictures Tell the Story."