Ralph Moyle Incorporated
Providing a top-tier freight and logistics service that puts customers in the driving seat
While the trucking business may have been hit hard during COVID, the wheels are turning and the map leads to a bright economic picture down the road for Ralph Moyle Incorporated (RMI). Steering the company in the right direction, the RMI story is one of boldness, resilience, and an unwavering commitment to providing high-quality trucking and warehousing services.
The family-owned and run business has deep roots in Mattawan, Michigan, growing from a one-man-with-a-truck company to a mid-sized firm with dozens of trucks, over a hundred and fifty employees, and a sprawling facility.
For Ashley Kordish, CEO and third generation manager of Ralph Moyle Inc, the company is where it is due to the intelligent business decisions of founder Ralph Moyle and the help of friends, family, and community in running and growing the company.
"RMI is very family oriented," this deeply family-oriented culture did not happen by accident but rather by design and intentional agency by founder and family patriarch Ralph Moyle.
"Ralph Moyle, who is also my grandpa, started driving when he was thirteen years old, at the peak of World War Two," narrates Kordish.
"The year was 1945, and although he was not old enough to go to war, he was old enough to get on a truck and transport produce. This experience planted a seed in him to start a trucking business, which would become a reality in 1952 after he had served two years in the US Army and returned to Mattawan."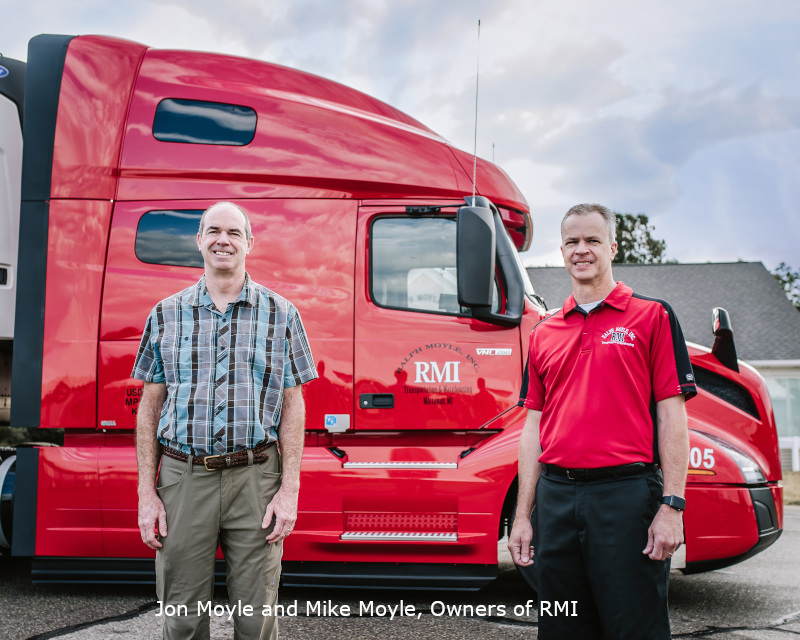 After incorporating RMI in 1966, Ralph Moyle ran the company for the next three decades as a trucking business, landing a significant contract with Coca-Cola in 1979, which the company retained.
By the late eighties and early nineties, the fleet had grown significantly, and the opportunity arose to add warehousing as a value-added service. Mike Moyle, one of Ralph's sons, spearheaded this step, adding warehousing as a new service line.
"Eventually, his two sons took over management and ownership and currently own the company as 50/50 partners. The company also grew significantly to where we are now with seventy-eight tractors, over three hundred trailers, and 360,000 square feet of ambient storage space that continues to grow."
"Today, our corporate headquarters are in Mattawan, where we do all the dispatching, and we have a warehouse and distribution center a few miles away in Paw Paw," says Kordish. "We mostly serve the Mid West market, although we always look to expand into new territories if it's a good fit for us."
As part of its services, RMI collaborates closely with neighboring communities and customers to donate items that might not be required by trucking and warehousing customers, as Kordish explains.
"We are constantly giving back to the community and collaborating with the community," she says.
"For instance, if we get a juice load that the customer won't take, but it's still good, we'll donate it to the local food pantries. We do that with a variety of products."
"We're also active with local schools, putting trucks in local parades and volunteering. I did a session of teaching junior achievement with fourth graders about the supply chain last year, and I expect to continue doing that in the future."
"We're always participating within our community because it's a big part of who we are."
RMI currently has a hundred and sixty employees working out of its two Michigan facilities, most of whom are truck drivers. Kordish admits that truck driving is difficult, and the company takes extra measures to make it easier.
Truck driving is a tough job that can keep a driver on the road for extended periods. So, we do everything we can to get them back for their kids' baseball games or other activities their children have."
"A couple of months ago, a driver called and informed me that his wife was extremely sick. He was out near Pennsylvania. We gathered up the forces at ten at night, got that driver, and took him home so he could be with his wife.
"At the end of the day, the loads are important but not as important as families and health, so we do everything in our power to ensure our drivers are present for those moments."
As the COVID pandemic fades away, its effects can still be felt reverberating across various industries. For the trucking business, which was deemed essential, COVID was a mixed bag of outcomes, as Kordish explains.
"It has been an exciting time to be in the supply chain business and see companies adjust, transform and reengineer how they approach inventory management. For instance, the demand for warehousing has exploded as more businesses shore up their inventories."
"On the trucking side, the glue that holds the entire supply chain together, it's become more of hit or miss. Sometimes loads are canceled because the load they were expecting to ship wasn't completed. Then, once the shipment is complete, there's mass chaos as suddenly we need trucks to move the loads.
"These have been very interesting times, and we must be very adaptable to navigate this environment."
Another trend is the emerging glut of trucking capacity, which Kordish says gives brokerages more leverage in how much they pay trucking companies to move loads.
"We sometimes use brokerages to fill our trucks, but the high number of trucks in the area means they can call anyone to move a load, which gives them leverage to negotiate lower rates. Fortunately, the brokerage business accounts for only around eleven percent of our work, with the rest coming from direct contracts."
RMI's direct contracts mostly come from the food and beverage industry, working with significant bottling companies like Coca-Cola. It also works with companies in the grocery industry, which proved to be a considerable advantage during the pandemic because although cities were locked down, people still needed to eat.
"Serving these industries gave us a huge advantage, which meant we didn't have to lay off a single employee during that time, which is something we're proud of," Kordish says.
Retaining all its staff also helped the company avoid the significant challenges of sourcing skilled labor. The trucking industry, especially, has remained starved for labor for as long as Kordish can remember.
"The trucking industry lacking drivers has been talked about for many years," she elaborates. "COVID just made it a little bit harder."
"One approach we use is training employees through a program where they come in, get their CDL, spend three weeks with an instructor, and another 4 to 5 weeks with a trainer to ensure they've learned everything. After that, they must pass a final evaluation with our safety and operations director to assess their ability to handle the vehicle safely."
Safety is a significant part of RMI, so it routinely drops drivers who go through this program because they did not perform satisfactorily.
"We don't just let anybody in," says Kordish. "While it is a very intensive program, we appreciate there are limitations to the training. We go a step further and put them in the truck for a week to experience what a week on the road looks like, guaranteeing total preparedness when they start driving alone."
Another factor that helps make the truckers' work a bit easier is equipment and technology.
"We like to work with new trucks and technology because it makes everyone's work easier," Kordish says. "For this, we work with companies like M&K Truck Centers and Freightliner for trucks, McLeod Software for dispatch, and Cetaris to run our repair shop."
On the safety side, RMI uses federally mandated electronic logging devices to ensure truckers alternate driving and rest times. Another is NetraDyne, a cabin-based driver assistance system that uses cameras to alert drivers on possible driving safety issues.
Complementing technology and equipment are investments in other business areas, including an additional 60,000 square feet of warehousing space and new trucks and trailers.
As RMI looks to more growth and profitability in the future, one emerging trend that Kordish is excited about is the entrance of women into the previously male-dominated trucking industry.
"The trucking industry is realizing we've got this wonderful demographic of incredibly talented females who can contribute significantly," she says. "Some of my best drivers are women."
"For the industry to tap into this vast resource, it must make the work more attractive and inclusive for everyone, not just women. For example, we need a safer environment, better parking spots, and well-lit rest-stop facilities."
"I'm excited to see where this goes because I think women are starting to realize that trucking is a viable career path and an exciting one to join."
AT A GLANCE
Ralph Moyle Incorporated
What: Family-owned and operated trucking and logistics company
Where: Mattawan, Michigan
Website: https://www.ralphmoyle.com

Van Manen Petroleum – www.vanmanen.com
Providing quality lubricating services for your Commercial, Industrial or Agricultural Business since 1952, Van Manen Petroleum Group offers prompt, dependable service for delivery of all your diesel fuel, gasoline, and lubricants. Our highly trained personnel are certified in all aspects of oil analysis, performance evaluation and deployment of environmentally safe delivery systems.