Oscoda-Wurtsmith Airport
Ready to launch
Business View Magazine interviews Gary Kellan, Airport Manager at Oscoda-Wurtsmith Airport, for our focus on U.S. Regional Airports
Oscoda-Wurtsmith Airport is no stranger to rolling with the punches, having seen a lot of changes since its humble beginning as a soft-landing airfield for the Army Air Corps in 1923.   The Airport may now take a quantum leap forward by becoming the first horizontal launch spaceport in Michigan.
This opportunity is being pursued by Michigan Aerospace Manufacturers Association which is a professional affiliation representing aerospace industry manufacturers and service providers. The Association has completed a site selection process which identified feasible locations, within the state of Michigan, for establishing spaceport launch and support facilities. Gary Kellan, Oscoda-Wurtsmith Airport Manager, reports, "Michigan Aerospace Manufactures Association has identified three Michigan development sites. Oscoda-Wurtsmith Airport is their preferred development site for supporting horizontal launching of space vehicles."
Kellan explains that horizontal launching involves attaching space vehicles to jet aircraft, which then fly to a determined altitude and location where the space vehicles are released for launch to a 'Lower Earth Orbit' flight pattern. The other two sites are located within Michigan's Upper Peninsula. A site located along Lake Superior, within Marquette County, has been identified as the preferred development site for establishing vertical launch facilities. The third site is located at Chippewa County Airport and will support space vehicle missions as the Command and Control Center.
Oscoda-Wurtsmith Airport has a long and storied military background. It was used to train for winter maneuvers throughout the second world war. In 1953 it was renamed Wurtsmith Air Force Base after Michigan native, Major General Paul Wurtsmith. At the time, it was considered a vital Air Defense Command base and was equipped and manned with interceptor aircraft capable of flying over the North Pole into the Soviet Union. In 1960 it became part of the Strategic Air Command (SAC) – home to nuclear weapon-capable B-52 bombers and KC-135 Strato-tankers to provide airborne refuelling.
In 1993 the base was decommissioned and turned over to the Oscoda-Wurtsmith Airport Authority which includes representation from five local municipalities: Alcona County, Iosco County, Charter Township of AuSable, Charter Township of Oscoda, and Greenbush Township. The massive runway, which measures 11,800 by 200 feet, continues to be maintained in support of the many large, wide-body aircraft arriving to receive a variety of maintenance, repair and overhaul (MRO) services. Many of those flight operations are attracted to Oscoda-Wurtsmith Airport in order to be serviced or repaired at the aircraft maintenance facilities that are operated by Kalitta Air. Additionally, Phoenix Composite Solutions and Flight Services is providing aerospace component manufacturing and repair services. The combination of extensive runway, available airfield pavements, and aircraft maintenance capabilities are launching Oscoda-Wurtsmith Airport towards becoming a spaceport.
"We are bringing space to Michigan," states Gavin Brown, Executive Director for the Michigan Aerospace Manufacturers Association. "The airport has a perfect runway and great manufacturing capabilities, so what we are doing is complementing it with an ecosystem that will take the academia and research development side, along with what is being done in commercial and government, and provide an entire ecosystem for primary deployment to LEO (Lower Earth Orbit) and MEO (Medium Earth Orbit). So that we focus specifically on a business growth model."
Specifically, this work will be going forward in phases. The first phase is the licensing process for the FAA which should take about 18 months. That means that phase two, actual building and manufacturing, can begin in 2023. On top of everything else, this will also mean bringing both direct and indirect jobs to the area. Projections show close to 600 new jobs initially and then limitless growth from there.
"We have a value advantage at Oscoda," says Brown. "With partners like Kalitta Air already in place we just need to transition towards working on the aircraft that will be involved in the horizontal launch program. That means we will not have to ship our planes elsewhere for repair and retrofit, we will have the facilities right there. This will also benefit Kalitta, it's a win-win situation."
"Here is the other thing," Brown continues, "when we are talking about LEO and MEO, we are talking about satellites and the information that comes from them. This type of work in space is focused on what is happening back on earth and so the work we are doing will be benefitting different aspects of life, like agriculture and mapping, and it will be directly related, and have an effect on, how we plan and live our lives in the future."
For Brown, this is not so much a brand-new sector, but learning that is happening within an existing framework – the transportation sector. Michigan has a robust transportation sector with automotive and ground vehicles. It is also getting more and more into the water, air, and even UAVs. "Space has usually not been included in that equation," says Brown, "so with the inclusion of space, we are just shifting how we see transportation. The legislation will have to consider what is above us and the role it plays in our lives. There have been states such as Florida, California, Virginia, New Mexico, and Texas that have already been building their economy with an understanding of how to thrive in space, we just need to catch up. It is exciting to have Oscoda participate in America's future."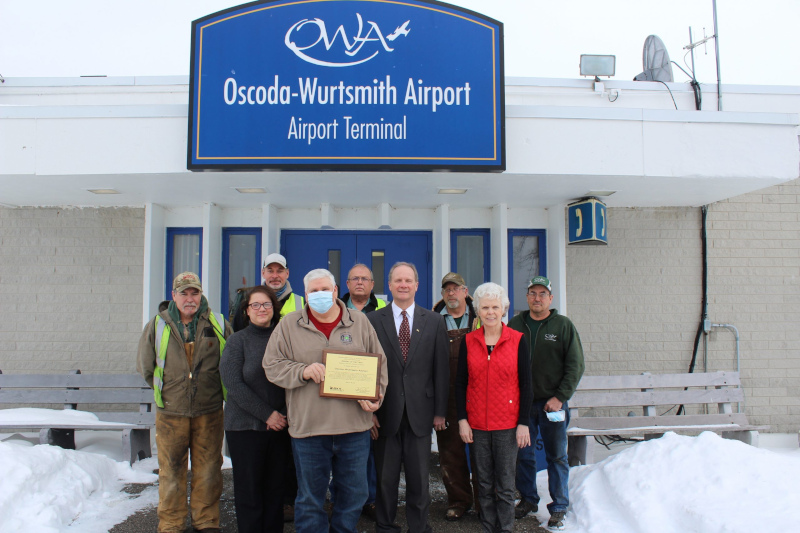 Last February, the Michigan Department of Transportation Bureau of Aeronautics awarded Oscoda-Wurtsmith Airport an "Airport of the Year Award" in the General Aviation category. It is not hard to see why when you look at the Airport's continuous upward trajectory. The curious thing is that it remains a relatively small general aviation population while all of this is also happening around them.
"About a year ago Oscoda-Wurtsmith Airport Authority was approached by the United States Air Force – Air Mobility Command about conducting a military exercise from our airfield," says Kellan, "which was pretty exciting because we had not had any military presence here since the base closed in 1993. Air Mobility Command brought in 300 people and set up their own encampment. It was a simulated war time scenario that involved utilizing a non-military airfield for establishing a temporary base of military operations."
Five military air-to-air refuelling tankers were stationed at the airport – three KC 135 Stratotanker and two KC 10 Extenders. Kellan recalls, "They flew missions out of here twice a day, going out and refuelling at selected rendezvous locations. The community was pretty excited to see the military back in town!  Many residents have roots that go back to the days when the military base was operating. We are hoping this becomes a regular event."
Other industries located at the airfield include Oscoda Engine Services, P & L Development, InstaCoat Premium Products, Sage International, and Phoenix Composite Solutions – which also operates the FBO as Phoenix Flight Services.
"Our future plans are now aimed towards what is coming with the spaceport designation," says Kellan. "In support of that vision, the Airport Authority continues to pursue funding for maintaining airfield pavements and infrastructure." Recent examples include completely resurfacing of the runway during 2018 and continuing phases of resurfacing large sections of the heavy aircraft capable parking apron during 2020. None of this work could have been accomplished without the funding assistance and support being provided by the FAA, Michigan's Department of Aeronautics, and the services provided by the Airport Authority's retained engineering consultant – Mead & Hunt Inc.  Kellan acknowledges, "We've completed a string of pretty heavy-duty construction projects lately, now we are preparing for what is coming after 2023 – when Oscoda-Wurtsmith Airport also becomes designated as a 'Spaceport'.    We expect this to be a very busy period in the Airport's continuing development history."
The business development activities at Oscoda-Wurtsmith Airport are not just benefitting the local community, but also providing a regional impact as a huge economic engine. The Oscoda-Wurtsmith Airport businesses collectively employ approximately 1,800 workers. According to Kellan, "That is already a significant percentage of the regional workforce and that percentage is likely to continue to increase. It has been very interesting and rewarding to be involved with the Oscoda-Wurtsmith Airport redevelopment project."
AT A GLANCE
Oscoda-Wurtsmith Airport
What: A public-use, general aviation airport
Where: Iosco County, Michigan
Website: www.oscairport.com