First Fed Delta
Simply Community
Business View North America interviews Craig F. Fortin, President of First Fed Delta, for our focus on U.S. Community Banks
It is all about community for First Fed Delta, a mutual savings and loan institution in Northwest Ohio. The story started in November of 1934, when citizens of Delta, Ohio combined their deposits and opened the First Federal Savings and Loan Association of Delta – a true community-owned bank and an alternative to the investor-owned institutions available at the time. Since then, they've opened five more locations in Ohio, never losing sight of the original purpose to provide friendly, knowledgeable banking services to the neighborhoods they serve.
In 2019 the company underwent a rebranding, shortening their name from First Federal Savings and Loan Association of Delta. "We worked with MadAveGroup, a local marketing innovation company," explains First Fed Delta President Craig F. Fortin. "They helped us rebrand ourselves because we needed something that would actually fit on the signs. We had different signs at all our branches, and we wanted to put a consistent brand together yet still recognize our heritage here at Delta."
New signs and a new name don't mean the focus has changed – the bank's 38 employees remain committed to offering a friendly, easy experience for customers. "Through the years we've been focused on basic banking services, primarily checking, savings, and mortgage lending," says Fortin. "Today, we continue to do that exact same thing. Our mission in our communities is to remain that viable alternative to other banks, where we provide simple, basic banking services, and we don't expand beyond our horizons."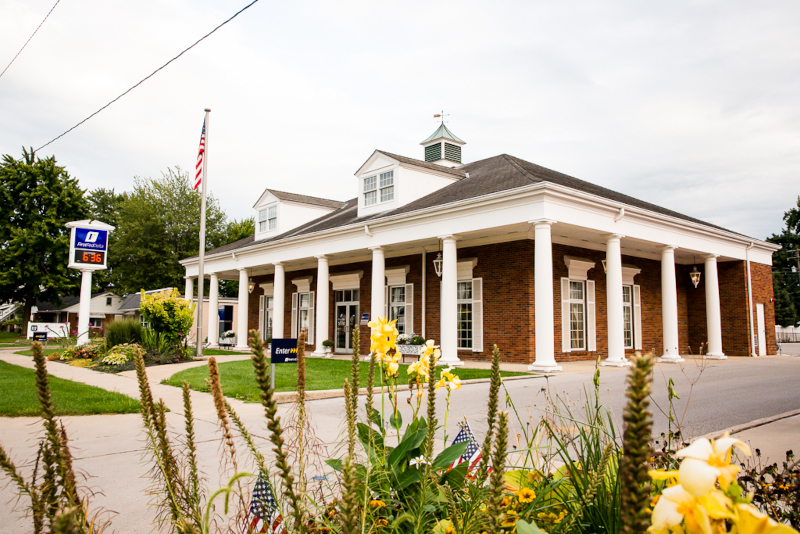 Prior to COVID, many customers would come into a branch to do their banking, often staying for a visit. Having to adjust to a new way of doing business was a learning experience. As Fortin recounts, "In the beginning, I think everyone was adjusting to not being able to come into the branches. We split up our staff to protect our employees and closed our lobbies to appointment only.  A lot of people weren't used to using the drive-through, especially in our smaller communities. They were used to coming in, saying hi, having a cup of coffee. Well, that kind of changed, out of necessity. We had to protect our employees so we could keep serving our customers."
Being a smaller, neighborhood bank, meant that First Fed Delta's staff and customers were used to an in-person experience. Direct communication was maintained with customers through Zoom, facetime, and phone calls. Web cameras were added to every branch, and everyone adapted together. "It really worked to our advantage because we were in direct contact with all these customers. They weren't dealing with a website; they were actually dealing with a live person on the other side of the phone or Zoom call," says Fortin, adding, "I think the two best technologies we utilized during that time are the oldest technologies – email and the phone."
Working with Fiserv, a global fintech and payment solutions company, First Fed Delta was able to upgrade their online banking systems in 2020. The bank also worked with IT solutions company NetGain Technologies, to upgrade its internal network and security systems during the pandemic. Fortunately, many of the employees on the operations side of things were able to work remotely. Branch personnel who were sent home, were told there was not going to be any cut in pay. Fortin shares, "We were basically going to pay everyone for the 40-hour work week, whether they were in the branches or not. That was our decision not to have them there, and we were expecting them to be available in case someone got sick. We assured everyone this was not going to impact their take home pay."
As schools and daycares began closing their doors, employees found themselves in a variety of unexpected circumstances. It was left up to the staff to decide how the team would be split up, something which really reflected on the work culture and community mindedness of the bank. VP & Chief Retail Officer Elizabeth Reynolds shares, "We really saw generosity among the organization. Those that could come into work, whether it was a teller or from an operations perspective, really stepped in and helped those that could not. Sometimes people want things to be fair, and this was certainly not a time we heard that. It was more about getting through it together. We saw that from our employees, which was awesome."
With rates dropping and mortgage lending increasing, First Fed Delta saw an increase in business during the pandemic. As well, the Paycheck Protection Program (PPP) was introduced through the Federal Government to assist businesses in keeping workers on payroll. This program was utilized by many local businesses, adding to the volume of work for the bank employees.
"We ended up doing a lot more remotely and working through a lot more things electronically than we ever had in the past," says Fortin. "Almost all our PPP lending was electronic because our customers did not want to come into the bank, and we were actually working as an executive team remotely. Because we did mortgage loans, a lot of our customers had banked personally with us, but not with their businesses. I would say 90 percent of them had a direct need, beginning day one, to retain employees. We were their only bank, so we really had to do this, to help get them that funding to keep their employees in place." Fortin credits the expert assistance of both The Community Bankers Association of Ohio and The Ohio Bankers League during COVID for helping to navigate the resources and challenges that First Fed Delta faced as a smaller bank.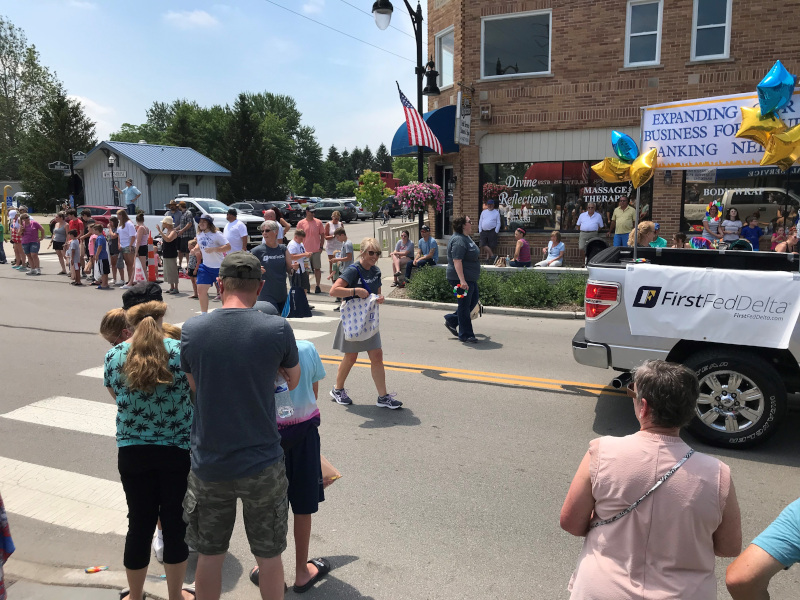 In 2019 the bank relocated their Holland branch, working with The Douglas Company to build a brand-new building. They designed this branch to provide a more up close and personal experience; however, the timing could have been better. Fortin acknowledges, "They did a really nice job. We love our branch. It was built to be much more open and provide closer contact with the customer utilizing teller pods. It was just a little more of a challenge when we had to keep people separated." GEM Facility Management, has been instrumental in keeping things running smoothly for First Fed Delta. When the bank had to replace two roofs in the past year, the GEM team quickly took care of it. "We started using them a couple years ago, and they have just been fantastic. They are our 'easy button' when we've had to work on different things, facility-wise," reports Fortin.
Involvement in area non-profit organizations such as the United Way and Chamber of Commerce is one way that First Fed Delta gives back to their community. Participation in local events such as the Delta Chicken Fest and other parades and festivals is also an ongoing activity for the bank. Last holiday season, instead of purchasing gifts for business customers, the bank provided financial and goods donations to various local organizations supporting the surrounding neighborhoods. Reynolds shares, "The branches picked a local group to help and provided the needed service. A couple of our branches also provide meals to the community on a regular annual basis. We do this in conjunction with local non-profits. So, we do our best, but you always think you can do more."
Looking forward to a future of continued growth, Reynolds shares her thoughts about what comes next for First Fed Delta, "From a service standpoint, and availability of products, and what we can do on the mortgage side, we do that all so well. I think from a technology standpoint, we have a little bit of room to grow and to learn, but I think we have really been making some great strides in the last two years on that platform."
Asked about his hopes for the future of First Fed Delta, Fortin quips "that everyone in our local community banks with just us," before adding a more serious note: "We are different than other banks because of the structure of our ownership. Our board is really committed to being here in the communities, providing that alternative to other banks. We know some things we can do better, including the small business side, and we are working on improving that. We are focused on growing within our communities, rather than outside of them, because we don't want to forget those people that have made us what we are over the years."
*Pictured at top: VP & Chief Retail Officer Elizabeth Reynolds, and President Craig F. Fortin
AT A GLANCE
First Fed Delta
What: A friendly, prosperous community bank
Where: Delta, Ohio
Website: www.firstfeddelta.bank

NetGain Technologies – www.NetGainIT.com
Motivated to exceed client expectations with expert talent and technology, NetGain Technologies is the leading provider of IT services and solutions across the Midwestern and Southeastern U.S. NetGain helps businesses, like First Federal S&L Association of Delta, use technology to make their organization more efficient, secure, and profitable.