NCLM – North Carolina League of Municipalities
town-focused efforts
Working to better the towns and benefiting residents through its efforts
Business View Magazine had the opportunity to sit down with the North Carolina League of Municipalities to discuss issues pertaining to its key objectives as well as issues affecting its members as we enter a new calendar year ahead.
1. Provide a brief Introduction to the founding and history of the League.
The North Carolina League of Municipalities was founded in 1908. Then, as now, its cornerstone mission is advocating on behalf of cities and towns before the legislature, state agencies and the courts so that municipalities and their residents can pursue their unique visions for their communities by preserving local authority. Today, NCLM also offers insurance lines for North Carolina cities and towns, and a range of services.
2. What are some of the key trends for Municipalities in N. Carolina right now?
North Carolina, like many other states, has seen huge trends in urbanization over the last few decades. The state's larger cities and the surrounding towns in those metro areas are experiencing tremendous growth and becoming economic powerhouses. Many rural towns, meanwhile, have experienced population and job loss. This has left those towns facing financial challenges, especially water and sewer systems that have lost ratepayers and large industrial users that paid for their operation. Despite those challenges, we see many of those towns actively leveraging natural resources and other resources unique to each to redefine their local economies and reinvigorate their downtown business districts.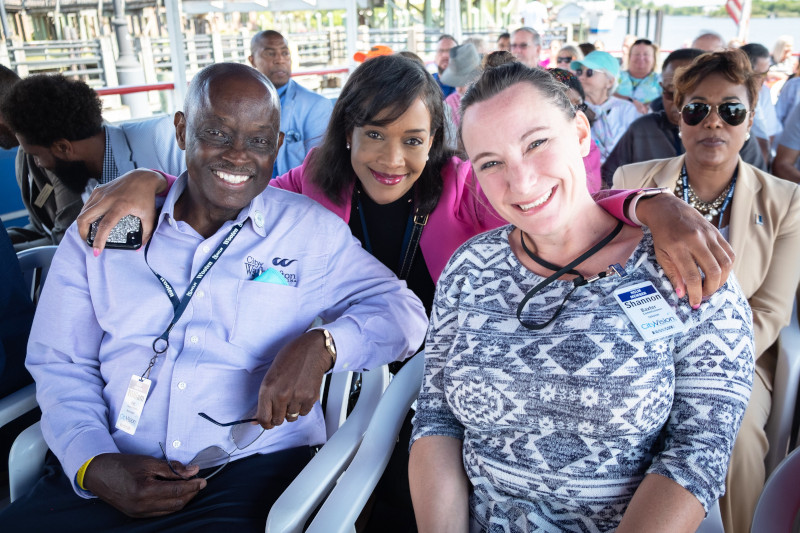 3. What do you do as an Association to advocate for your members?
NCLM advocates for cities and towns at the North Carolina General Assembly and before state agencies. That advocacy takes many forms and involves many issues, but typically comes down to one basic principle – government is best that is closest to the people, and local authority must be preserved over one-size-fits-all solutions that do not respect the diversity of cities and towns. Most recently, NCLM was heavily involved in making the case for infrastructure needs as the pandemic roiled local economies. As a result of efforts both at the state and federal level, North Carolina cities and towns will see historic investments through direct funding from the federal American Rescue Plan Act and through state funding that came about as a result of ARPA funding. The organization has also been critical in providing resources to member cities and towns regarding how that funding will work and the requirements once it is received. Meanwhile, we continue to provide a range of other services related to legal assistance, insurance needs, and operational and financial administrative help.
4. How did Communities need to Adapt to keep building throughout the crisis?
The pandemic brought both health and financial challenges early on. As people limited  activities, cities faced losses in various revenues – especially hotel occupancy and restaurant meals taxes, and water and sewer fees – that affected the ability to deliver services. As time went on, though, local officials turned their focus toward the future and future economic growth. The American Rescue Plan Act dollars and state funding made additional investments in water, sewer, streets and downtown redevelopment possible, investments that form the foundation of business and job growth. City officials pushed forward with these types of infrastructure investments knowing that it is the key to continuing economic growth. Even before passage of the ARPA, municipalities in the state continued to work on comprehensive  plans focused on business revitalization in their downtown and other areas, trying to build on successes that were occurring prior to the pandemic.
5. Why should New Families, Businesses or Developers look to North Carolina?
North Carolina cities and towns are as diverse as any in the country, and in every way – from their geography to their demographics to their economies to their individual visions. We enjoy picturesque mountain towns that thrive as tourist communities, large bustling cities that are high-tech job centers, and military communities that know how to cater to military families. This diverse patchwork of communities is a real strength of the state, enriching residents' quality of life and providing businesses with choices tailored to their needs.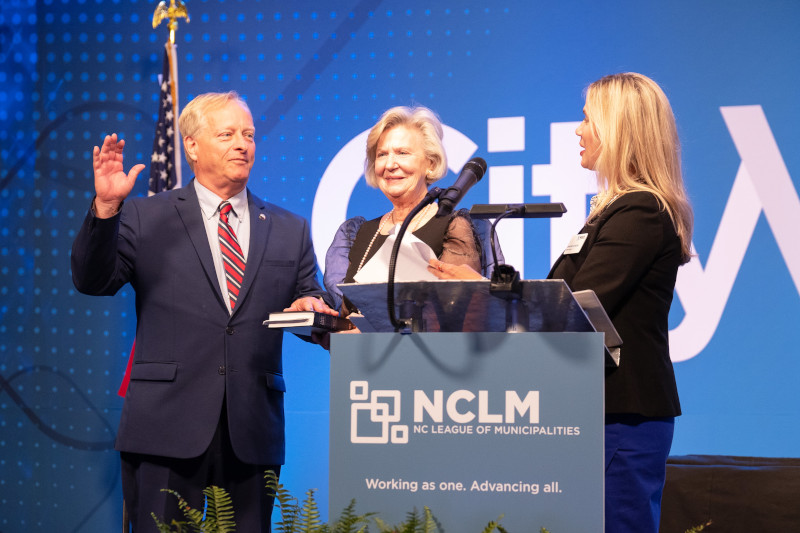 6. What way do you seek to market or promote your members?
NCLM does not engage in traditional economic development marketing, but we do believe that it is important to tell the story of how cities and towns and their services contribute to the economic success of the state. Cities are the economic engines of the state. With that in mind, the organization created its Here We Grow initiative, found at herewegrownc.org, highlighting investments made by municipalities that are leading to business and economic successes.
7. Any examples or stories that exemplify our message That we are presenting.
 Brevard, NC:
The City of Brevard is a top tourist destination in western North Carolina, but having under 8,000 full time residents, the city's American Rescue Plan distribution is relatively small. Their plan, then, was to make each dollar go as far as possible. They'll accomplish that through infrastructure.
"For a small municipality, investing $2.5 million into infrastructure is a very big deal," said Mayor Maureen Copelof. "These investments will last for decades."
Brevard's foremost investment will be into stormwater. Setting aside $700,000 of ARP funds towards that category, the city is addressing areas with known stormwater issues, including some key commercial and recreational locations. Each of those areas was selected strategically, not only due to their importance to the community, but also because the city can coordinate its ARP projects with additional city-led initiatives.
For example, one area receiving stormwater improvement will be Times Arcade Alley, a street that hosts restaurants, shops and various businesses, and that is regularly stricken with stormwater problems. It is also an area that needs certain aesthetic improvements. Brevard's plan is to use ARP funds to fix the stormwater and, once the area is dug into, then use general funds to improve paving, add green space and bury utility lines. The city is using the same approach towards stormwater improvements on Railroad Avenue. With ARP funds, Brevard will be installing catch basis; and once dug into, Brevard will be installing a pedestrian greenway with general funds. "We're using a combination of funds to do several things at the same time," said Mayor Copelof.
Brevard's other two ARP expenses will also go towards critical infrastructure: the repairing of the 55-year-old Railroad Avenue Bridge, and the expansion of residential waterlines to serve the town's growth.
"(ARP) is going to allow us to do projects that would be otherwise beyond the scope of our being able to do," said Mayor Copelof. "It's really going to allow us to leverage our funds."
Administration
Focus on Need: Stormwater repairs are not a peripheral agenda item for Brevard. Rather, it's an absolute necessity, both for the city's residents and businesses. According to the National Centers for Environmental Information, and as reported by Blue Ridge Public Radio, roughly 413 inches of rain fell in Transylvania County from January 2017 to December 2021, making it the wettest county in the state for that period. "If it there's a heavy rain, you're walking through a couple of inches of water in Times Arcade Alley," said Mayor Copelof. Through ARP, that problem will be put to rest.
Two Birds, One Stone: To get the most out of their funding, Brevard tied in ARP uses with other long-term strategic plans. While digging to complete its stormwater repairs, the city will provide to residents new greenspaces, new greenways and other amenities.
AT A GLANCE
NCLM North Carolina League of Municipalities
What: The body that puts a face to the towns in the region
Where: Raleigh, North Carolina
Website: https://www.nclm.org/