Murray Homes
providing a unique concierge luxury home management and maintenance service
Offering one stop property inspection and repair service offered to high-end clients, Murray Homes leads with ingenuity
It wasn't that long ago that experts predicted that the real estate and housing sector would buckle under the weight of an impending pandemic. In reality, the exact opposite occurred.
Properties across the continent skyrocketed in value throughout COVID and houses became even hotter commodities, attracting multiple offers and routinely selling at well over the asking price. Even in the higher end multi-million dollar luxury market, home sales have remained robust. This trend is amplified in highly desirable locations such as the west coast of Florida.
Not only are existing homeowners keen to keep hold of their residential real estate investments, but New Yorkers and East Coast homeowners are also continuing to sell up and move south to buy into the relaxed, year-long-vacation lifestyle that luxury living affords in the Sunshine State.
For Steve Murray, President of Murray Homes, creating beautiful luxury homes and tapping into the increased demand for these types of properties has fueled the success of his Sarasota, FL based custom home building business.
"In Sarasota, we have been attracting a swathe of high net worth individuals who are buying and building incredible homes. This has been even more pronounced in the last few years," Murray begins. "As a result, there are greater opportunities for us to build, remodel or renovate and on the waterfront, our average project price right now is around $4 million, however, we are seeing as much as $10-$12 million being spent on new build projects."
Prior to 2018, Murray Homes focused its efforts on building impressive high-end properties for end users. However, in recent years, the industry has presented some new opportunities, partly due to Murray's recognition of an untapped market niche, and partly due to the substantial property damage caused by Hurricane Irma in 2018.
"I've been building homes in the area since 1994, and after Hurricane Irma we concluded that there was a need to provide a service that specifically cares for, services and maintained luxury and waterfront homes on an ongoing basis.," Murray reflects.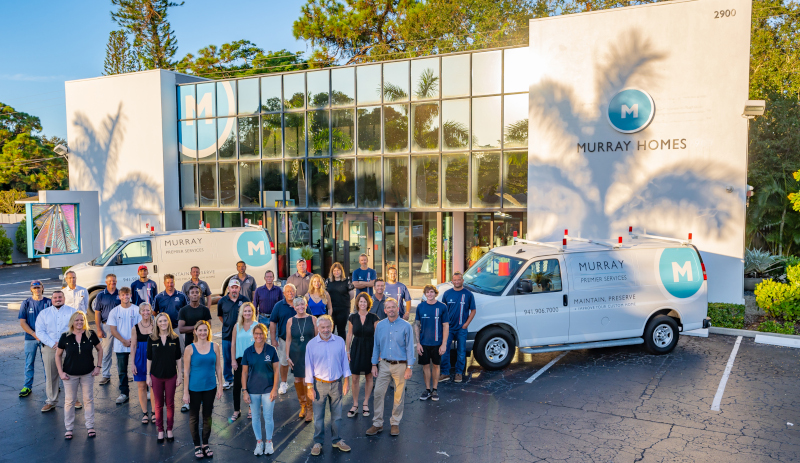 "At the time I had 44 houses that I had built that were owned by folks who were out of town during hurricane season. In the aftermath of Irma my team visited each one of those homes, checking to ensure that it was okay, assess any damage, and report back to the homeowner. We then developed a plan for repairs, if needed, and made recommendations to ensure the home would be more prepared for any future storm impact."
The service that Murray and his team provided to each of the homes they had built lay the groundwork for an idea to create an ongoing maintenance service for clients, Murray Premier Services. It is a natural diversification for Murray Homes, and one that sets it apart from other home builders.
"We received a great deal of gratitude for doing that, because the storm follow up service was not requested. "We did it because we cared, and I wanted to make sure that our clients were serviced and looked after properly." "From that moment, it was very obvious that there was a demand for a concierge maintenance service, especially since a high proportion of homeowners are part time residents," he continues. " So we started to formulate the business plan for Murray Premier Services."
Murray points out the key aspects of this service."It begins with a house inspection," he notes. "We carry out a complete evaluation / home check of all the major and minor elements of the home (ac, plumbing, roof etc) and identify any immediate issues, pre-empt any potential problems, then provide a report with recommendations and estimates, and then, with the client's approval, we facilitate and oversee any work that needs to be done."
This novel concept caught the attention of franchising experts Matt DiMauro and Terry Nicholson, whose track record of creating and developing successful national franchise models immediately intrigued Murray.
"Matt approached me and said that he was very interested in the Murray Premier Services business model, and could we get together to discuss a potential business plan, because he believed that we had the basis for a great franchising model opportunity and, with his expertise, we could hone it into a very successful venture," Murray relays.
Steve, Matt and Terry ultimately became business partners, and a new service model under the brand name Proper was born. Proper provides complete concierge home management and maintenance services to luxury, custom and waterfront homeowners. The business was incorporated a few months ago, and has been generating a buzz in the luxury home management market.
"Customers have been transferred across from the original Murray Premier Services into Proper," Murray describes. "The service consists of a home evaluation, which normally takes about one day. We evaluate and scrutinize absolutely everything that is right and wrong with the house," Murray outlines.
"That provides us with a full blueprint and documentary evidence supporting the condition of the home along with an inventory of service providers, from which we devise an executive summary report and recommendations. We then carry out the work and manage service providers on behalf of the homeowner.
Proper also undertakes storm preparation and recovery. "We are providing an element of peace of mind and effectively serve as recovery assistance should an emergency situation take place," DiMauro outlines.
"We have the resources on standby, willing and able to assist and this represents the uniqueness of our service, and revised business model." "What we have developed with Proper is a unique full-service home management company that facilitates all of your home's routine needs, from pool service to HVAC maintenance, house cleaning, and landscaping, washing, you name it," DiMauro adds.
Under Proper, each home is provided with a dedicated 'Homecare Manager' whose job is to proactively manage the home and the maintenance as part of an ongoing monthly routine service, a true one-stop shop. After enrolling in the program and committing to a service agreement, customers pay a subscription on a month-to-month basis. Existing client response and new client acquisition to date has been clearly positive, and definitively fills a much needed gap in the market for luxury home management.
So what does the future hold for Proper?
Murray, DiMauro and Nicholson have ambitious plans for expansion into other luxury residential markets by pursuing future franchising operations across North America and are undoubtedly uniquely well-positioned to expand in years to come.
AT A GLANCE
Murray Homes
What: Award winning luxury home builder providing a unique full-service custom home maintenance and renovation service
Where: Sarasota, Florida
Website: https://www.joinproper.com