Mountain High Appliance
Colorado's trusted source
Business View Magazine interviews representatives of Mountain High Appliance for our focus on the Colorado Home Building Sector
If you want to test drive new appliances before you buy them, Mountain High Appliance is the place to go. Locally owned and operated since 1993, Mountain High Appliance is Colorado's trusted, local source for industry expertise and endless appliance options from the most trusted brands. The company prides itself at offering every major appliance line, as well as delivery and professional installation.
Mountain High has invested in its facilities to drive brand loyalty with a state-of-the-art showroom featuring 12 live kitchens and a clearance center offering high-quality appliances at affordable prices. The company's tagline invites customers to "experience the difference," indicating that all its team members are dedicated to working with customers honestly, listening to their needs, and providing background and educational information that supports a smart buying decision.
President Brad Barnett founded Mountain High by selling used appliances out of his garage 30 years ago. Over the decades, he expanded to the current five locations in Colorado Springs, Glenwood Springs, Littleton, its flagship store in Louisville, and a clearance center with hundreds of live appliances for a true "try before you buy experience."
Roughly 60 percent of Mountain High's current business comes from contract sales, or builders, with another 40 percent direct from consumers. According to Mountain High Marketing Manager Maureen Ledwell, "No matter who our customers are, people like to touch, feel and see the product before they buy. Many appliances are a major investment so there's no substitute for seeing it in person."
Given its size and customer base, Mountain High Appliances has access to more than 60 name brand appliance OEMs but concentrates on consistently offering about 10 of the most recognizable high-end brands. From kitchen to utility room appliances, Mountain High's employees are highly trained and experienced. They are always cognizant of the need to provide appliances that fit customer needs and budgets. "Appliances have changed so much in the last 30 years, it's almost unrecognizable," says Ledwell.
Adapting to the New Normal
March 2020 marked a turning point for many businesses, and while Mountain High had to adapt to short-term closures and the lack of in-store foot traffic, the company and its professionals quickly adapted. Team members provided virtual tours on tablets and mobile phone options for customers unable or unwilling to visit a showroom. Sales Manager Jared Parr recalls, "Once we started opening back up a little in May 2020 and over the summer, volume really skyrocketed and it has never slowed down since."
Mountain High staff still meet with customers remotely and even though the company does not direct- sell appliances online, many sales are virtually finalized before a consumer or builder even comes to a retail location. Most customers like to conduct their own online research and thus have a good idea of their tastes and budget before they even get to the store. "Some customers will want us to sell them a knock-off brand because of a lower price and we can do that," Parr explains. "But we are always open and up front that we may not be able to serve that appliance's maintenance needs. It's a lesson that there's tremendous value in choosing a higher-end brand because over time you will actually pay less for a better product given how long it lasts."
The best employees offer unmatched customer service
Finding new employees these days is difficult, so it is fortunate that so many of Mountain High's employees have been with the company for 10, 15, and even 20 or more years. Still, as the retailer has grown, the number of employees has remained stable for nearly two years. "It's still tough to find qualified workers for many positions, such as delivery professionals," Ledwell admits. "We have enjoyed positive revenue growth but the employee numbers have remained pretty flat even though we could use extra help."
Parr adds, "Fortunately, everyone picks up the slack and goes above and beyond. It's good to have employees you trust who can do a little bit of everything because it makes for a better overall customer experience."
Mountain High will conduct onsite training for its nearly 120 employees on new products and features, but most of the larger appliance OEMs have one or more training facilities located across the U.S. Team members who provide customer service and support sales initiatives are often sent to these training centers for in-depth information on popular brands and features.
One of the most unique features of Mountain High is not only does the company have an installation team that can install a fully working appliance at a customer's home or a business setting but it has a modification team, as well. That group of professionals specializes in making small adjustments at a customer site that will allow one or more appliances to fit in an intended space. "We don't knock down walls or do major construction work but there are often modifications we can make. Our customers appreciate that," says Ledwell.
Overcoming supply chain issues
Like most industries, the appliance sector has battled supply chain issues since March 2020. The unavailability of parts has backlogged orders for popular products by several months in some cases, even as OEMs are manufacturing those products at or beyond 100 percent capacity. The culprit is often those semiconductor chips that are made in only a handful of places around the world and are one of the main reasons that finding new automobiles, trucks, and SUVs has been so difficult.
The same can be said for appliances, with the more high-tech and modern models run largely by similar semiconductor devices. While demand has risen for high-efficiency appliances, both through consumer interest and government mandates or incentives, those are the models that are more likely to require additional parts that remain in short supply. Some of the mid-level, well-known brands such as Whirlpool, Kitchen Aid, and GE are focusing new product lines on sustainability but are having to make more units with fewer high-tech features in the short-term just to fill demand, according to Parr.
One brand making headways is Beko, a turnkey product line that manufactures 100 percent carbon neutral products. As the supply chain starts to slowly open up in the months and years ahead, that European brand will likely become more popular as consumer demand for efficiency continues to build. However, Parr believes it may be another 3-5 years before the supply chain returns to some semblance of "normalcy."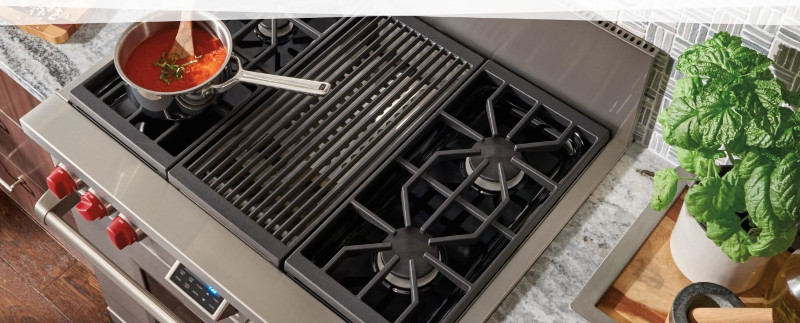 Technology upgrades and trends highlight new appliances
Besides greater demand for high-efficiency products, more consumers are looking for appliances with digital and Wi-Fi capabilities. Ledwell elaborates, "There are appliances out there in all segments that can connect to your phone. Really, you could power and control just about all of your appliances by your phone these days – everything but loading up your dishwasher!" As industry tradeshows return additional newer technologies and capabilities will be introduced.
One of the most prominent technology trends is the move away from natural gas and toward induction. There are many benefits, most notably that induction is safer. In fact, some communities in Colorado, including around Denver, have or are considering a ban on utilizing natural gas with new home builds as a way to reduce the impact of individual or large-scale wildfires. "The problem is lead times are longer right now with induction appliances but it won't stay that way forever," Parr says. He adds that many manufacturers in the appliance space want to launch new products but they won't fully bring them to market until current orders are filled.
Next up: expand the brand
Mountain High Appliances expects to see growth and more customers from various parts of Colorado, including Summit County, one of the state's fastest growing counties. Ledwell says that the company plans to invest in some new marketing to widen its customer base but for now it does not plan to open new retail locations. "We have plenty of opportunities to grow our brand and earn new business from current customer referrals," Parr says. "We're in a great position and are fortunate to have loyal customers."