Gudenkauf Corporation
Gudenkauf Corporation
Business View interviews Mark W. Rogers, GM of Gudenkauf, for our focus on the U.S. Construction & Telecommunications Industries
When Gudenkauf Corporation was founded in 1977, the world was a very different place from the one we inhabit today. The proliferation of mobile and online technologies has meant that communication solutions are essential to every industry, in all parts of the world. From its headquarters in Columbus, Ohio, Gudenkauf Corporation provides diversified telecommunications, utility, and systems integration solutions for various projects, in collaboration with an exceptional team of partner firms.
In December of last year, Gudenkauf was purchased by Congruex, a multinational network construction firm based out of Boulder, Colorado. As a result, Gudenkauf has grown from around 250 employees to over 3,000. Mark W. Rogers, GM of Gudenkauf, spoke with Business View about what the acquisition means for the future of the company and how it has remained at the cutting-edge of communications technology for over 40 years.
"Today we have a lot of 'inner business unit offerings' that we did not have prior to the takeover," Rogers says. "One of these business units is CHC, an engineering firm that undertakes a lot of design work for the big carriers here in the US. That's just one example of how we're now able to offer a whole turnkey design and build service far better than before."
As well as making a lot of additional capital available, the Congruex acquisition has also led to exciting new business opportunities. Gudenkauf is now a registered CLEC (Competitive, Local, Exchange, Carrier) with the state of Ohio. "Now we can actually build our own networks and sell some of that space to companies that we would have never dreamed of selling to only six months ago," Rogers comments. "We didn't have the legal skill, knowledge, or capacity to pull something like that off but now we do. So these are the kinds of benefits that are going to be really good in the long-term for Gudenkauf."
The partnership with Congruex will also be beneficial for Gudenkauf's customers. The company works with a broad variety of industries, both in the public and private sectors. Rogers adds, "We work with a many manufacturing companies, higher education institutions, and local municipalities on a variety of fiber projects across all the carriers, whether it's AT&T, Frontier Communications, Segra, or a number of others. I think our diversity of customers has been key to our success, particularly when the industry has been going through a difficult patch."
Another reason why Gudenkauf has been able to thrive even during periods of industry turmoil is the expertise it offers in building fiber networks – including its last-mile offering – and other network solutions. "As well as fiber-to-premise, another forward step came when we got involved in intelligent transportation services (ITS)," Rogers notes. "In central Ohio over the last 10 years, we have built more than 800 miles of ITS networks and connected around 750 intersections. We've also been involved in autonomous vehicle projects."
Although much of the acclaim for Gudenkauf's innovative work must go to the company's employees, the City of Columbus itself also deserves a mention. "Columbus is a unique place to live and is really on the cutting edge of a lot of technological developments," Rogers explains. "A few years ago, the city was awarded a $40 million federal grant as the winner of the Smart City Challenge. At Gudenkauf, we've been involved in many of the projects that have been developed as a result of the city's win."
The diversity of services offered by Gudenkauf is clearly one of the company's main strengths – and its employees have never been afraid of meeting new technological challenges head-on. "Our main service is still off-site construction but we're unique in the way we work for such a wide variety of different customers," Rogers comments. "We offer splicing, fiber, and copper networking solutions. We burn about 20,000 splices on a monthly basis on the fiber side of our systems division and we install and maintain all these systems ourselves. I know a lot of other contractors are afraid of new technologies but not us."
This embrace of new developments makes Gudenkauf a hugely exciting place to work, which, in turn, attracts some of the brightest minds in the industry. The individuals that have the fortitude to take on this kind of work usually remain in their roles at Gudenkauf for a prolonged period of time. "We have employees who have been with us for more than 25 years. If you can make it through the first six months or so and really embrace working out in the cold, rain, and snow – all that good stuff – then chances are you will be with us for quite a while," Rogers says. "Even though Gudenkauf has grown over the years, I still think of it as a family business. We genuinely care about our employees and their families."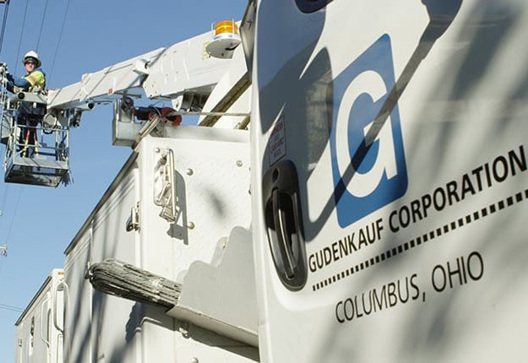 Although the culture of the company has changed slightly as a result of the Congruex takeover, this will only help create an even better working environment. "Congruex has embraced the GRIT mantra: guts, reliability, improvement, and teamwork," Rogers continues. "Its other mantra is 'Networks Built Better' and we're really embracing that with our employees here."
Given the type of work carried out by Gudenkauf, safety is another huge priority within the workplace. Fortunately, the company was not overly burdened by the COVID-19 pandemic and was quick to implement the necessary changes to help keep its workers safe and healthy.
"The pandemic impacted us very little, to be honest," Rogers says. "Other than wearing masks, increasing sanitation in trucks and offices, and limiting face-to-face contact as much as possible, we faced relatively little disruption. In fact, COVID really shone a spotlight on some of the underserved areas around the country and there is going to be a lot of investment by the government at the federal, state, and local level, as a result. That could actually lead to higher revenues for us and huge benefits for the local areas that receive better network solutions."
Of course, completing future projects depends on more than just investment, it also requires a steady stream of talented workers. Currently, the labor market is extremely tight and Rogers believes that recruitment problems could surface for the industry in the coming years. "In my opinion, it's been a real shame that over the last 20 years, young people were convinced that if they didn't go to college, they were never going to have a good career or a well-paid job. That's very far from the truth. You can join Gudenkauf and be a highly skilled fiber splicer, making some very good money in a year or two."
As well as relying on a highly skilled workforce, Gudenkauf also benefits from working with exceptional partner firms. "Vermeer has been a great partner for us," Rogers notes. "As has Galloway Group, Ditch Witch, Path Masters, Graybar, Corning, and Altec. When customer opportunities present themselves, you need access to the necessary equipment, so working with reliable suppliers is essential."
Although Rogers notes that the industry may be facing some short-term challenges, he believes that the future is extremely bright for Gudenkauf. "Over the next five to ten years, I'd like to do some geographic expansion," Rogers says. "I have plans to move into a few more states but, of course, I don't know exactly what opportunities are going to present themselves over the next five years or so. Ten years ago, I would have never dreamed that we would have installed 750 intersections here in Central Ohio or that we would be involved in autonomous vehicle projects."
Rogers himself has been involved in the communications industry for almost 40 years and knows better than most that unpredictable innovations are always around the corner – it's just about being able to grab the next opportunity when it comes along. "At the end of the day, it doesn't matter what you put on the end of a piece of fiber, whether it's an antenna, a camera, or a roadside unit," Rogers states. "Whatever it is, we'll build the pathway you need to get there."
AT A GLANCE
Gudenkauf Corporation
What: A diversified telecommunications, utility, and systems integration solution provider
Where: Headquarters in Columbus, Ohio
Website: www.gudenkauf.com
Vermeer Heartland – vermeerhl.com
Vermeer Heartland is a full-service dealer of Vermeer industrial equipment across West Virginia, Ohio, Kentucky and Tennessee. We also serve the forage market at our St. Albans, WV location. With decades of experience in sales, parts and service, the folks at Vermeer Heartland offer a wealth of knowledge.