Lovley Development Inc
nearly 40 years of building expertise with a heart
With in-depth specialization in the Connecticut market, Lovley Development Inc provides the construction roadmap
It has been quite a journey for the construction and home market throughout the US over the last few years. There have been ups and downs which is nothing new for a sector that is routinely well-versed in its cyclical nature.
The key for those construction companies that have been able to prosper and flourish throughout a global pandemic and beyond, is a steady business approach coupled with much-needed industry experience.
For Lovley Development Inc, a leading Connecticut-based specialized home builder, the journey has been a lucrative one. With 37 years of industry-specific experience and a portfolio of projects under its construction belt that speak for itself, navigating through the pandemic, although not without its challenges, has been a smooth ride.
Now comfortably on the other side, Lovley Development is looking towards the future and its ongoing projects in the Connecticut market that has filled its construction calendar right through 2025.
Lovley Development Inc CEO, Mark Lovley is cognizant, however, despite his business booming that there are a whole new set of macroeconomic factors at play including a higher-interest rate housing environment, an inflationary climate, and the continuing high cost of labor and materials caused by supply chain disruptions.
Although these realities do play into Lovley's overall business model, he remains very optimistic about the market conditions and is fully aware that if there is one thing constant in the construction and housing sector; it is change.
With enough projects to keep the company more than busy, navigating these economic realities is never far from Lovley's mind. He points out, however, that he has enough industry know-how and fortitude to ride out the current 'new normal' construction field.
"We have been in the building business for 37 years, building single-family detached homes and attached condos and then commercial construction including medical office buildings, shopping plazas and we are working on a Starbucks right now and we finished a Popeye and a Dairy Queen," Lovley describes.
"We are also building two apartment buildings with TOD Development through another company, the sub-company of Lovley Development, Newport Realty Group, which has 70 apartments with about 25,000 square feet of retail, right at the Berlin, Connecticut train station," he adds.
"We are a diverse company that basically has all aspects of construction and we have our own management company that manages our properties. Some of the commercial buildings we sell and rent out," he further outlines.
The breakdown for Lovley Development represents roughly 40% commercial projects and 60% residential. When looking at how to factor in the increasing costs of materials and in particular the unusually long wait for some of these materials, Lovley comments, "I think what happens is that you are looking at the fact that a wait for garage doors was at one point almost 33 weeks."
"We have a Starbucks, for example, that sat for probably about five months, because we could not get the switchgear in for the electrical service even though we ordered it last May- so it took nearly 10 months to finally come in," he continues.
Lovley also highlights the sheer cost of materials when compared to former pricing.
"As of January 01, of this year we have seen nine price increases anywhere from 10% to 25%," he notes. "We have seen big problems with the cost of materials still going up, even though interest rates are rising and you are starting to see a little bit of the market- the price of stuff is still going up.
Sheetrock alone, Lovley admits, has gone up another 20% compared to previous cost estimates. "What we are starting to see is that a lot of these companies are implementing repeated price increases with three or four price increases since COVID."
"It [price increases] started at almost 20% and now if you look at electrical wiring for example it has shot up almost 300%. Every one of these products, like electrical conduit piping and even water piping, have gone up, sometimes by 300%- everything across the board has been affected," Lovley determines.
"It used to cost me 85 dollars a square foot to build a colonial home and today I am closer to 145 dollars," he adds. "This is a 70% increase."
Despite the new realities facing the housing sector, Lovley Development has been kept busy with its commercial and residential projects that have enabled the company to keep making a healthy profit. "We are seeing properties sell here in Connecticut for close to 300 dollars a square foot," he relays.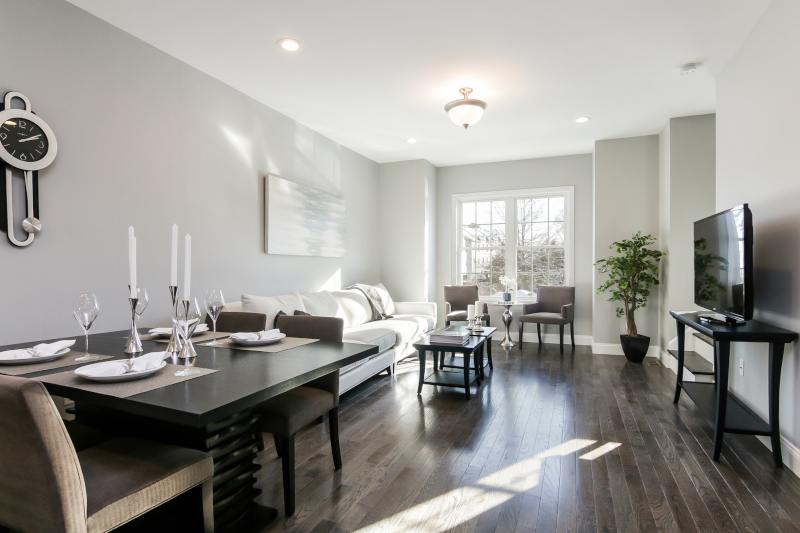 Two areas are taking off in the region, namely the need for home construction for the senior demographic and properties are also in demand for the young urban professional who would like to be near the shops and restaurants of the downtown core, close to transport hubs.
"We are seeing more and more families that are in their 60s and 70s, moving back to Connecticut either from Florida or the Carolinas that were retired and bought homes. However, now their kids are having children and these families are coming back to the state."
"Our luxury division is also doing well. A lot of young professionals are buying homes from 700,000 dollars to a million."
"We had a 34-unit development we introduced in Southington completed in May of last year and it was 100% sold out in only a matter of seven or eight months," he states.
Other projects in the works for Lovley Development include several attached condo projects coming within the next six to nine months that will be in Plainville and Berlin as well as a residential building that comprises 16 units and include 7,900 square feet of retail space on the lower level which is already 100% leased.
The company is also in the permitting phase for a proposed 50-unit apartment building on the same property which is set for construction this spring.
All these projects and others in the pipeline, Lovley points out, will keep his company very busy right through 2023 and beyond. With the Connecticut housing market still showing signs of being on a slight upswing, the experience and long-held relationships that Lovley Development has built through its loyal clients and financial partners are paying off with every new brick that is laid.
"In the last two weeks, we have had three home buyers put their homes on the market to buy from us. They are fielding multiple offers with offers that are over asking," he notes.
"What we will continue to do is watch our bottom line and price things accordingly to be able to remain profitable. We have still made money even though it has been tough."
When asked what are the keys to Lovley Development's consistent success, Lovley is quick to answer.
"I think it is our management style and how we service our clients and the ease of doing business," he reflects.
"We use all the same vendors all the time," Two of those vendors, Lovley points out, have been with them since the company opened nearly 40 years ago, Spargo for all the company's plumbing needs, and Lyon Billard for building materials.
"Although prices have gone up, our vendors didn't gauge. They came in and showed me their old invoices and new invoices and explained the costs of covering materials and labor or insurance now. They want to help us keep our prices down."
Lovley has proven his construction muscle over the course of decades of specialized services and the intimate knowledge that is required to succeed in the local Connecticut market. How would he advise young contractors just starting out in the current volatile market?
"It is very tough for anybody. We have talked about this through the Home Builders Association with a lot of guys who have been building as long as me," he says.
"Banks are tougher now. So, I think the biggest piece of advice would be to develop a solid banking relationship to be able to buy projects and do projects. Some of these young guys may have to approach a private lender to build up a track record before they can start doing business with the banks."
As for the future, Lovley has few doubts.
"I am looking for property to develop out to 2026. We are going to start to see prices start to stabilize a little and we are not going to see a recession as we have seen in the past."
"I think it will be a good year," he concluded.
AT A GLANCE
Lovley Development Inc
What: Leading property construction and developer with a portfolio of commercial and residential projects completed and in the construction pipeline
Where: Plantsville, Connecticut
Website: https://buildalovleyhome.com/
Superior Network of Companies – www.superiornetwork.com
The Superior Network of Companies is Connecticut's destination for contractors and homeowners.  Founded in 1967, we have been proudly serving the industry for over 55 years!  The Superior Network of Companies has closely integrated divisions to provide the construction and homeowner markets with a vast selection of diversified construction products, equipment, services and expertise to get the job done quickly and efficiently.
We are pleased to serve New England with our main location in Southington which houses our Superior Products Dist., Inc, Superior Equipment & Supplies, Superior Rental, Superior Instrument, Superior Landscape Products and Superior Special Services divisions. Our satellite locations: Norwich, Bridgeport, East Hartford, and Danbury, provide all of the same products and services that are available at our main location (Southington) under one roof. The Superior Hearth, Spas & Leisure division has locations in Southington and Avon. We continue to proudly serve our industries in each of those communities. Stop in any of our locations and see all of what Superior has to offer!
Congratulations to Mark Lovely and Lovely Development – Outstanding Quality, Reputation and Organization. Superior Network of Companies… Proudly Serving Lovely Development as Their One-Stop Source for Construction Materials and Hearth Products.