Elk Creek Forest Products
Adapting in unique times
Business View Magazine interviews representatives of Elk Creek Forest Products for our focus on the North American Wood Products Industry
Operating since 2001 from its home in Oregon's scenic Willamette Valley, Elk Creek Forest Products (ECFP) has become well respected in the industry as a full-service lumber processor, remanufacturer, and volume distributor of high-quality Douglas-fir. The company prides itself on sourcing raw material from the region's finest sawmills and most desirable fiber through suppliers from Northern California up to British Columbia.
The ECFP business model is built on the ability to transform the primary fiber resource from initial log breakdown all the way through its production cycle – an agile foundation that has sustained more than two decades of growth for the firm. That being said, the key to the company's success is certainly its people… the dedicated Elk Creek Forest Products team who understand and value every customer and vendor relationship.
This people-centric culture has allowed ECFP to not only weather the early uncertainty of the COVID-19 pandemic, but also meet the increased demands that have arisen since. In the spring of 2020, business slowed as states across the country issued stay-at-home orders. When those orders were lifted, lumber sales took off and have remained elevated ever since. Elk Creek Forest Products saw its volume increase 15 percent. That was great news after the slowdown, but there were new and seemingly ever-changing regulations the company had to comply with.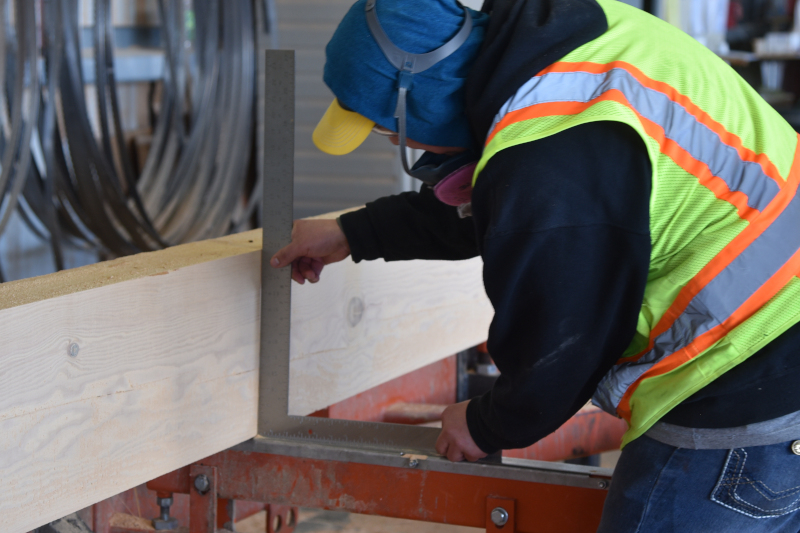 "As a consequence, we kind of operated with one arm tied behind our back at times," recalls Mark Kelly, Vice President of Operations, "and so achieving, particularly that extra volume, was a remarkable accomplishment – a testament to the people that we have on staff. We have unparalleled staff here, with our wood knowledge and our cross-training flexibility that allows different people to fill in as needed. In retrospect, it was fun to do all that extra business, but I think we have really walked away from 2020 with a lot of pride in what we were able to accomplish."
Versatility has been a part of Elk Creek Forest Products since the beginning. In 2001, Brett Slaughter (now ECFP President) left a corporate job to join his father's business. At that time, Elk Creek Sales wasn't much more than a basement telephone and a desire to succeed. Kelly joined a few months later, overseeing finances for the transactions Slaughter and his dad facilitated. Those three did about everything, from phone to forklift, for the first two years or so.
Around 2003, they were able to rent a piece of land in Eugene, Oregon. Over the next decade they got new investors and moved a few more times before settling in to their current 20-acre property in McMinnville, Oregon. "So that's a progression of our growth and history," Slaughter reports. "We went from one employee to two, slowly to three, four, five, six and didn't start getting any real momentum until after the recession in 2010. Mid-way through 2010 we started growing really fast. We now have a 90-person company, two shifts, and we deal with 20-plus million board feet through this location and 15 variable cost partner locations in Oregon and Washington. We service probably 40 states."
Getting to this point wasn't easy, and starting a company like Elk Creek Forest Products today would be nearly impossible. Fortunately, their core vendor relationships were established years ago, because now demand for lumber is outpacing supply. "If you were a start-up company today, you wouldn't have the ability to go find a vendor," Slaughter reports. "The relationships you have are what's getting you through and adding another vendor or getting a new company to come and intercept one of those existing relationships would be extremely difficult."
Elk Creek Forest Products has faced other challenges in the past. For a long time, one of those challenges was a misperception that the lumber industry was bad for the environment. Producers especially faced criticism from both activists and the press. But the Douglas-fir used at Elk Creek Forest Products is harvested in a sustainable way. Mike Taron, Forest Stewardship Council manager, saw the change in perception first hand. Before joining Elk Creek Forest Products, he built homes. He can remember working on a so-called green project in the early 1990s. The chosen materials were Styrofoam, steel and concrete.
"The client was very environmentally conscious and wanted to build green and sustainable," Taron emphasizes. "That was in the '90s, and there was a paradigm that cutting wood was bad and that using Styrofoam, chemical concrete and steel were actually the green way to go. What is amazing to me, now that I am in the lumber industry and on the manufacturing side, is that there has been a monumental shift in public understanding about what it means to be truly green and renewable. It's the very trees that are the value. They sequester carbon, they do all these positive things, they are the renewable resource. For the lumber mills it can feel like a bit of whiplash, related to public opinion. Mills have expressed, 'we were the devil for cutting trees at one point in not-so-long-ago memory and now trees the poster child of what is green and renewable.'"
One challenge for the industry has actually created an opportunity for Elk Creek Forest Products. There is still a need for specialty products that cannot be found at name brand retailers, and even at some independently owned lumber companies. Also the knowledge to even produce those specialty products is disappearing.
"So, the performance needed for some of the unique product demand in the lumber market is not going to be found at your cookie cutter home center," Slaughter explains. "Every time a customer walks in and asks for a unique product that somebody once knew how to make – somebody who didn't have a good business succession plan for how they're going to continue to make these things and now it's no longer readily available – that leaves a growing window of market share that's unoccupied. Some of the demand will transfer to using a home center commodity: 'we'll use this substitute instead'. We happen to live in a world where we see a growing share of what you would call niche business or specialty business. We try to add some scale to it, and to tell people they still do have other options… we can do it! We still have a team of experts."
The sale of specialty lumber products is poised for increased momentum. The more Elk Creek Forest Products successfully meets the needs of those customers, the more their reputation grows. And the more people that seek the company out for those specialty services, the more efficiently Elk Creek Forest Products can meet those needs. As Taron reflects, "I think we've proven over and over that we've done things that are difficult well enough to scale that now we can bring in new technology, equipment, resources to make that easier on ourselves. Because we've already established, like Brett talked about, that niche market where we've made something look easy enough that people rely on it. And now we can scale it up and that's been fun to see happen."
That ability to adapt was invaluable for Elk Creek Forest Products when the pandemic hit. When meetings were forced to take place over Zoom, Slaughter and Kelly assured everyone the company was built to handle the unexpected. ECFP is nimble and agile. It's also reliant on a culture that seeks out opportunity in times of uncertainty. "We've had to cross train and shift and make things happen because you never knew who might be out from one 14-day period to the next," says Taron. "But that's ingrained in the history of Elk Creek. It really comes into focus in a unique time, then do what we do well and that is adapt. And that's been great to see."
AT A GLANCE
Elk Creek Forest Products
What: A full-service distribution and remanufacturing lumber company
Where: McMinnville, Oregon
Website: www.elkcreekforest.com
South Coast Lumber Co. & Affiliates – www.socomi.com
South Coast Lumber is a fourth-generation family owned and operated wood products company that is vertically integrated and located in Brookings, Oregon along the Pacific coast. With over 70 years of experience in the industry, we proudly manufacture high-quality products from the wise and sustainable management of our local timberlands.