Millbrook, Alabama
at the "intersection" of growth and economic development
Perfectly situated with enviable outdoor gems at its doorstep, Millbrook, Alabama is poised for economic expansion
Although it was raining the morning we caught up with city officials from Millbrook, Alabama, the sun is clearly shining on this dynamic little city. With a location that is enviable and an outdoor setting that gives its lucky residents an ideal lifestyle balance, Millbrook is doing what is needed to meet anticipated growth.
Of course, any city is only as good as its historical evolution. For Millbrook, this history can be traced as far back as 1763 when the first European settlers arrived in the area that was formerly referred to as Coosawda and began trading with the Creeks as well as other indigenous groups in the area.
An important player in the Civil War, Millbrook provided many soldiers to contribute to the war effort and is home to several prominent Alabama historical leaders including William Wyatt Bibb who was appointed Alabama's first territorial governor as well as his brother, Thomas Bibb, who then became the state's second governor.
One of the fastest-growing cities in central Alabama, Millbrook's population has increased to over 18,000 residents as of the last population census and is part of the Montgomery Metropolitan Statistical Area.
Home to many local attractions of interest enjoyed by both residents and visitors to the city including the Lanark Estate, headquarters of the Alabama Wildlife Federation(AWF), the Alabama Nature Center, the Grandview Family YMCA, the beautiful Mill Creek, Village Green, and Jackson Island. Millbrook has a little something for everyone wrapped up in a friendly and welcoming embrace.
The city can attribute some of its obvious charms to the natural assets that it is blessed with. Located in an area rich with rolling hills and several nearby rivers and lakes within the region to explore, there is always something to plan for those that call Millbrook home. The weather doesn't hurt either with typically long, warm summers and relatively mild and short winters to enjoy.
Going green- the central hub of Millbrook
The city also finds itself at the intersection of several major roadways that make coming in and out of the city accessible as well as providing great transportation links to surrounding areas a breeze for Millbrook residents.
"The city of Millbrook itself is a relatively new city as we were officially incorporated in 1977 and we are at the intersection of two state highways," Mayor Kelley describes.
"We don't have a traditional downtown like you see in a lot of cities, but we are actively working towards that image by buying up properties in the downtown area as they become available, so we can eventually attract quality development to the downtown area," he adds.
The Mayor does highlight the city's Village Green which is a point of pride for residents.
"We have what's called our Village Green, which was bought in the early 80s to serve as green space for community gatherings right in the middle of the town."
"We have lots of events there and City Hall is right across the street," he adds.
Over the last four to five years, Mayor Kelley draws attention to the development that has sprung up in this central hub including retail, small shops, and local restaurants as well as a host of festivals occurring in this very spot. Top of the list of events the Mayor points out is the city's annual Mardi Gras and Christmas Festivals.
"We pride ourselves a lot in the quality of life. We have several walking trails, one around the Village Greens and a couple more downtown and on the north end of town." Mayor Kelley states.
"Most of our population actually works in Montgomery and we are very close to the state capitol, only a ten-minute ride in the morning for a commute when you leave your house here in Millbrook," he relays.
Commercial and Residential development in the works
Of the two state highways that intersect at Millbrook, it is Highway 14 that has provided the ideal commercial area to develop because it is a five-lane highway and sees the highest traffic counts, Ann Harper, Economic Development Director with the city points out.
"Commercial interests want to be there," Harper states. "For example, all the fast food chains and retailers, and here is also where we are building our 17 Springs development which will also include a multipurpose sports complex."
"In addition to the facilities that we are building to accommodate primarily youth sports, we also have included a commercial component as part of the project and it is called 'The Marketplace at 17 Springs," she continues.
"The city and our county own approximately 28 acres of property located in front of the sports complex that we are building and across the highway that is zoned for commercial use."
"We are designing and crafting to develop commercially as in restaurants, hotels, small shops, and things of that nature. So the Marketplace at 17 Springs is designed as a destination for our area," Harper describes.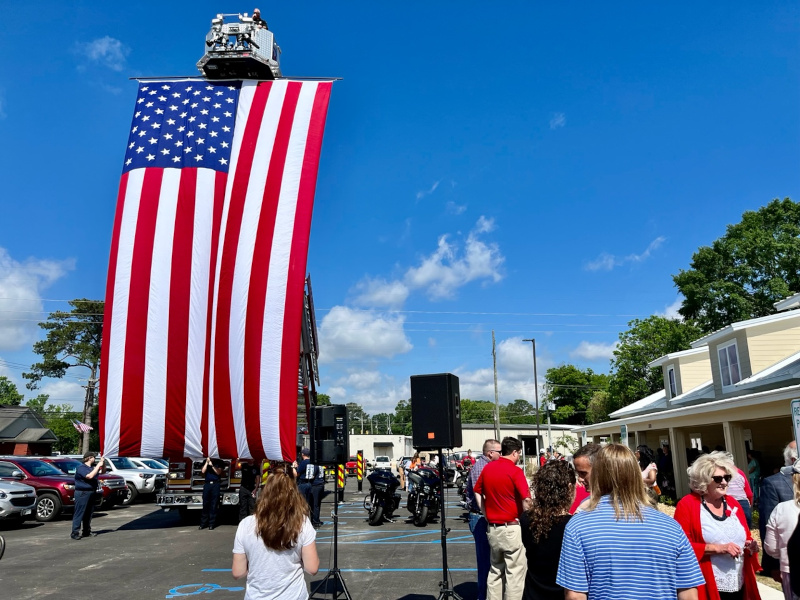 "We are putting together a concept for the Marketplace that we can use to market to potential tenants."
The Mayor and his development team is currently speaking with potential tenants and recently was able to secure a one-acre parcel that will see a seafood restaurant take up residence, in addition to an upscale Mexican restaurant that is already in the Millbrook area and has its sights set on moving into the new commercial space soon.
"We approved a contractor to come in there [Marketplace at 17 Springs] and start clearing out the majority of the trees that are in there which will open up the property to make it attractive to potential commercial tenants as well as opening up the visibility to the sports complex itself," the Mayor notes.
The Mayor also raises the point that the development of this commercial property as well as the construction of the sports complex did not happen as a single entity effort, rather has evolved and progressed in large part due to the partners that have been on board with the project since the beginning.
"This is a huge project to take on by ourselves, especially for a city of our size ,so we formed a partnership with groups that have an interest in seeing this project through to fruition" he relays. "The Elmore County Board of Education is one of them because our schools are very interested in utilizing the sports facilities with their programs.  tThe Elmore County Commission and the Elmore County Economic Development Authority as well as the Grandview YMCA are our other partners."
The city is anticipating that new commercial development along the Highway 14 corridor along with this state-of-the-art youth sports facility will bring in families and tourists to the area through youth traveling sporting events.
"Our location is centralized." the Mayor points out. "We are right in the center of Alabama and on the interstate that runs right through Alabama so we are hoping some of those tournaments will come here. The 17 Springs development will be paying for itself with the revenue that is generated from those travel ball moms and dads coming and spending time with us."
On the residential side, Millbrook is seeing quite a bit of interest from both local developers and those from the outside interested in building what will be predominantly single-family master-planned communities.
"We have several major residential developments already on the books that have actually already started building so we are seeing a definite uptick in residential activity," Harper notes.
Arts and Culture at Millbrook's Fingertips
Creating a position within the city to handle civic events and the arts and cultural offerings for Millbrook led to bringing Danae Morgan on board a year ago.
"When I came on board with Millbrook the focus was on special events and then what evolved out of that is a community arts facility called The Art Mill," Morgan reflects.
"We had our grand opening this past March and it was a house that was built in 1940 that the city had acquired but there was thought to tear it down."
Morgan looked at this prime property and determined that it could be renovated and turned it into a community arts facility that would create a hub and focus for Millbrook's cultural arts scene.
"We host classes and hire local artists to teach music and visual arts for children and adults. We also have a gallery where we showcase artwork, hold receptions, and provide the opportunity for local artists to sell their work," Morgan explains.
Events also fall under Morgan's purview and the city, while already holding several annual events prior to Morgan taking to the arts and cultural helm, the city has added new ones including a Memorial Day event and the creation of MayFest, a celebration of the arrival of spring.
"We ended up having over 5,000 people come to our MayFest so there is a definite economic impact with these types of special events for our city."
What is in store for Millbrook?
"Our economic efforts are further enhanced by our Chamber of Commerce. The Executive Director, Brenda Dennis, and the chamber have a very close working relationship with the city, and without their efforts, we wouldn't be as good of a city as we are," the Mayor made a special note of mentioning when asked about what lies ahead for the city.
Beyond the key partnerships helping to steer Millbrook towards increased growth, the Mayor also adds, "I'm going to continue with the thing that I started with. We are a unique city in that we are surrounded by other cities, and we can't expand any further than where we are. We have a little circle right here and we are going to try to fill that circle as best we can with the things that our residents need."
"This has been my pitch from the start and will still be my pitch next quarter, filling in that circle and making it just a little bit better," he concludes.
AT A GLANCE
Millbrook, Alabama
What: Thriving city with beautiful natural surroundings and dynamic commercial, community, and residential development in the pipeline
Where: Central Alabama, Elmore County
Central Alabama Electric Cooperative – www.caec.coop
As a utility company, Central Alabama Electric Cooperative (CAEC) could have just one goal—to provide reliable electricity to our members. But, we're more than that. We're an organization deeply connected to the communities we serve because we were created by those very communities 85 years ago. In the mid-1930s, only about 10 percent of rural America had electricity, including homes here in the River Region. Bound with the idea that they deserved more, local neighbors came together to build an electric co-op that was powered by the people. Since then, CAEC has grown and been shaped by the unique needs and desires of the people and communities we serve here in central Alabama. We partner with local agencies and civic groups to make life better in our community, through economic development and educational initiatives. With this spirit of community, in 2018 we once again took up the mantle to better the life of area residents by forming a broadband subsidiary, Central Access, bringing high-speed Internet to those no one has been willing to serve. Whether it's serving people in our communities by delivering power or high-speed Internet, we're proud of our heritage and continue to embody the co-op spirit.
WAR Construction, Inc. – www.warconstruction.com
WAR Construction, Inc. is a general contracting and construction management firm based in Tuscaloosa, Alabama. Founded in 1960, our company has grown from small home renovations to a leading commercial contractor in our region. Focusing on quality and relationships, we pride ourselves on delivering successful projects for each client. WAR would love to be a part of your next project team.
Seay, Seay & Litchfield – www.sslarch.com
Delivery Quality by Design for half a century, Seay, Seay & Litchfield Architects is a design-oriented firm grounded in exceptional client service. We specialize in creating innovative solutions that enhance environments, bringing people together. Our team focuses on attention to detail integrated with disciplined creativity to achieve total project success.
Sain Associates – www.sain.com
Sain Associates, Inc. is a multi-disciplined consulting engineering firm specializing in traffic/transportation engineering and planning, site engineering, infrastructure design, surveying, CE&I, and GIS services. Since 1972, Sain Associates has successfully completed numerous projects throughout Alabama and 36 additional states in both private and public sectors.