Magnum Venus Products
A proud history of innovation
Business View Magazine interviews Michael Kastura, Senior Product Manager of Magnum Venus Products, as part of our focus on the adhesive and sealant industry.
Magnum Venus Products (MVP) is a leading supplier of fluid movement and production solutions with a long and proud history of innovation. The company serves a multitude of manufacturers in a variety of industries, including: automotive, aerospace, marine, oil & gas, wind turbine, bath and shower, infrastructure, pool and spa, construction, recreation, and more. Its products include: gelcoat equipment, chopper equipment, adhesive and sealant systems, applicator guns, automation equipment, and additive manufacturing systems.
Magnum Venus Products began as Graves Spray Supply. Founded in 1938, in Chicago, by Jim Hedger, Sr., Graves was a distributor for coating equipment that quickly gained a reputation for excellence within the automotive industry with customers like Ford, Chrysler, GM, and GE. In 1950, Graves moved to the manufacturing of automated paint spray equipment and embarked on the newly developing industry of spray-up fiberglass manufacturing dispensing systems, eventually becoming the largest FRP (Fiber-Reinforced Plastics) equipment distributor in North America.
In 1954, Venus Products was founded near Seattle by Frank Ives, which also provided equipment for the FRP industry. Venus was the first to design, patent, and produce internal mix, fiberglass spray technology. In 1970, Hedger also founded Magnum Industries as a division of Graves for the design and manufacture of spray-up fiberglass manufacturing equipment. Magnum developed many ground-breaking products including the patented Airless Air-assist technology with a focus on reducing emissions and waste. In 2000, Graves Supply and Magnum Industries acquired Venus Products creating a new company: Magnum Venus Products.
Today, MVP has a total of 200 employees and five locations: a primary production facility in Kent, WA; corporate headquarters and production facilities in Knoxville, TN; and three service centers: Goshen, IN, Delson, Quebec, and Oldsmar, FL. It sells its products domestically and to over 200 countries, worldwide.
According to Senior Product Manager, Michael Kastura, Magnum Venus Products is "an expert at mixing, metering, and dispensing materials that are highly-viscous and difficult to move. We collaborate with our customers to change how they are making things to increase efficiencies and elevate their product and their bottom line," he states. "We do that by delivering high precision and high-quality production solutions, as well as working with them in a way that our competitors might not to configure equipment to their specific application. We have a sales team that is highly training and very technical, and a support technician team that helps install our equipment, train the people who use it, and provide support from troubleshooting to standard maintenance for years to come. In many cases, our competitors are large, unspecialized distributors with other products, or are only offering standard system configurations without the consultative solution and service that we provide. And, as we start getting into the more complicated automation equipment, like filament winders, mandrels, and reciprocators, now we're talking about how we can form a solution for our customer that is purely unique to them. Again, it's making sure the solution we're building for our customer is really helping them create efficiencies so they can be successful in whatever they're doing."
In addition to MVP's core competencies – the gel coat and resin type systems that are its main product offerings – the company is an innovator in new technologies, such as 3-D printing and teachable robotic arms that Kastura says will further helps it customers "fill gaps in the marketplace."
"We have three new technologies that we're touting, right now," he adds. "The first and the biggest is the RAM – the Reactive Additive Manufacturing solution that we have. The RAM is the first-in-the-world, large-scale, thermoset 3-D printer. Most non-metal large- and small-scale 3-D printers are thermoplastic – they're essentially melting the plastic and layering it to form the print, whereas the RAM thermoset solution is different because it takes two chemicals and combines them as they print layer by layer, forming a chemical bond that is stronger and more heat-tolerant."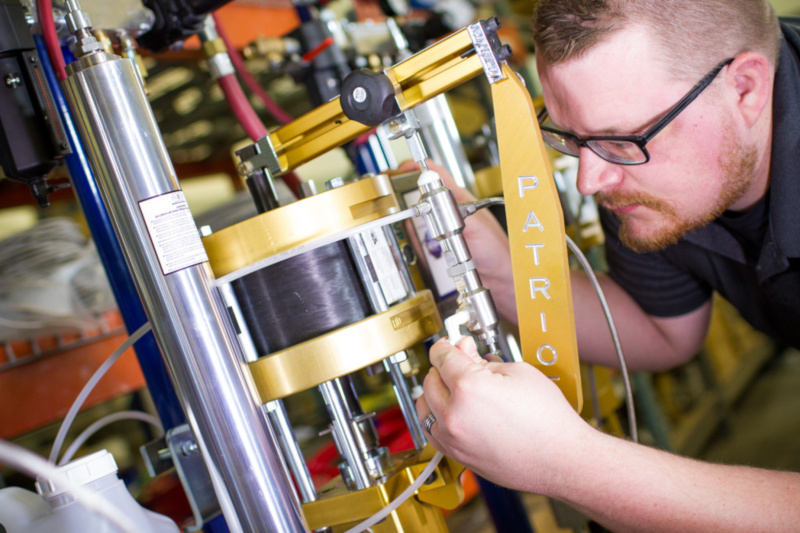 While thermoplastic materials have become the norm in additive manufacturing, MVP's unique thermoset technology has the potential to revolutionize additive manufacturing and meet industry demands for stronger, more cost-effective solutions while remaining energy efficient. "There are a lot of benefits to using thermosets over thermoplastics for additive manufacturing," Kastura explains. "Thermosets will make the parts that are printed stronger, have better thermal properties, and will bridge some of the gaps in the solutions that people are looking for, specifically for aerospace and other advanced industries."
This past September, in collaboration with the U.S. Department of Energy's Oak Ridge National Laboratory and Polynt-Reichhold Group, one of the world's largest manufacturers and suppliers of specialties, intermediates, and composites for the industrial, transportation, building and construction, marine, medical, consumer, and food additive markets, Magnum Venus Products deployed the first large-scale RAM system commercially available to industry. MVP as collaborated with Polynt to produce and launch PRD 1520, Polynt's formulated reactive monomer material, specifically developed for use in the MVP RAM machine. The material boasts superior interlaminar adhesion, exceptional machinability, and high heat distortion temperature, compatible with aerospace grade tooling application. MVP is also collaborating with Dixie Chemical to develop an epoxy based resign for the RAM.
Going forward, Kastura adds that Magnum Venus Products is also focusing on robotics, which includes a teachable robotic arm able to apply materials in a consistent, repeatable pattern to improve product quality and efficiency. This technology unique because does not require any programming and is able to learn the spray pattern from an operator, then repeat the same pattern with movements equivalent to manual spraying. MVP is also leading innovations in filament winding, and plans to add more automation solutions to this portfolio. Filament winding is a fabrication technique that is well-suited to automation. Products currently being produced using this technique include: pipes, golf clubs, reverse osmosis membrane housings, oars, bicycle forks, bicycle rims, power and transmission poles, pressure vessels, missile casings, aircraft fuselages, lamp posts, and yacht masts, among others.
"So, in five years, we plan to build upon our core competencies of precise mixing and metering equipment, and continue to grow with new innovations in automation, like filament winding, robotics, and additive manufacturing," Kastura states, in conclusion. "We have big plans in place for the future to help our customers imagine new possibilities and develop safer, more efficient products.
AT A GLANCE
WHO: Magnum Venus Products
WHAT: A supplier of fluid movement and production solutions
WHERE: Corporate headquarters in Knoxville, TN
WEBSITE: www.mvpind.com