M. Gervich & Sons, Inc.
A century of pride and dedication
Business View Magazine interviews Doug Gervich, President of M. Gervich & Sons, Inc., as part of our focus on the domestic recycling industry.
M. Gervich & Sons, Inc. of Marshalltown, Iowa, is a family-owned and operated scrap processing facility and direct mill shipper of both ferrous and non-ferrous scrap, including steel, stainless steel, carbide, aluminum, copper, zinc, and brass. The company was founded by Morris Gervich, grandfather of its current Owner and President, Doug Gervich. "He emigrated from Russia in the late 1800s and began the business, here in Marshalltown, in 1904, which was the same year he got his citizenship papers," Doug recounts. "He started with a horse and wagon and, in those days, they were called 'collectors.'"
"Morris ran the business by himself for the first five years, then hired some employees," Doug continues. "He operated it into the late 1930s, when one of his sons, Jules, came into the business. My father, Sam, who was five years younger than Jules, went on to law school at the University of Iowa. That was interrupted by World War II; when the war ended, he returned to law school to complete his last year and begin a career as a practicing attorney. However, my grandfather told Sam that he wanted him to come back and work at the business, thinking that the one son couldn't handle things on his own. Perhaps my grandfather was impressed that my father had a law degree. In any case, he agreed to return home and from about 1945 on, it was operated by Sam, my father, and Jules, my uncle."
Doug joined the family business in 1978, with a BA from the University of Iowa, a Masters Degree in Speech Pathology and Communicative Disorders from Truman State University in Missouri, and no formal background in business. "My father, at least, had the law background, which was pretty helpful," he quips. "Over the course of 15 or so years, I bought the business and I've run it ever since. My father stayed on until his mid-80s as a consultant and mentor. Around 1995, we decided to go into the new steel business, because we saw a lack of that offering to our local industry. We hired a new steel manager and have been in both sides of the steel business since the mid-'90s. My father passed away in 2002. My son, John, got his Bachelors Degree and went on to medical school; did two years there and then decided to join me in the business. So, now it's Doug and John in the leadership."
The scrap business, Doug notes, is divided into two camps – the suppliers who sell their scrap metal to the company, and the mills buying processed scrap that serves as raw material feedstock for their melting processes. "We would not survive without those industries that we purchase scrap from," Doug admits. "We get scrap from the industrial base, which is the largest and most important one, and those are mainly manufacturers; and then, from demolition contractors, and from small dealers/peddlers. We cover, on day-to-day basis, about a 75-80 mile radius – maybe as far as a hundred on some special jobs. When we haul from a manufacturer into our yard, we might haul 15-20 tons on a truck. When a small dealer or peddler comes in, they might have two tons. So, we buy from all three of those areas. Then, we process it and ship it; we are direct mill shippers. All of our scrap goes directly to the people who are going to melt it. Some of our customers at the end of the supply chain would be Nucor Steel, U.S. Steel, ArcelorMittal, Steel Dynamics, Inc., SSAB Steel, and Gerdau Steel. Those are the main folks that buy our steel scrap. We ship all over the region – to mills and foundries in Iowa, Wisconsin, Illinois, Nebraska, Missouri, and occasionally, Indiana and Ohio."
Although M. Gervich & Sons is a relatively small operation, Doug believes the company has some distinct competitive advantages. "We have six trucks that service our accounts and we pride ourselves on offering what we call instantaneous service," he states. "When we get a call, we'll be there to pick up that supplier's scrap within 24 hours. There are not a lot of dealers that can do that. And we make annual, personal visits to consumers – the steel mills and the foundries – those that consume or melt our scrap, to see what we can do to encourage them to buy more scrap from us, and what we can do to provide the scrap just how they want it – sized, sorted, and cleaned up to meet their needs. If someone is buying stainless steel scrap, they don't want aluminum or regular steel in their product. When we make these visits, it impresses upon them our desire to develop and maintain strong, long-lasting relationships where we demonstrate our ability to be consistently relied upon as a supplier of quality material.
"We'll also make personal, networking visits to those that supply us with scrap – whether it be a manufacturer or a small dealer. I want to see how they're generating the scrap; I want to impress upon them how we don't want hazardous material. We have an inbound source control program, where we educate our manufacturers and the small supplier on the stuff we cannot handle. It's a pretty strict program.  It has to be.  On the other hand, we don't leave a manufacturer high and dry. We have something we call 'special handling alternatives' where the scrap won't come to us, but we will provide them materials and proper outlets for safe handling and disposal of these special items. It might be ballasts that contain PCBs, or fluorescent lights that have no scrap value. So, we often educate our industrial accounts when it comes to our ever-changing industry standards and the tried-and-true methods of handling issues, not uncommon in the scrap world. Usually, there's somebody in charge of making sure that the scrap stream is safe and non-hazardous to the environment and we help them out with our special handling alternatives. I think this partner-based approach has been a real benefit for us."
Another operating principle of the company is a strict devotion to its safety and environmental policies. "When I'm talking to one of our suppliers, we assure them that their product is going to be handled and processed in an environmentally-safe manner," Doug asserts, "and that we're not going to put our employees or their employees at any kind of risk while handling the scrap. We don't let liquids hit the ground; we have containment pads all throughout our yard to keep any liquids that come in. Our inbound source control program starts with our drivers, when they pick up a box at a factory; when they get on a scale, the operator looks over every load, and then the load goes out to the yard where it's dumped. We walk through it the same day; take pictures if we think we need to."
While M. Gervich & Sons might be over a century old, it constantly seeks out the new ways of staying current in an ever-evolving business climate. "There have been a lot of technological innovations in the last five to ten years that we've taken advantage of – from GPS tracking devices and analytical equipment, to newer lines of heavy material handlers" Doug reports. "Our analyzer gun is pressed up against a piece of metal and in less than ten seconds, it gives you the basic chemistry of that metal. Knowing the material's chemistry is very important to our consumers when they say something like, 'We don't want high manganese steel.' Okay, we put our analyzer on the steel in question to find out its level of manganese and chrome. We've also beefed up our surveillance equipment for fire and theft, as well as for traffic across our different scales.  We're also able to take advantage of technology that allows us to get instantaneous, real-time market reports: Is copper up; is it down? Has there been an embargo in place, somewhere? Are the tariffs higher? We couldn't do our job without it."
Another important source of information for the company is the Institute of Scrap Recycling Industries (ISRI), of which M. Gervich & Sons is not only a longtime member but a constituent of its Circle of Excellence for its strict adherence to certain ethical and safety standards. "We rely on our trade association for keeping us abreast of what might be happening in the world of exporting scrap, which has been on a hot burner, particularly lately. We export a lot of material – mostly non-ferrous. The ferrous scrap can move economically from the east and west coasts, but it doesn't economically move from the central plains of the United States. But the non-ferrous can go overseas. So, we're continually trying to expand that market."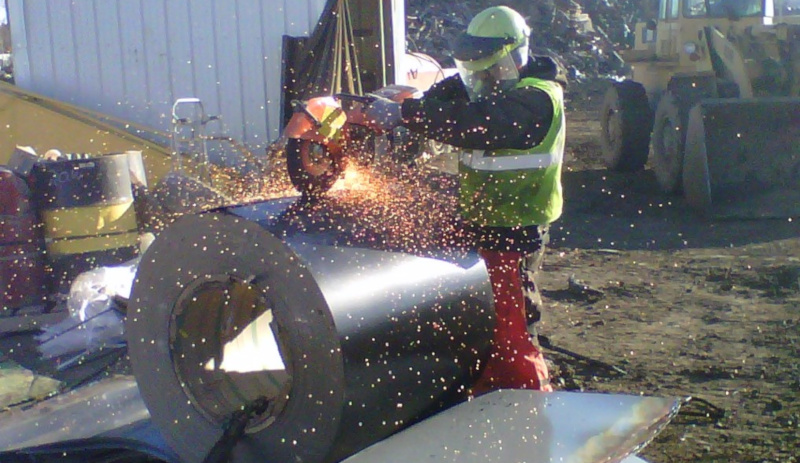 Going forward, Doug says there are some purchases he would like to make, but the constant peaks and valleys that the business goes through, makes it sometimes hard to know when to make them. "Certainly, we have looked at acquiring an automobile shredder – a multi-million dollar piece of equipment. But when we're close to making that purchase, the markets don't look too good and it doesn't make as much sense to us, nor the bank, as it did."
Of course, there have been some upgrades made at the company's processing center in Marshalltown. "Anything that increases our ability to produce more scrap in less time," Doug relates. "In the last five years, we have upgraded our shearing capability thanks to the innovation of high-speed hydraulics and newer and tougher steel. We have bought cranes or scrap handling equipment that are able to lift, or handle, more tons in one lift and swing those tons at a smoother, faster rate than any of the older style equipment we used, not all that long ago. So, the larger the magnet, the larger the grapple, the faster the machine might swing in order to load a railroad car – that's where much of our focus has been."
In addition to an automobile shredder, Doug's wish list includes a high-speed, non-ferrous baler. "One where you can take a Bobcat or skid loader, grab 1,500 pounds of aluminum scrap, set it on the conveyor, push a couple of buttons, and two minutes later, out comes a nice cube or bale of scrap," he explains. "That would probably do the work of, at least, two-and-a-half employees and would add some marketability to our scrap packages in what's become a wide and varied consumer landscape."
Speaking of employees, Doug reveals that the current roster numbers 28 – four or five of whom are 30-plus year veterans. But that's not completely unusual for a company whose own longevity is legion. Well into its second century of operation, Doug Gervich and his son, John, continue to carry on the work begun by Morris Gervich, a young émigré, who came to America at the age of 18, and founded this multi-generational company – still thriving and still serving its customers with pride and dedication.
AT A GLANCE
WHO: M. Gervich & Sons, Inc.
WHAT: A family-owned and operated scrap processing facility
WHERE: Marshalltown, Iowa
WEBSITE: www.gervich.com