Lynchburg, Virginia
The most interesting spot in the state
Business View Magazine interviews representatives from Lynchburg, Virginia, as part of our focus on best practices of American towns and cities.
Lynchburg, Virginia, is located in the foothills of the Blue Ridge Mountains, comprising just under 50 square miles along the banks of the James River. Known as the "City of Seven Hills" or the "Hill City," the population was 75,568 as of the 2010 census, and estimated to have risen to 82,126 as of 2018, making it one of the fastest growing cities in Virginia.
Lynchburg was named for its founder, John Lynch, who, at 17, started a ferry service at a ford across the James River to carry traffic to and from New London. The "City of Seven Hills" quickly developed along the hills surrounding Lynch's Ferry.  Virginia's General Assembly recognized Lynchburg in 1786, and, subsequently, incorporated Lynchburg as a town in 1805, and a city in 1852.
To avoid the many visitors at Monticello, President Thomas Jefferson, in 1806, developed a plantation and retreat home near Lynchburg, called Poplar Forest. He often visited the town, noting, "Nothing would give me greater pleasure than to be useful to the town of Lynchburg. I consider it as the most interesting spot in the state."
Lynchburg became a tobacco trading, then commercial, and, much later, an industrial center. By the 1850s, Lynchburg was among the richest towns per capita in the U.S., first using the river, then the railroad, to transport goods. The city limits expanded in 1874, and in the latter 19th century, Lynchburg embraced manufacturing (the city being sometimes referred to as the "Pittsburgh of the South"). In 1880, Lynchburg resident, James Albert Bonsack, invented the first cigarette-rolling machine. By the city's centennial in 1886, banking activity had increased six fold over the 1860 level.
Lynchburg has ten recognized historic districts, four of them in the downtown residential area. Since 1971, 40 buildings have been individually listed on the National Register of Historic Places. Especially since 2002, downtown Lynchburg has undergone significant revitalization, with hundreds of new loft apartments created through adaptive reuse of historic warehouses and mills. Since 2000, downtown has attracted private investments of more than $110 million, and business activity increased by 205 percent from 2004 to 2014. In 2014, 75 new apartment units were added to downtown, with 155 further units under construction, increasing the number of housing units downtown by 48 percent from 2010 to 2014.
In 2015, the $5.8 million Lower Bluffwalk pedestrian street zone opened. Notable projects underway in downtown by the end of 2015 include the $25 million Virginian Hotel restoration project, a $16.6 million restoration of the Academy Center of the Arts, and a $4.6 million expansion of Amazement Square Children's Museum.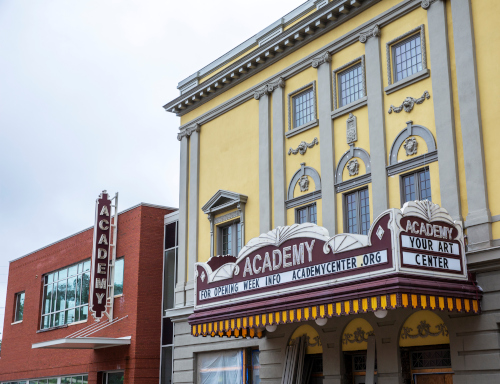 Lynchburg offers a skilled labor force, low unemployment rate, and below average cost of living. Industries within the Lynchburg MSA include nuclear technology, pharmaceuticals, and material handling. A diversity of small businesses within the region has helped maintain a stable local economy and minimized the downturns of the national economy.
Lynchburg has been within the Top 10 Digital Cities survey for its population size since the survey's inception in 2004. Again in 2019, Lynchburg received First Place in its population category (75,000 – 124,999), the 16th consecutive year Lynchburg has been in the national top 10 and the fourth time it has been ranked first in its population category.
Recently, Business View Magazine spoke with Deputy City Manager, Reid Wodicka, and Assistant Director of Economic Development and Tourism, Anna Bentson, about Lynchburg's recent growth and future prospects.
Bentson notes, "In 2018, the Office of Economic Development & Tourism launched our five-year strategic action plan, called the Blueprint for Opportunity. We're actively working that plan, done in partnership with a steering committee of business representatives, anchor institutions, workforce development partners, and arts and tourism organizations. The plan focuses on five strategic action areas."
"The first is retention and expansion of our existing industry clusters," Bentson continues. "Economic development is often about attraction, and we certainly do that in partnership with our regional business alliance, but we feel that the growth of our existing businesses is really where the City can grow our economic footprint much more quickly and sustainably.
"Lynchburg is what is often called an 'Eds and Meds' community. We are home to five colleges and universities – one of the fastest growing universities in the country is Liberty University in Lynchburg – and a major regional healthcare provider. They are major employers, major landowners, and they have all kinds of roles to play in workforce development and neighborhood development, so we're digging into those relationships and planning for how we can work with our anchors and how they can work together to influence the economy.
"Our third area focuses on building talent pipelines for our existing industry clusters, specifically. Fourth, is place making, which is not always near the top of the economic development list, but I think in small cities is really rising – building really beautiful public spaces, improving the quality of life, investing in arts and culture and entertainment amenities, that kind of thing. All of these really support businesses and talent to make informed decisions beyond traditional economic factors.
"And finally, we are focused on marketing and telling the story. How do we, as a small city, as a second or third-tier city, really set ourselves apart? What are our competitive advantages, and how are we marketing and telling that story? We established benchmark communities across the country we wanted to look at that we felt were peer or aspirational communities for us.
"Right now, Lynchburg's population is about 80,000 and growing rapidly – we're actually one of the fastest growing cities in Virginia. We are projected to grow another 17 percent by 2040 based on University of Virginia estimates. Another interesting figure about the city from a demographic standpoint: our average age is 28, so we are really a young city, which I think surprises a lot of people. That certainly speaks to the colleges and universities in the area, but also that we are a youthful, growing city.
"We have a really good tax base mix. Our colleges and universities and healthcare institutions are not-for-profit, and they actually own about 23 percent of the city's land, making them tax-exempt. Our target industries, and existing industry strength, include very strong advanced manufacturing, particularly metals and machining, electronic components, and conveyor systems. We also have two of the largest nuclear engineering companies headquartered in the city of Lynchburg: BWX Technologies Inc. and Framatome. Framatome services existing nuclear power plants in the western hemisphere, and people who work on nuclear power plants all over the world come to Lynchburg to train with Framatome. BWXT is the number one provider for the U.S. Navy for nuclear reactor components. But they are also diversifying into interesting spaces like nuclear medicine."
Regarding Lynchburg's downtown, Bentson relates, "The City adopted the Downtown Riverfront Master Plan in 2000 and progressively said they were going to budget a million dollars a year for 20 years to downtown infrastructure improvements. We have seen tremendous investment, certainly on the public side, where we have done streetscape work, water line replacement, major infrastructure projects, and some place making projects. That has really driven private investment. We've seen property values in downtown, alone, more than double since 2000, with about a thousand residential units at 90-plus percent occupancy and restaurants and retail to follow.
"Another goal for economic development downtown is attracting employers so that you can have great places, great restaurants, and retail with a thriving employment center. In 2015, Pacific Life established an east coast headquarters in downtown Lynchburg with approximately 300 employees and in 2019, CloudFit Software, a cloud services software firm, announced that they will redevelop one of our beautiful Art Deco buildings that has stood empty for 10-plus years as their new headquarters. CloudFit will hire about 150 people over the next three years. So, in addition to things like breweries and restaurants that are opening up downtown, we also are focusing on this employment piece."
Picking up on the subject of revitalizing and rethinking the city core, Wodicka relates, "We are taking the opportunity to re-imagine the streetscape as contributing to the sense of place throughout downtown. I'm a Millennial and I live in downtown Lynchburg. I like to be able to walk to work and get on the bike trail. As we transform our downtown from just a place that you have to get through to a place you want to stay, we're also doing a tremendous amount of base infrastructure work. This work has become necessary due to age but also because there's been so much redevelopment downtown that, for instance, the power grid won't support further development. So, we're taking the opportunity to make sure that we are investing as aggressively as we possibly can in core infrastructure that makes continued development possible and, at the same time, a more beautiful place.
"At the moment, we're doing just that on Main Street. Working with our electrical provider, we are replacing the electric system, the water and sewer system, the streetscape; it's going to be a completely different place when it's complete. While we have done a tremendous amount of work in downtown for a few years, it really has heated up in the past year, and will continue for the next five to seven years, as we make sure that we are creating a place that functions and where people and businesses want to be.
"Of course we have other ongoing improvements throughout the city. Certainly, downtown is a huge focus for us, but we have a whole city that we serve, and we think the entirety of Lynchburg is its selling point. There are great and vibrant neighborhoods to live in around our historic districts and throughout the City. While we reinvest in public spaces, we also want to make sure that our transportation network is modernized so the people can easily travel in multi-modal ways in the City. Lynchburg is a physically large city, land-wise, compared to our population, so it is not as dense as it could be, so we need to improve roads and bridges and help people move efficiently throughout the city. We're also doing a lot of reinvestment in our parks and our multi-use trail system. We recently held the groundbreaking for about a mile extension to our main Blackwater Creek Trail, which is a bike and pedestrian trail that runs as a spine through the middle of city.
"City staff is focused on creating a thriving economy but also supporting workforce development and community partnerships. Strong neighborhoods and strong families need the best service delivery in the City, regardless of demographics; neighborhoods that are beautiful and safe and are places people can thrive. Importantly we believe, very strongly, that the long-term success of our community depends on the success of our public school system. Lynchburg has traditionally had an extremely strong public school system and we want that to continue long into the future.
"Like a lot of organizations, we certainly have some areas needing improvement, so we're focusing on making sure we are attracting highly-competent, creative, and thoughtful people, and that we're managing our finances and organization in the most effective way we can. We think that a responsibly managed and proactive local government helps drive economic development activities."
If Thomas Jefferson were to visit present-day Lynchburg, he would likely still maintain that it's "the most interesting spot in the state."
AT A GLANCE
WHO: Lynchburg, Virginia
WHAT: A city of 76,500
WHERE: On the James River, east of the Blue Ridge Mountains
WEBSITE: www.lynchburgva.gov
Lynchburg Regional Airport – lynchburgva.gov/airport
For Over 80 years the Lynchburg Regional Airport has been providing access to one of Virginia's fastest growing economic regions. And, with jet service to one of America's largest hubs, you know that economic opportunity is a short flight away!