Louisbourg Seafoods, Ltd.
The taste of tradition
Business View Magazine interviews Jim Kennedy (Pres) and Allan MacLean (Sr. Operations Manager) of Louisbourg Seafoods Ltd. for our focus on Canadian Fisheries.
Louisbourg Seafoods Ltd. is a family-operated seafood business headquartered in beautiful Cape Breton, Nova Scotia. Owners James and Lori Kennedy credit the company's success to their hands-on management style and extensive experience in seafood production. Being in the fishing industry for more than 30 years has netted Jim and Lori a wealth of contacts and secured the evolution of the business. Today, Louisbourg Seafoods is a multi-million dollar a year company, steered by a visionary couple that thrives on moving forward. Family and community are core company foundations rooted in hundreds of years of culture and tradition.
The firm harvests product using its own fleet of vessels and has direct control over each stage of production – in tandem with a strong commitment to the conservation and care of ocean species and habitat.
Allan MacLean, Senior Operations Manager of Louisbourg Seafoods, shares the history of the company: "Jim and Lori started their company in 1984. At the time, they were both fish plant workers in Louisbourg, struggling financially to raise their young kids. They saw opportunities to do something with the fishery in Louisbourg, which was very active, so they quit their jobs and started a stevedoring company; basically, unloading the fish vessels that were landing in Louisbourg. There were a lot of them. Business grew and they began buying lobsters from local fishermen. With the increased revenue, they purchased their first fish plant (groundfish) in 1991, around the time that groundfish went into moratorium. But Jim saw potential opportunities in other species that weren't strictly under moratorium, so they operated that groundfish plant for years by processing flatfish – grey sole, flounders, yellow tails. They developed unique markets in the U.S. and got a reasonable price."
In 1999, the crab industry in Atlantic Canada was booming and the Kennedys converted the ground fish plant to a snow crab processing plant. That has become the anchor for the rest of the companies under the Louisbourg Seafoods group. Today, they operate four fish processing facilities: A crab plant in Louisbourg, Nova Scotia; a snow crab processing plant in Glace Bay, Cape Breton; a shrimp processing plant in North Sydney, Cape Breton; and a small facility for crab and lobster processing in Canso on mainland Nova Scotia. They also have a live lobster holding facility in Louisbourg. It was an abandoned fish processing facility that Jim purchased and repurposed; it can hold approximately 400,000 pounds of live lobster.
Louisbourg Seafoods currently employs around 500 people, and Jim and Lori continue to look for unique opportunities to reinvest back in the fishery and create more long-term sustainable jobs in the small coastal communities where they're needed. Jim Kennedy explains, "I ran the business and Lori ran the office and it worked out well. Lori's not involved in the office anymore, she's on the board of the World Ocean Council (WOC) and does a fair amount of travel, globally, for that. She's also done a lot of work on the PR front, promoting the product and the modern-day brand. We distribute all the different species we harvest and process under the Mira Bay brand. It's named after a famous song by Rita McNeil. We were trying to capture some of the recognition around that song. And we live on the Mira River here, so it was a natural way to attach the Mira recognition to a seafood brand."
Company operations run the gamut. MacLean notes, "We hold in-shore and off-shore licenses we're not fully vertically integrated but we do harvesting and processing and marketing. Where we've been trying to create some identity is in what the government calls secondary species – species that aren't harvested at a high level. Through discussions with buyers, we began to understand there was a demand for species found off the coast of Nova Scotia that no one here was harvesting. We obtained licenses to harvest two species, in particular, sea cucumber and whelk, and we've been very successful in harvesting, processing, and marketing those. The company invested significant money into getting that up and running, and funds 100 percent of the science associated with it. That's something that sets it apart from other players in the Atlantic region."
For a relatively small business, the company does $72 million in sales. And they have two permanent science people on staff. It's been the company philosophy for a long time that they need to be engaged in sustainable fisheries, and science is a big part of that. When there are questions the government can't answer, they get the answers themselves. This includes all species but, particularly, the secondary species, where the company has most likely gone far beyond industry expectations of the Department of Fisheries and Oceans in relation to science.
Louisburg Seafoods has a great partnership with Cape Breton University, in that regard. Many of the science projects they do in relation to sustainable community fisheries are in full cooperation with CBU. Recently, Louisbourg Seafoods and CBU had a scientific document on whelk published in a well-respected science journal. The co-author of that article was a member of the Louisbourg Seafoods science group.
Finding workers in the seafood sector is becoming increasingly difficult. According to MacLean, "In some cases, we rely on temporary foreign workers. In fact, 57 percent of CBU students are foreign students, and we are firmly in discussions with the University about potential part-time employment opportunities to help support these students as they're going through their studies. We're also working on marketing projects with CBU, to have some of those students work for us as part of their educational program– they learn that side of our business and help us out. We have a great partnership with CBU, because they're located here and the company philosophy has always been if we can do it in Cape Breton then we should try to do it here."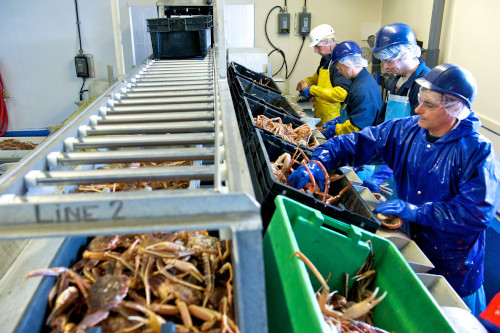 MacLean also gives a shout-out to local fishing communities and associations. "Through our work with these communities on an ongoing basis they continue to sell us the raw product. We have wholesalers we've been selling to for extended periods. It's an environment built on relationships and we've had lots of long-standing relationships with other fish companies, where we provide fish to each other. Even though it's a competitive industry, it's all about trying to maintain a certain level of employment."
Most of the finished products are, typically, sold in the States and some markets in Canada. But that's slowly starting to change. Louisbourg Seafoods now ships a fair amount of fish into the Asian market, particularly China, and they've been actively engaged in trade missions to increase the scope of their markets, looking at ways to capitalize on the new trade arrangements with countries such as Japan and South Korea. Market demands are changing; even product form is changing for different markets, and the company has been very flexible in that respect. The trade missions are normally supported by Atlantic Canada through ACOA or Nova Scotia Business Incorporated. "The province of Nova Scotia has been a huge supporter of the seafood business," says MacLean, "but I would also say that it has been a huge supporter of Louisbourg Seafoods."
As for the future of this innovative family business, Jim reflects, "I guess I'm like everyone else, I'm going to work at this until the big fellow takes me. I've got no plans to retire but I'm also working to put a succession plan in place in case I can't do it someday. I've got 12 grandchildren, so, hopefully, one of them will eventually take the company. And, hopefully, I'll have people around like Allan and some of the others on my staff to help my family go through the next moves of it."
MacLean adds, "In planning for the next five years, we've been looking at developing the structure because we want the companies to grow, and to see if we can capitalize on these new market opportunities that have been presented through trade arrangements. And to really have in place a very solid company, continue to build, to capitalize on unique opportunities, to try to be leaders in this part of the seafood world, and really emphasize, on an ongoing basis, about sustainable fisheries, and the need to provide jobs for the local communities."
AT A GLANCE
Who: Louisbourg Seafoods, Limited
What: Family operated seafood company
Where: Louisbourg, Cape Breton, Nova Scotia
Website: www.louisbourgseafoods.ca