Lee Gilmer Memorial Airport
A high quality airport
Business View Magazine interviews Lisa Poole, Airport Manager at the Lee Gilmer Memorial Airport, as part of our series on regional American airports.
Lee Gilmer Memorial Airport is a public-use, general and corporate aviation airport located in Gainesville, a city in Hall County, Georgia. The Airport was just a dirt airstrip in 1941, when the City of Gainesville petitioned the Civil Aeronautics Administration for permission to build a larger municipal facility. World War II intervened and, in 1943, the U.S Navy leased the airport land from the city for one dollar and proceeded to develop the base with intersecting, 4,000-ft. runways with parallel taxiways, aircraft and electronics maintenance facilities, and related support structures. During the war, it functioned as a satellite of the Naval Air Station at what is now DeKalb-Peachtree Airport. The mission of the Gainesville facility was to train ground personnel in ground controlled approach (GCA) procedures, using truck-mounted radar to track approaching target aircraft.
"They leased all the property and paved the runways, built the terminal, and of course, they had barracks at the time," says Airport Manager, Lisa Poole. "They were there until 1947, when they turned it back over to Gainesville. They leased it for a dollar and then gave it back to us with all the improvements." In 1971, the Airport was named in honor of local aviation pioneer, Lee Gilmer, who owned and operated Gilmer Flying Services before, during, and after World War II.
Over the years, many improvements were made at the Airport with funds from the FAA, the State of Georgia, the Appalachia Fund, and the City of Gainesville, including relocating beacons, marking and extending the runways, constructing a parallel taxiway, and updating all of the navigational devices. Today, The Airport covers an area of 359 acres with two asphalt runways: 5/23 measuring 5,500 by 100 ft. and 11/29 measuring 4,001 by 100 ft.
Poole is the Airport's only employee; all others work for the aviation-based businesses on property. "We have the FBO, Champion Aviation, that runs the daily operations," she relates. "They have a staff of, four, and offer fuel, tie downs, rental cars, and catering. We also have Lanier Flight Center; they offer fuel, flight training, charters, aircraft leasing, and they also have a maintenance facility, as well. So, we have a significant staff on the airfield – just not directly employed by the city."
"We have 139 home-based aircraft; we're ranked 5th in Georgia for general aviation airports," Poole adds. "And I have 60 people on the waiting list for T-hangars, but we're at capacity on our footprint. We have 13 corporate hangars, and for the last one that was built, we had to tear down one of the old World War II maintenance hangars in order for them to build that. So, we have one ground lease, and everything else is city-owned and leased."
While the demand is there, Poole explains that the land simply isn't available for more hangar construction at the current time. "We want to add more based corporate users," she continues. "We have a large based general aviation population and we have a significant corporate travel population, but we need to obtain property. We would like to accommodate the 60 people on the wait list for T-hangars as well. Certainly, people would like ground leases to build corporate hangars or we could build some ourself."
Building new hangars is part of the Lee Gilmer's Airport Layout Plan (ALP). Another element of the plan is building a new terminal. "Our terminal was built in 1943," Poole notes. "It's very cool, it's very nostalgic. It's very iconic. People who come in and out of our Airport and see our terminal are blown away. It's like stepping back into the past. But it's getting a needed facelift: new carpet, new paint, new roof, to preserve the integrity of the building. But we would certainly like to expand; build a new terminal; something that would be of this era and help us grow. The existing terminal is small, so it limits us as far as holding business meetings and such."
Finally, the ALP calls for a runway extension. "Our main runway, 5/23 is 5,500 feet," Poole adds. "Ideally, we would like to get to 6,000 feet. This would provide more opportunities for our Corporate users. So, new hangars, and a new terminal are all in our 20-year Airport Layout Plan."
Meanwhile, in a bid to attract new corporate travel in the present moment, Poole touts some of Lee Gilmer Regional Airport's achievements and advantages. "I'm quite often reminded that our Airport is a 'High Quality Airport.' We've put many things in place over the last 20 years that has helped up achieve that level. We have high intensity approach lighting; we have an Instrument Landing System (ILS) that works in conjunction with it; we have a parallel taxiway; and we are right in the middle of a project called the Runway Safety Area Improvement – Phase One. We're getting high-intensity, LED, runway lights. Our lighting was about 20 years old and it's time to upgrade with the new technology. We're one of just a few other airports in Georgia that will have LED lights. And our FBO, Champion Aviation has been in business a long time and they offer great services for our corporate travelers."
Finally, Poole also touts the City of Gainesville. "Gainesville is a neat town," she declares. This city of 40,000, some 55 miles northeast of Atlanta, is a heavily wooded community nestled in the foothills of the Blue Ridge Mountains. Parts of the city lie along the shore of one of the nation's most popular inland waterways, Lake Lanier, created in 1956 by the U.S. Army Corps of Engineers. In addition, Gainesville is home to many arts and cultural institutions, not to mention a $1 billion per year poultry industry, which has given the city the title "Poultry Capital of the World." "We're growing every day, and there's a unique feel to our town," Poole says. "We have a lot to offer in Gainesville, and specifically at the Lee Gilmer Memorial Airport."
AT A GLANCE
WHO: Lee Gilmer Memorial Airport
WHAT: A public-use, general and corporate aviation airport
WHERE: Gainesville, a city in Hall County, Georgia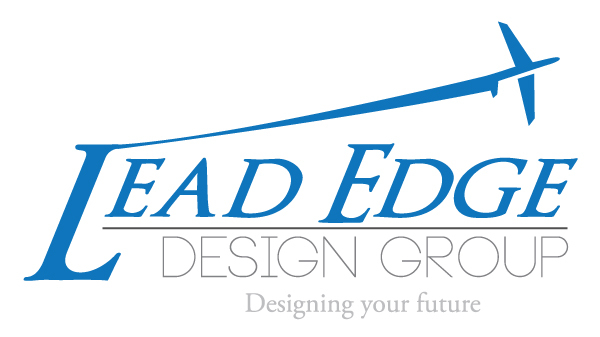 Lead Edge Design Group – www.LeadEdgeDesign.com
Lead Edge Design Group, Inc. was founded to specifically support General Aviation and community airports through engineering, planning and operational support. Lead Edge offers a specific blend of expertise associated with the successful completion of hundreds of FAA planning and design projects with the added economic development and operations support required for general aviation airports to thrive in today's market.