Kill Mountain Building Co. LLC
Born to build
Business View Magazine interviews Larry Kill, Owner & President of Kill Mountain Building Co. LLC, for our focus on the U.S. Home Construction sector
Hebron, New Hampshire is a desirable small community situated on the shore of Newfound Lake, with just a few hundred residents. One of them is hardworking Larry Kill, Owner and President of Kill Mountain Building Company – a man whose steadfast work ethic has contributed to both personal fulfillment and success in business. He shares, "I love my work and have no plans to retire and I still put in a very long week."
An experienced construction expert, Kill has been in the industry for over 35 years, starting out in Massachusetts as a roofing tradesman. In 1999 he moved to New Hampshire and has been building there ever since.
The shift of focus from roofing to general construction took place when Kill bought a piece of land and built his own home for his young family.  A mammoth task, doing just about everything himself, it motivated Kill into expanding his expertise throughout the building industry. Kill then started buying old homes and remodeling them.  He kept some as apartments to rent, flipped the rest.  This gave his roofers something to do during the winter months.  Kill said that he had trouble finding a place to keep his trucks and equipment in areas zoned for that so he bought commercial property and built rows of buildings that housed 26 12'x24' garages and soon they were all rented out to contractors like himself.  He took a need and turned it into a very profitable side business. Eventually, this all led to him completing a few builds for friends, and the business took off from there.
Kill grew his company to where his employees did roofing and he used subcontracting crews to do his  vinyl siding, replacement windows, remodeling and new home construction. Kill always did his own estimating, bookkeeping, payroll and setting up his job sites and had foremen run his crews but he was always popping into the jobsites to supervise.  He just wanted to be in control of his business, trusting himself more than others.  Kills typical day had him in his office at 4 am and again until 10 pm, and it was rare that he even took even a Sunday off.   When Kill moved to NH to enjoy a quieter life and to develop property and concentrate just on building, he decided that he would rather hire sub-contractors who were specialists. He explains, "Not having the need to manage employees, I could really focus on the details, splitting my long hours between the job site and office work. Managing employees is too time consuming, I would rather put my time into customer service."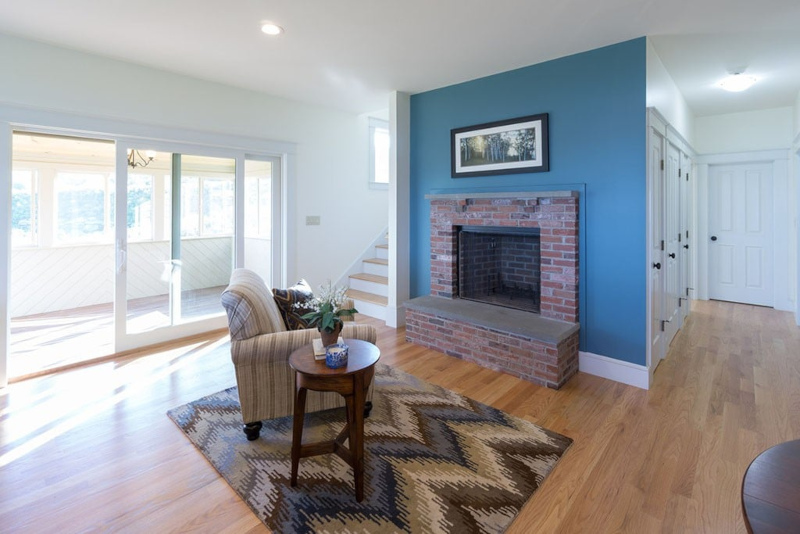 Kill Mountain Building is a full-service construction company that outsources all their skilled labor. This approach means that Kill is responsible for their salary, estimating quotes, material sourcing, and must project manage. But the passion for the work and industry means he keeps himself motivated to deliver only the best work. Primarily, the business is focused on delivering residential builds in the local area surrounding Hebron. Currently, the company just finished 2 small remodels, 2 modulars in Hebron, and have a foundation done in Bath NH for another modular. They just started site work in Laconia and have site work going on in Bristol for a stick build. They also are tearing down a house on the lake for a new stick build in September and have two camps to build this fall/winter on the lake.  And while in the office early mornings and evenings, Larry is working on a number of projects for 2022.
Normally Kill wouldn't take a stick build (complete house build) in Bath, as it would be too hard to project manage all the elements, combined with an hour commute each way. But he's taken on this project because it is a Professional Building Systems (PBS) Modular build. Over the past few decades modular homes have come a long way. For the past three years, Kill Mountain Building has worked with PBS, a company based in Middleburg, Pennsylvania that presently operates along the eastern seaboard.
The relationship started with a project for a prestigious private high school, Holderness School, in 2018 and has carried on since. "That one project from them has allowed me to now offer a great product at a lower price point so it really has worked out well for me, and I was very impressed by their work," says Kill, who has been to their factory to witness their operation and meet their staff. "This year I'm completing five modulars plus my other work. "
Modular homes are faster to erect than the usual stick-built homes and create less wasted materials during construction. The entire process uses virtually every piece of lumber supplied – utilizing CNC machines for production, which plot exactly where all the materials will be utilized. Another positive factor in PBS's method of construction is that it is done within a factory. No lumber is exposed to the elements and damaged. And because the homes are built on an assembly line,  the time management is stream lined, which cuts costs and mistakes.
Kill Mountain Building's biggest drawing card for clients is Larry Kill's reputation. Over the years, he has built a solid client base and is frank about the fact that his name is one most don't forget. In one such instance, a return client phoned for more work 28 years after the original job. Another factor that contributes to Kill's growth in the area around Newfound Lake is the fact he invested in 318 acres of land 15 years ago and has been developed it and built the homes. This means most buyers would come to the company, purchase the land, and a local architect will provide a plan for the home, while Kill Mountain Building provides all the labor and contracting needs, depending on the client's budget.
In 2020, there were three major factors that should have halted growth in the home construction industry: COVID-19, lumber prices, and supply chain issues. But contrary to conventional wisdom, the market went in a completely different direction. Kill admits, "I'm busier than I've ever been, to a point that baffles me." Tradesmen in the area were all confused by the uptick in business, but then it became clear that people with access to financial assets wanted to move out of the cities and work remotely in less populated areas. "I've been based here since 1999, and I have never seen so many projects being built," adds Kill.
With the increase in demand, there have been challenges with sourcing materials. While lumber was problematic to order before March 2020, in more recent months, delays in the supply chain of generators, appliances, wood flooring, and tiles meant that lead times changed from weeks to months.
However, with the correct project management many of these concerns can be circumnavigated, and when there is a delay, most clients understand that it's out of the hands of the contractors.
Another issue is sourcing qualified workers for projects, as skilled labor is already in high demand. This has meant a slowing down of completed jobs, but once again, thanks to the years of experience in the industry, Kill Mountain Building has been able to plan accordingly. Also, since the company leaves the day-to-day employee issues to subcontractors, Kill has reaped the benefits of being surrounded with great talent. He emphasizes, "You're only as good as your subcontractors. And I'm fortunate to have the best, but that's not by accident."
Long-term relationships take time to build, and Kill has made sure that the subcontractors he uses are friends, which means all the specialists in various trades are also friends. Where most companies would rely completely on a middleman to liaise questions between parties, Kill's network of tradesmen will often call each other directly to plan for tasks.
Looking forward to the future, Larry Kill would like to perhaps work a shorter week and spend more time with his wife and son,  but that's not to say he'll ever completely stop working, as he has such a passion for the construction industry. He shares, "I'd love to see sustained growth, see enough work to keep the workforce busy." Currently, his son is working for a framing contractor, just like Larry did before he started on his own.  Kill also believes there's real value in maintaining a presence in the industry and concludes, "I love what I do, and the first thing people do when they retire is start a construction project. Why would I want to retire, when retired people can't wait to do what I've been paid to do for 35 years?"
AT A GLANCE
Kill Mountain Building Co. LLC
What: A well-established construction management and custom home building company
Where: Based in Hebron, New Hampshire
Website: www.killmountainbuildingco.com
Baker Valley Floors – www.bakervalleyfloors.com
The Floor Works – www.thefloorworks.com
Excellence in Flooring
Carrying on the success and growth of long-time family flooring businesses, Dylan and Eileen are bringing new passion and energy into the locally operated flooring stores of New Hampshire. Over the past few years, this dynamic couple purchased first The FloorWorks and then Baker Valley Floors and are now expanding and complementing their design and installation offerings with WheelHouse Kitchens. Their business goals involve acquiring stores of owners looking to retire, while providing the exceptional service customers enjoy from working with small businesses. That friendly, personal aspect of local stores is a priority at each location.
Flooring is something that everyone needs and Eileen and Dylan have the experience to know that the industry will be changing over the next several years. Trends will come and go and they are intent on helping to make their clients' home or business style wishes a reality – whether it's small renovations or high-end new construction – by keeping best quality products, impeccable designs, and outstanding customer service top of mind. With FloorWorks, Baker Valley Floors, and any other future acquisitions, they are excited to serve the local communities throughout the Northeast long into the future.